foodie fridays: individual dark chocolate skillet cookies with nutella & strawberry pop rocks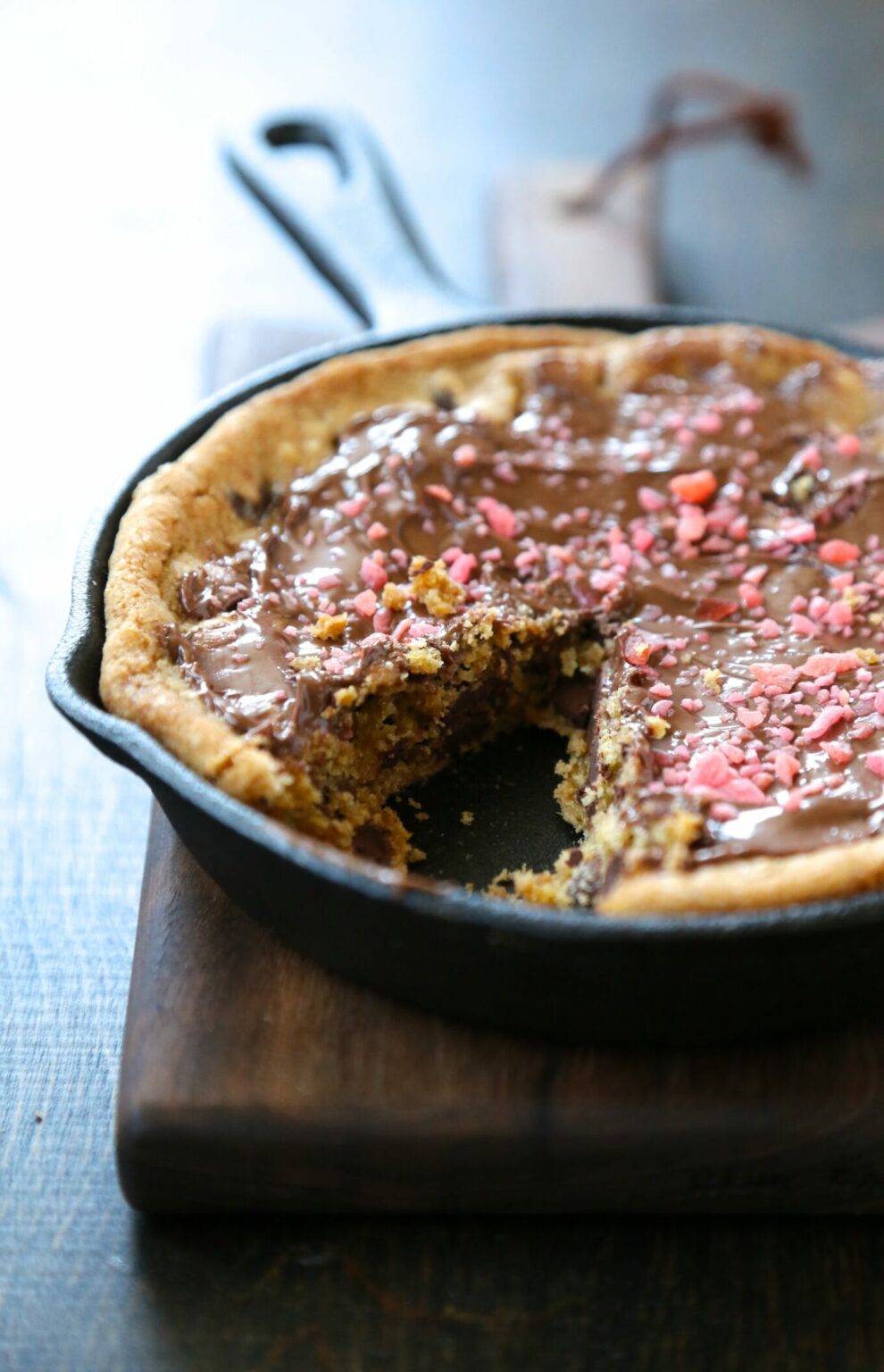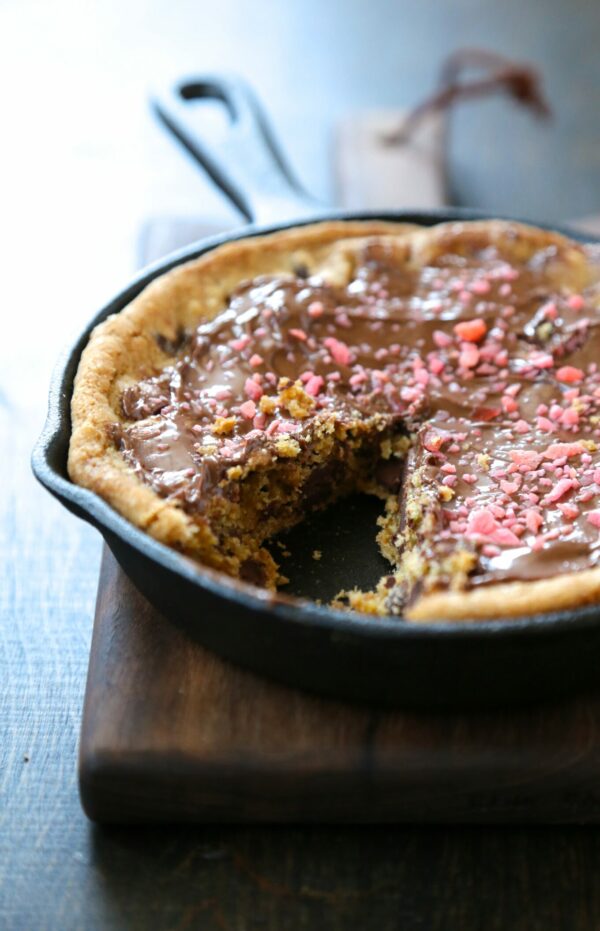 Currently, my Valentine is away.
Far across the ocean and miles away from any red heart-shaped box full of candy.
What's a girl to do?
Come to think of it, this may be our first Valentine's Day apart in the whole 82 years we've been together. Mr. B and I tend to not go balls-to-the-wall-out when it comes to celebrating this holiday. We generally veg out in our college alma mater pj's, order or make pizza, sip red wine, and if the stars align that year, cards are exchanged.
But something is different about this Valentine's Day in particular. I feel out numbered. With Mr.B in a totally different area code, I am powerless against the marketing guru of Russell Stovers, over-sized teddy bears, and long stem roses. They.are.everywhere!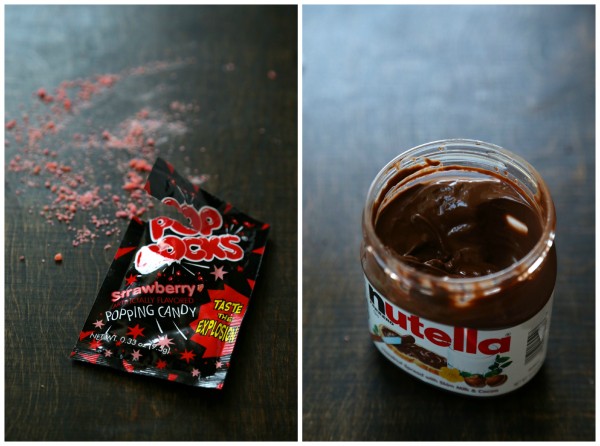 So, to combat the need for tubs of ice cream, crying uncontrollably during chick-flicks, and wanting to buy 97 cats, I have armed myself with these dark chocolate skillet cookies with Nutella & strawberry Pop Rocks. Who needs covered chocolates, when you can have a perfectly potent cookie? Who needs creepy over-sized teddy bears, when Nutella's got your back? And who needs roses, when you can have flavored strawberry candy dancing in your mouth?
My Valentine may be away, but I'd bake him these cookies any day.
What?
Send help, babe!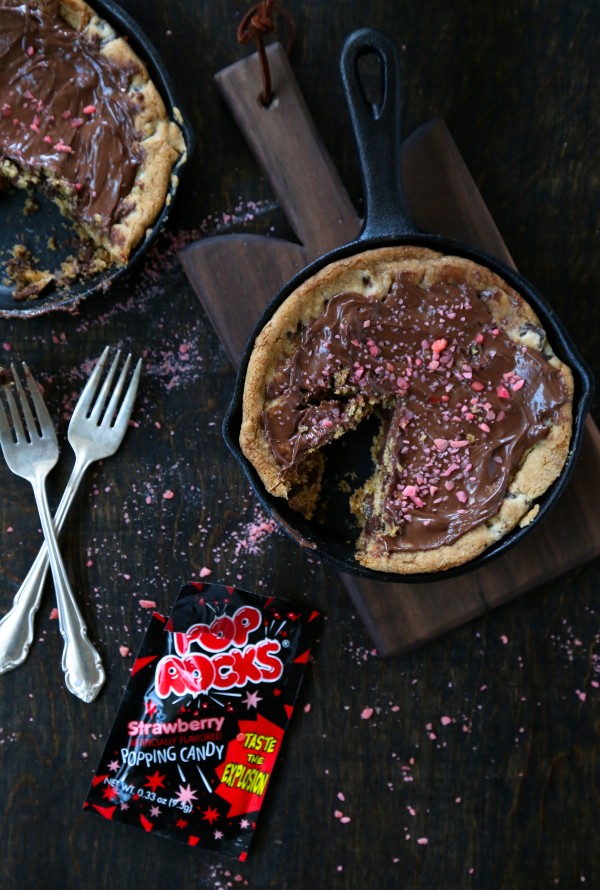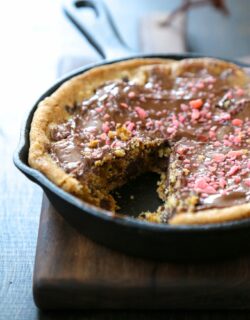 Individual Dark Chocolate Skillet Cookies with Nutella & Strawberry Pop Rocks
Ingredients:
1 stick unsalted butter, room temperature
1/2 cup granulated sugar
1/2 cup dark brown sugar
1 large egg
1 1/2 teaspoons vanilla extract
1 1/4 cups all-purpose flour
1/2 teaspoon baking soda
1/2 teaspoon kosher salt
1 cup dark chocolate chips
Nutella
Strawberry Pop Rocks
Directions:
Preheat oven to 350 degrees.
In a mixer fitted with a paddles attachment, beat butter and sugar together. Add the egg, vanilla extract, flour, baking soda, and salt. Gently combine. Fold in the chocolate chips. Press dough into two six-inch mini skillets. Bake for about 10 to 15 minutes or until golden brown. Remove from oven and cool. Spread Nutella over top of cook and sprinkle Pop Rocks on top!
All images and text ©