foodie fridays: juicy ball park burger with onion rings & mustard beer sauce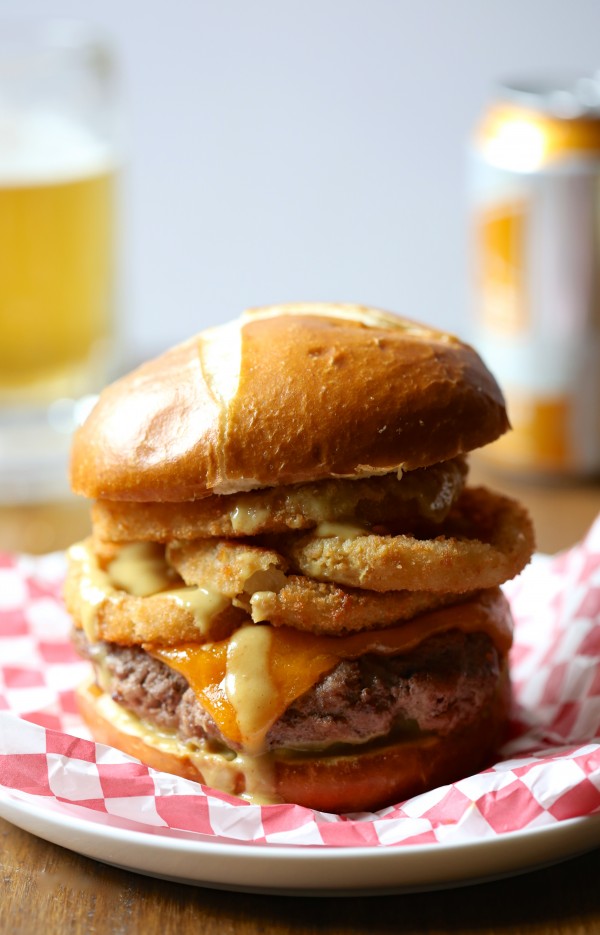 Moderation is key.
I get it. 67.6% of the time.
I would totally be lying if I told you I didn't enjoy cruciferous vegetables every now and then. Broccoli and cauliflower are two of my favs! But let's just keep that between you and me. Mmkkay?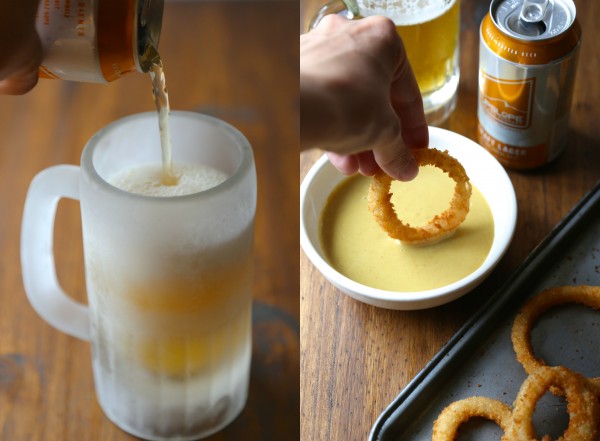 The other 32.4% of the time, I make room for ultimate comfort food – nachos, macaroni & cheese, queso, taquitos, french fries, pizza, tater tots, and burgers. I'm a savory comfort food hooker, really. Speaking of burgers, my stomach and palate are beyond stoked because July is burger month. I know! Get excited.
Burger month came to fruition thanks to my homeslice Kita of Girl Carnivore. She decided that the ol' burger needed an entire month worth of wardrobe changes. A burger should have options, don't you think? So, thirty-one food bloggers fired up our grills, created mouth watering recipes, and signed up for a day. It's complete taste bud genius!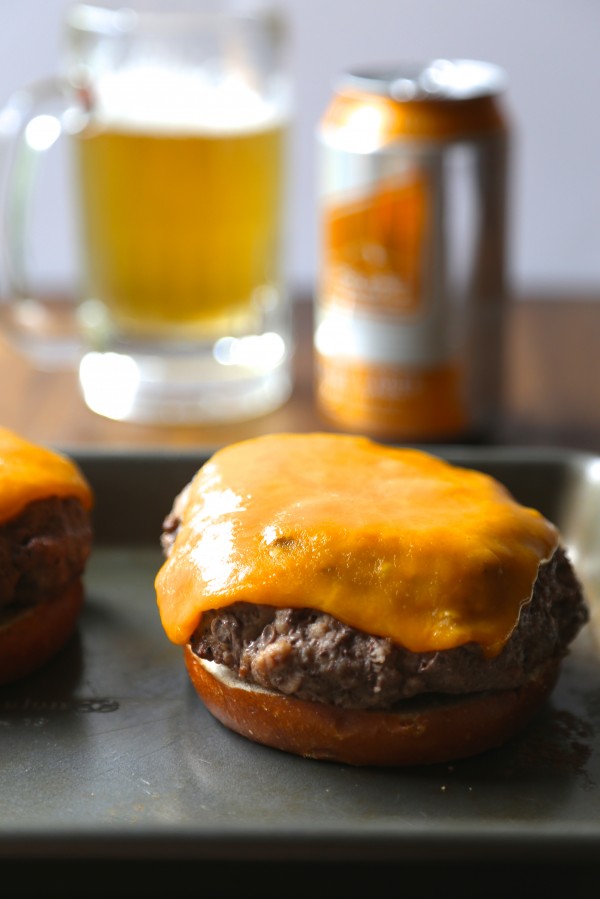 Seeing as we are eighteen days into said burger month, I was a little worried about what I would create. There are 4,932 options out there to put on your burger, but I thought kicking it old school with some familiar ball park nostalgia would do the trick. I am obsessed with the mustard beer sauce. It might be my new dipping fav, which goes perfectly with the onion rings. I know. Breathe. My inner kid just did the happy dance.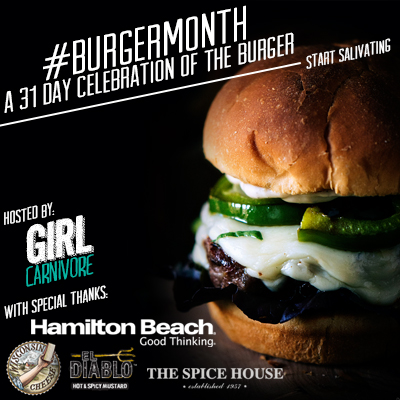 But! Beside having 31 delicious burger recipes at your disposal, we are also having a kick-ass giveaway with some fab sponsors: El Diablo Hot & Spicy Mustard, FireWire Grilling Skewers, Hamilton Beach, KitchenIQ, The Spice House, and Wisconsin Cheese.
All you have to do is type in your details in the rafflecopter below for a chance to win!
Happy Burger Month!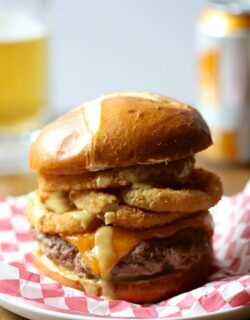 Juicy Ball Park Burger with Onion Rings & Mustard Beer Sauce
Ingredients:
for the burgers:
2 tablespoons unsalted butter.
1 pound ground beef
1 pound ground veal
dash of Tabasco
salt and pepper to taste
4 pretzel roll buns
1 package frozen onion rings
4 slices cheddar cheese
for the mustard beer sauce:
1/2 cup Dijon mustard
1/4 pale ale beer (*or your favorite kind)
2 tablespoons sugar
1 to 2 teaspoons kosher salt
Directions:
for the burgers:
Preheat oven to 400 degrees. Place onion rings on a baking sheet and bake for about 15 minutes. Remove from oven and set aside. In a large bowl, combine beef, veal, Tabasco, and s&p. Form four large patties. Preheat a skillet to medium-high heat and melt the butter. Add the patties and cook for about 5 to 7 minutes on the first side, flip, and continue to cook for another 3 to 4 minutes adding the cheddar cheese slices to melt on top. Remove patties from the skillet, let them rest for a couple of minutes. To serve, take the bottom of the pretzel bun and smear some of the mustard sauce on bottom. Top with patty, onion rings and more mustard sauce. Place pretzel top on onion rings and dig in!
for the mustard sauce:
Mix all ingredients in a bowl. You may need to play with the salt consistency to make sure you don't over salt. Add more beer if desired!
mustard beer sauce barely adapted from Serious Eats
All images and text ©