spicy harissa quesadilla with lamb, caramelized onions, and cojita-feta cheese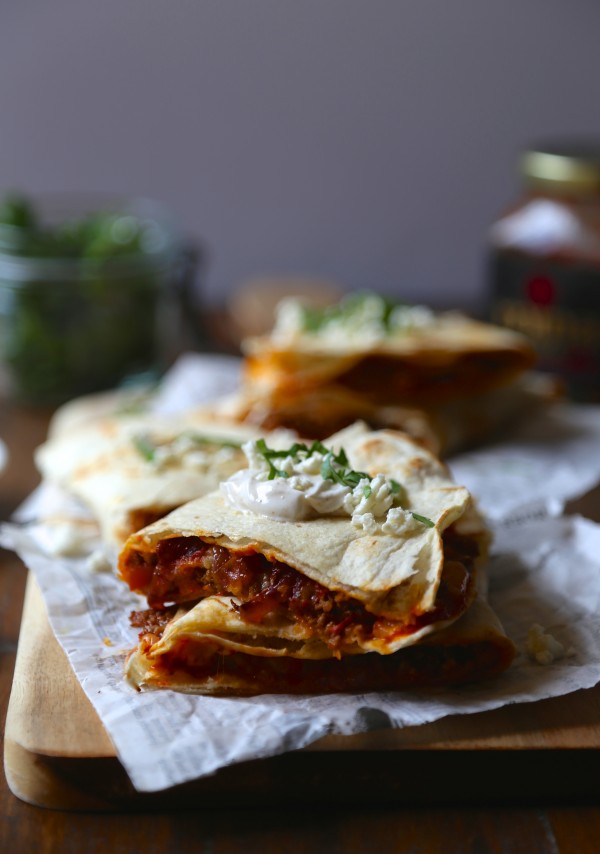 I've never met a 'dilla I didn't like.
Not like an actual arma-dilla. I haven't spoken to one in person so I guess I can't really say.
But they are rather odd characters. Either they are scurrying across the highway in a huge hurry to what I haven't a clue. Or, they have the most unfortunate luck because 97 percent of the time they are flattened like a pancake on said highway. Talk about a rough life. Plus, not to mention, they aren't winning any beauty pageants in the foreseeable future. Am I right?
No, I'm talking about the quesa-dilla, Napoleon. A flour tortilla, stuffed with exceptional ingredients, topped with cheese and slowly cooked until everything is perfectly melted.
And the way it's cut into cute little triangles? Get out of town! What's not to like?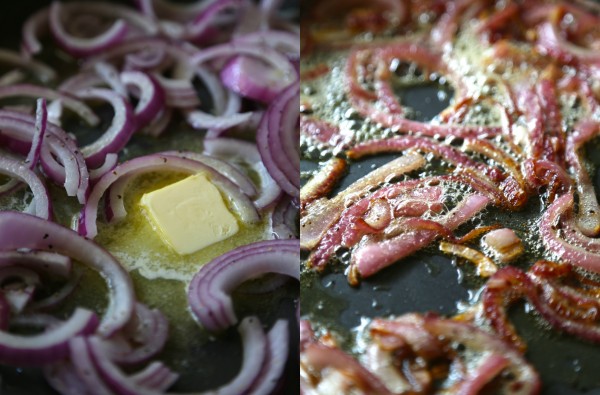 Well……what if I told you that I played matchmaker last weekend? And no, not the whole Bravo TV matchmaker lady style. Okay, close. I was craving a quesadilla, but wanted to add a spicy kick. Not a taser-your-face kind of kick, but more of a "Whew, bessie, that's got a zing to it." Ya, feel me?
So, I reached for a bottle of Mina Harissa. I like to think of Mina Harissa as the transporter of this smash up. It's the vehicle that drives this quesadilla into the promised land. Oh! For those of you that don't know about my homegirl Mina, she makes fabulous jarred harissa. Harissa is a North African hot sauce that is primarily made of red or green peppers. You can find the jars at Whole Foods in either green, mild or spicy.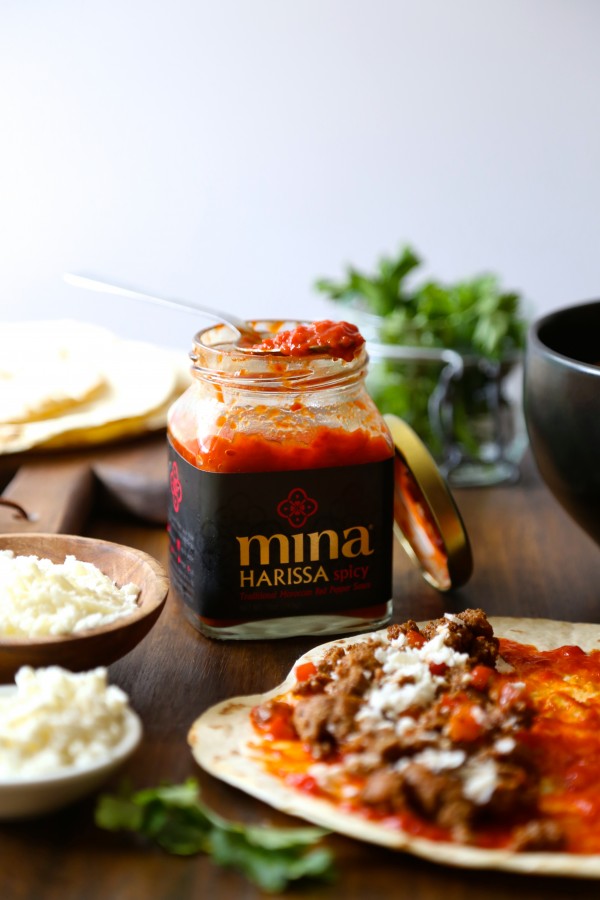 For this quesadilla, I went with the spicy! Spread a little of the spicy harissa on the tortilla. Top it with some sauteed some lamb, caramelized onions, and cojita-feta cheese. Let it melt and crisp. One sniff of these and the 'dillas will come scurrying.
Make sure and check out the Mina Harissa website for more ideas/recipes, or on Twitter, Facebook, and Instagram!
**This post is sponsored by Mina Harissa! As always, all opinions expressed are 100% my own!**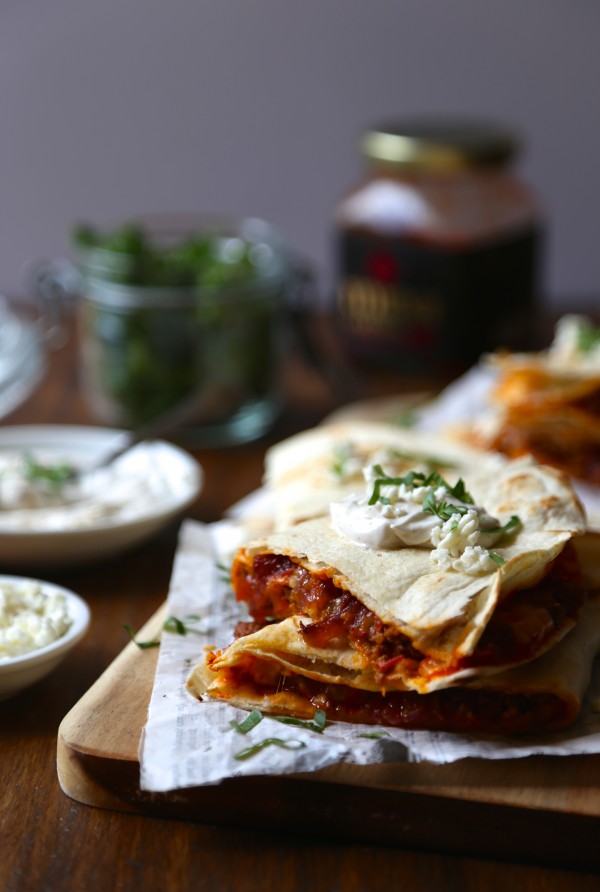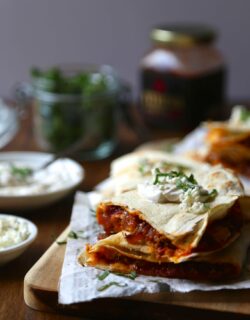 Spicy Harissa Quesadilla with Lamb, Caramelized Onions, and Cojita-Feta Cheese
Ingredients:
1 tablespoon olive oil
1/2 pound ground lamb
1 teaspoon chili powder
1/2 teaspoon cumin
1/2 teaspoon paprika
1/2 teaspoon coriander
1/2 teaspoon garlic powder
1 small red pepper, diced
1 small red onion, sliced
4 tortillas
1 cup Cojita cheese, shredded
1/4 cup Feta, crumbled
Cilantro, garnish
Sour cream, garnish
salt and pepper to taste
Directions:
In a large bowl, combine ground lamb, chili powder, cumin, paprika, coriander, garlic powder, and s&p. Preheat a skillet to medium heat and add the olive oil. Brown the lamb in the skillet until cooked through, remove with a slotted spoon, and set aside. In the same skillet saute the red pepper and onion until softened, remove from heat and set aside.
Take a tortilla, fold, creating a half moon. On one side of the tortilla, spread about a tablespoon of the Mina harissa. Add lamb, peppers, onions, 1/4 cup cojita, and 1 tablespoon feta. Fold the other side of the tortilla over. Place in a panini press and cook for about 2 to 3 minutes or until golden brown. Repeat process with remaining tortillas. Serve with cilantro and sour cream on top!
All images and text ©