slow cooker spiced baby back rib tostadas with corn relish & crema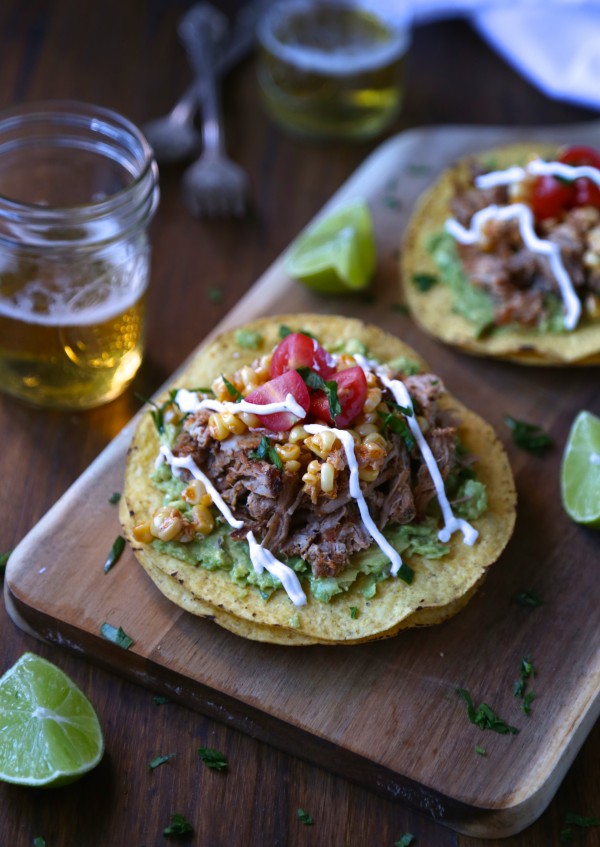 Is going to Chili's still a thing?
Wait. Was it ever a thing?
I felt like in the 2000's, every other commercial was "I want my baby-back-baby-back-ribs. I want my baby-back-baby-back-ribs. Chili's, baby-back ribs. Barbecue sauce." The fact that I can remember that jingle should give you a clear indication to take me out to pasture.
I didn't mind going to Chili's, it was wayyyyy better than sleezy ol' Applebee's. All I can say is, my girlfriends and I frequented Chili's to devour bottomless chips and salsa while washing it down with salty marg! GAH. College was the best!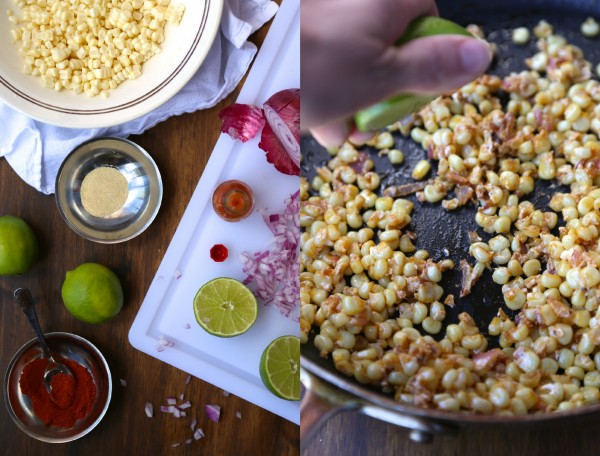 Even though I know that darn jingle will be stuck in my head for the next 25 years, I've actually never tried their baby back ribs. Why? Because once you've had Oklahoma Joe's barbecue ribs, you will never, EVER, put another single smoked rib into your mouth ever again.. Kansas City folks, you know what I'm talkin' about.
Well, the 2000's are making a comeback and I recently saw a commercial for Chili's baby back ribs. My first thought was, "Lord, help us.' My second thought: why do ribs have to be smothered in a barbecue sauce?" And my third thought, "I could really go for some chips and salsa right now." Which then leads to my NEW obsession, these spiced baby back ribs with corn relish and crema.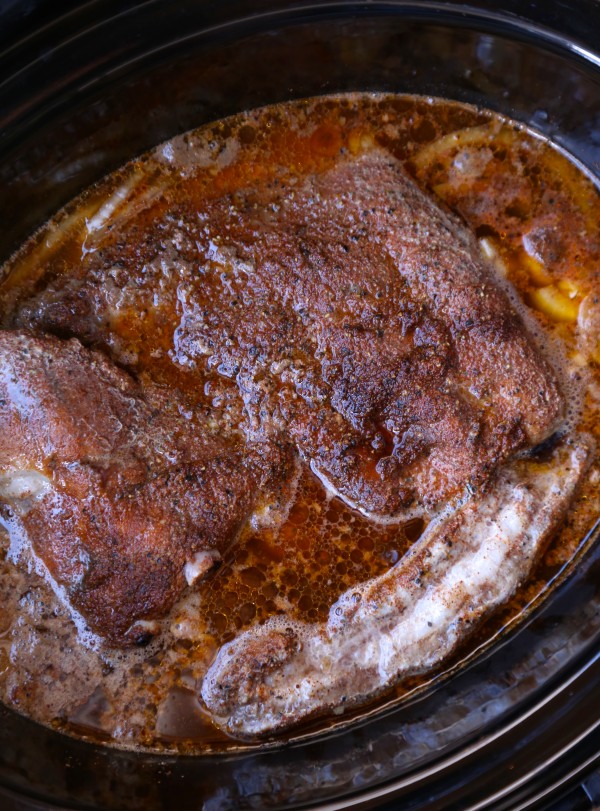 YOU GUYS. This slow cooker, Mexican spiced baby back rib recipe is dare I say, almost better than it's barbecue version. GASP! I am totally a barbecue whore, but you can't eat bbq every day. But these melt-off-the-bone, buttery, spiced ribs you bet your sweet tookus you can eat every day.
Trust me.
These baby back ribs got back.
And can do side bends and sit-ups.
Send help.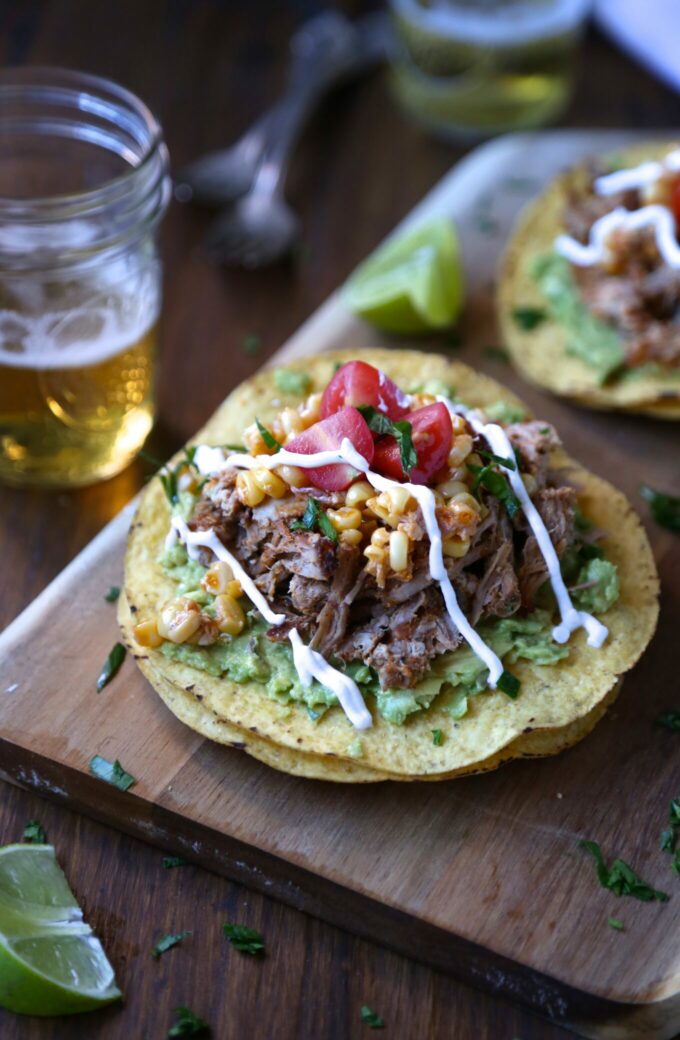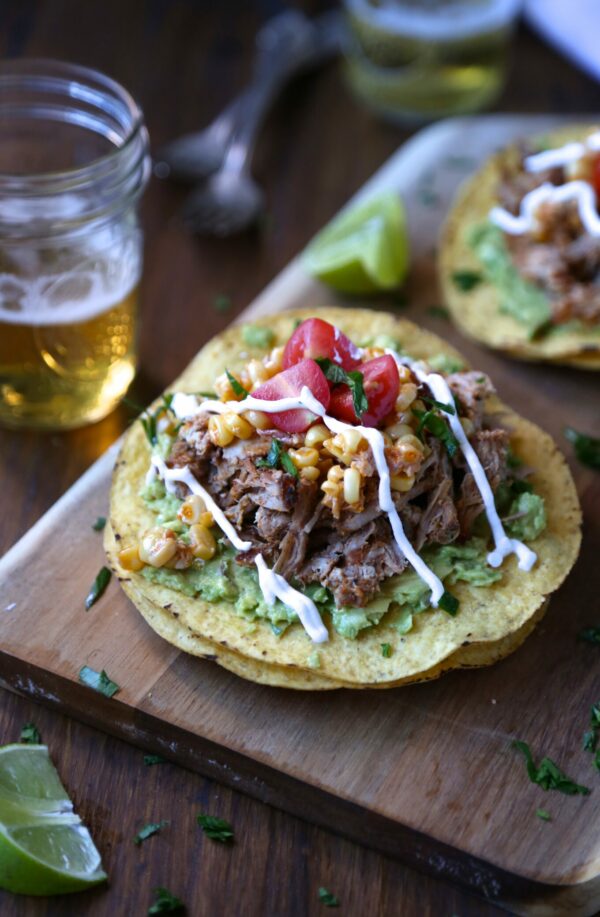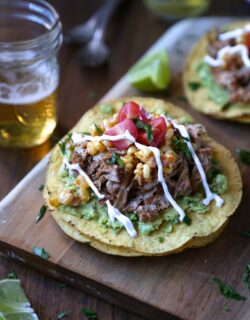 Slow Cooker Spiced Baby Back Rib Tostadas with Corn Relish & Crema
Ingredients:
for the baby back spiced ribs:
1 slab baby back ribs
1 onion, sliced
2 to 3 cups beef stock
2 tablespoons chili powder
1 tablespoon cumin
1 tablespoon coriander
1 tablespoon garlic powder
1 tablespoon paprika
salt and pepper to taste
4 to 6 Tostadas
grape tomatoes, garnish
2 medium avocados, pits removed, smashed
Mexican crema, garnish
for the corn relish:
2 tablespoons unsalted butter
1 cup corn
1/4 cup red onion
squeeze of lime
1/2 teaspoon garlic powder
1 teaspoon paprika
dash of Tabasco
1 oz cream cheese, room temperature
salt and pepper to taste
Directions:
for the baby back spiced ribs:
In a small bowl, combine chili powder, cumin, coriander, garlic powder, paprika, and s&p. Rub the dry rub all over the ribs. Place sliced onions in the bottom of the slow cooker. Place ribs on top. Pour beef stock into slow cooker. Cook on low for 7 to 8 hours.
Remove ribs from slow cooker and separate meat from the bone with a fork. Take a tostada, spread some of the avocado on the bottom. Top with meat, corn relish, tomatoes, and crema.
for the corn relish:
In a skillet preheated to medium-high heat, melt butter. Add the corn, red onion, lime, garlic powder, paprika, Tabasco, and s&p. Saute until the corn has softened and slightly brown. Remove from heat and stir in cream cheese.
All images and text ©