foodie fridays: mini sloppy joe naan pizzas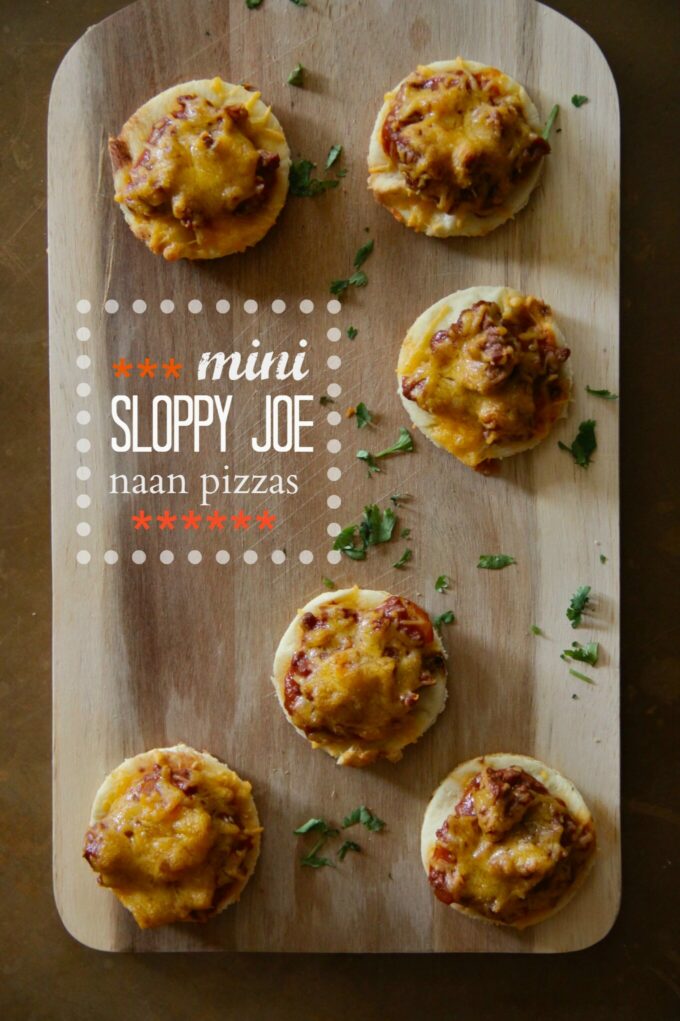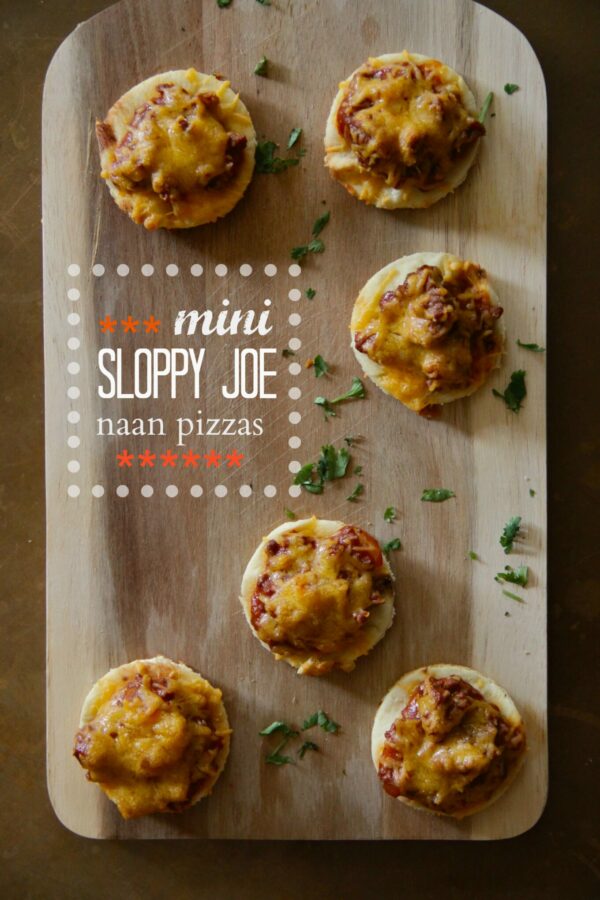 I am resisting the urge.
The kind of resisting where you want to take your index finger and swipe the perfectly, frosted vanilla orange buttercream pumpkin cake type of urge. You know if you swipe the top of the cake, you'll have committed a cake felony. There's no turning back. There's no opportunity for frosting parole. The frosting is no longer visual perfection.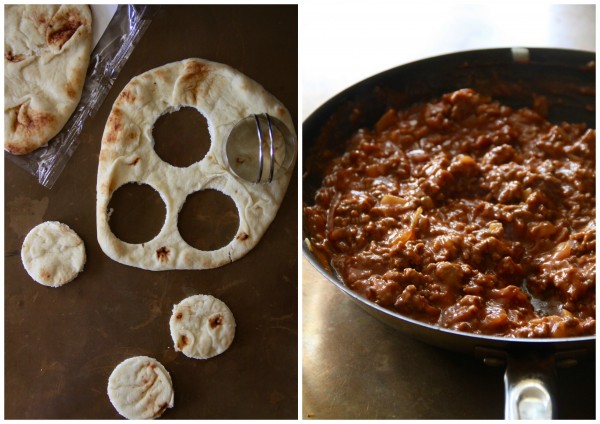 In case my cake-prison metaphor was a little sticky to see through, I'm resisting the urge to anticipate fall. However, it occurred to me that anticipating fall is practically wanting to lick it.  Just think of it as licking a snozberry like Verruca Salt. Anyway, friends, you have no idea how badly I want to switch out my flippy-floppies for my knee high boots. I am practically chomping at the bit to make my chocolate chip pumpkin muffins and sip some pumpkin lattes. And I can't WAIT to watch my Kansas State Wildcats throw the pigskin around. Okay, really I can't wait for the tailgating. Burgers and beer, yo!
But right now, I am resisting the urge.
Instead of licking the proverbial fall cake, I am going to chilax and distract my fall hunger with some fun comfort food. A couple of months ago, I took a standard ol' sloppy joe sandwich and turned it into a quesadilla. Y'all went bonkers over the 'dilla. Hence why we are friends. Well, to keep you rooting for Team CGM, I thought I would treat you with another version of sloppy joe, the pizza. Put the stink-eye away for 2.2 seconds and hear me out.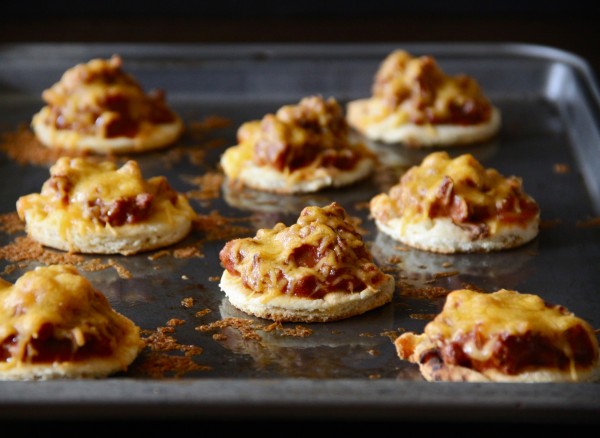 Think of this version as a baked, open-faced old school sammie. It's like a slug bug, but upgraded to a convertible. Everything is still the same – ground, spicy beef, cheese, layered on bread. But now it has a splash of a little something extra with the naan. Personally, I think they should be serving sloppy joe naan pizzas up in every cafeteria in 'MERICA. It would distract kids from wanting to lick the vending machines.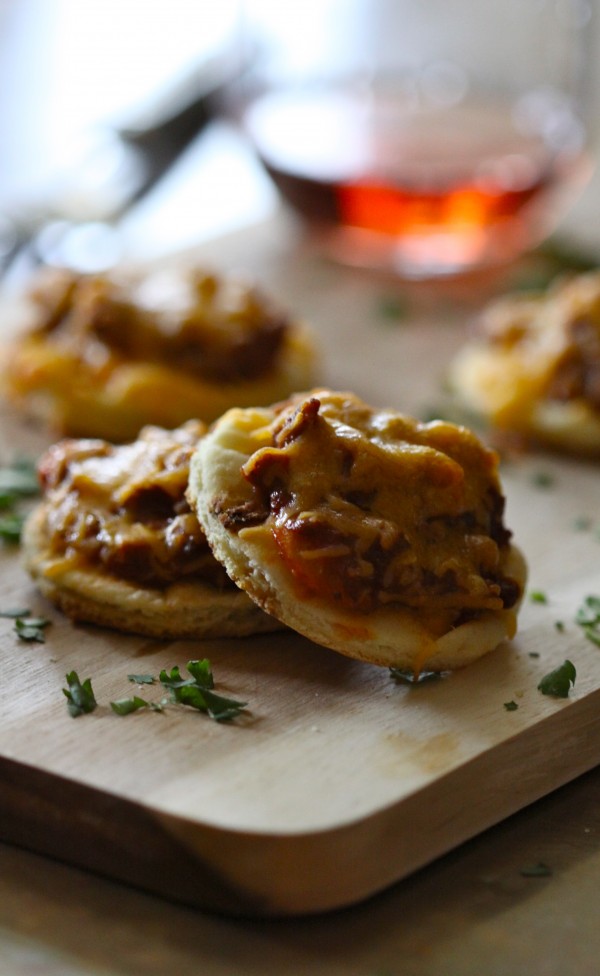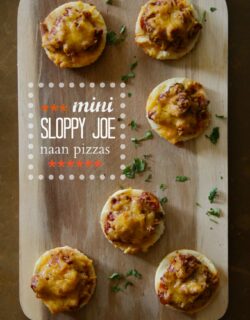 Mini Sloppy Joe Naan Pizzas
Ingredients:
1 small yellow onion, chopped
1 pound lean ground beef
1.5 cups ketchup
3 tablespoons yellow mustard
1/2 tablespoon brown sugar
1.5 tablespoons tomato paste
1/2 tablespoon red wine vinegar
salt and pepper
1 package whole wheat naan (should be two pieces)
1 cup cheddar cheese, shredded
Directions:
Preheat a skillet to medium-high heat. Add one tablespoon of olive oil to the pan and begin to saute onions. Once the onions are translucent, add the ground beef and begin to brown. Takes about 7 to 8 minutes. Add ketchup, mustard, brown sugar, tomato paste, red wine vinegar, and salt/pepper. Reduce the heat to simmer and let the sloppy joe mixture hangout for about 5 more minutes or until thickens.
Preheat oven to 400 degrees. Line a baking sheet with foil and spray with non-stick cooking spray. Take a two inch biscuit cutter and cut four to five rounds (depending on the size) out of one slice of naan. Repeat with other slice of naan. Place naan rounds on the baking sheet. Dollop a teaspoon of the sloppy joe mixture on top of each circle followed by cheese!! Bake for about 10 minutes or until golden brown. Enjoy!!!
sloppy joe recipe from Tyler Florence
All images and text ©