foodie fridays: ratatouille beer brats with spicy bechamel sauce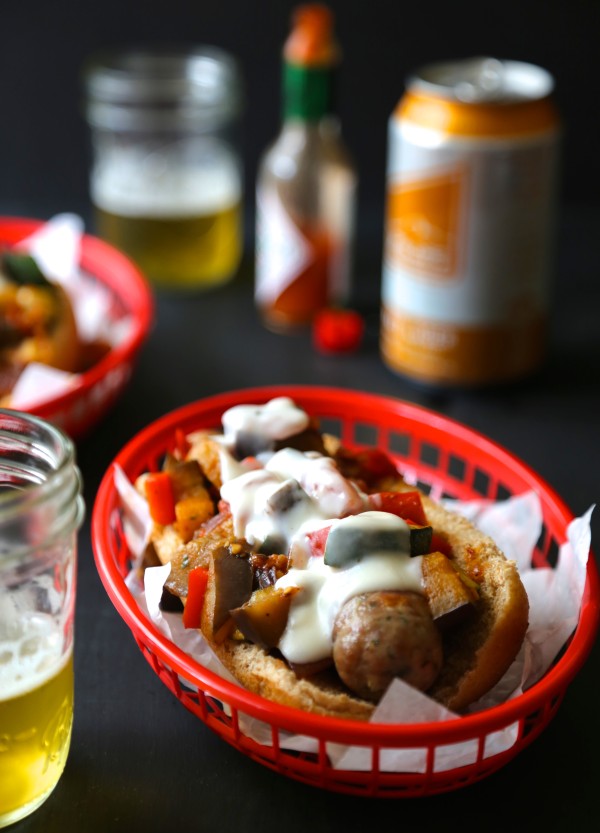 Hey sports fans, it is officially dawg season.
Can I get an Arsenio Hall, "Whoop, whoop, whoop?"
I can't tell you how excited I am that football season (ehem…tailgating season) is here. I love watching my alma mater win; and of course I love watching them more when a plate of nachos, potato skins, and a juicy beer brat are out in the parking lot.
Nothing is off limits when it comes to tailgating: cold beer, cocktails, or even a batch of Purple Passion (very popular back in the day). K-Stater's, you know what I'm talking about.
Let's be honest, we tailgate because of the food. Who can resist the chili bars, burgers, barbecued ribs, nachos, and my all-time favorite, brats? Football season is the only time of the year I fancy a grilled dawg. There's something nostalgic about eating a juicy brat on a cold day that get's you fired up for the game.
Another great thing about dawg season are toppings!! Besides dawgs, don't' forget that potato sides need savory options, too. Imagine going to a tailgate bash and having over a dozen topping options to put on your mashed potatoes, tater tots, or fries! I'd die. Um, yes, I'll have the queso, jalapenos, and a little bit of pico on top of my tater tots. K. Thanks.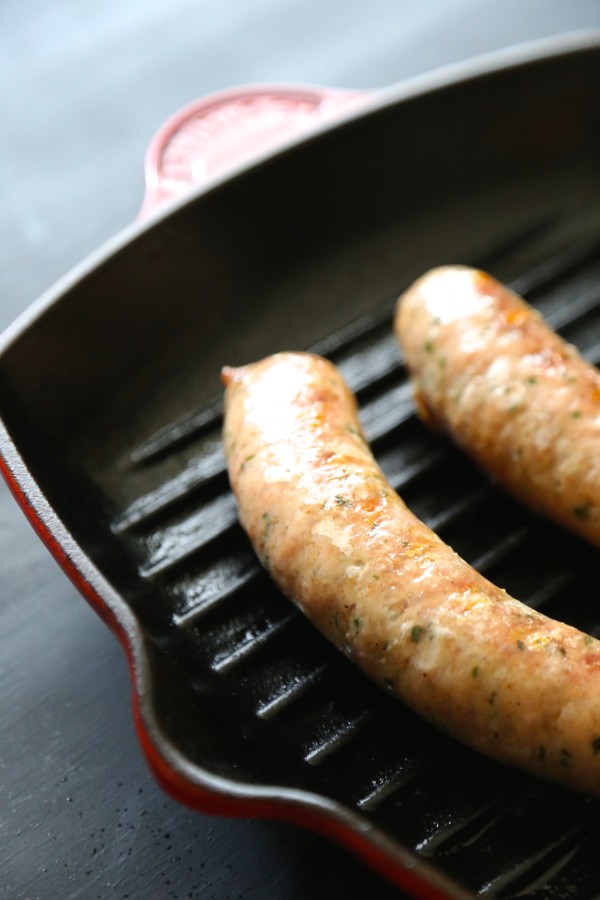 I thought it would be fun to add an old-school topping to this beer brat. Ratatouille is a French dish comprised of sautéed veggies and is fantastic on it's own, as a side, or as a topping. So, I grilled a brat, and topped it with the veggie mixture. However, before I took a bite, I knew it needed something extra. BOOM. Bechamel sauce. A dusting of spicy gravy made this entire dawg experience score a tailgate touchdown.
Now, can I get another, "Whoop, whoop, whoop?"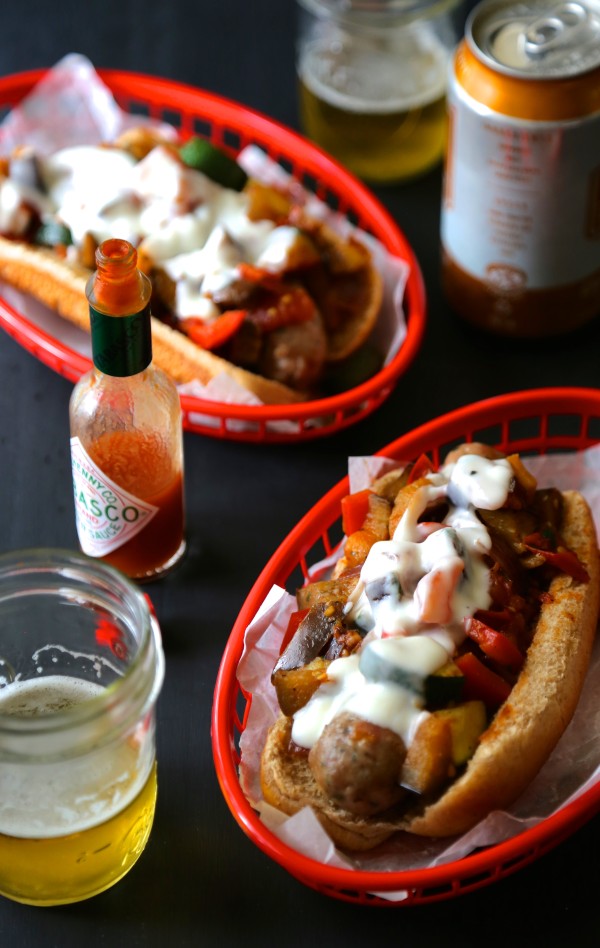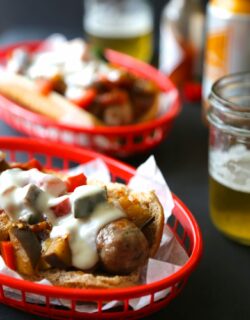 Ratatouille Beer Brats with Spicy Bechamel Sauce
Ingredients:
for the brats:
4 beer brats
4 whole whole wheat brat buns
for the ratatouille:
1 cup olive oil
3 medium tomatoes, deseeded, chopped
5 garlic cloves, minced
1 1/4 teaspoons crushed red pepper flakes
Kosher salt
One large eggplant, chopped
2 small zucchini, chopped
1 large red onion, chopped
1 red bell pepper, chopped
1 bay leaf
1/2 cup fresh basil, chopped
for the bechamel sauce:
3 tablespoons unsalted butter
3 tablespoon all-purpose flour
3/4 cup whole milk
1/4 teaspoon nutmeg
1/4 teaspoon red pepper flakes
salt and pepper to taste
Directions:
for the brats:
Preheat a grill to medium-high heat. Place brats on the grill and grill for about 10 minutes, flip, grill for another 5 to 7 minutes. Remove from grill and place on a plate to slightly cool.
To serve, place brat in bun. Top with ratatouille and bechamel sauce. Serve immediately with a big ass BEER!
for the ratatouille:
Preheat a large skillet to medium-high heat. Add two tablespoons of olive oil to the pan. First vegetable to brown, tomatoes. Add tomatoes along with one garlic clove, 1/4 teaspoon crushed red pepper flakes, and a pinch of salt. Cook for about five minutes or until soften. Remove tomatoes from skillet and set aside. Wipe skillet if you want. I didn't because everything gets cooked down pretty well. You will repeat the same process with the eggplant, zucchini, onions and red bell pepper. Remember, you have to cook each vegetable individually. Once you've cooked the vegetables, throw everybody back in skillet and add a bay leaf, 1/2 cup fresh basil and about 1/3 cup water (more if needed). Simmer veggies for about 15 minutes until everything is well combined. Remove bay leaf before serving.
for the bechamel sauce:
Preheat a small saucepan to medium heat. Melt the butter. Add the flour and begin to whisk for a minute or two. Gradually add the milk and continue to whisk until smooth, about five minutes. Add the nutmeg, red pepper flakes, and salt & pepper. Stir to combine and remove skillet from heat.
All images and text ©