twice baked beef & chorizo stuffed plantains with homemade queso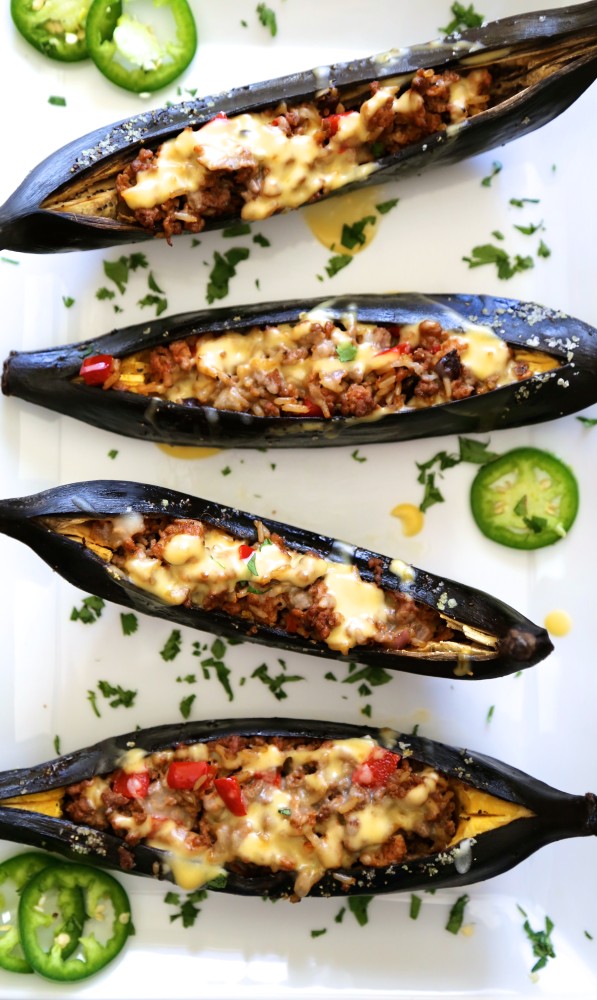 Our journey has only begun.
Some may disagree. Others will nod in agreement.
How do you measure a marriage journey? By years? By experiences? By milestones? Mr. B and I were married seven years ago today. Can we get a high-five? We were young, practically babies, freshly graduated from college and looking to conquer the world together.
Yet, in the seven years we have been married, I feel like we are just scratching the marriage surface. Yes, we have traveled to some amazing places – NYC, Puerto Rico, Napa, San Francisco, Costa Rica, France, and London. We learned to scuba dive, fly fish, and surf together. And we've both sacrificed to help each other succeed in our careers.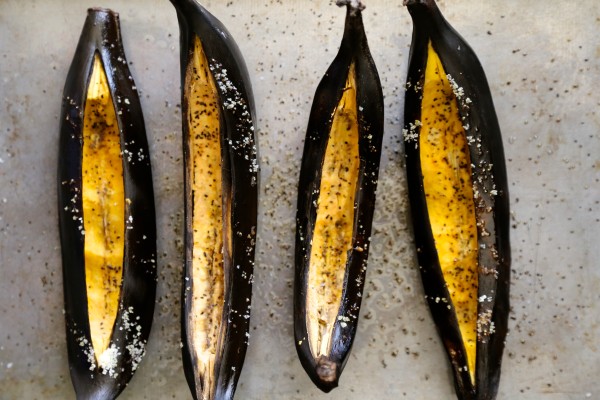 Even though seven years should feel like a long time, it really doesn't. And I owe that to Mr. B. Mr. B is my rock. He's the one person in this world that knows the little stuff: like how I find honeydew pointless, or how I take my coffee: cream, two sugars. Mr. B is also the man that pushed me into learning how to snow ski as an ADULT! He introduced me to bourbon, gardening, riding a scooter, and most importantly, cooking! GASP. I know, Mr. B was the original Gordon Ramsay in the 'ol Grier household.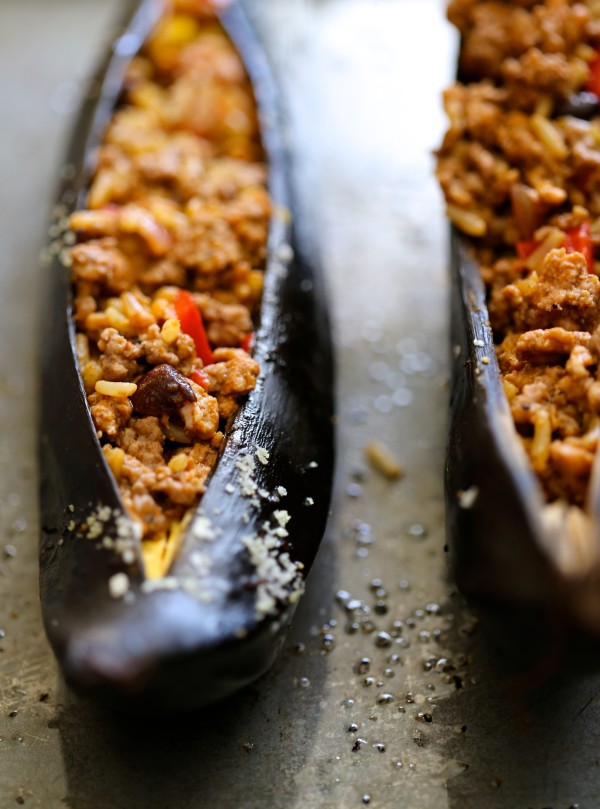 To celebrate our seven years of marriage, I thought I would make something that we had while on our honeymoon in Costa Rica. This is where we were first introduced to plantains. I remember falling in love immediately and thinking their cousin, the banana, was so 2006. This recipe isn't for the caramelized version we had, but let me tell you, these plantains are stuffed with a beef/chorizo mixture topped with a homemade queso that will blow your mind.
So, raise your forks, here's to another seven years full of love and adventure.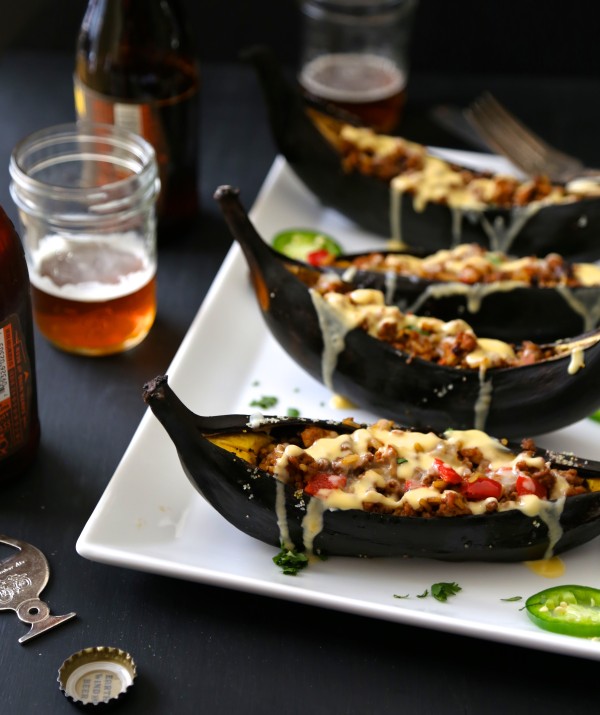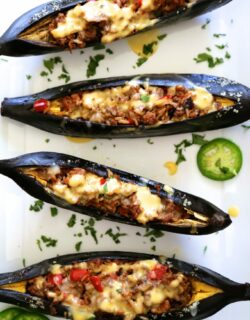 Twice Baked Beef & Chorizo Stuffed Plantains with Homemade Queso
Ingredients:
for the plantains:
4 ripe plantains
1 tablespoon olive oil
2 tablespoon unsalted butter
1/2 pound lean ground beef
1/2 pound ground chorizo
1 red pepper, chopped
1 red onion, chopped
1 cup black beans & rice, cooked
1/2 cup mozzarella, shredded
cilantro, garnish
salt and pepper to taste
for the queso:
3 tablespoons unsalted butter
3 tablespoons all-purpose flour
1 cup whole milk
3/4 cup cheddar cheese, shredded
salt and pepper to taste
Directions:
for the plantains:
Preheat oven to 350 degrees.
Spray a baking sheet with non-stick cooking spray. Take a plantain and slice 1/4 inch off the bottom so it will lay flat on the baking sheet. Next, take a knife and cut across lengthwise. Scoop out about 2 tablespoons of the filling. Place plantain on baking sheet. Repeat process with remaining plantains. Sprinkle tops of the plantain with olive oil, salt, and pepper. Bake for 35 minutes, remove from oven, and let cool slightly.
Meanwhile, preheat skillet to medium heat. Melt butter and add red onion, red pepper, s&p. Saute for a few minutes until veggies have softened. Remove veggies from skillet and set aside. Add the beef and chorizo to the same skillet. Cook beef and chorizo for about 5 minutes. Add the veggies back in and stir to combine. In a large bowl combine, chorizo, beef, rice, and veggies. Take the mixture and stuff each plantain. Top the stuffed plantains with a little bit of mozzarella and then put the plantains back into the oven again for about 10 minutes. Remove from oven and garnish with homemade queso and cilantro.
for the queso:
In a medium saucepan preheat to medium heat, melt butter. Add flour and whisk, creating a roux. Pour milk into the saucepan and keep whisking so it doesn't start to lump. Once slightly thickened, about three minutes, add the cheese and continue to whisk until desired consistency.
All images and text ©