foodie fridays: roasted brussel sprout totchos with lemon aioli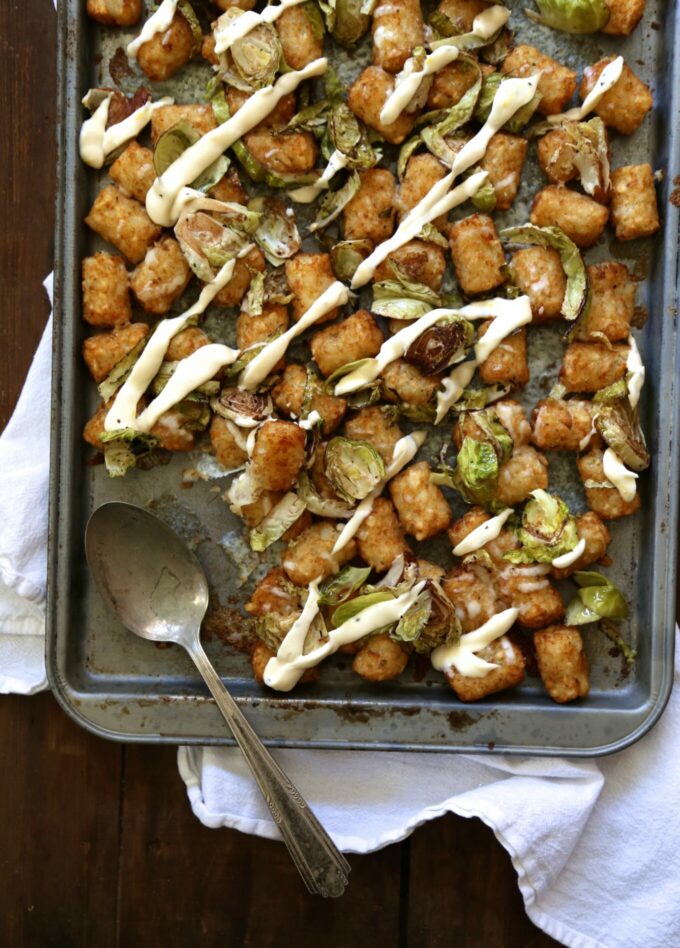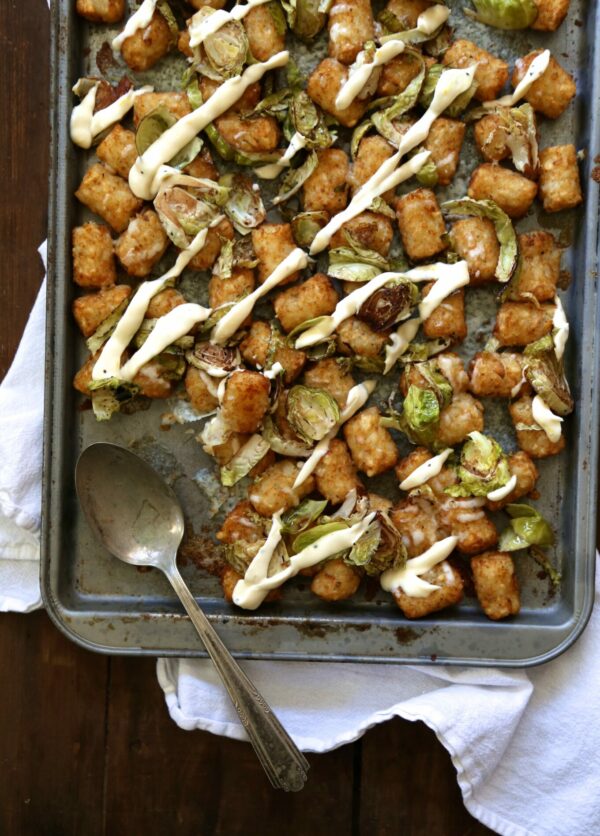 The obsession continues.
I can't stop. I won't stop, until I, get-it-get-it.
I really should have been a rapper. Did I ever tell you I went through a mega rap-listening phase when I was in high school? Oh, YEAH. Bone Thugs-N-Harmony, Tupac (I swear he is still alive), Snoop Dog, Dr. Dre, and Notorious BIG were among my favs. On the other hand, I was also a big Pearl Jam, Tom Petty, and Green Day fan. Green Day's Dookie album was major.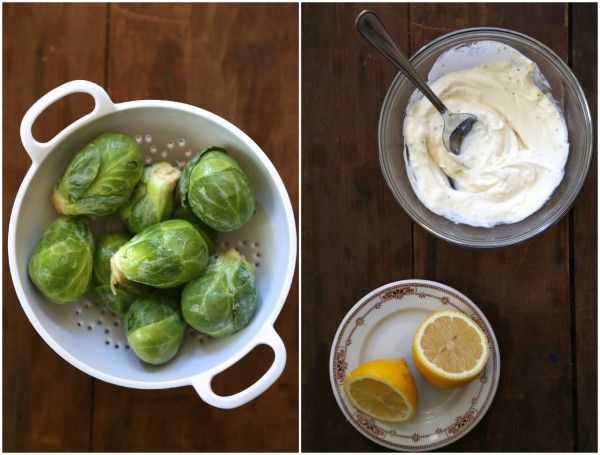 Shoot. Where was I? Oh, yes, the obsession.
I don't know what it is, but in the vegetable world, brussel sprouts have me hook, line, and sinker. I kind of feel like Bubba in the movie Forrest Gump talking about the 4,235 ways you can eat shrimp, only with me, it is with brussel sprouts. You can……bake, saute, boil, fry….the list goes on!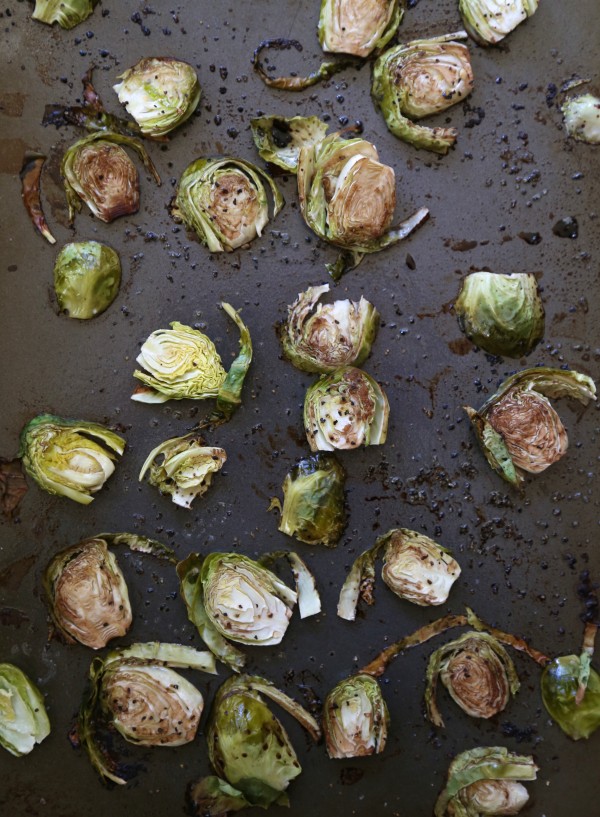 But there is one way that Bubba overlooked, slapping shrimp on some tater tots. How did I not think of this before? Golden tater tots, covered with fresh mozzarella, layered with roasted balsamic brussel sprouts and drizzled with lemon aioli, what's not to like? Plus, let's be real, since these tots are covered with a vegetable, you can have double the serving.
Am I right, Snoop?
Fo' shizzle, my brussizzle.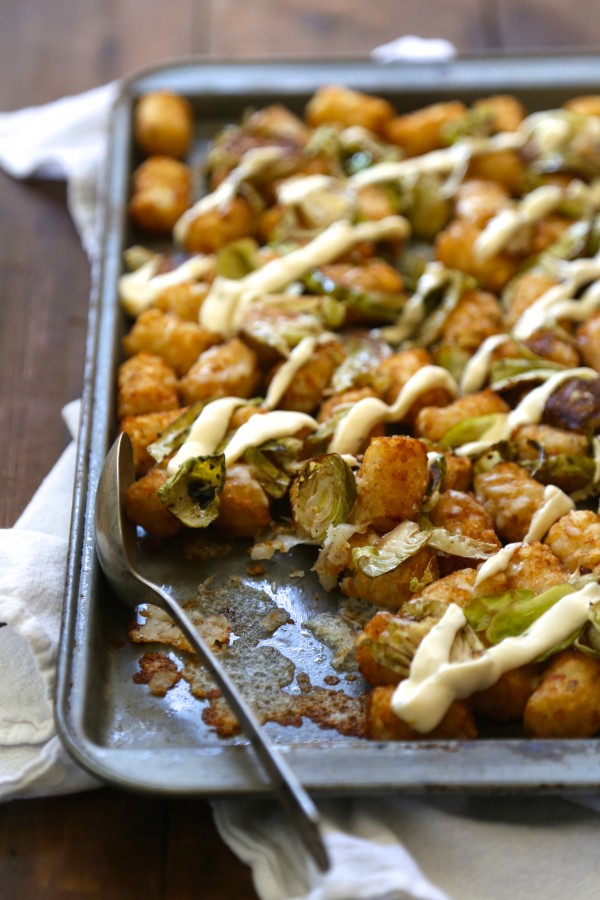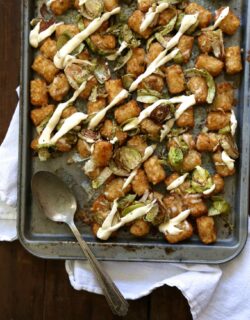 Roasted Brussel Sprout Totchos with Lemon Aioli
Ingredients:
2 cups brussel sprouts, sliced
1 tablespoon olive oil
1 tablespoon balsamic vinegar
1 package frozen tater tots
1 cup mozzarella
1 cup mayonnaise
1 garlic clove, minced
zest of lemon
squeeze of lemon juice
salt and pepper to taste
Directions:
Preheat oven to 425 degrees.
Spray a baking sheet with non-stick cooking spray. Place sliced brussel sprouts on the baking sheet. Sprinkle olive oil, balsamic vinegar, and s&p on top. Roast for 15 minutes or until golden brown. Remove from oven to cool.
Spray another baking sheet with non-stick cooking spray. Place tater tots on baking sheet. Bake for about 20 minutes or until golden brown. Remove from oven and immediately sprinkle mozzarella on top. Then place brussel sprouts on top.
In a small bowl, combine mayo, garlic, lemon juice, lemon zest, and s&p. Stir to combine and then dollop the mayo mixture on top. Serve immediately!
All images and text ©