foodie fridays: slow cooker tijuana chili with jalapeno cornbread croutons & queso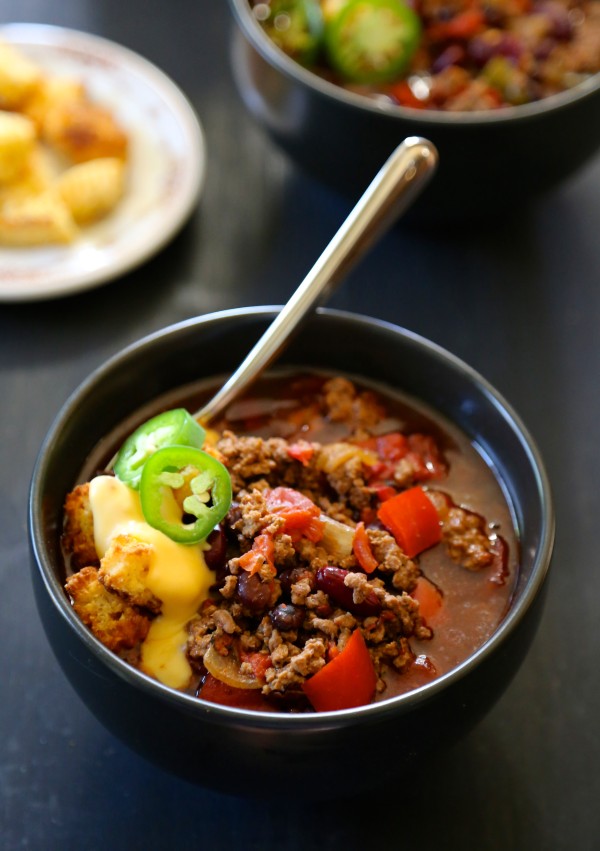 Greetings from Tijuana!
Just kidding.
Curious though….what if I really was in Tijuana? Do people still go there? Is it still a place to dive into sheer crazy shenanigans? Actually, I haven't had a good convo about the ol' "TJ" since my OC watching days. Oh, memories.
I am actually in Kansas City as speak. So, greetings from KC! I'm back to attend the inaugural Chopped Conference, watch the Royals play in the World Series, take my niece to the pumpkin patch, celebrate my mom's birthday, watch K-State football, jog in Loose Park, chilax with old friends, eat Joe's Barbecue, and the best(!!), meet my three week old nephew. Whew bessie!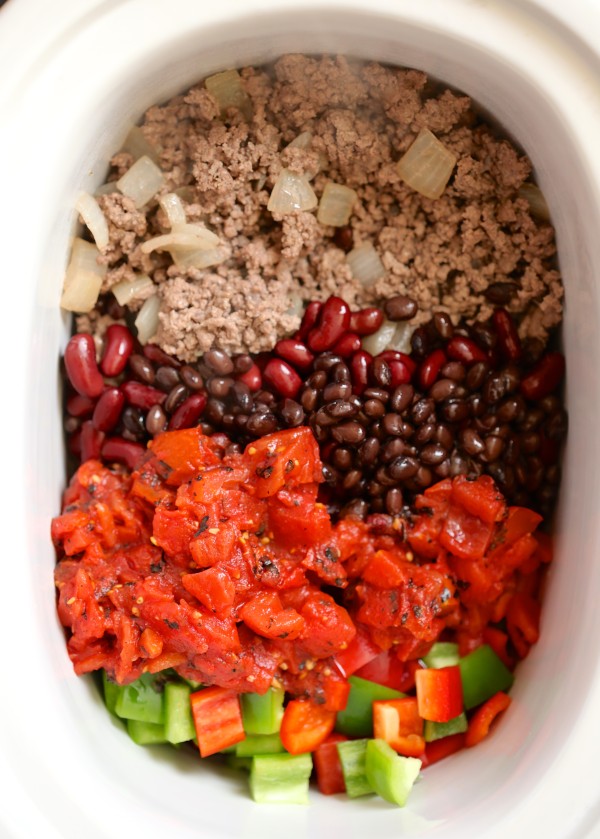 Even though the weekend is going to be jammed packed, I can't be running around on an empty stomach. This time of year is no doubt one of my favorites because of football, foliage, boot wearing, and of course, chili! I luvvvv me some chili. All kinds, yes, even the non-bean Texas kind. Riddle me this Texans? Why chili sans the beans? Has it always been a thing? Do tell!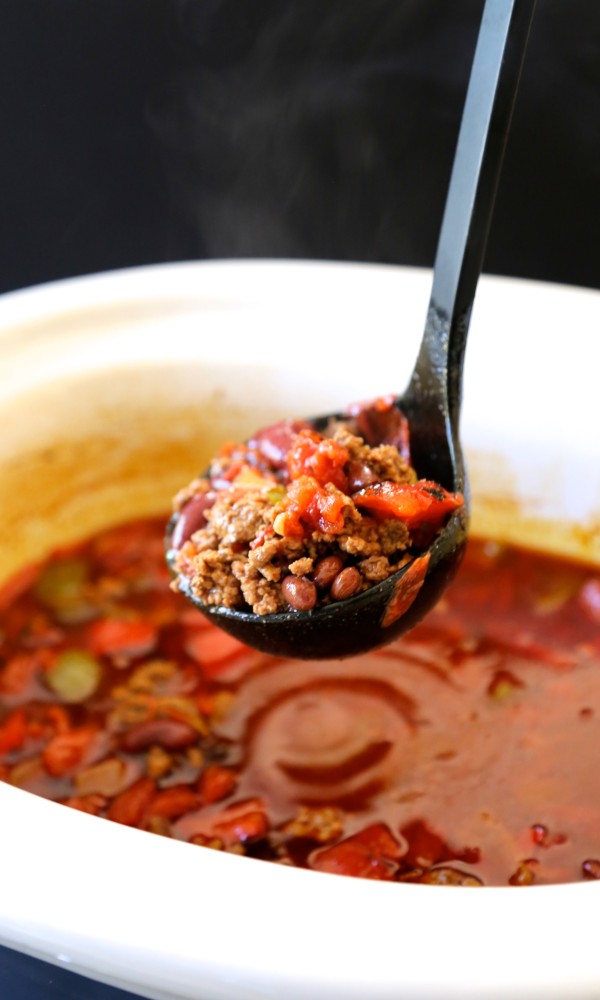 Well, today's chili recipe skips over the great state of Texas and heads right into Mexico. Fire roasted tomatoes, chipotles, cumin, chili powder, ground beef, all nestled into a slow cooker. Believe it or not, this is my first time making chili in slow cooker. And it is life changing, I must say! Besides the spicy flavors that makes this chili an 11/10 situation, topping it with homemade jalapeno cornbread croutons and queso….you'll be saying ole! all weekend!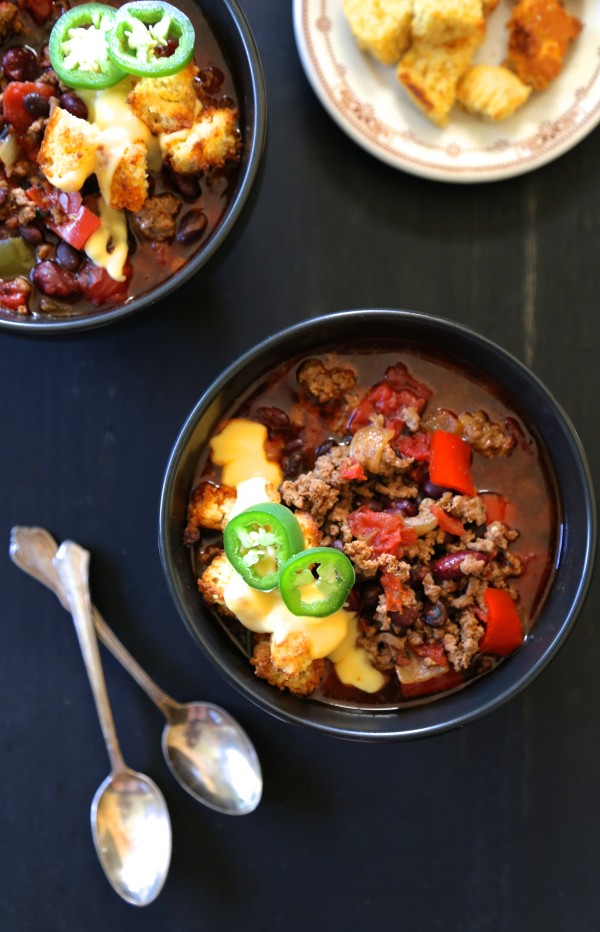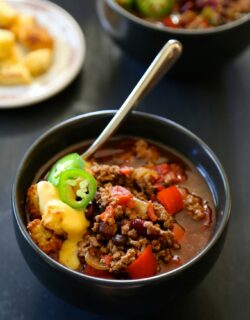 Slow Cooker Tijuana Chili with Jalapeno Cornbread Croutons & Queso
Ingredients:
for the chili:
1 tablespoon olive oil
2 garlic cloves. minced
1 yellow onion, diced
2 pounds ground beef
2 tablespoons chili powder
1 tablespoon cumin
1 tablespoon garlic powder
1 tablespoon coriander
1 tablespoon paprika
1 15oz can black beans, drained
2 15oz cans fire roasted tomatoes
1 15oz can kidney beans, drained
1 green pepper, chopped
1 red pepper, chopped
2 adobo chipotles
3 cups beef stock
sour cream, garnish
tortilla strips, garnish
cilantro, garnish
jalapeño rounds, garnish
salsa, garnish
salt and pepper to taste
for the queso:
3 tablespoons unsalted butter
3 tablespoons all-purpose flour
1 cup whole milk
3/4 cup cheddar cheese, shredded
salt and pepper to taste
for the jalapeño croutons:
1 cup yellow cornmeal
1 cup all-purpose flour
1/3 cup granulated sugar
2 teaspoons baking powder
1/2 teaspoon kosher salt
1 egg
1/4 vegetable oil
1 jalapeño, deseeded, diced
1 cup whole milk
Directions:
for the chili:
In a large skillet, add olive oil, onion, garlic, and ground beef with a little s&p. Saute beef and onion mixture until the meat has fully cooked through.
Next, add the beef mixture to the slow cooker along with chili powder, cumin, garlic powder, coriander, paprika, black beans, kidney beans, fire roasted tomatoes, chipotles, green pepper, red pepper, and beef stock. Stir to combine. Place lid on slow cooker and either cook low for 6 to 8 hours or on high for 3 to 4 hours.Once cooked, ladle chili into bowls and top with queso, cornbread croutons, and whatever else you desire!
for the queso:
In a medium saucepan preheat to medium heat, melt butter. Add flour and whisk, creating a roux. Pour milk into the saucepan and keep whisking so it doesn't start to lump. Once slightly thickened, about three minutes, add the cheese and continue to whisk until desired consistency.
for the jalapeño croutons:
Preheat oven to 400 degrees. Mix all the ingredients in a large bowl. Spray a 8 x 8 baking dish with non-stick cooking spray. Pour the cornbread mixture into the baking dish and bake for about 15 to 20 minutes or until golden brown. Remove from oven to cool slightly. Once cooled, cut into cubes and toast if desired.
jalapeño cornbread recipe adapted from allrecipes.com
All images and text ©