trip recap: biarritz, france – part three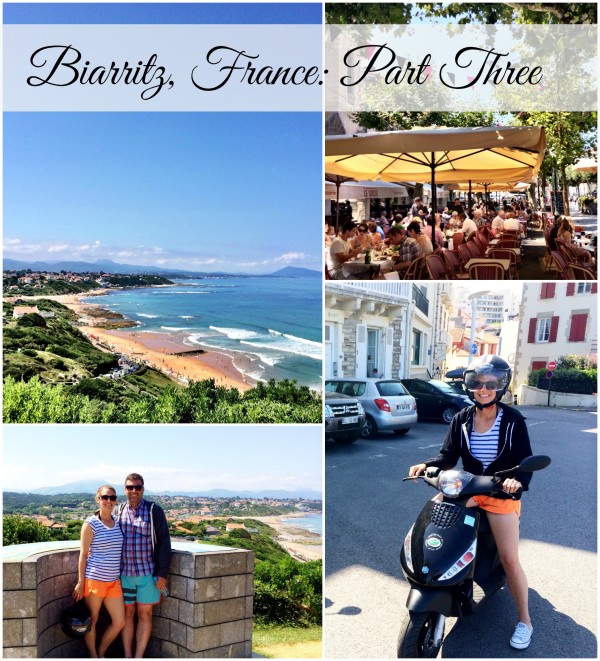 Accueli!
I'm back with round three of my trip recap of Biarritz, France. If you are just hopping aboard this adventure, definitely check out parts one and two so you don't miss out on the previous shenanigans.
Thursday morning we woke up bright-eyed and bushy-tailed. Mr. B had coaxed my Uncle Michael and I the night before into touring coastal towns on scooters. I hate when giggle juice makes deals behind my back.
But before things got sporty, we decided to eat an almost "American" breakfast to start the day off on the right foot. The only place open at 8am was a little cafe down the street that served what they called an English breakfast. This is a hodge-podge of scrambled eggs, Canadian bacon, toast, salad, and weird sausage links.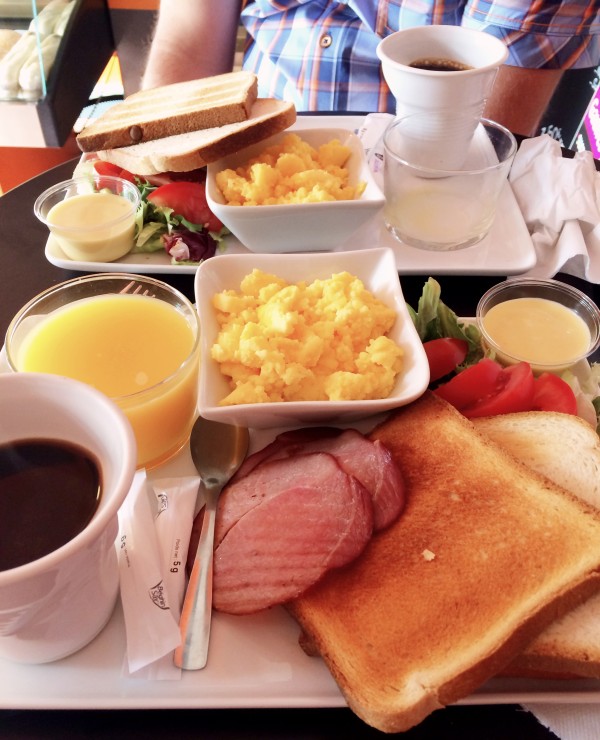 With our stomachs full, we three scooter-tiers gathered in the parking lot/roundabout outside the apartment. Mr. B gave us the ins, outs, and what-have you's about riding a scooter. A quick side note, my uncle has never driven a car. He grew up in NYC and didn't learn, so the man had zero awareness of traffic laws. Just saying that sentence should have been a red flag to 86 the scooters and head to the beach. But! We pressed on.
Now, Mr. B being the clever gent he is, decided to make Micheal and I practice laps around the roundabout to see if we could drive these scooters without falling over. The first 20 yards were EFFFING scary. Micheal and I kept looking at each other…."like we are going to die today." But after twenty minutes of touch and go, everything clicked. Phew.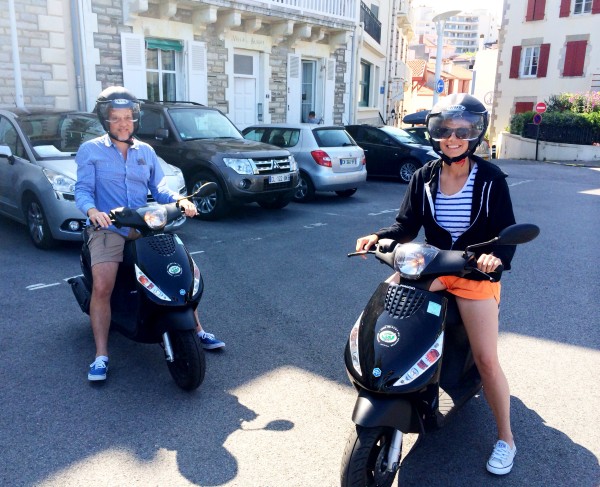 With our confidence boosted, Mr. B thought we should begin our tour. Mr. B led this caravan, Micheal in the middle, and I was cleanup. We made it out of the parking lot and into a main street. Thankfully, it was early so there was hardly any traffic. We decided to go a little ways down to the Cote de Basque and do a temperature to check to see how we all felt. Besides yours truly grabbing the throttle instead of the brake and almost crashing into a sidewalk cafe, we were good to go!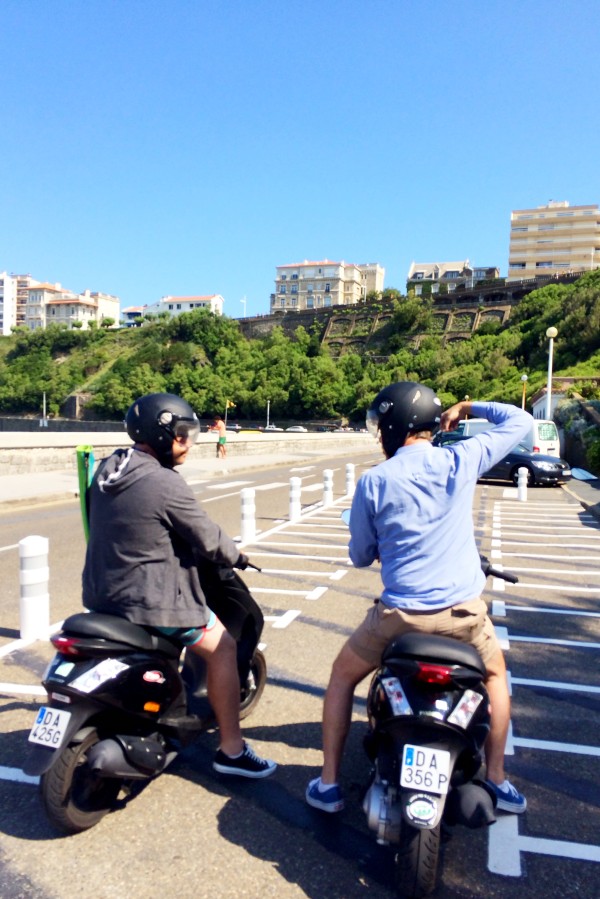 The first stop on our coastal tour was Bidart. Bidart is about 15 minutes south of Biarritz. This small cliff-top basque village is known for their houses of painted white and red roofs. We stopped at one of the famous chapels, St. Magdalene, which was built in 1817 and is rumored to have sailors buried behind the doors.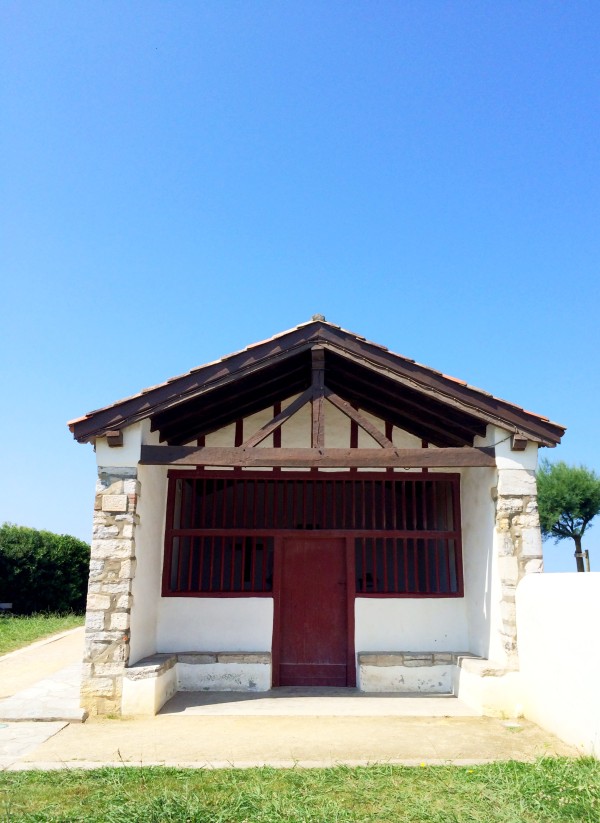 However, besides the rich history, you come for the views in Bidart. Just look at the beautiful, majestic coast-line.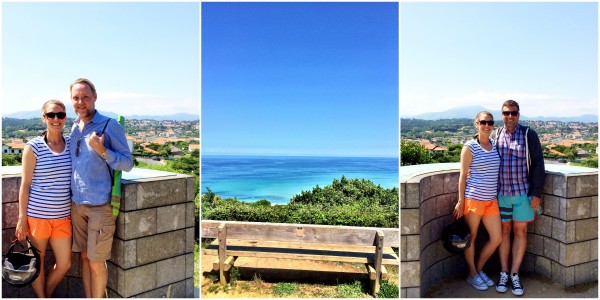 Next stop on the tour was Guetheary – a stone's throw away from Bidart. Guethary is a very small fishing town. There are very few restaurants and hotels, so when you visit Guethary – you surf. With no public beaches, Guethary is hot spot for surfers looking to catch the waves without the crowds.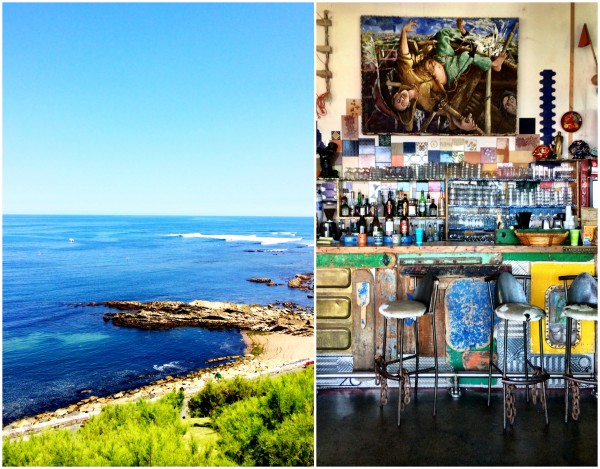 We debated the night before on whether we should head all the way to Spain on this adventure. Somewhere between the Basque mojitos and tapas, we decided to make Saint Jean de Luz our turn around point.
Saint Jean de Luz is a very famous, wealthy city just a few kilometers from the Spain border. With sea walks and promenades to keep out pirates during the monarch's reign, the city has now become a destination for Parisans & Spaniards during the summer months. This city was once a large fishing community, but after WWII, the city now relies on tourism to make it's scrilla'.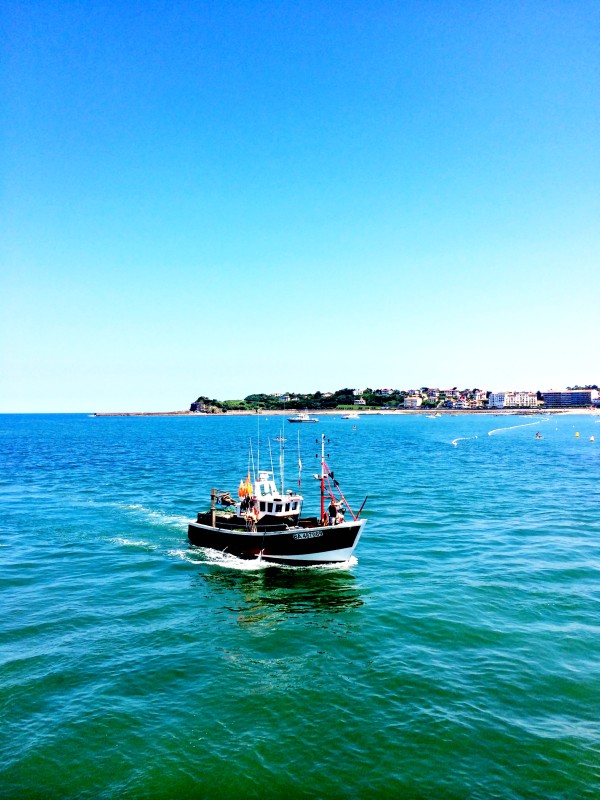 One we got into town, you had to drive through about eight roundabouts to get to our destination. While navigating a couple of roundabouts, Micheal stopped in the middle against on-coming traffic and I took a wrong turn. Can you say shit show? Somehow, Mr. B was able to corral us, park our scooters, and not shank us for driving like crazy people.
We all took a moment to breathe and soak in the beauty of our surroundings before we strolled into town.
I fell in love with the city's architecture. I didn't know this, but apparently back in the day, your shutters on your house were painted a certain color depending on your occupation. I wonder what color a food blogger would paint?  As we walked through town and eventually made it onto the boardwalk, we ordered some sandwiches followed by the most important menu item, glace. Cinnamon and rum? Yes, please!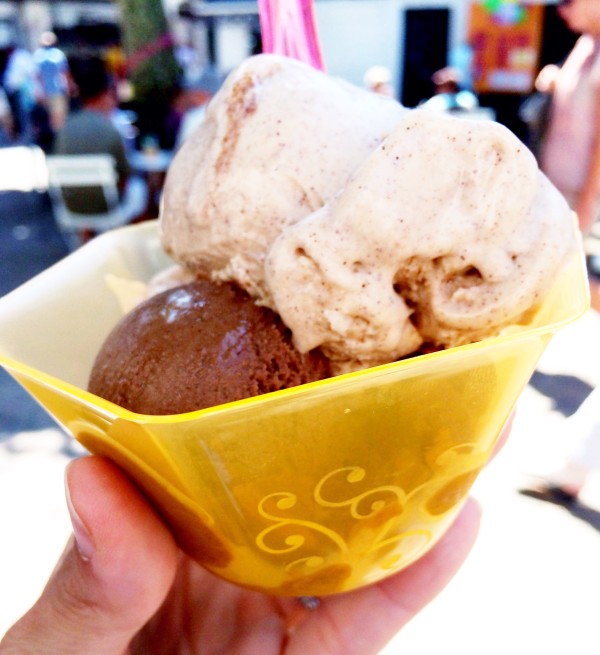 On the way back to the scooters, we stopped inside one of France's oldest churches, St. John Baptist. This church was built during 15th century and was the venue of the most important political marriages in history. King Louis XIV of France married Maria Theresa of Spain to end the war between Spain and France. Also, this door is where the monarchy would enter because they were considered gods. Everyone else had to use the main entrance. Sounds like something you would read about in US weekly about a celebrity getting into a club. Such drama!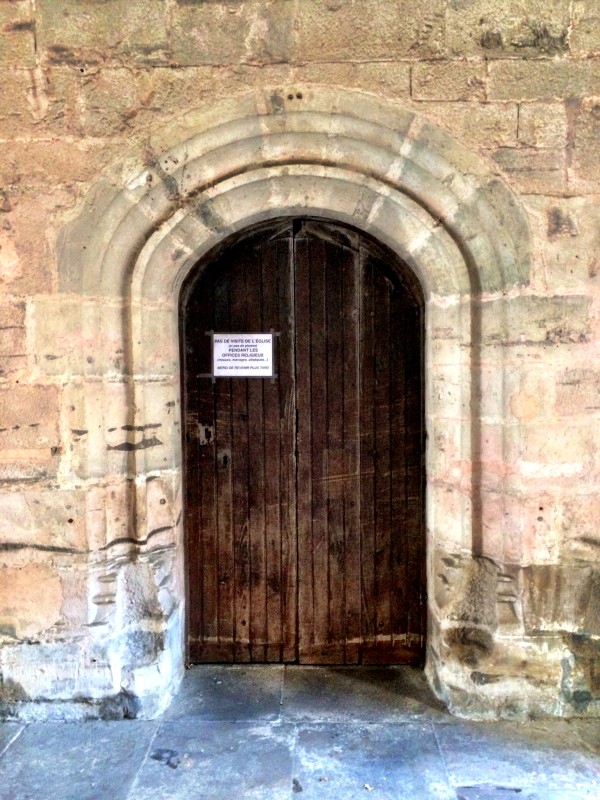 To the scooters! Our final destination of the day took us to the Basque countryside and a town called, Arcangues. Things got rather interesting as we left Saint Jean du Luz and ventured toward this small town. What do you do when you have three scooters that won't go above 30mph on a 70km freeway? You say eighteen Hail Mary's and act like an ignorant American tourist!
How we made it safely to Arcangues is beyond me! Arcangues is a super small town that is home to the famous Spanish tenor Luis Mariano. Apparently his grave is a highlight to have your picture taken so there we were, awkwardly smiling and taking a picture in front of a famous deceased tenor.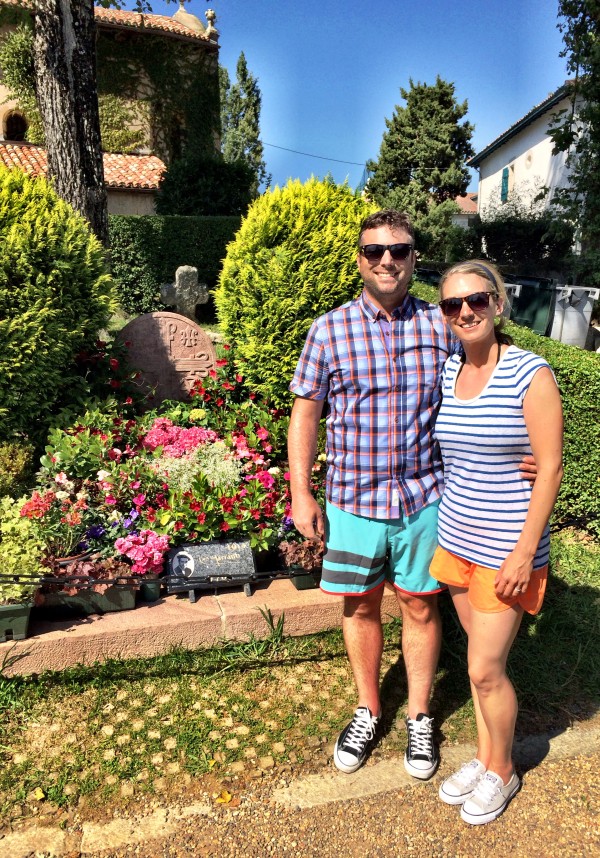 We walked around for a few moments and snapped a few pics of this gorgeous restaurant with huge trees. Plus, you can't beat this stone table, am I right?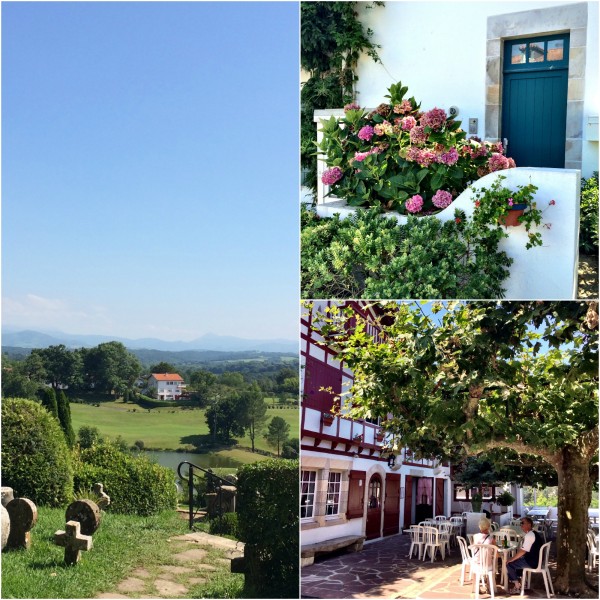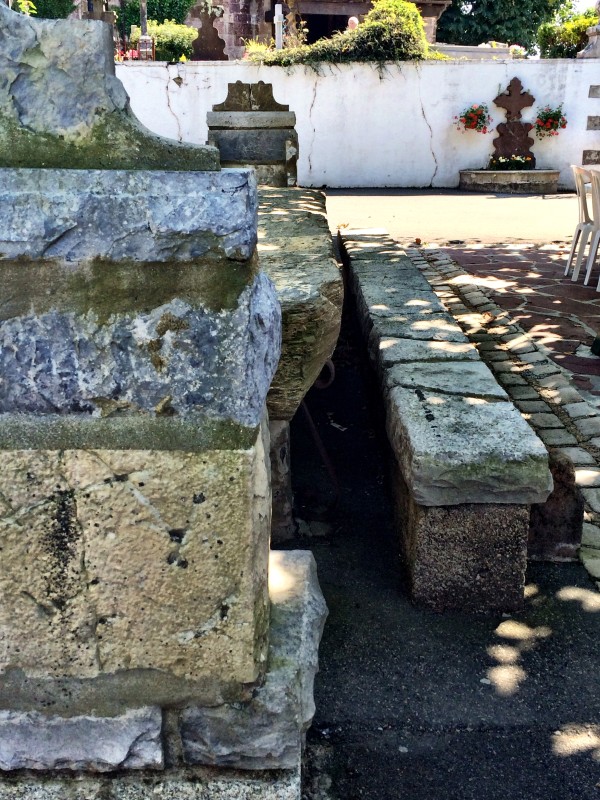 And that's a wrap. Even though we had to explain the meaning of a stoplight to my uncle, and almost ran into the side of a cafe, we had a very successful eight-hour coastal tour on our scooters!
Still more to come!! We learned how to surf, watched a rugby match, and ate our weight in ice cream….stay tuned, you don't want to miss the grand finale- part four!