Four Cheese Spiced Pimiento Pizza
Four Cheese Spiced Pimiento Pizza is the ultimate pizza! Topped with mozzarella, Parmesan, provolone, blue cheese and pimentos. You'll want a slice or two!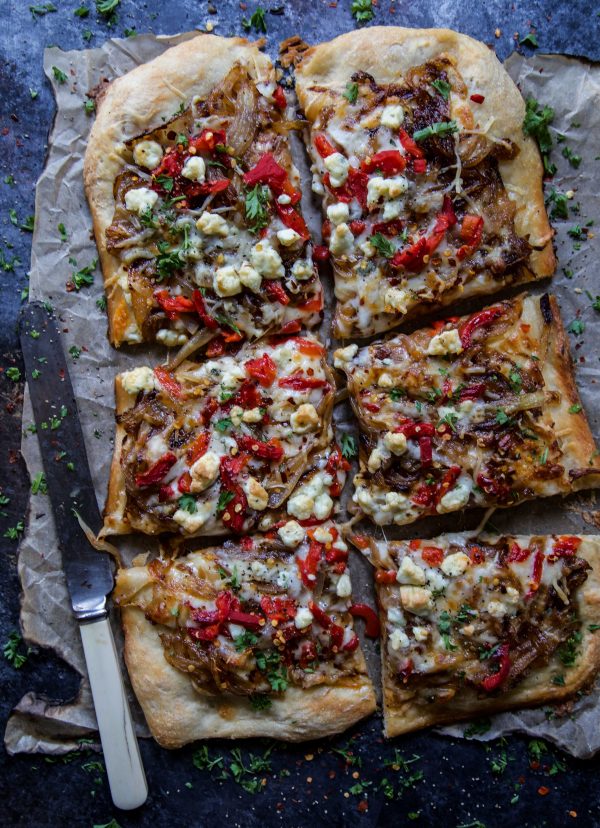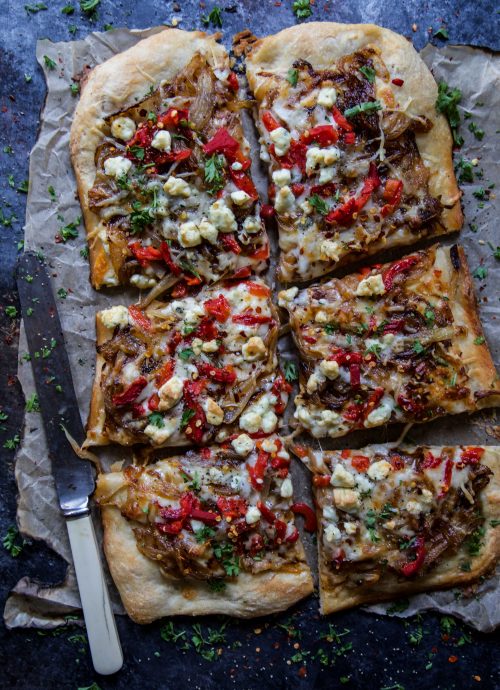 Here we go, on the road again.
Yep, yep.
We are Kansas bound for the holidays. I realize you may be thinking, but didn't you just get back in town on Sunday? You are correct. Mr. B and I knew December was going be a little crazy town (population us) which is why next week when we get back to Denver we're doing absolutely nothing. I want to be focused and refreshed going into the 2018.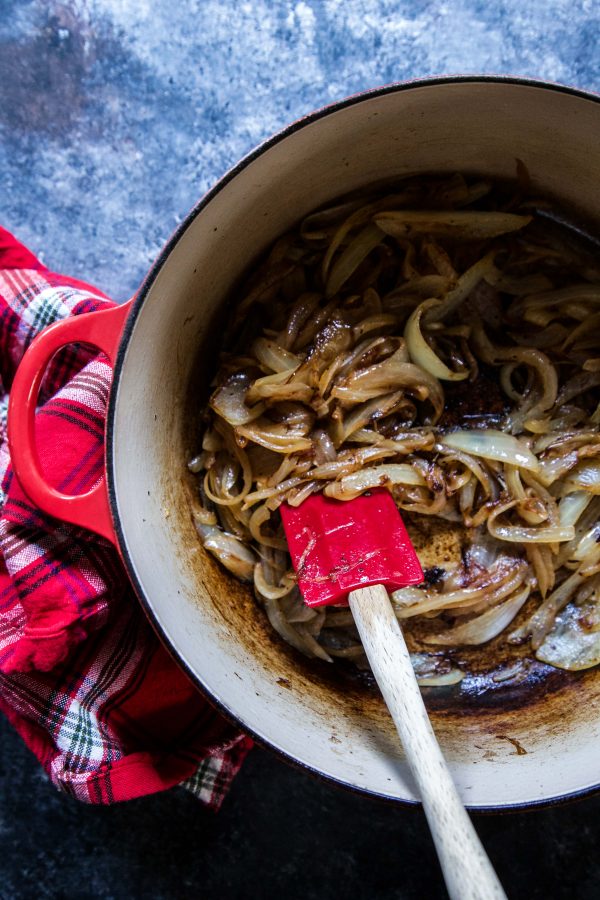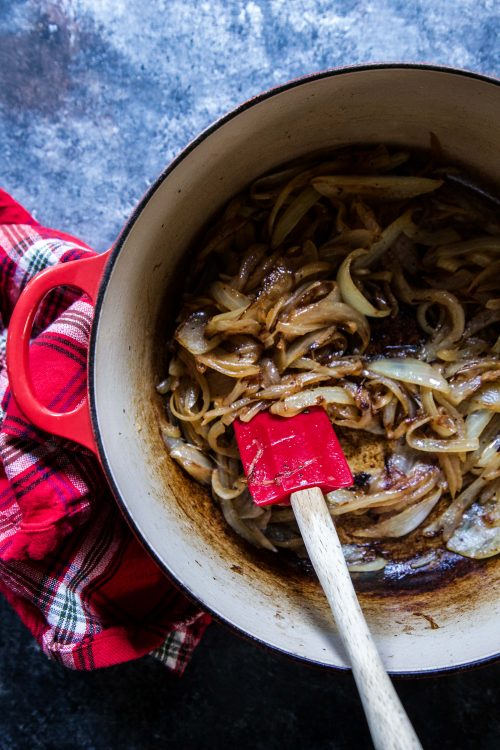 My plan is to post one more recipe next week just an FYI. I thought we needed a glass of giggle juice to celebrate the upcoming new year and trust me, you guys are going to flip over this cocktail. Let's just say it's got a sparkling punch.
Anyway, where are my manners?! Here I am talking about the new year and we've got to chat about this Four Cheese Spiced Pimiento Pizza. One of my favorite traditions growing up was eating pizza for Christmas Eve dinner. After hours of sitting in Catholic mass wearing a polyester red dress trying not to fall asleep during the priest's homily, one can work up quite the appetite.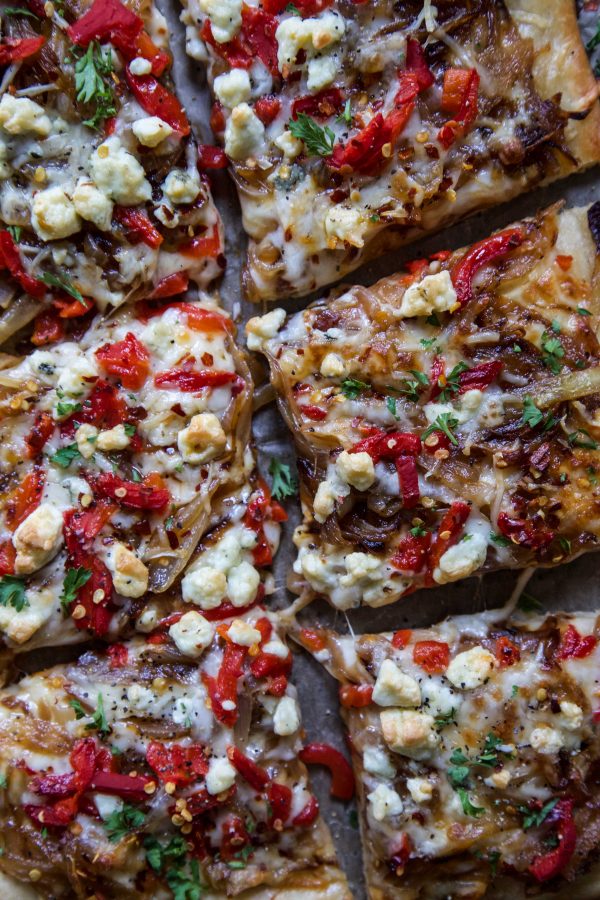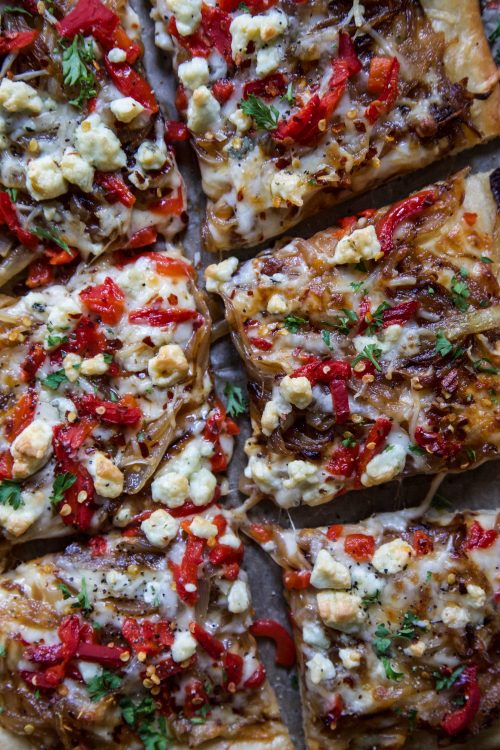 I'm not quite sure how the tradition started. Maybe my parents did it out of survival? Telling three kids to behave during mass with the promise of cheesy goodness at the end. We were prime for sainthood. This Four Cheese Spiced Pimiento Pizza is definitely making an appearance on Sunday. With an all-star combo of mozzarella, Parmesan, provolone, blue cheese and the addition of pimientos, what's not to like?
From all of us at Climbing Grier Mountain, we wish you a blessed and loving holiday! Merry Christmas, friends.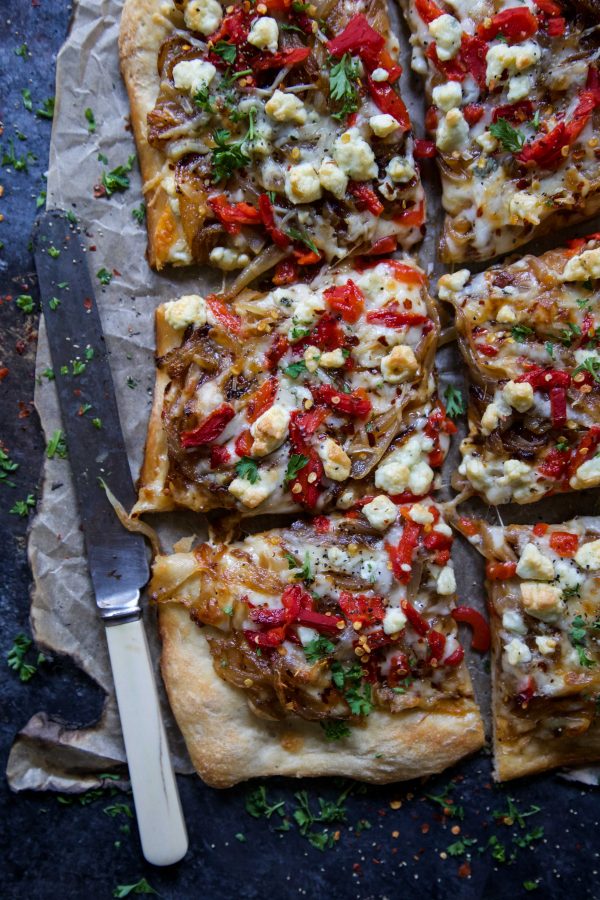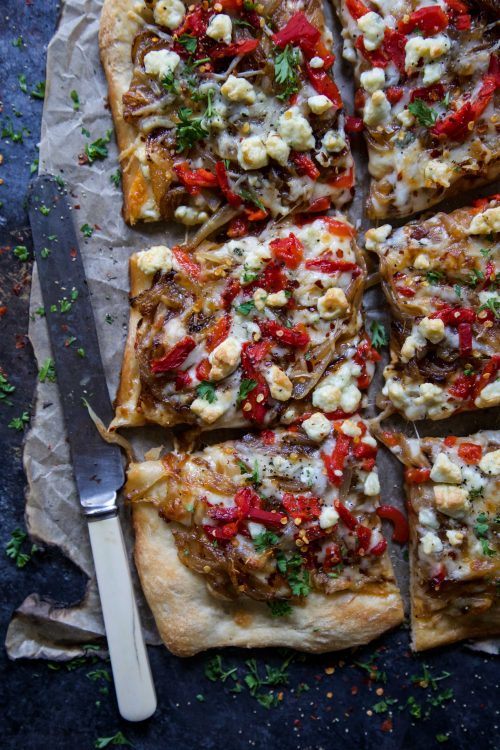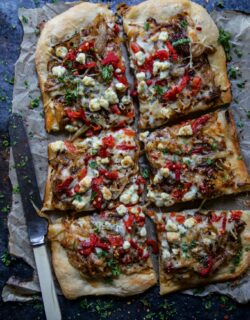 Four Cheese Spiced Pimiento Pizza
Ingredients:
1 pkg store bought pizza dough or homemade dough
3 tbsp unsalted butter
3 cups thinly sliced yellow onions
1 4oz jar pimiento peppers, drained
6 slices provolone cheese
1/2 cup crumbled blue cheese
1/2 cup shredded parmesan
1 cup shredded mozzarella
2 tbsp ground red pepper flakes
Fresh parsley, for garnish
Salt and pepper to taste
Directions:
Preheat oven to 400 degrees. Take the pizza dough and spread it out into a large rectangle on a baking sheet. Place the dough into the oven to partially bake for seven minutes. Remove baking sheet from the oven and set aside.
Meanwhile, preheat a large nonstick skillet to medium heat. Melt the butter and then add in the onions, salt and pepper. Stir to combine and continue to cook the onions until caramelized about 15 minutes. If you need to add more butter to the skillet that's okay! Once the onions are done, remove the skillet from the heat.
Take the partially baked pizza crust and place six slices of the provolone on top. Next, top the cheese with the caramelized onions followed by blue cheese, parmesan, pimiento peppers and red pepper flakes. Place the pizza back in the oven to cook for about 15 minutes. Remove the pizza from the oven and let cool slightly before slicing. Garnish with fresh parsley and enjoy!
All images and text ©