fried chicken and waffle-tots with honey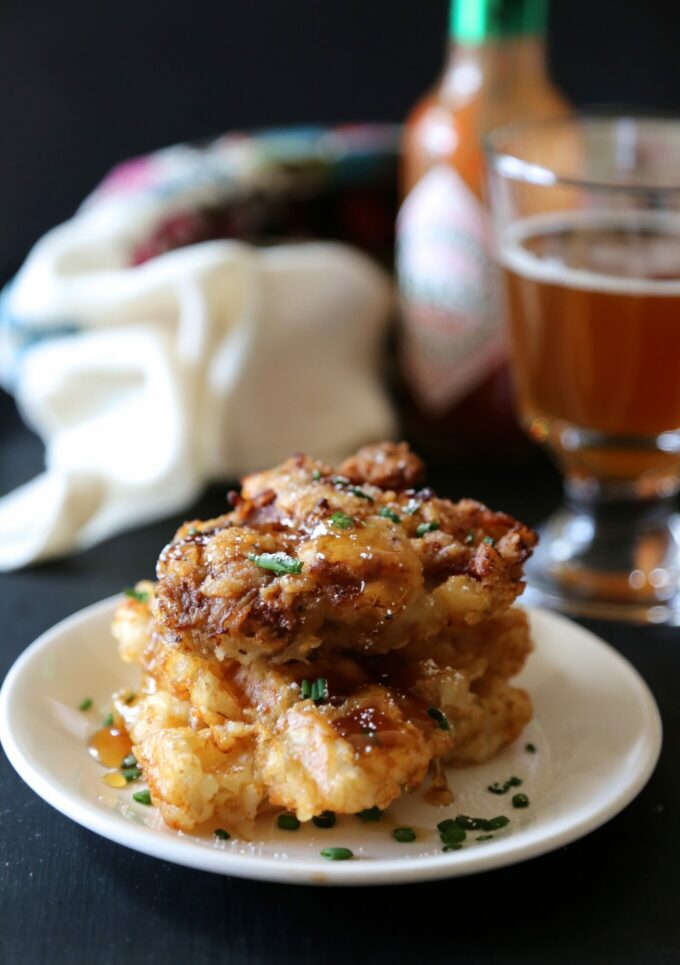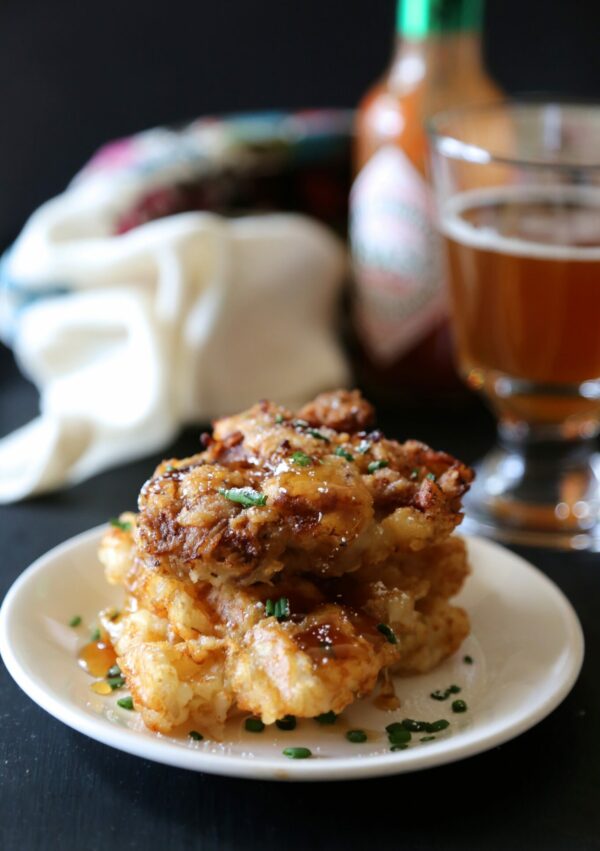 It's my birthday…………..
And I'll tot if I want to.
That's right friends, today is my thirty-second birthday! Can I get an Arsenio Hall whoop, whoop, whoop? A part of me is still a little baffled that I am basically in my mid-thirties because some days I still have the emotional maturity of a nineteen year-old on Red Bull. Yet, here I am, ready to Katy Perry roarrrrrrrrrrr this thirty-second birthday.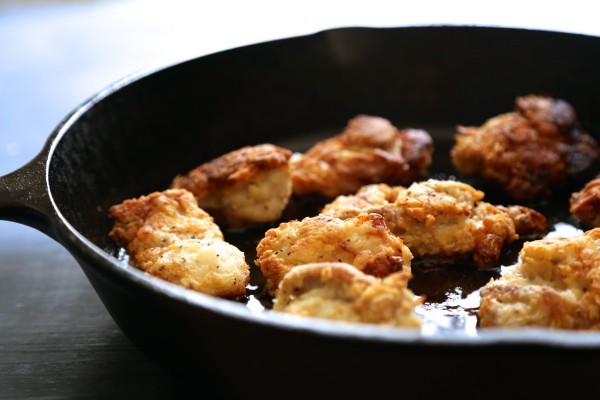 Plans for the day? Nothing set yet. Possibly a stroll through Uncle Nordies, maybe a facial, dinner out with Mr. B this evening, and of course the making of my childhood favorite, chocolate cake with marshmallow frosting! Because you can't have a birthday without some cake, yo.
Well…..and tater tots, too.
I have been waiting patiently to post this recipe. Actually, my main lemon slice, Liz, gave me the link to this idea a few months ago about the whole tater tot hash brown making in the waffle iron. I about passed out from excitement. So, I thought my birthday would be the perfect time to celebrate the waffle-tot!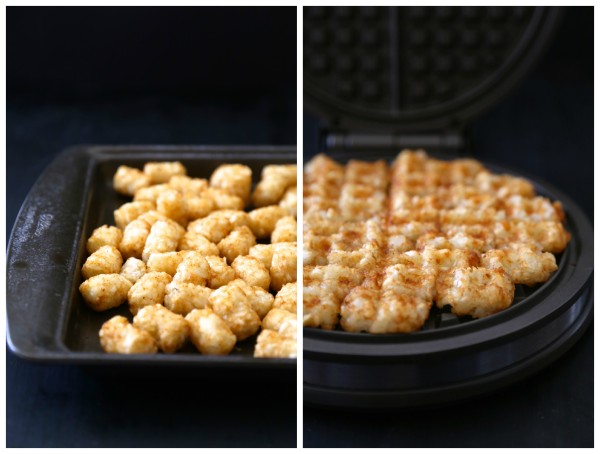 The whole waffle-tot process is easy peasy. Let the tots thaw until only partially frozen, plop them onto a waffle iron, press down, wait as tots begin to turn golden. Remove from waffle iron, and place on plate. Top with my famous 15-minute fried chicken and drizzle the top with honey….have tot mercy!
Now, cue Katy Perry, "I got the eye of the tiger, a fighter, dancing through the fire, 'cause I am a champion and you're gonna hear me roarrrrrrrrrrrr.……."
Peace my nizzles. (drops mic).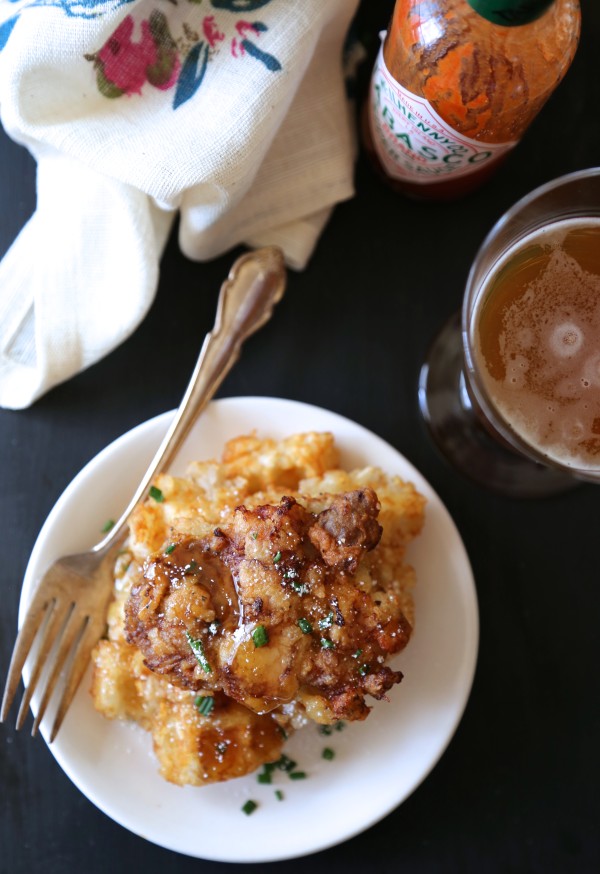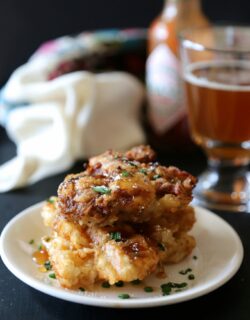 Fried Chicken and Waffle-Tots with Honey
Ingredients:
for the skillet fried chicken:
3 tablespoons vegetable oil
1.5 lbs boneless skinless chicken thighs
2 cups buttermilk
1 egg, whisked
1 teaspoon Tabasco
2 1/2 cups all-purpose flour
1/4 teaspoon Cayenne pepper
Honey, garnish
Parsley, garnish
Confectioners Sugar, garnish
Salt and pepper to taste
for the waffle-tots:
1 32 oz bag frozen tater tots
Directions:
Preheat oven to 425 degrees.
for the skillet fried chicken:
In a large bowl, combine buttermilk, egg, Tabasco, and salt and pepper. Place chicken thighs into the bowl and let it sit for a minute or two. In another bowl, combine flour, cayenee, and salt and pepper.
Add the vegetable oil to a 10-inch cast iron skillet. Heat to medium-high. Next, take a piece of the chicken and dredge it into the flour shaking off any extras. Place chicken in skillet. Repeat with remaining pieces. Cook chicken for about 5 minutes on the first side. Flip and place skillet into the oven for about 10 to 12 minutes. Once cooked, remove skillet from oven and let cook slightly. To serve, place two waffle-tot squares on a plate. Top with a piece of chicken or slice in half. Garnish with honey, parsley, and confectioners sugar.
for the waffle-tots:
Open bag of frozen tater tots. Lay them on a baking sheet and let them thaw for about thirty minutes or until only partially frozen. Next, heat a waffle iron. Place about 15 to 20 tots evenly onto the waffle iron. Slowly press down on the tots until flattened. Cook tots for about two to three minutes. Once cooked, remove from waffle iron and sprinkle with salt. Repeat process until all tots have been used.
All images and text ©