ramen primavera with parmesan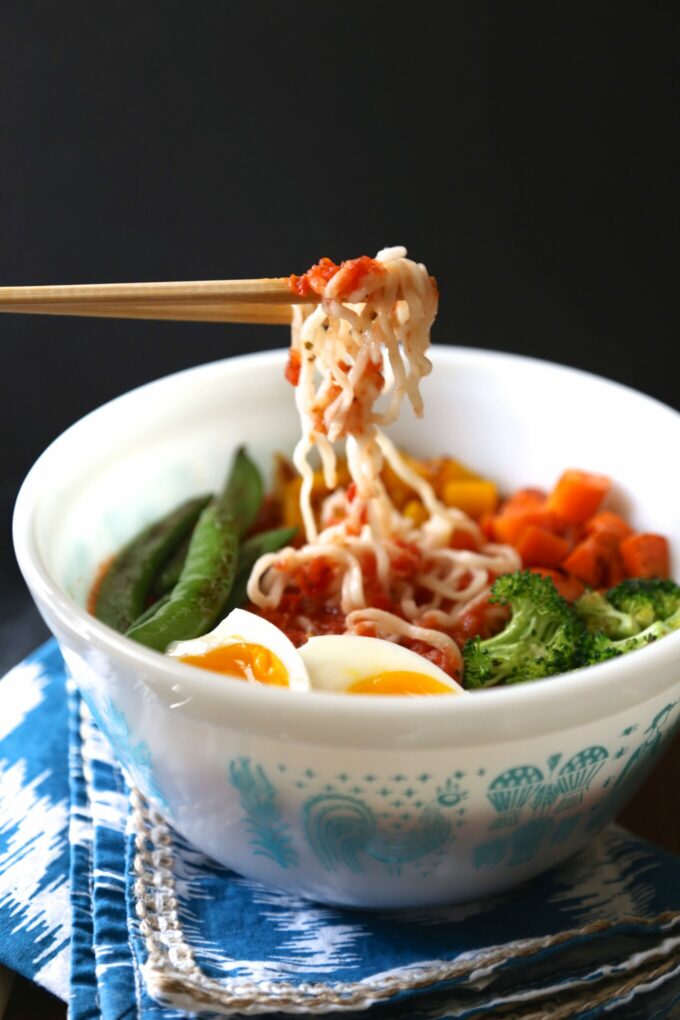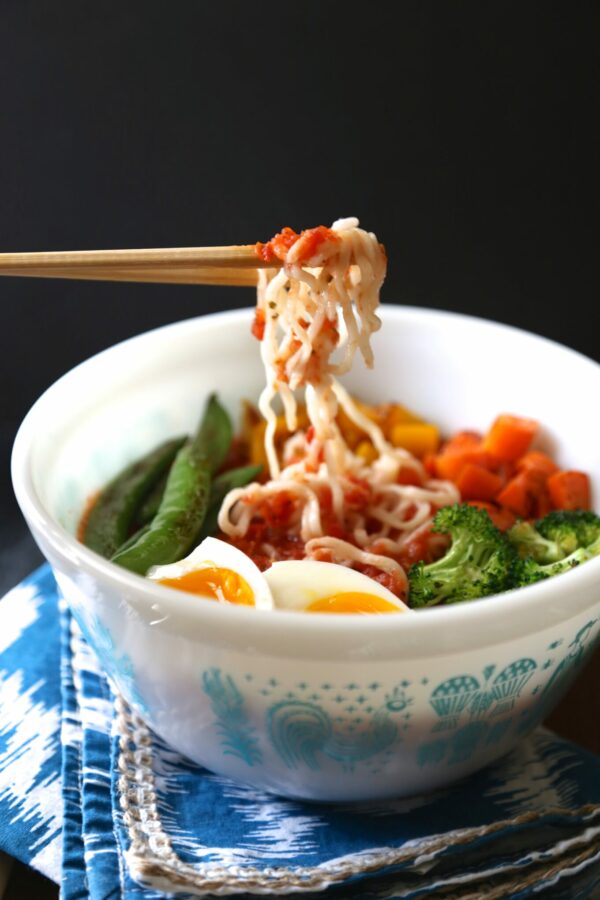 I'm baccccccccck!
Feels good to have my boots on the ground in the good ol' US of A. So, what's the latest? Did y'all miss me? I missed you. Can we hug?
Japan was a complete whirlwind. I have so much to share with you about our travels. Between snow skiing, walking every square inch Tokyo, and eating every version of ramen under the sun, I'm not sure where to even start! But look for upcoming travel posts soon.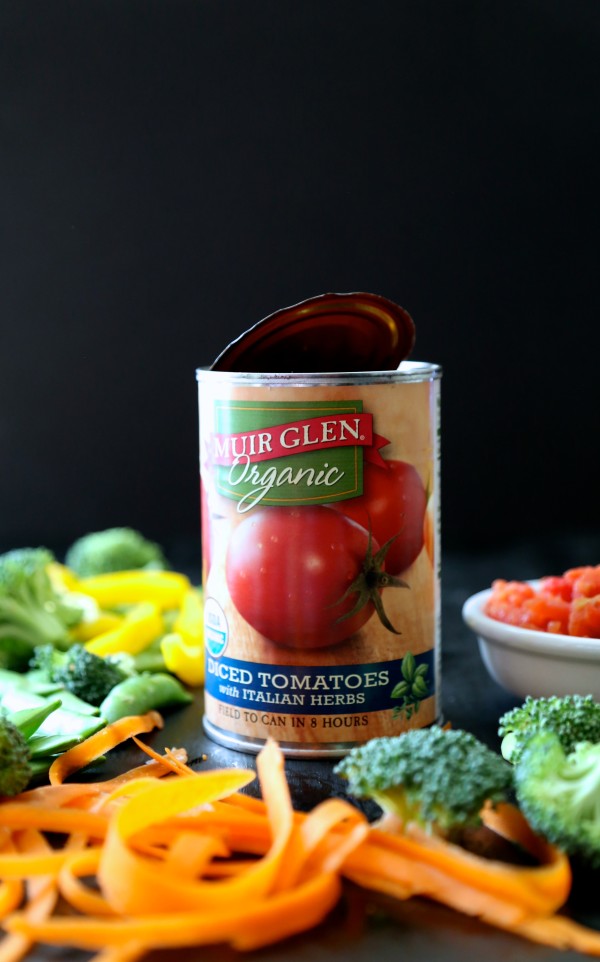 And speaking of ramen, have I got a super fun two-chopstick up recipe to share with you today. This ramen recipe is a mixture of two worlds , east and west. Don't worry there's no chance of being lost in translation because my friends over at Muir Glen have us covered.
Most primavera recipes call for fresh tomatoes, but I say nay. I am on canned tomato kick. Remember these bourbon tomato soup shooters? All can baby! But the key to making this primavera an 11/10 is using Muir Glen Italian herb tomatoes. I could eat these straight out of the can. If I tried doing it with chopsticks would you be impressed?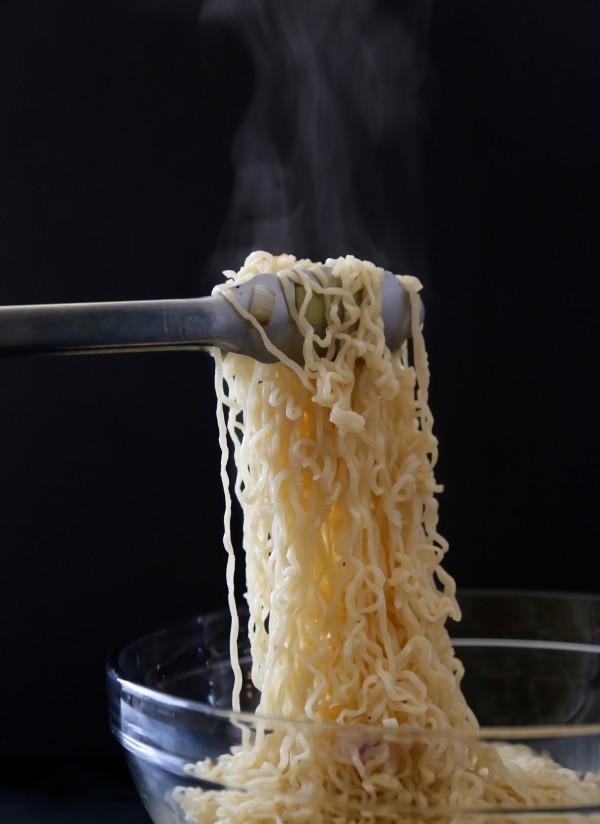 Anyway, this ramen dish comes together lickity-split, especially with all the veggies and seven-minute in heaven egg. Topped with a little more Muir Glen Italian herb tomatoes, you'll have one jet-set approved bowl of ramen.
***This post is sponsored by Muir Glen. As always, all opinions expressed are 100% my own!***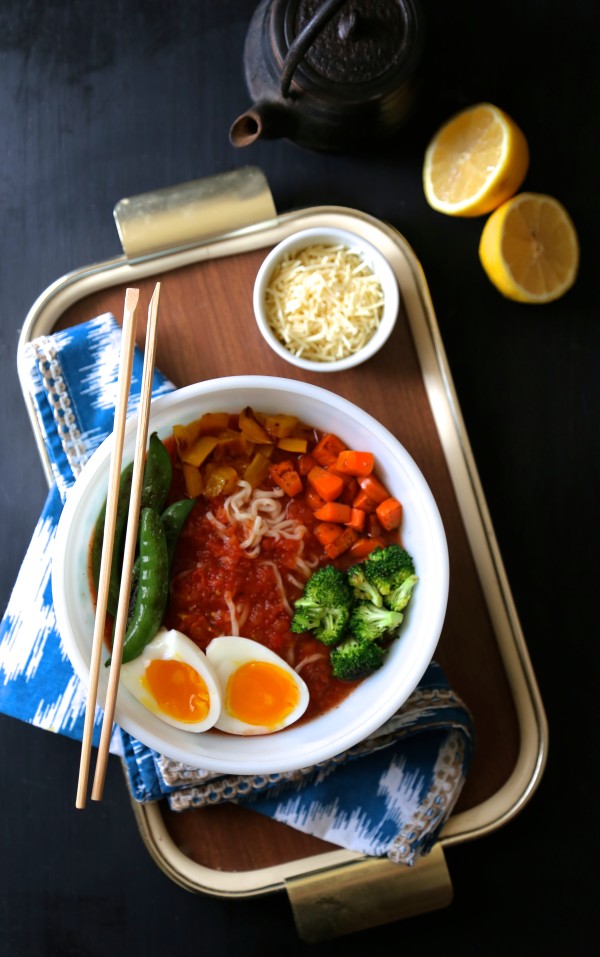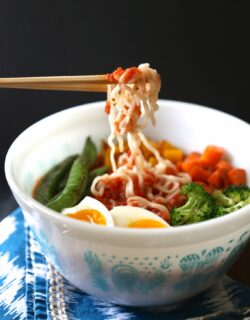 Ramen Primavera with Parmesan
Ingredients:
2 package ramen noodles (do not use spice packet)
8 cups chicken stock
2 tablespoons olive oil
1/2 cup broccoli florets
1/3 cup snap peas
1 large carrot, diced
1 yellow pepper, diced
1 15 oz can Muir Glen diced italian herb tomatoes (reserving a few for garnish)
1 1/2 cups water
1 teaspoon red pepper flakes
2 eggs
Parmesan, garnish
salt and pepper to taste
Directions:
Add chicken stock to a large saucepan and bring to boil. Cook ramen according to package instructions. Drain noodles and set aside.
While the ramen cooks, add water, red pepper flakes, and tomatoes to a medium saucepan. Bring to a simmer and cook for about five minutes. Remove from heat and add to a blender. Blend the tomatoes until smooth. Set aside.
In a large skillet preheated to medium-high heat, add olive oil and yellow pepper with salt and pepper. Saute for a few minutes until softened. Remove from skillet. Continue same cooking process for broccoli florets, snap peas, and carrots.
To make the eggs, fill a stock pot with water and bring to a boil Gently add the eggs to the water and set a timer for seven minutes. Then move the eggs to an ice bath to cool completely. Once cooled, crack the egg slightly and remove the shell. Slice in half when ready to serve.
Take some of the ramen and put it into a bowl. Pour tomato broth over the ramen. Garnish the ramen with veggies, tomatoes, eggs, and Parmesan. Serve immediately.
All images and text ©