greek yogurt chicken alfredo grilled cheese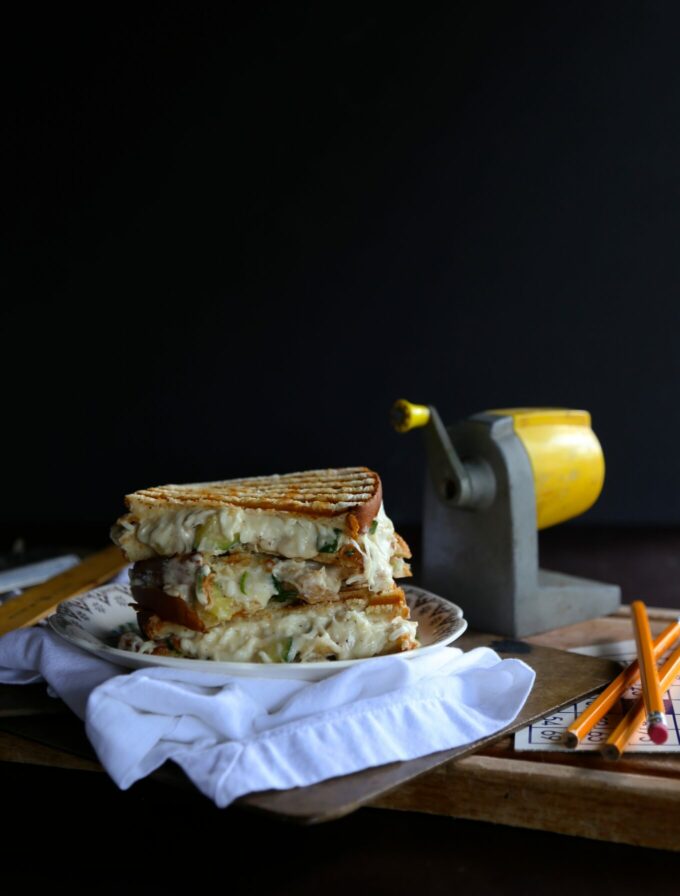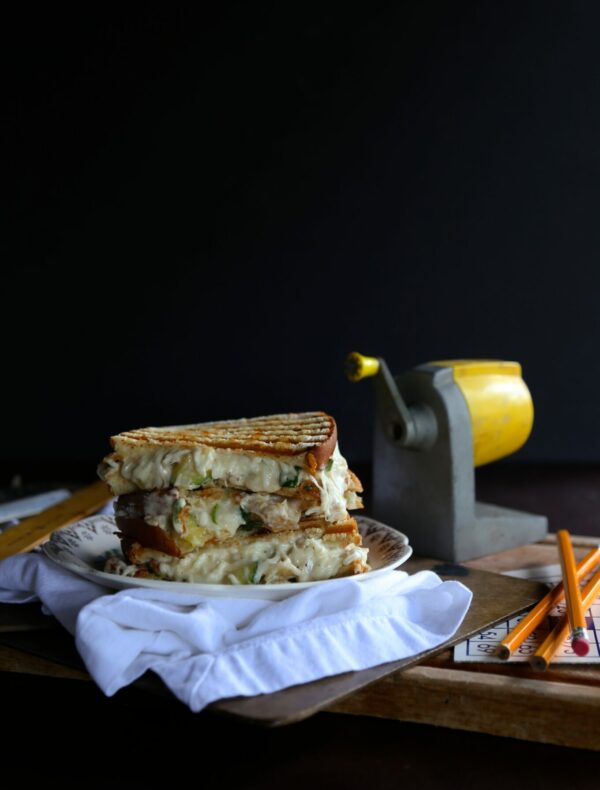 Is it safe to talk about back-to-school?
Yes? No?
My Lisa Frank folders are practically screaming to be filled with Big Chief Paper and neon stickers. My Rainbow Brite lunchbox is jonesing for a peanut butter (crustless) and jelly sandwich. Oh, and let's not forget about my collection of slap bracelets that are begging to make an appearance in homeroom. So, is it safe to talk about back to school? My inner nine year-old self gives it a sharpened number two pencil cursive, yes.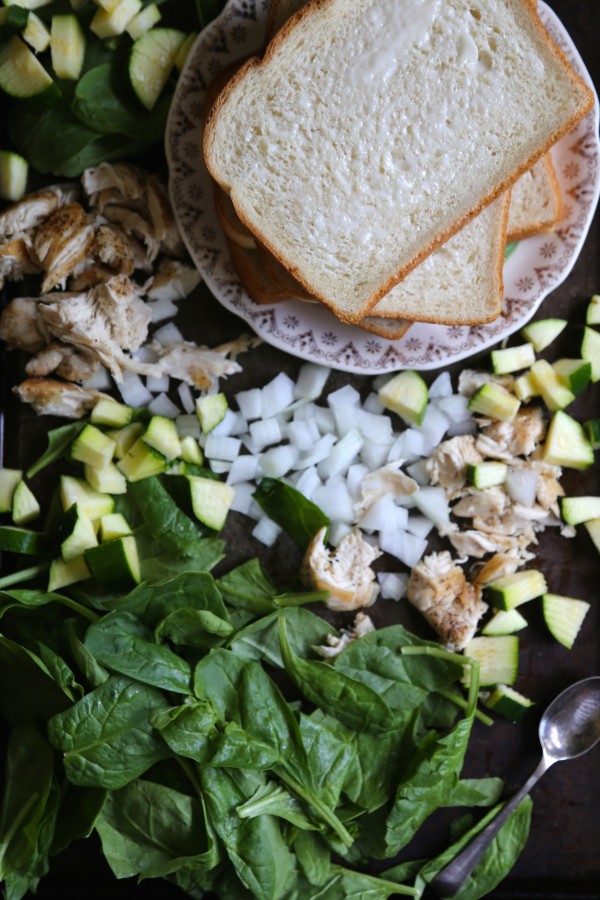 When one talks about going back-to-school supplies typically take center stage. But today, I want to talk about lunches. As someone that is not a big fan of lunch as an adult, I LOVED eating lunch at school as a kid. In our school, the lunch ladies whipped up homemade chicken noodles, pizza, grilled chicken, and sloppy joes. I'm getting hungry just thinking about it.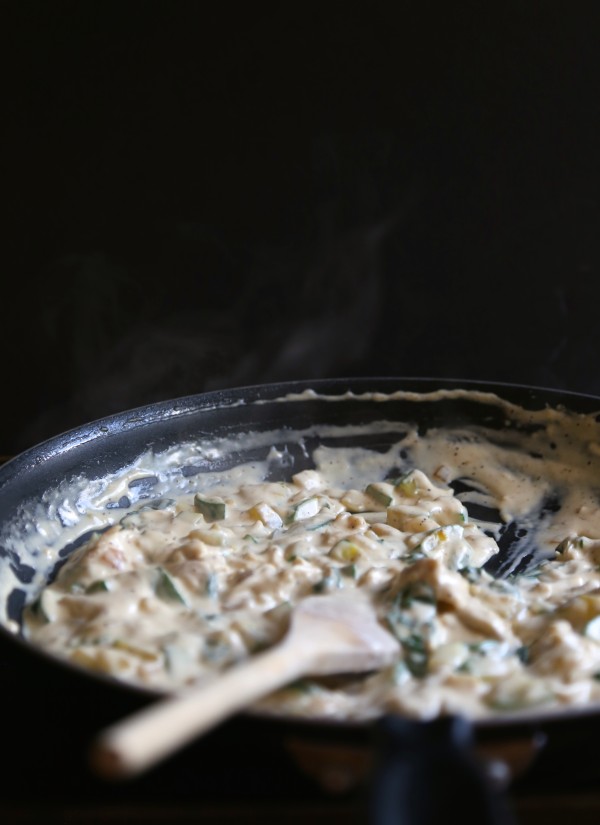 So, let's talk lunches. I've team upped with the American Dairy Association Mideast to bring a delicious lunch that is healthy and a smash-up of two childhood favorite comfort foods – chicken alfredo and grilled cheese. As part of their Great American Milk Drive campaign, which is working to put milk in the fridges of families for the back-to- school season (Aug 10th to 25th), this Greek Yogurt Chicken Alfredo Grilled Cheese boasts high levels of calcium and is a total kid fav.
I'd like to think Niesha would totally agree. Meeting her last year was an enlightening moment to see that dairy is an important factor in a child's life. Just a 1/4 cup of low fat milk a day is linked to improved nutrition and better academic performances.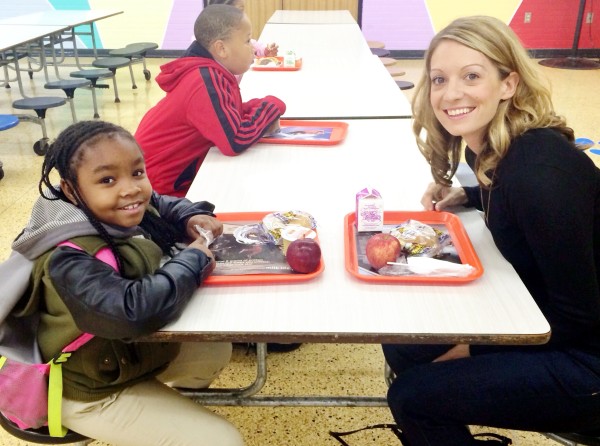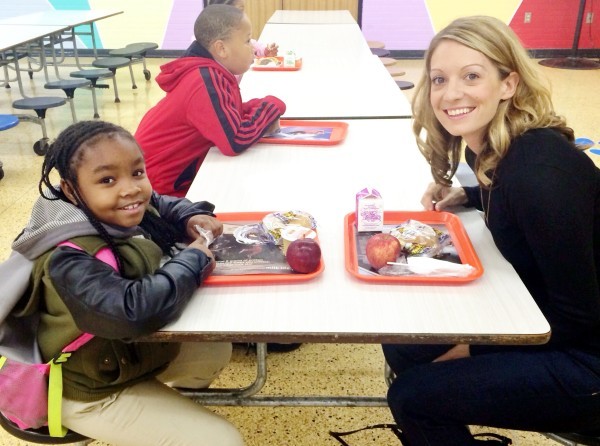 If you would like to help families and kids like Niesha get more dairy in their lives, visit ADA Mideast's Facebook page and for every like, comment or share, they'll donate $1 to the Great American Milk Drive. Plus, you'll get some great recipes for a few other lunch ladies. Check them out below!
In Katrina's Kitchen, Chocolate Almond Butter Smoothie Bowls
Shugary Sweets, Brown Sugar Latte
Inside BruCrew Life, Turkey Club Pinwheels
Food Faith Fitness, Banana Pancakes Taco Style
Love Grows Wild, Florentine Meatballs
Lemons of Lulu, Baked Spaghetti Lasagna
Eat2Gather, Cheesy Sweet Potato and Kale Strata
Well-Plated, Breakfast Quesadilla
Country Cleaver, Easy Summer Veggie Flatbread
Also, don't forget to join us on August 26th for the Dairy Fuel Back-to-School Twitter Party. If you join the party and use the #DairyFuel while tweeting an additional $1 will be donated to the Great American Milk Drive. You can sign up here to RSVP: http://tweetvite.com/event/dairyfuel.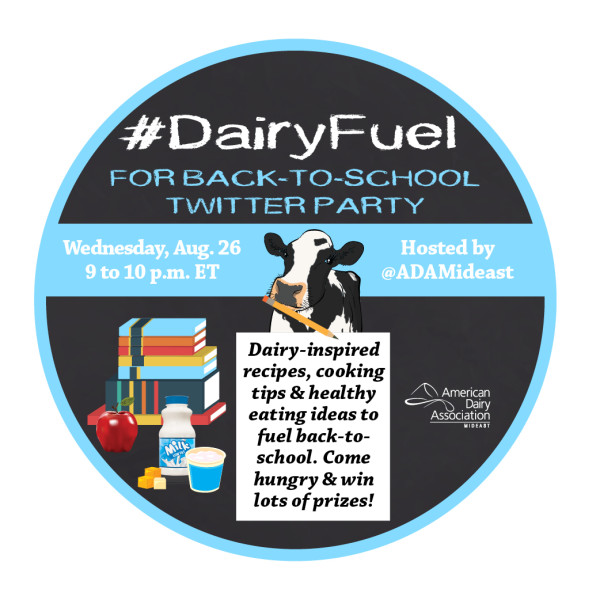 ***This post was sponsored by the American Dairy Association – Mideast. As always, all opinions expressed are 100% my own!***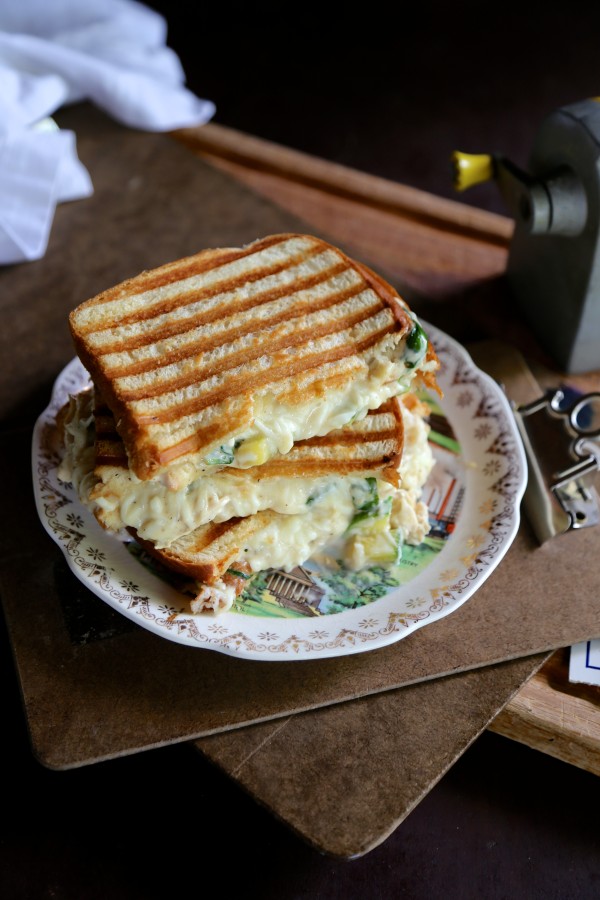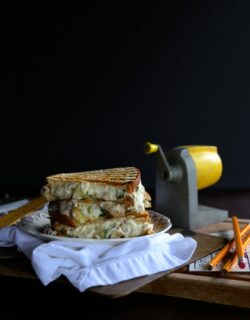 Greek Yogurt Chicken Alfredo Grilled Cheese
Ingredients:
Four slices whole wheat bread
4 tablespoons unsalted butter, room temperature
1 tablespoon olive oil
1 cup cooked chicken, diced
1 cup spinach
1 cup zucchini, cubed
1/2 yellow onion, diced
1 cup chicken stock
2 teaspoons all-purpose flour
1/2 cup Parmesan cheese, shredded
1 cup plain Greek Yogurt
1 cup mozzarella cheese, shredded
salt and pepper to taste
Directions:
In a large skillet preheated to medium-high heat, add the olive oil, onion, and zucchini. Saute until softened about four minutes. Next, add the spinach and cook until wilted. Add the chicken stock, flour, s&p. Whisk until smooth, bring sauce to a slight boil, stir until thickened, and remove from heat.
Let the sauce cool slightly. Stir in the Greek yogurt and Parmesan. Add a little more s&p if you'd like. Also, stir in the chicken. To make the sandwiches, preheat a panini press and butter slices of bread. Place about 1/2 cup of the chicken alfredo mixture on the bottom of a bread slice. Top the alfredo with 1/2 cup mozzarella. Repeat process with other two slices of bread. Place the sandwiches in the panini press and cook until the cheese has melted. Serve immediately.
**Note: you will have leftover sauce so use on some whole grain pasta for a traditional dish!
All images and text ©