grilled romaine salad with quinoa, apples, corn, & dijon vinaigrette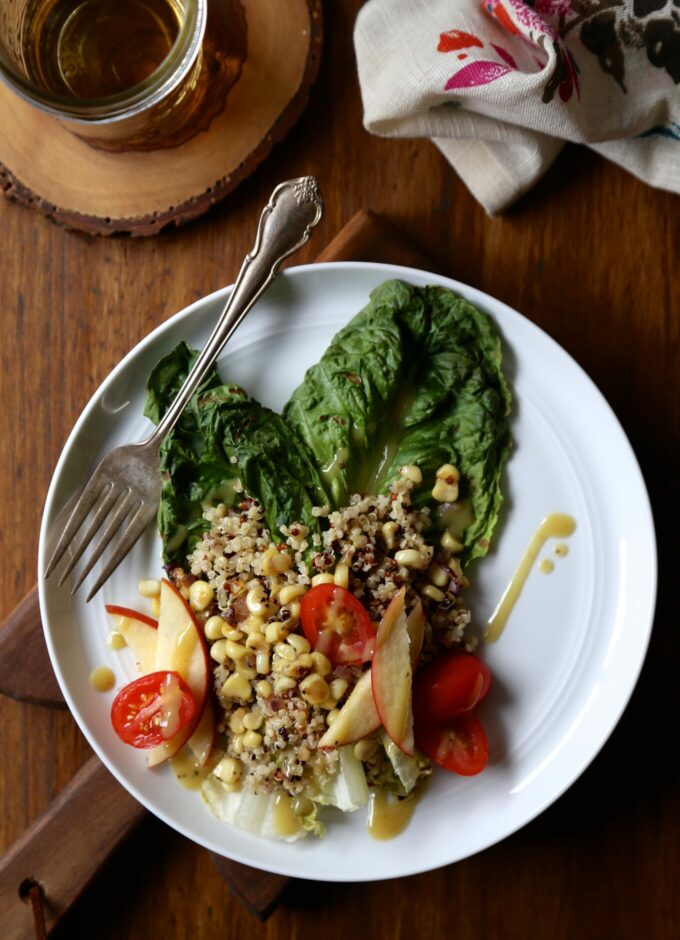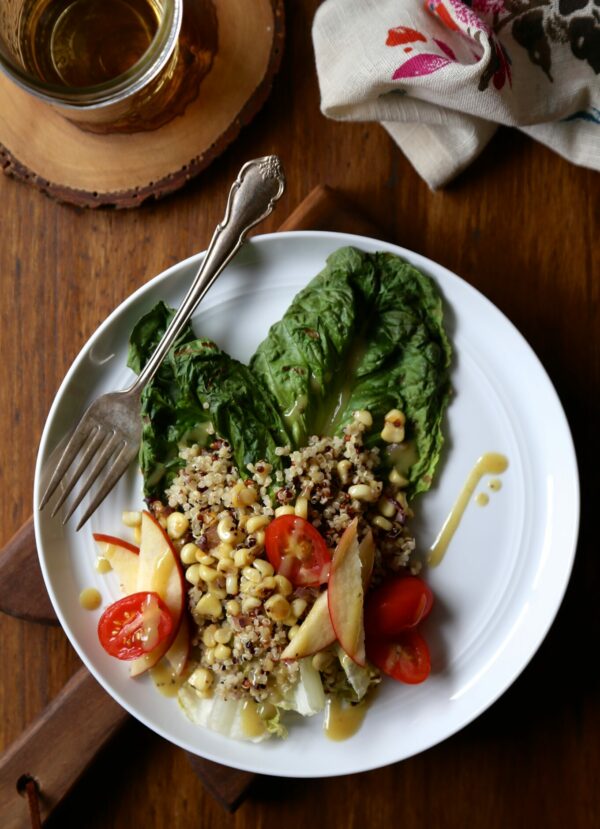 I come bearing a gift.
Is it a sun-filled lollipop with a dancing unicorn and care bear, you ask? Uh,no.
Is it the conclusion of the long-overdue-probably-should-have-ended-last-season of True Blood, you ask? Regrettably, no.
Is it an apology from Us Weekly for saying Ryan Gosling really isn't the baby daddy of Eva Mendez, you ask? I wish, but, no.
I come bearing a gift of the rabbit food variety. Sometimes, lettuce and I don't always get along. Lettuce can be so one-dimensional. So rather than crunching our heads together, I thought why not, add depth, flavor, and overall pizzazz to my regular salad? Make it more three-dimensional.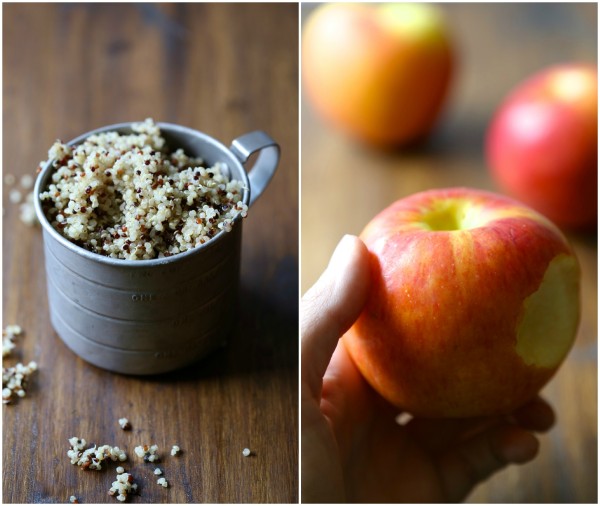 First, I grill my lettuce. Once I grilled this leafy veggie, I never went back to the boring ole' pull lettuce from the crisper and serve style. Grilling lettuce gives it a layer of depth and smokiness. Second, comes the dressing. There's nothing that Dijon and a little olive oil won't do to make a salad an 11/10 situation. Lastly, it's the crunch. This is the most important element of a fresh, hearty salad. I added fresh jazz apple slices on top of quinoa, grilled corn, and tomatoes. Sounds a little a bonkers, but it works!
Oh, speaking of apples and being healthy, I am "jazz hands" excited because Jazz apples is teaming up with American and the Canadian Diabetes Associations this month. Crunch to Contribute is a fun and easy way for all of us to help changes lives. Snap a photo of you crunching on a Jazz apple and they will l donate a $1 to either the American or Canadian Diabetes Association. What's not to like? Take a selfie while snacking on a tangy-sweet, high in fiber, summer fresh treat straight from New Zealand.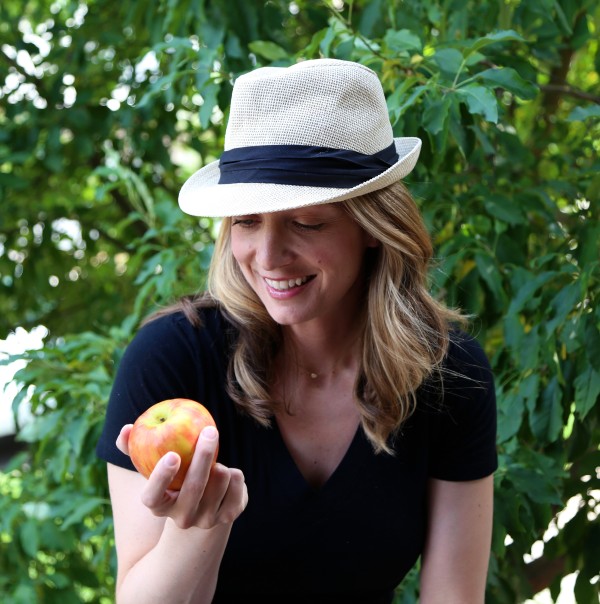 But the fun doesn't stop here. Eight other food bloggers and I are hosting a fun giveaway, too!
Here are the details:
– Enter your information below in the rafflecopter.
– One lucky winner, will receive a mega case full of Jazz apples and a $150 Visa Gift Card. And……your entry will also give you an entry towards a Grand Prize of a new Vitamix blender and a $100 Whole Foods gift card. Booyah!!
Make sure and check out these other crunch-tastic recipes from my blogging mates featuring Jazz apples:
Potato Salad with Apples from Cook the Story
Healthy Chicken Waldorf Salad from It's Yummi!
Zephyr Squash, Onion and Apple Saute from Pastry Chef Online
Apple Basil Mojitos from Cooking with Books
Campfire Apple and Pork Packets from Big Bear's Wife
Apple & Chicken Salad with Honey Poppyseed Dressing from Around My Family Table
Summer Bounty Salad from Real Housemoms
Grilled Romaine Salad with Quinoa, Apples, Corn, & Dijon Vinaigrette from Climbing Grier Mountain
Pea Shoot, Pickled Cherry and Apple Salad from Nutmeg Nanny
Cinnamon and Ginger Jazz Apple Chips from doughmesstic
***This post was sponsored by Jazz apples and I was compensated for my time. As always, all opinions expressed are 100% my own.***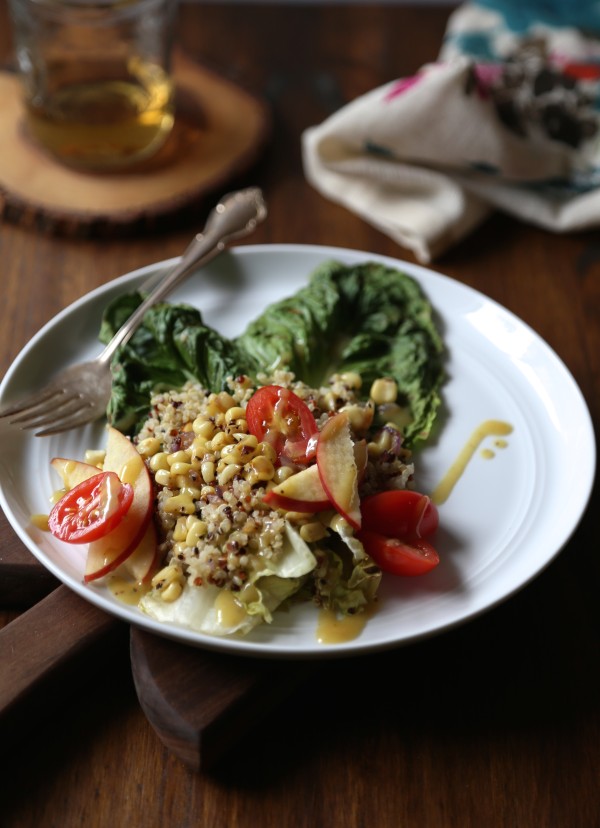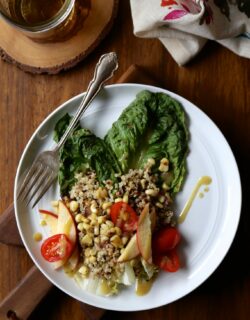 Grilled Romaine Salad with Quinoa, Apples, Corn, & Dijon Vinaigrette
Ingredients:
for the salad:
2 tablespoons olive oil
8 large pieces Romaine Lettuce
2 cups quinoa, cooked
1 large Jazz apple, sliced
2 cups grilled corn kernels
2 cups grape tomatoes, halved
salt and pepper to taste
for the Dijon vinaigrette:
1/4 cup olive oil
2 teaspoons red wine vinegar
1 teaspoon granulated sugar
1 teaspoon honey
2 teaspoons Dijon
salt and pepper to taste
Directions:
for the salad:
Preheat a grill to medium-high heat. Brush Romaine leaves with olive oil and sprinkle with a little s&p. Grill Romaine for one to two minutes or until nice grill marks appear. To make the salad, lay two pieces of grilled Romaine on a plate. Top with quinoa, apple slices, tomatoes, grilled corn, and tomatoes. Drizzle tops with Dijon vinaigrette.
for the Dijon vinaigrette:
Combine all ingredients and stir until thickened.
All images and text ©