holiday tater tots with peppermint icing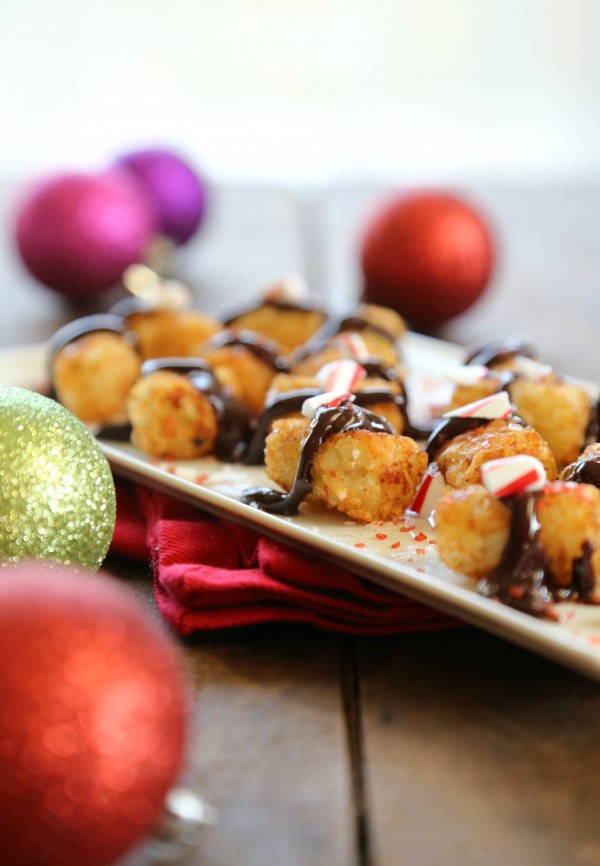 Well folks, here we are.
T-minus one week until the big guy in a red suit drops down a bazillion chimneys and delivers presents to all the good boys and girls. Just a thought, but do you think Santa has ever thought about a joint partnership with Amazon? Could you imagine the speediness of Amazon Christmas Prime? OMG. I don't know, it could give the drone business a run for their money.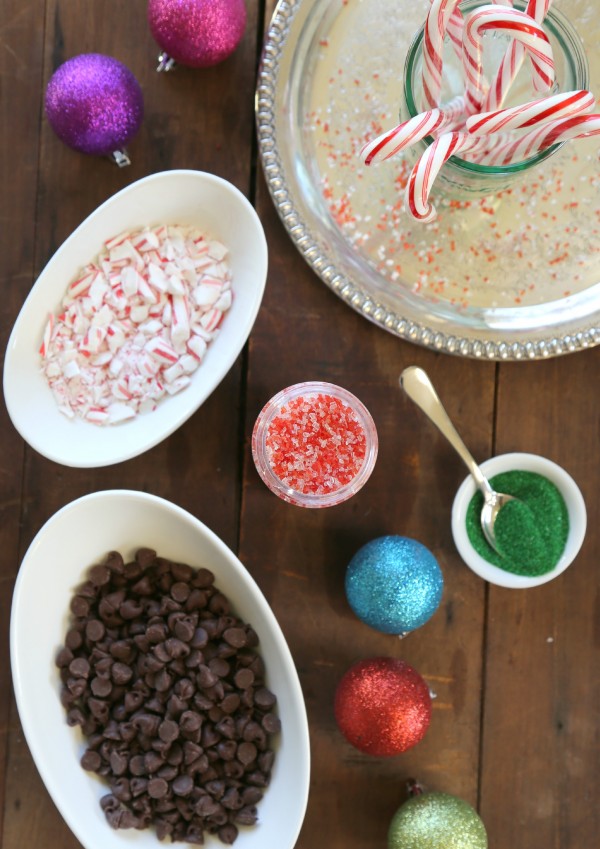 Anyways, this is the first year in a looooooong time that I have zero Christmas shopping complete. These past couple of weeks have been so bonkers that it's actually been hard to get in the Christmas spirit. Clearly this is a sign that I need to slow down and eat some frosted Christmas cookies.
So, instead of being "Downie Scrooge" about Christmas this year, I am going to put my holiday magic into overdrive and make the best of these last seven days. Hey, better late then never, right? The one sure thing I could count on to get my Christmas engines fired up were some tater tots. But not just any tater tots, these are covered in holiday, chocolate peppermint magic.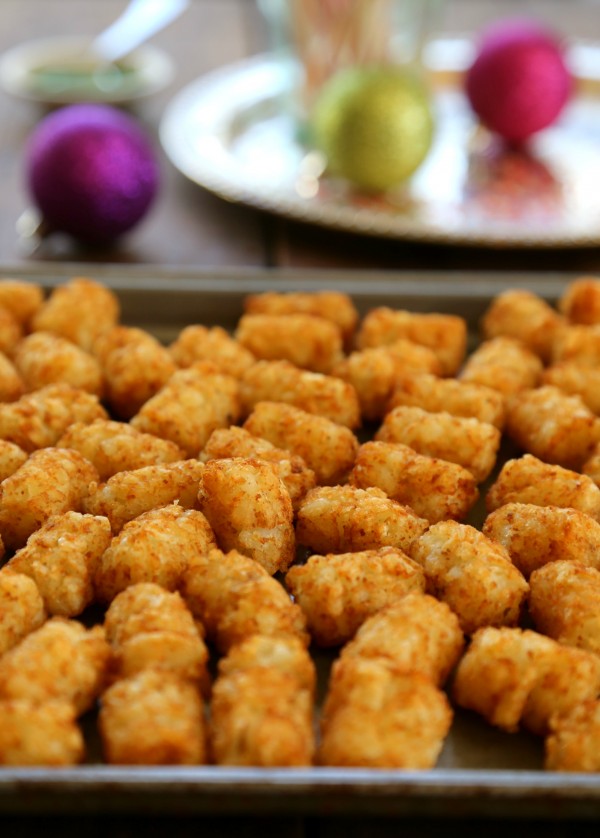 I realize these tater tots might be a stretch, but think of it as a savory-sweet epic combination. What if Santa would like a little fried golden cube covered in decadent peppermint icing? Don't tell anyone I told you, but word on the street, he's handing out double the presents for anyone who leaves him tots.
Now if only I could find a chimney-sweep to clean our chimney!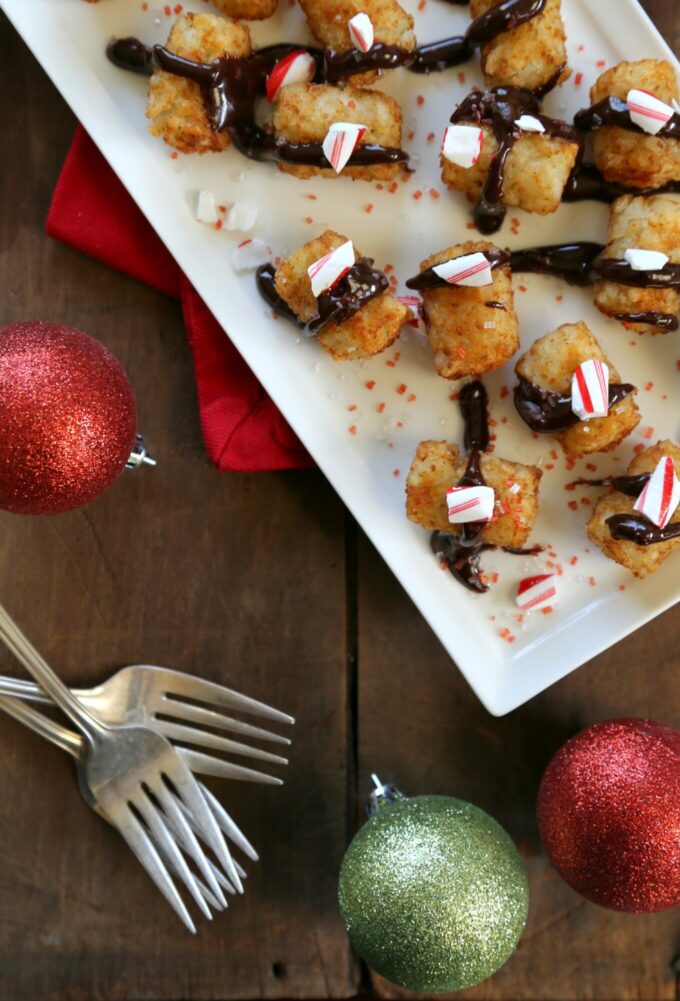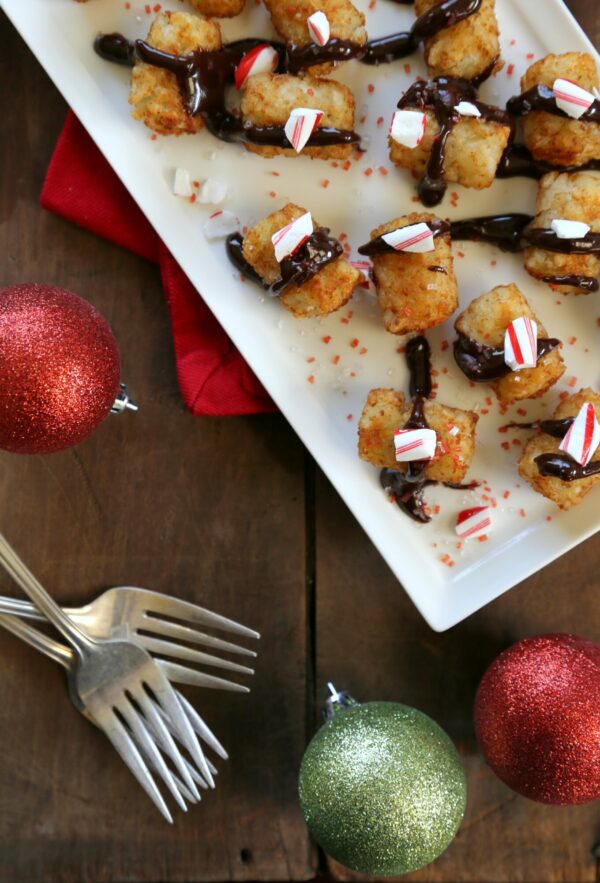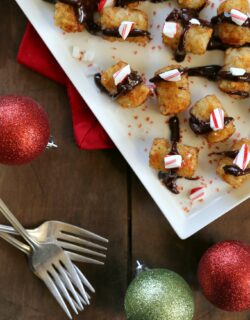 Holiday Tater Tots with Peppermint Icing
Ingredients:
1 bag of your favorite frozen tater tots (I use Alexia Foods)
1 cup semi-sweet chocolate chips
1 teaspoon peppermint extract
2 tablespoons unsalted butter, room temperature
2 teaspoons warm water
1 large candy cane, crushed
Directions:
Preheat oven to 425 degrees. Place tater tots on a baking sheet and bake for 25 to 30 minutes or until golden brown. Meanwhile, in a medium saucepan over low heat, combine chocolate chips, peppermint extract, and butter. Melt until smooth. Add water to thin out the icing. Remove tots from oven and pour peppermint icing on top. Top with crushed candy cane.
All images and text ©