trip recap: inspired retreat 2013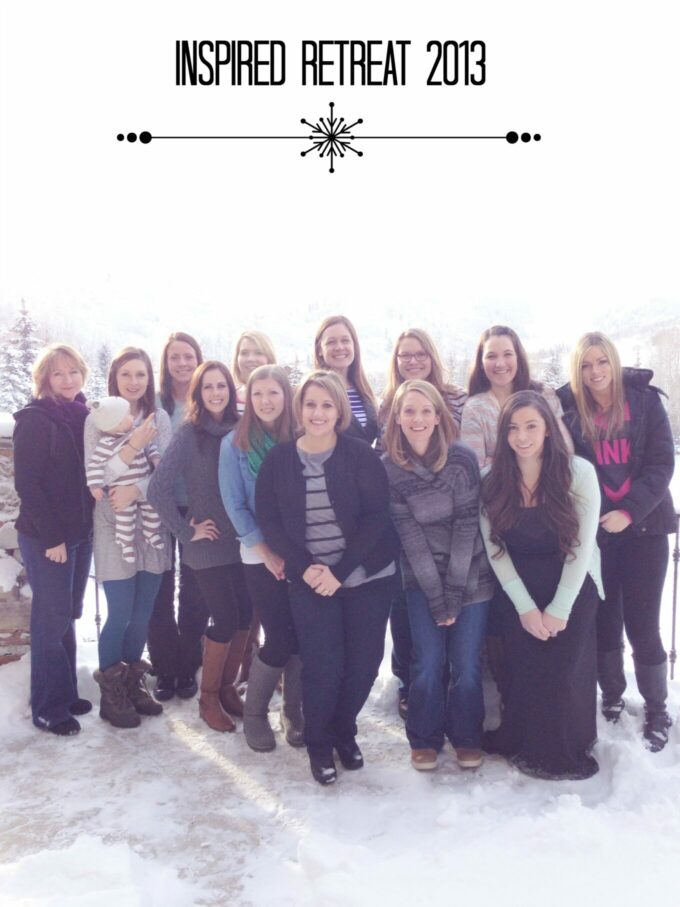 (photo by: Ashley)
A couple of weeks ago, I headed west to Park City, Utah to attend the Inspired Retreat. I've visited my neighboring state once before, but was eager to hang with some fab food bloggers (Carrian, Lauren, Annalise, Megan, Deb,  Meagan, Alyssa, Becky, Nikki, Barbara, Ashley, Kristy) snow ski, and of course, become inspired.
The whole idea behind the Inspired Retreat was to reconnect to the reason why we all started blogging in the first place. Many of our blogs started out as a hobby, something to let our creative juices flow. But somewhere along the way you lose sight of why you started your blog. So, the Inspired Retreat, which wouldn't have happened without the beautiful and talented Carrian from Oh Sweet Basil, was a way for a small group of women to connect, share, and define what is important.
I walked away from this two-day retreat with good information, newly formed friendships, and clearer idea of what I want to accomplish with CGM.
Let's take a look back, shall we?
We all arrived in Park City on Friday afternoon. The weather was in the freaking teens so we decided to grab some pizzzzza pie at Vinto's before we headed up to the house. It was great to catch up with local SLC food bloggers – Heidi from Foodie Crush, Kelley from Mountain Mama Cooks, and Maria from Two Peas and their Pod.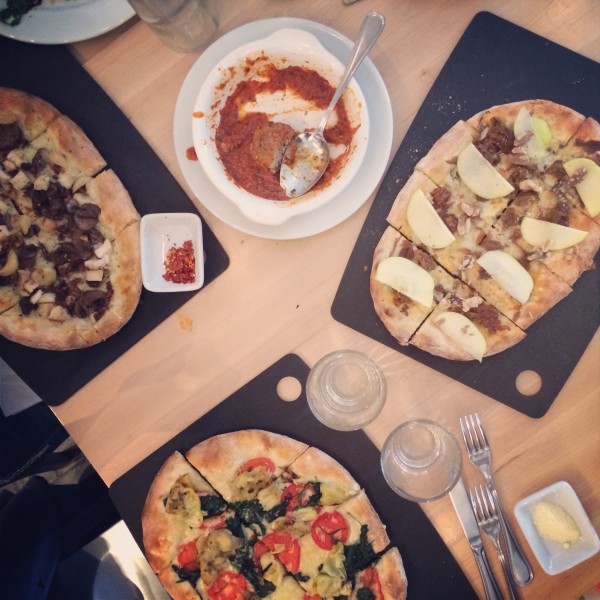 Once we filled our bellies, we headed to the house where we would be staying at for the weekend. Check it out! Isn't she a beaut? The house is located in one of my favorite vacation spots, Deer Valley. If you've never been to Deer Valley, buy a ticket right now, and GO! From soup to nuts they have it going on and that's coming straight from a Colorado girl's mouth.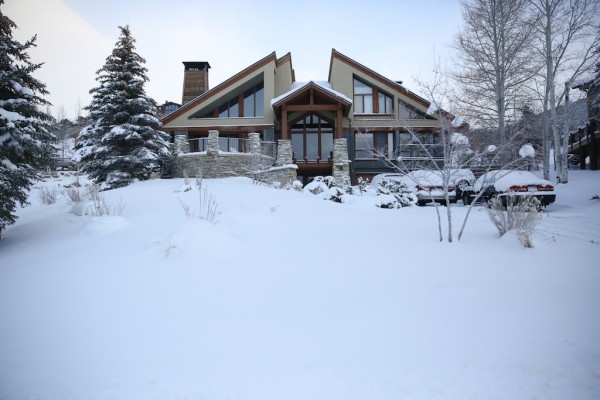 (photo by: Carrian)
The house was beautifully decorated by a local Utah shop, Rod Works. All of the festive decorations made it feel like a real home for the holidays. After we poured a little red vino, we all gathered in the living room, introduced ourselves, chit-chatted about life, and how excited we were for weekend……..and dinner.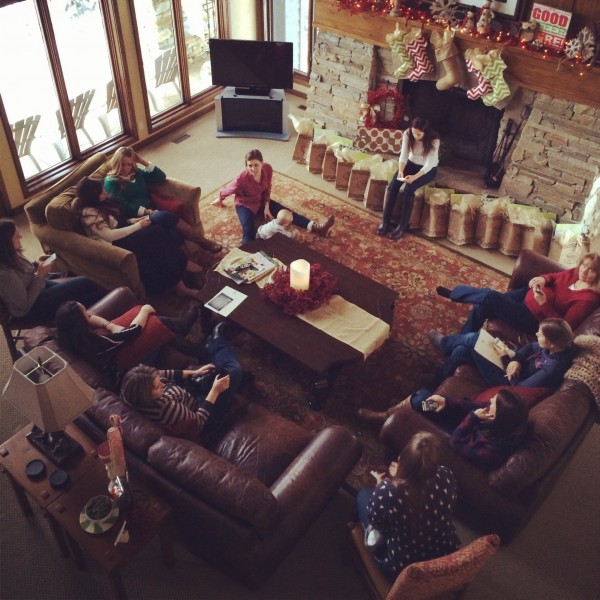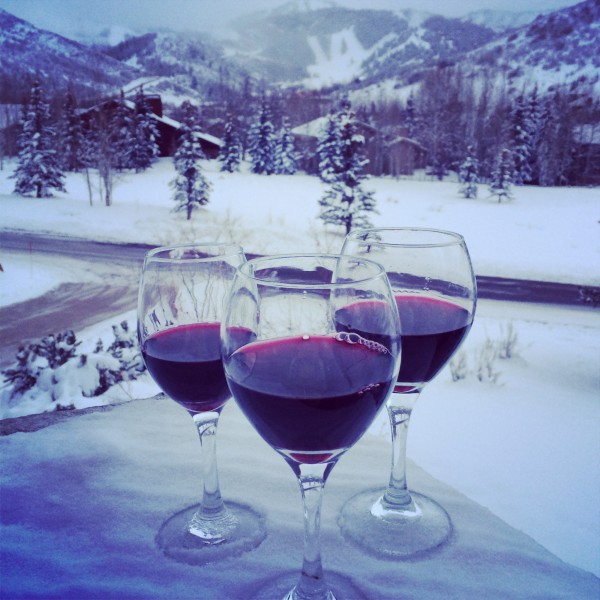 Dinner was held at Mariposa restaurant located at the mid-mountain lodge in Deer Valley. I was blown away by this dinner. Is it possible to have a crush on a vacation resort? If so, I am madly crushing on Deer Valley.
We dined in a private room that was decorated with rustic charm. Plus, cocktail hour by the fire with a few signature drinks had yours truly never wanting to leave.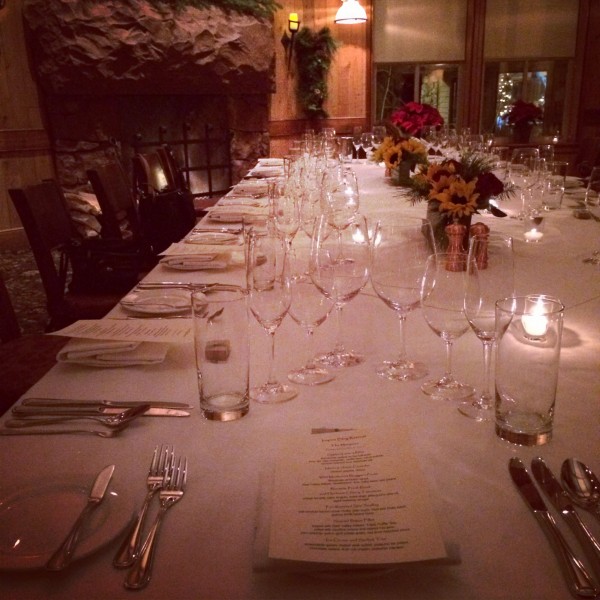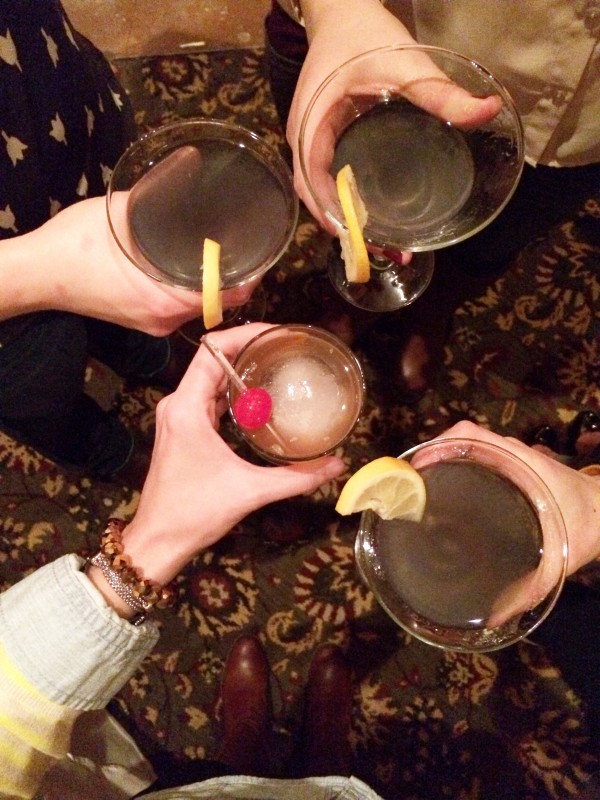 The menu created for the evening was nothing short of amazing – oysters with champagne (a few girls had never tried oysters and quite possibly might never again after that pic!), Maine lobster chowder, wild mushroom beggars purse, buratta with tomatoes & basil, pan roasted scallops, bison fillet, and for dessert, chocolate salami. Do wha?I rolled out of that dinner one happy girl.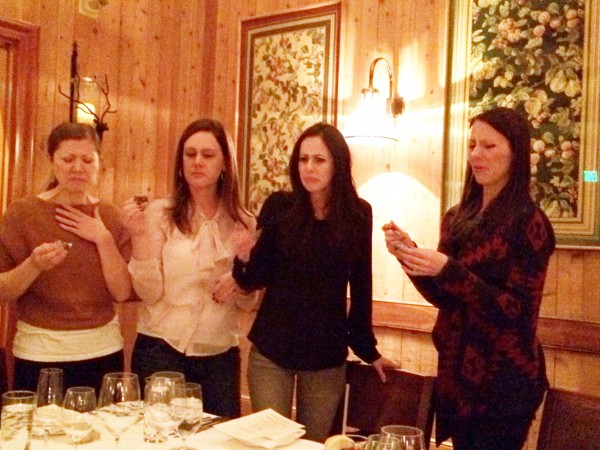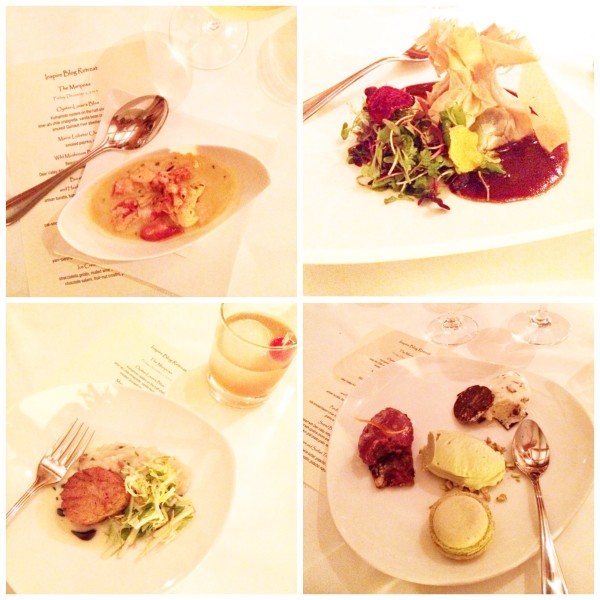 Saturday we were early to rise. Some of the girls headed to yoga with Lole, but yours truly was on breakfast duty. Kristy, Barbara, Becky, and I whipped a big 'ol feast before we headed to the slopes. Fresh granola with Greek Yogurt, fruit, and fluffy scrambled eggs were provided by Pacific Foods! Oh, and the best drip coffee ever by Charming Beard Coffee.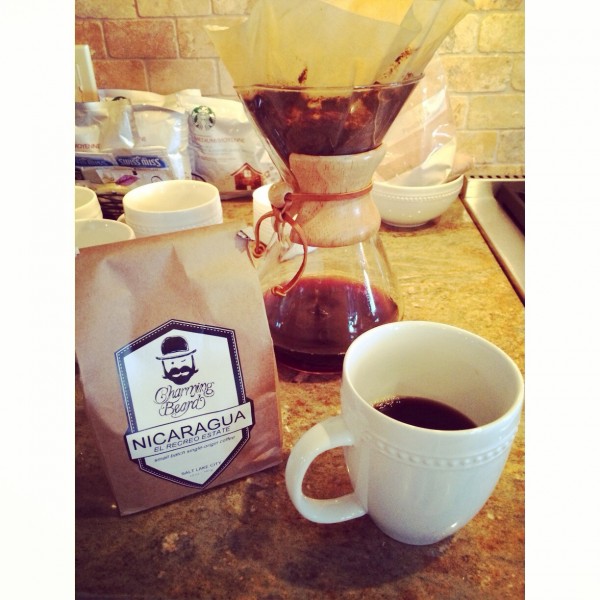 Since we were decked out head to toe with ski gear thanks to Ski on the Run, it made getting ready for the slopes so much easier. It was in the single digits when we loaded up the caravan.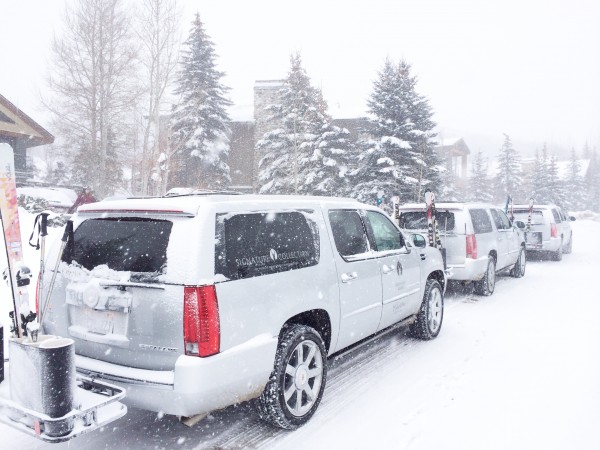 Some of the girls had never skied before and decided to take lessons. However, Becky, Annalise, and Emily (the PR queen of Deer Valley) hit the slopes opening day! I loved skiing Deer Valley, it really is a luxury ski slope. Even though the mountain wasn't fully opened, we skied in eight inches of fresh powder!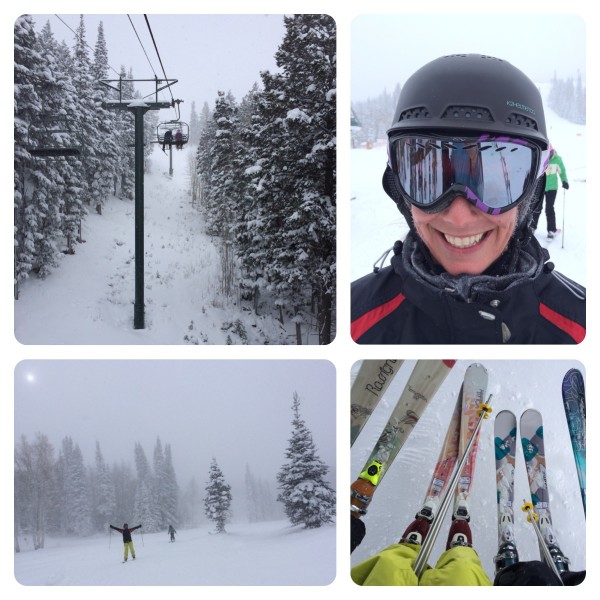 With the temperature dropping and our bellies hungry, we headed back to house for our grilled cheese and soup bar provided by Star Fine Foods, Hamilton Beach, Wusthof, and Heber Valley Cheese. Get in my belly!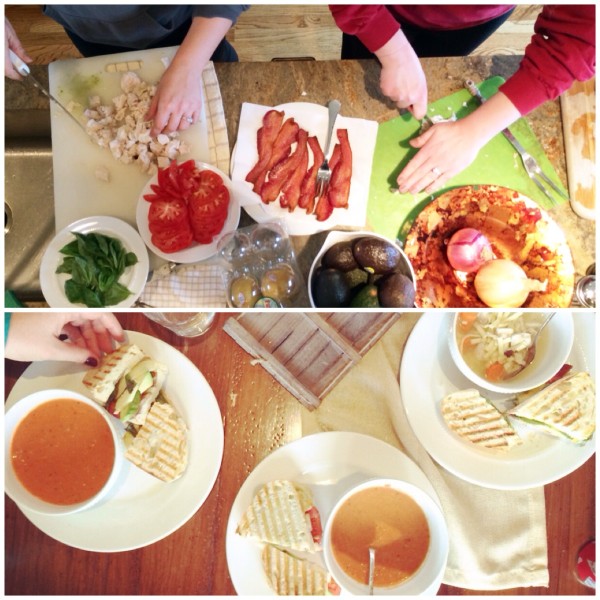 After our delicious carb fest, we decided to marinate and talk the rest of the afternoon. This really should have been called "meeting of the minds" because I learned a wealth of knowledge. All of these women are uniquely talented  so it was nice to get a different perspective on things. Plus, I didn't feel like a major tool shed asking basic, mundane questions. Huge relief!
The afternoon quickly flew by and before you know it, we were getting gussied up for a night on the town. Dinner was held at The Riverhorse on Main nestled in the heart of Park City. The ascetics of the restaurant were beautiful – tall ceilings, beautiful Aspens placed throughout, and Edison bulb lighting.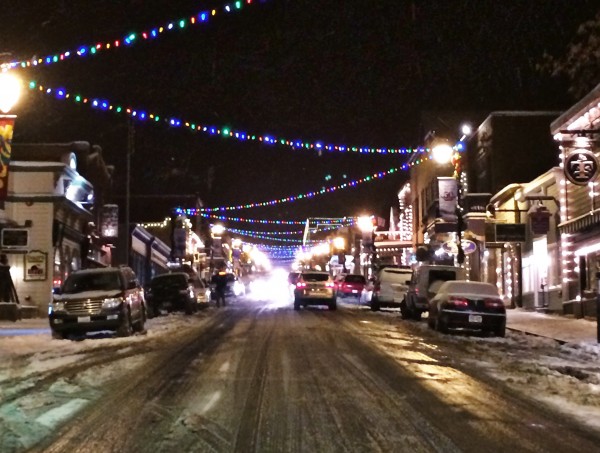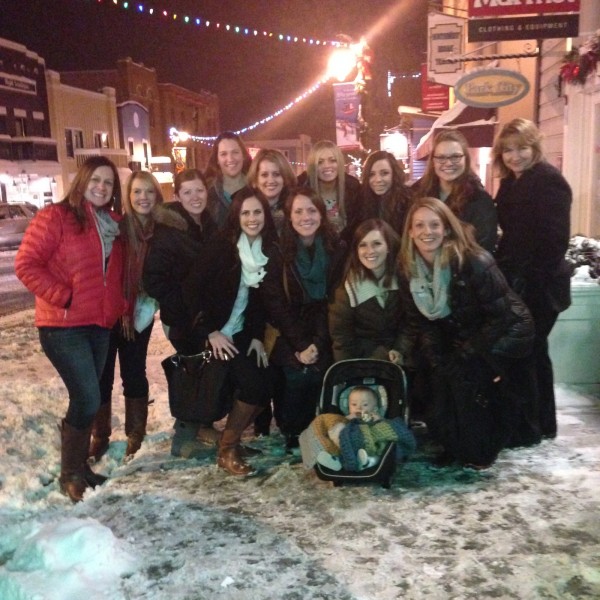 We sat in our own private room and this is where the fun began. The executive chef wanted us to get a taste of what his food was all about. A round of cocktails and appetizers were served to start. My favorite was the pork belly and margarita.
I lost track after the first round because they kept sending food out and everything was literally off the chart. We all agreed the halibut was phenomenal as well as the trio of meats. You can never go wrong with a little meat. wink, wink.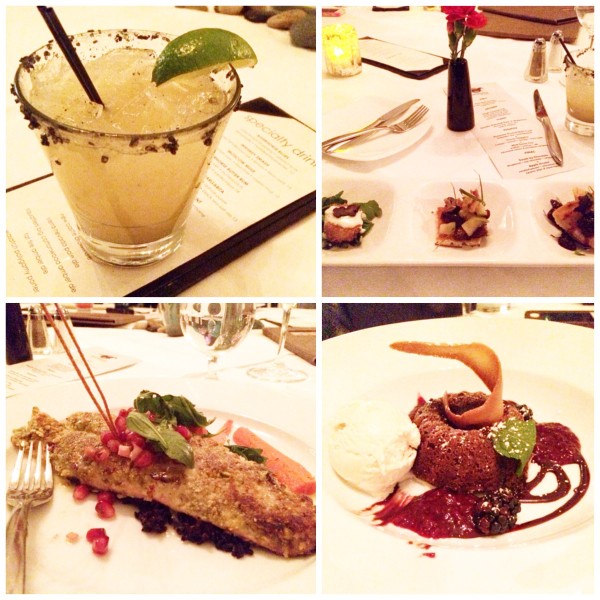 Sunday was our last day in Park City so we had to have a smashing breakfast provided by Real Food Market, Gold Medal Flour, and Hamilton Beach. Chicken and waffles anyone?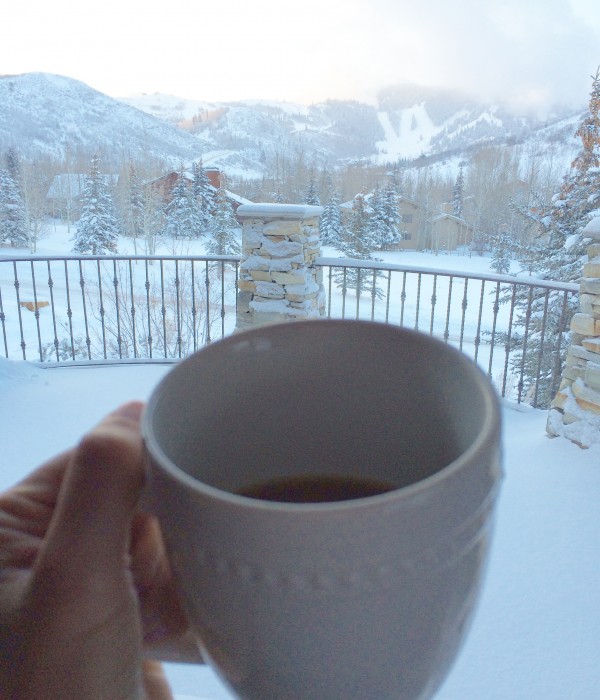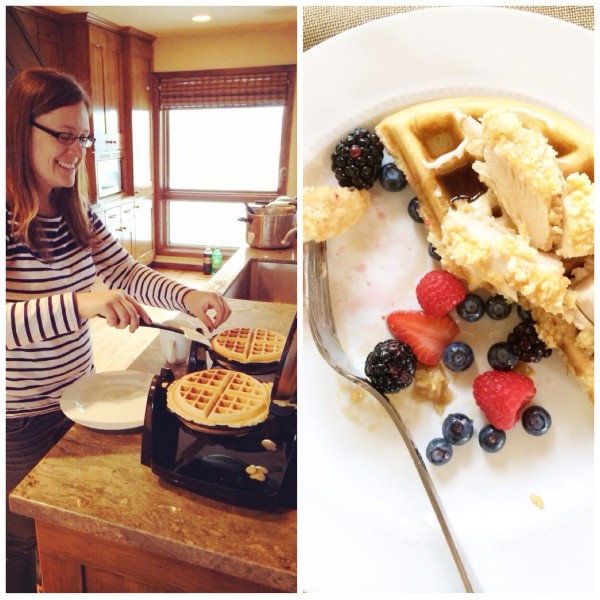 Megan (who learned to ski the day before), Annalise, and I decided to hit the slopes again before we headed home. These  girls are amazing and I feel so blessed to call them my friends.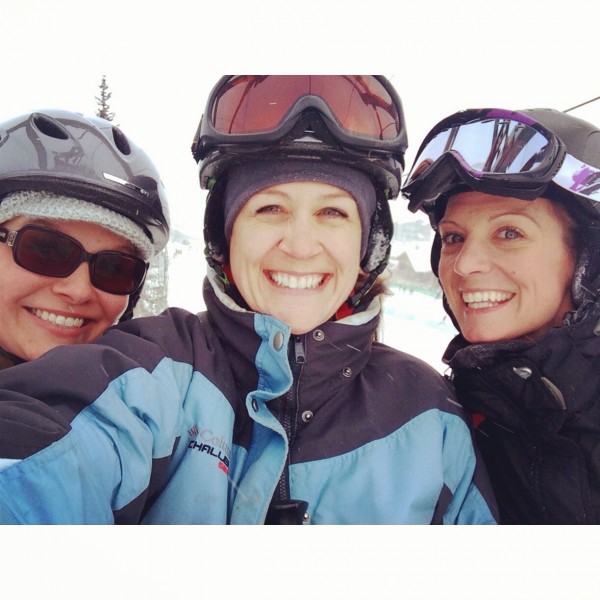 (photo by: Annalise)
After the slopes, we headed back to the house were Whole Foods had lunches ready for us to take to the airport!
And just like that, my time in Utah came to a close. They are so many sponsors that I want to thank for making this trip possible: Deer Valley, Red Maple Run, Grace and Lace, Brin and Bell, Real Salt, Nature Box, Beauty Box 5, Rod Works, Vintage Silverware, Krusteaz, Lole, Anolon, Star Fine Foods, Real Foods Market, Charming Beard Coffee, Skis on the Run, Gold Medal Flour, Wushthof Knives, Hamiliton Beach, Pacific Foods, Heber Valley Cheese, and Whole Foods Park City.
Also, another huge thanks to Carrian for putting this altogether! I can't wait to come back.
Until next time, Utah.