Hot Chicken Dip with Honey Toasts
Hot Chicken Dip with Honey Toasts is a cheesy dip with a spicy kick! Perfect as an appetizer for an impromptu watch party!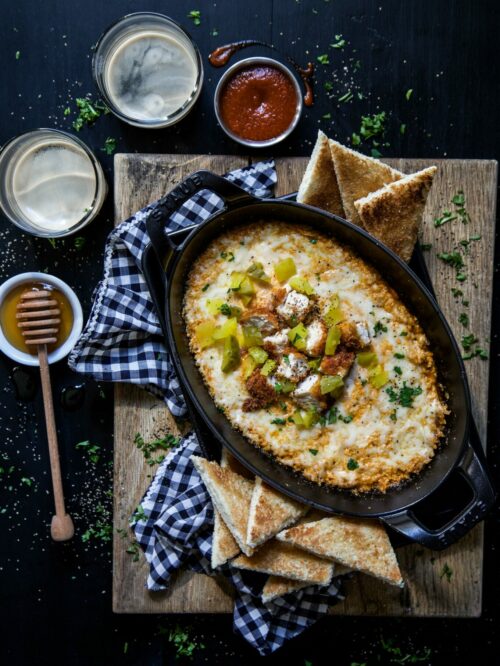 I felt like we needed to take a dip.
After all, it's Wednesday.
Halfway through the week and I'm already wishing it was Friday. So close, yet so far. Today, I'm headed to Kansas City to finish up last minute touches for my soon to be sister-in-law, Arin's bridal shower.
The shower is on Saturday and we are hosting it at a Ca Va which is a French Bistro and Champagne Bar. It's small, intimate and the perfect place to gather for a happy hour themed shower. Plus, afterwards our plan is to take the bridal gaggle to a dance club called Funkytown. If you live in Kansas City you know what I'm talking about.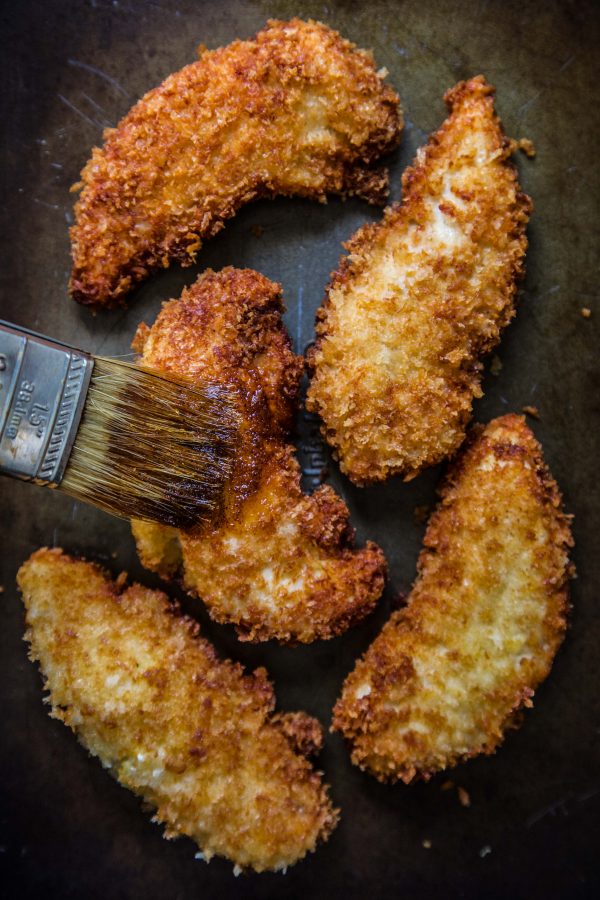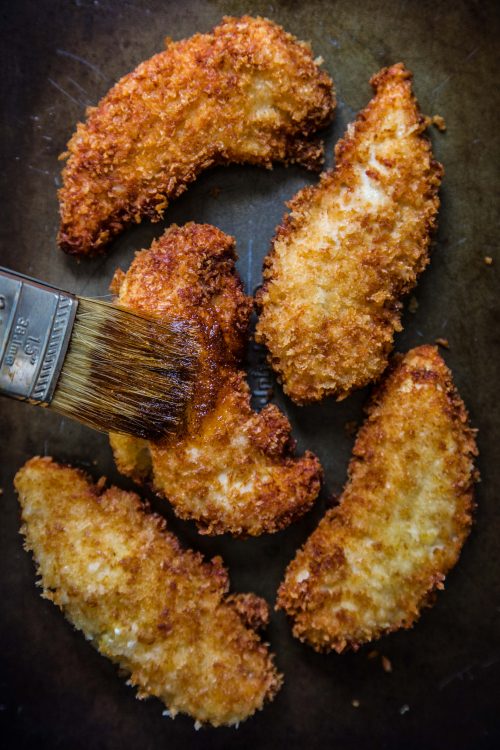 Picture a big open floor with music blasting from every era. People dancing to every song and not missing a single beat. I personally have never been, but I'm planning to dance my tookus off. Did I ever tell y'all that I love to dance? I don't get a chance to do it very often because the clubs in Denver are more techno and not my scene.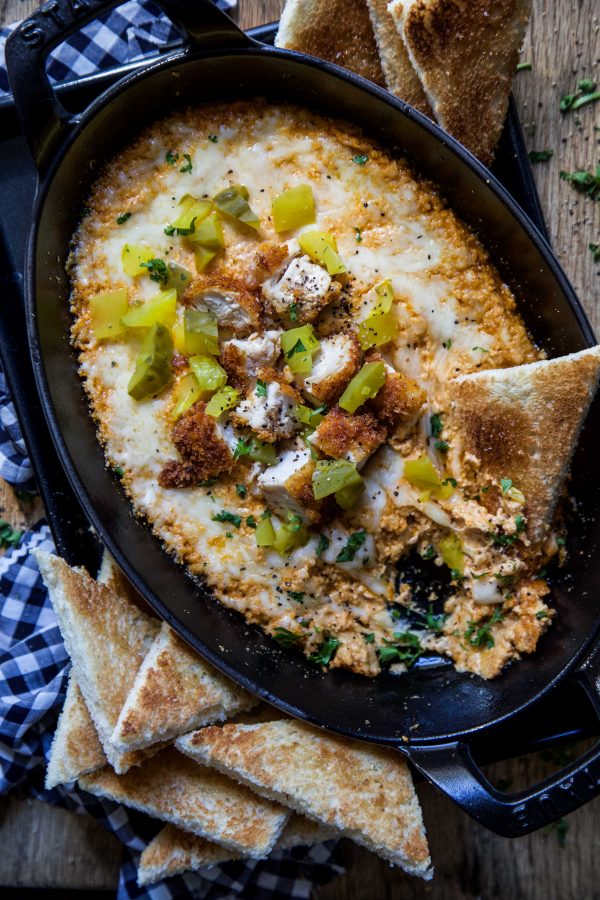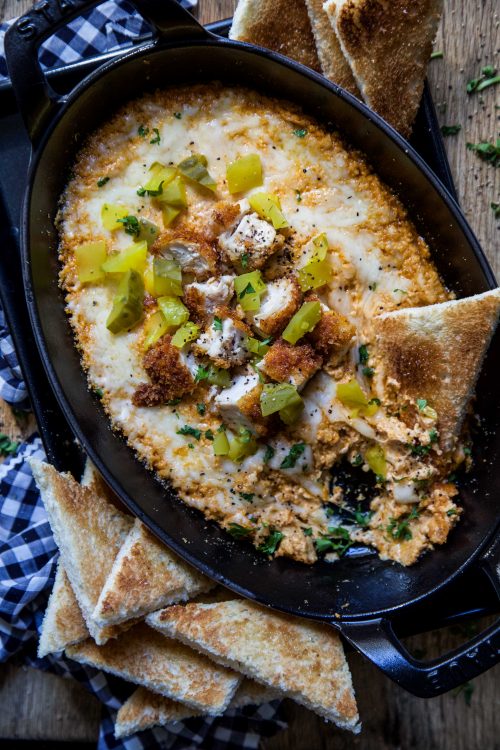 Anyways, since I know we are going to boogie down (do people still say that?), we are going to need a snack to refuel. To prevent a drive-thru disaster at 2am, I figured we ought to have this Hot Chicken Dip with Honey Toasts. Think of fried chicken in dip form. I know, brilliant right?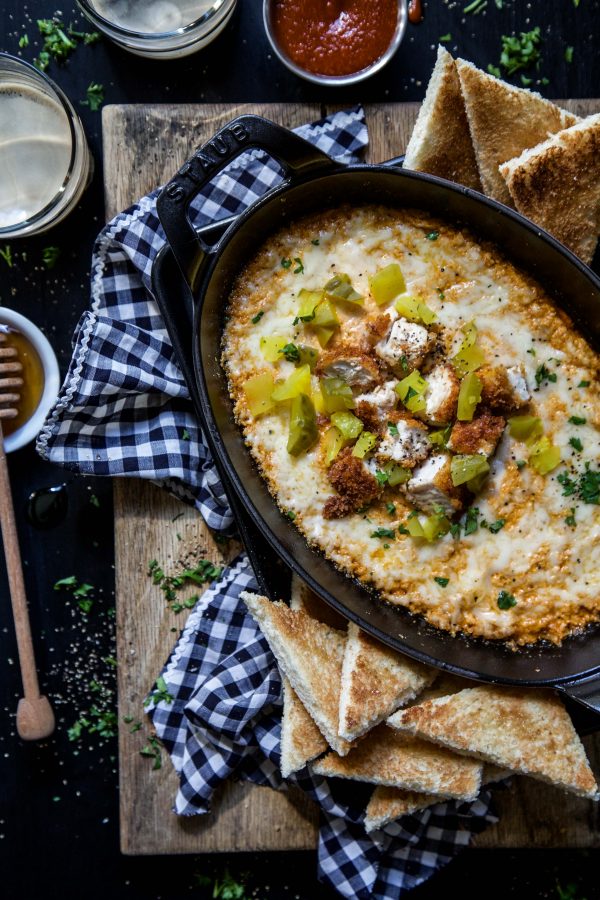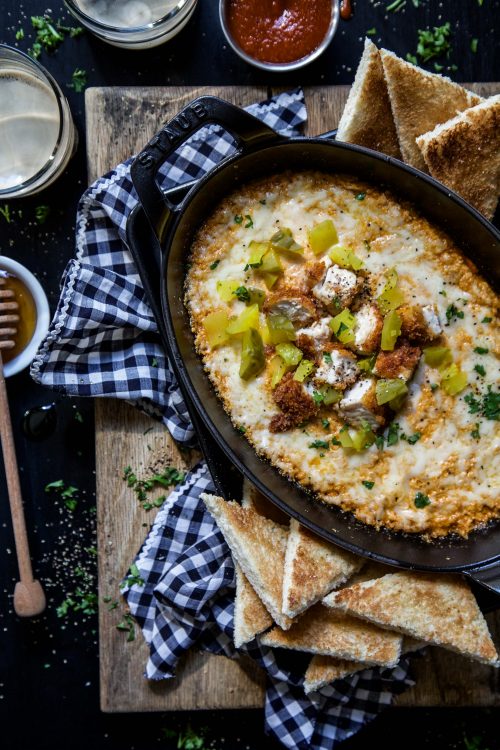 You can prep the dip and chicken ahead of time! Then when you stumble in at 2am all you have to do is heat it through for about 10 minutes and serve with some honey toasts. Feeds a crowd and will keep the music going…"when I dip, you dip…" Get it? Send help.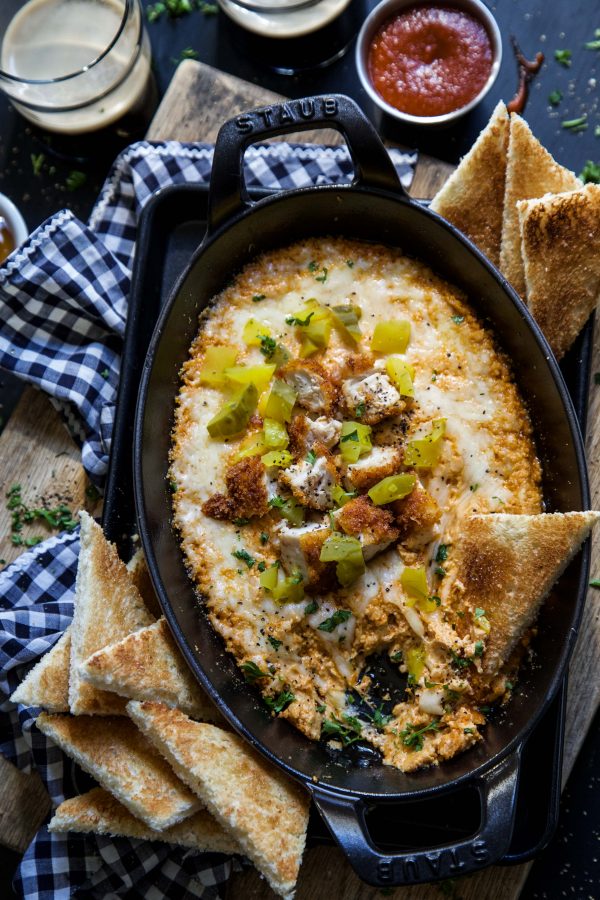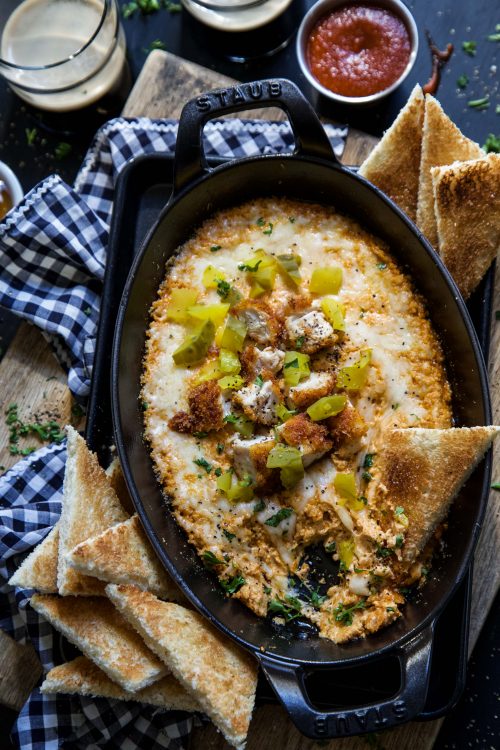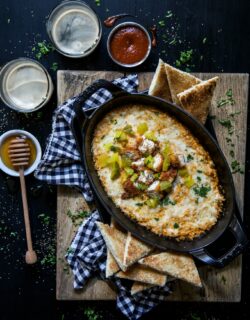 Hot Chicken Dip with Honey Toasts
Ingredients:
for the hot chicken dip:
4 boneless, skinless chicken thighs, cut in half
 2 cups buttermilk
1 egg
2 1/2 cups all-purpose flour
vegetable oil, for frying
1 cup shredded pepper jack cheese, divided
2 pkg (8oz) plain cream cheese, room temperature
1/2 cup mayonnaise
2 tbsp + 2 tsp garlic powder, divided
1 tbsp + 2 tsp cayenne, divided
4 tsp paprika, divided
1 tbsp chili powder
1 tsp onion powder
2 tsp kosher salt, divided
2 tsp ground pepper, divided
1 cup sunflower oil
2 tsp brown sugar
for the honey toasts:
8 slices sourdough bread, toasted, sliced into triangles
Honey, for garnish
Directions:
for the hot chicken dip:
In a small bowl combine 2 tsp paprika, 2 tsp cayenne, 2 tsp garlic powder, 1 tbsp chili powder, 1 tsp onion powder, 1 tsp kosher salt, and 1 tsp of ground pepper. Once mixed, reserve 2 tbsp of the spice mixture.
Next, pat the chicken thighs dry and toss the thighs in the spice mixture.
Whisk together buttermilk and egg in a bowl. In another bowl, combine the flour 1 tsp kosher salt and 1 tsp ground pepper. Take a chicken thigh and dip it into the buttermilk, shaking of any excess. Next, dredge the thigh through the flour and set it on the baking sheet. Repeat process until all the chicken thighs have been covered.
Pour the vegetable oil into a large Dutch oven, filling it about 2-inches high. Heat the oil using a fry thermometer to 360 degrees. Once the oil is hot, add the chicken thighs. Fry the chicken for about 12 minutes, rotating every couple of minutes to keep the chicken from burning. Once cooked remove the chicken from the Dutch oven with a pair of tongs and place on a wire rack to cool slightly.
In a smalls saucepan, preheat sunflower oil to medium heat. Add the reserved spices and brown sugar. Once all the ingredients are combined and heated, use a pastry brush to brush the spiced oil all over the fried chicken. Next, cut the thighs again into small cubes.
Preheat your oven to 375 degrees. In a large bowl add 1/2 cup pepper jack cheese, cream cheese, mayonnaise, 2 tbsp garlic powder, 1 tbsp cayenne, and 2 tsp paprika. Using an electric mixer beat until blended.
Next, spread the mixture into an 8X8 baking dish and cover with foil. Bake for about 20 minutes. Remove the foil and top with remaining 1/2 cup pepper jack. Place back into the oven for about five minute or until the cheese has melted.
To serve: place some of hot chicken that has been chopped along with pickles over the dip. Serve with honey toasts.
for the honey toasts:
Take a sourdough toasted triangle and spread the top with honey. Repeat until all toasts have been covered.
All images and text ©