how to host a wine & chocolate pairing party ( + Lindt GIVEAWAY!}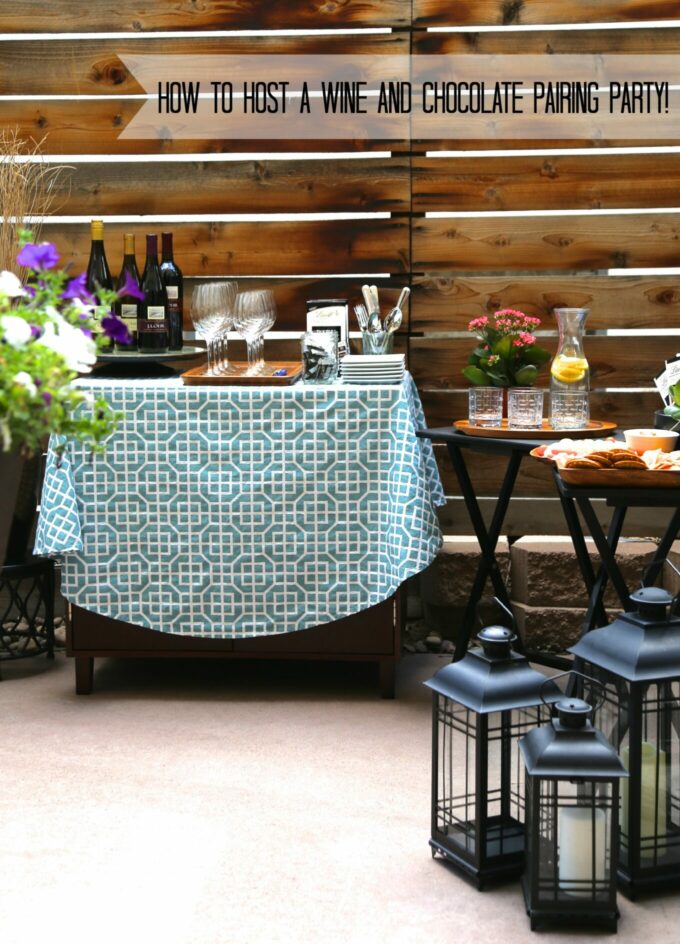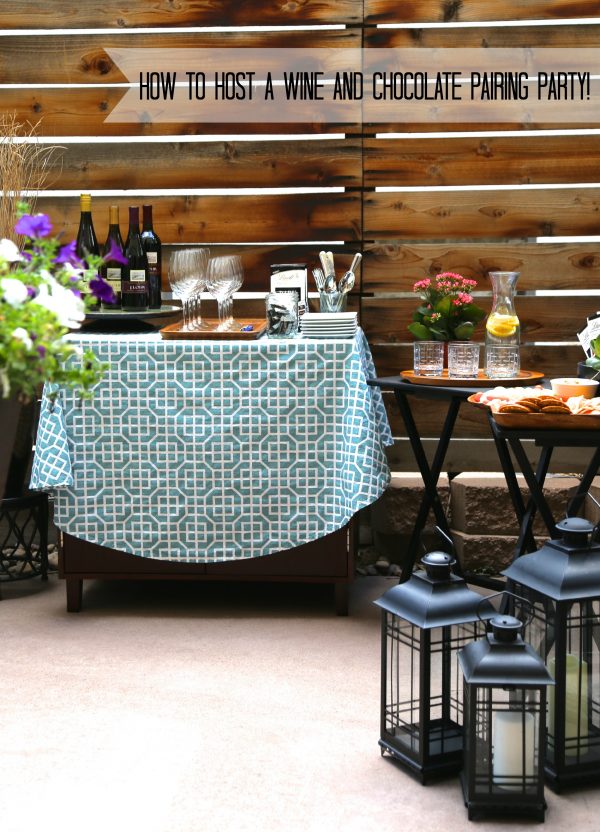 Sometimes, all you need in life are a few close friends, bellies full of laughter, glasses filled with wine, and a sea of decadent chocolate.
Okay, that and a poster of Ryan Gosling shirtless.
Maybe Ryan Reynolds, too.
A few weeks ago, I invited over my closest gaggle of girl friends for a little al fresco wine and Lindt EXCELLENCE chocolate pairing party. I'm surprised everyone said yes (#saidnooneever). We gathered on my back patio at twilight. The girls were excited to learn more about J. Lohr wine and taste the most refined, intense dark chocolates created by Lindt Master Swiss Chocolatiers.
I wanted to keep this pairing party simple, but chic. Everything I used for this party was stuff I had on hand. I used a bedroom dresser for the table, a revolving serving tray to hold the wines, retired throw pillows for the chairs, mason jars for the chocolates, and trays we received as wedding gifts for the wine glasses. The only thing I purchased was fresh flowers!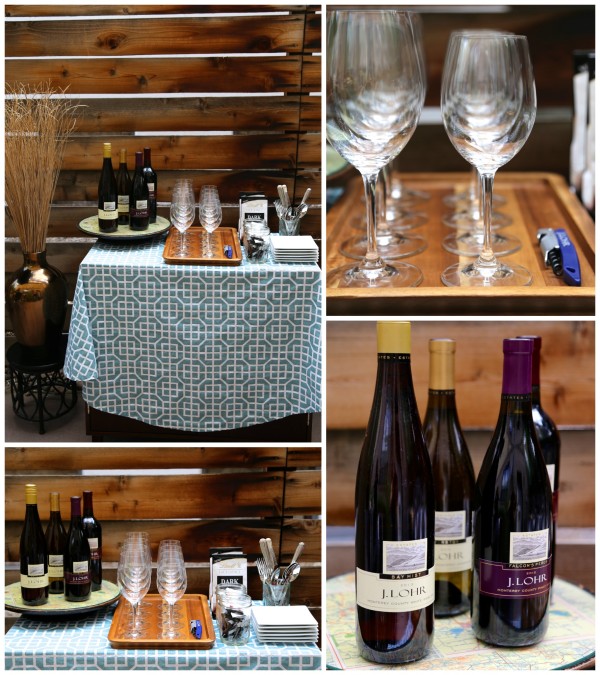 Before we dove into the chocolate, I opened up two bottles of J. Lohr: the Pinot Noir and Cabernet Sauvignon to breathe while we nibbled on some appetizers. When I host, I try to get my guests involved whether it's helping in the kitchen, setting a table, or opening a bottle of wine. Doing this creates conversations (especially if guests don't know one another) and it makes the guests feel part of the experience.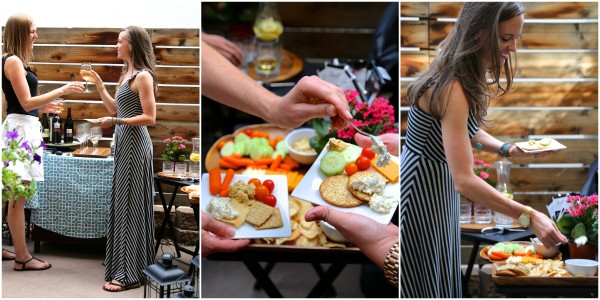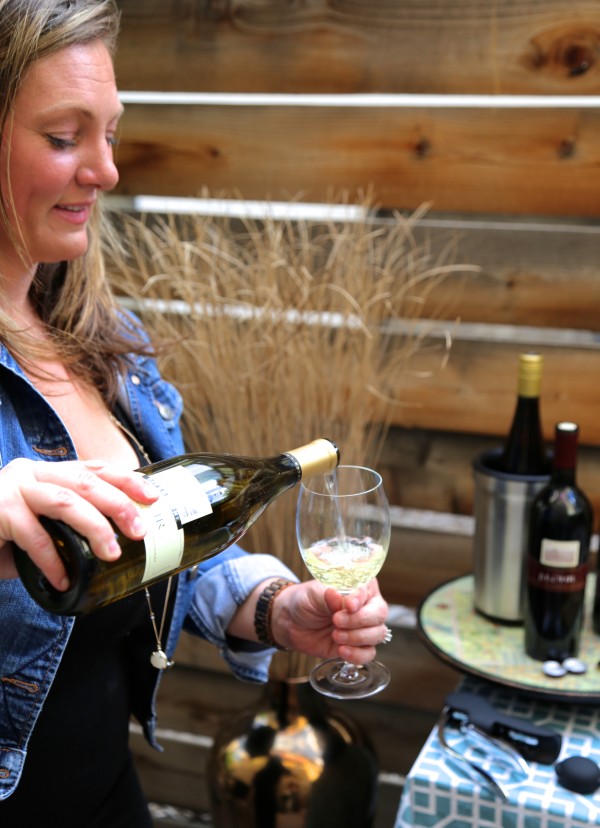 After our hors d'oeuvres sesh/disclosure of how each of their mugs will be all over the interwebs, we sat down around the silver patio table. On a serving tray, I lined up all the chocolate in tasting order. Next to the tray, I had a bucket to toss wine and kept crackers/pretzels close so we could refresh our palates after each tasting.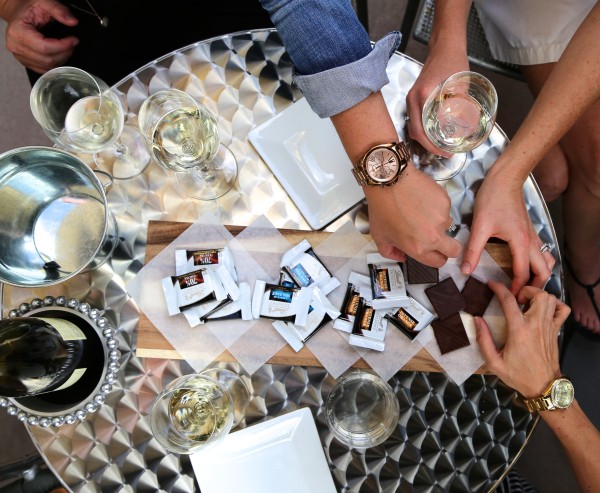 First up, Lindt EXCELLENCE Pineapple paired with J.Lohr Estates Rivertone Chardonnay. We didn't know what to expect. Pineapple in chocolate? But what we found was the bright aromas of the apples, pears, and lemons in the Chardonnay paired perfectly with the natural sweet pineapple. Giving a caramel and cream finish.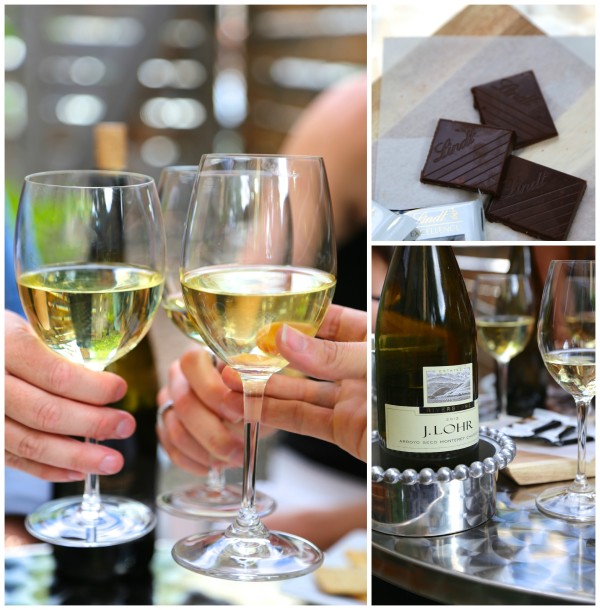 Second, Lindt EXCELLENCE Intense Orange paired with J. Lohr Estates Bay Mist White Riesling. I am generally not a fan of Riesling because it's too sweet. But the pear and orange notes of lychee provide this bright and luscious taste that pairs perfectly with the sweet citrus profile of the EXCELLENCE Intense Orange chocolate. It's like a balanced citrus explosion!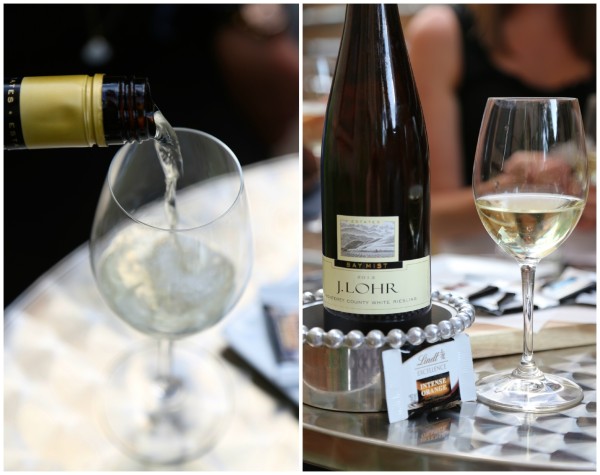 Third, Lindt EXCELLENCE Sea Salt paired with J. Lohr Estates Falcon's Perch Pinot Noir. I am not a fan of Pinot Noir either, but let me tell you, this wine and chocolate pairing has changed my attitude. The fresh ripe berries with a touch of brown sugar complement the sweet cacao characteristics of the EXCELLENCE Touch of Sea Salt. Together, they bring a taste of butter with a slight tang.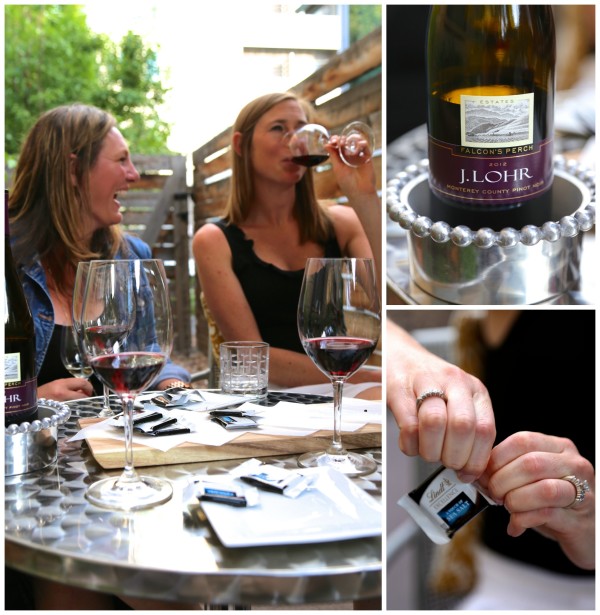 Lastly, Lindt EXCELLENCE 70% Cocoa paired with J. Lohr Estates Seven Oaks Cabernet Sauvignon. Can you say touchdown?!! The wine's ripe aromas of blueberry and black plum match perfectly with the notes of tobacco and roasted nuts found in EXCELLENCE 70% Cocoa. If you like decadent desserts, then pair these two together and you'll have a party in your mouth.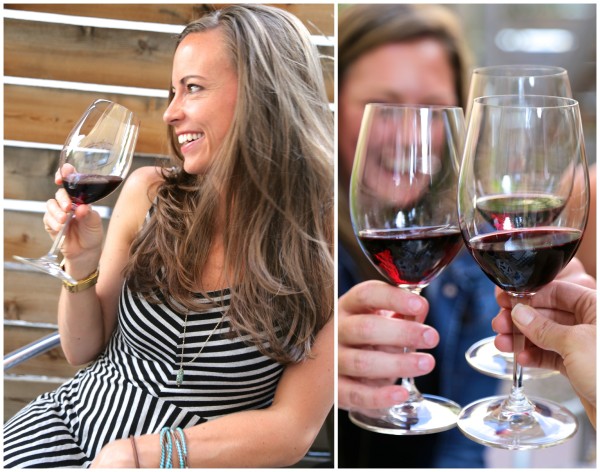 After the tasting, I asked the girls which one was their favorite and I think we all agreed the Pineapple pairing was the best!
So, if you are looking to host a fun, simple, but chic wine and chocolate pairing at your home, here are my top ten tips that will make the party feel like a breeze:
1) Do a dry run. I stage everything the night before to make sure I have sufficient space as well as to make sure it all looks cohesive. Plus, I actually sit in the chairs. Don't ever assume that the way you position a chair around a table is comfortable. Make sure a guest can get in and out without bumping into ten other people on the way to get more appetizers.
2) Have hors d'oeuvres. You always want to have nibbles, especially when booze is involved.
3) Chill wine to desired temperatures. White wine should be chilled at around 50 degrees Fahrenheit and red wine at room temperature or 60 degrees. If you don't have a wine fridge, keep the whites overnight in the fridge and place the red wines in the fridge 30 minutes before serving.
4) Pour wines into a decantour to let the bigger wines breath. This is very important because when a wine opens up the taste will change, which will effect the pairing.
5) Make sure to set out correct red and white glasses. The shape of a wine glass determines the way the wine hits your taste buds. Make sure to get red and wine specific glasses to highlight their tastes.
6) Waste bucket for the table. You can't count on people liking all the wine flavors. Make sure to allow for a polite out.
7) Let your friends pour some wine. Guests love to engage in the festivities, so let them join in the fun by opening a bottle of wine or pouring.
8) Keep it casual. Everything I used for the pairing party was something I had in my house. It forces you to be creative and chic, but still give off that causal vibe.
9) Goodie bags. Send leftover chocolate home with friends so they can continue enjoying the chocolate flavors as well as the list of wines you drank with them.
10) Have fun! Relax and enjoy sharing your chocolate and wine knowledge.
Oh, but the fun doesn't stop there! The wonderful folks over at Lindt Chocolate want to giveaway a sassy Chocolate Gift Box (retailed at over $45) to one lucky winner. All you have to do is leave a comment below telling me, what's your favorite flavor of chocolate!
****THIS GIVEAWAY IS NOW CLOSED!!!***** Congrats to Brittany #19!!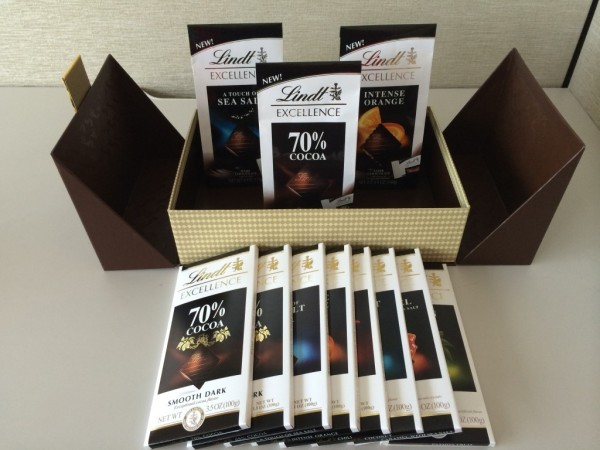 This giveaway is open to US residents only and must be 18 years of age. The giveaway will end on Sunday September 14th at 8pm MST. I will choose one winner at random and will notify the winner via email. The winner will have 48 hours to respond otherwise a new winner will be drawn.Good luck!!
***This post was sponsored by LINDT & SPRUNGLI (USA) Inc. As always, all opinions expressed are 100% my own!***