thai-glazed skillet corn with cotija cheese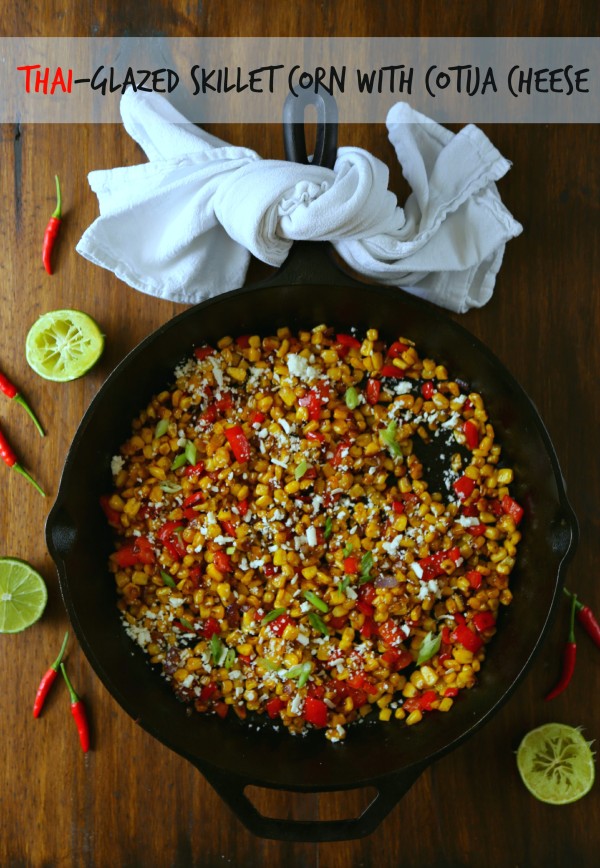 Well, here we are – right in the middle of no man's land.
This is the time of year when summer and fall purists battle it out. The bounty of summer produce is still piling up, but with cooler temperatures and leaves starting to turn, it's hard not to believe fall hasn't arrived. That, and Pinterest has been taken over with 4,256 versions of pumpkin bars and bread.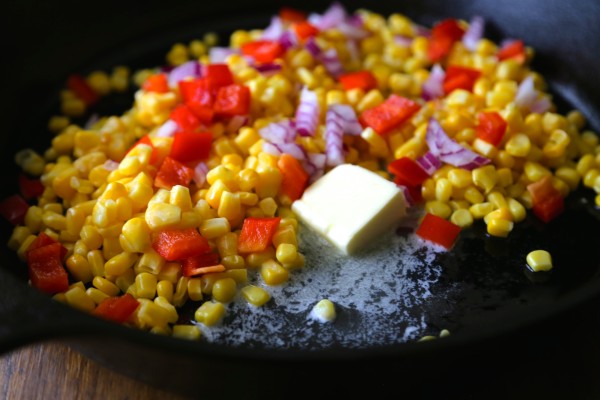 Rather than get my unmentionables in a twist on which side to chose, I'm going Swiss neutral. Because maybe I want to have another weekend full of caprese salad, skewers, burgers, tater tots, and pizza. And then the next weekend, maybe I want to whip up a few dozen of my famous chocolate chip pumpkin muffins. without getting the green stink-eye from my garden. Ya feel, me?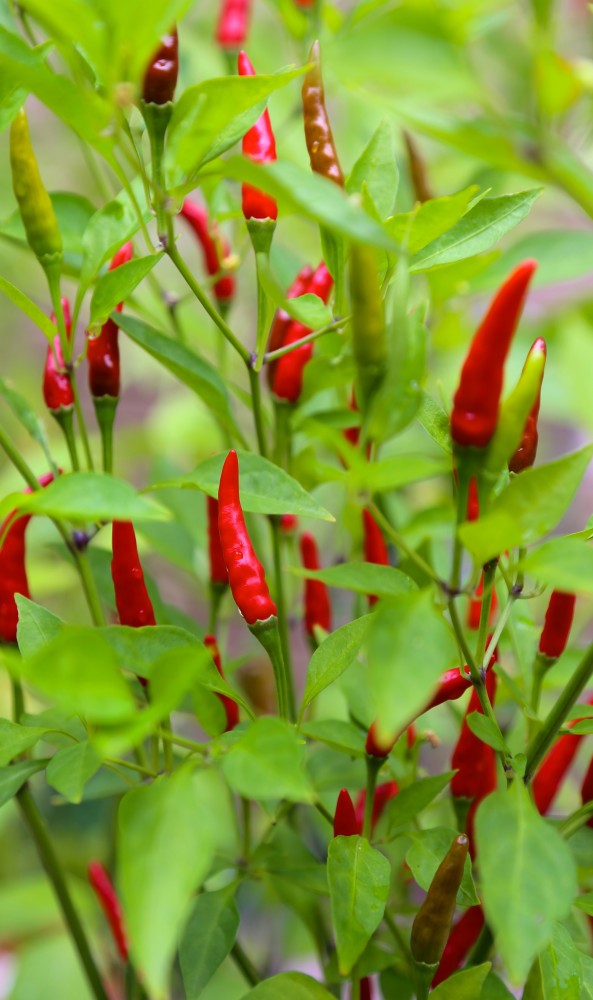 Well, today's "no-man's land" du jour is something that I can't get enough of. As in, I will be making this dish into the blistering cold winter months using frozen corn, naturally. With fresh corn still in season, I wanted to highlight this summer veggie-carb with a little sass. So I added pumpkin! Just kidding. Maybe.
Even though, pumpkin is technically in season, I stuck with the usual summer suspects – grape tomatoes, Thai chilies, peppers, and limes. Mix these fellows along with grilled corn and a brown sugar-soy glaze, it will make summer and fall purists…ooooooohhhhhh and aaaaaaaaahhhhhhhh.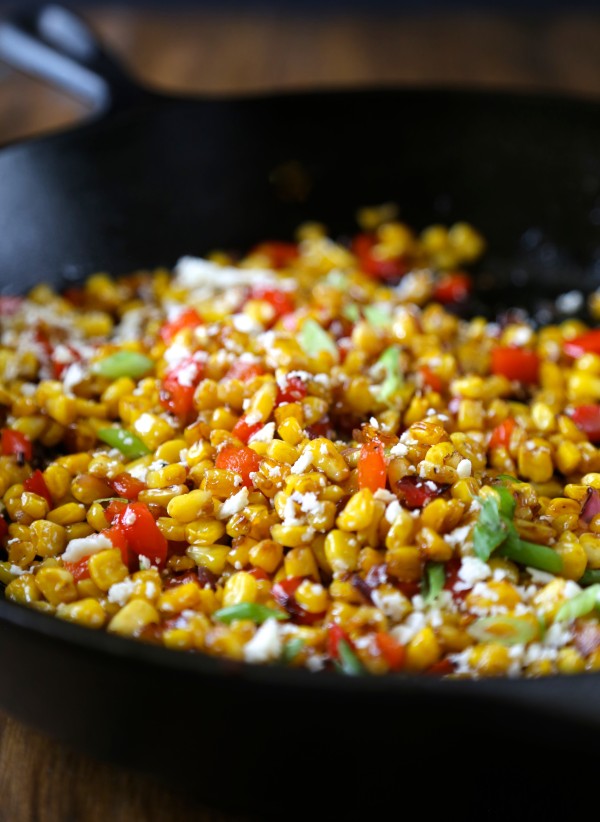 Seasonal Eating Series:
My talented and fantastic friend, Becky, author of The Vintage Mixer, and her husband Josh, are showing us that eating seasonally can be fun! Each month they will provide a Seasonal Produce Guide, which you can save on your iPhone or desktop so you can get in the seasonal eating spirit.
Not only do they provide a beautiful illustration each month like the one above, you can also join me and a few fabulous food bloggers who are serving up seasonally inspired recipes. Follow us on Instagram and tag your photos with the #eatseasonal hashtag!
Aimee – Simple Bites – Honey-Sweetened Peach Lemonade
Annalise – Completely Delicious – Apple Fritter Waffle Doughnuts
Becky – Project Domestication – Green Onion & Chive Yogurt Dip
Molly – My name is Yeh – pumpkin cake and semifreddo push pops
Lindsey – Cafe Johnsonia – Quinoa Pizza with Stone Fruit, Chiles, and Queso Fresco
Becky – Vintage Mixer- Coconut Macaroon Filled Peaches
Kelley – Mountain Mama Cooks – Crispy Eggplant Tacos with Cilantro Sauce
Heidi – Foodie Crush – How to Make Hatch Chile Salsa Verde
Lauren – Lauren's Latest – Best Ever Caramel Apple Cinnamon Rolls
Liren – Kitchen Confidante – Baked Ziti with Roasted Eggplant and Peppers
Kate – Cookie and Kate – Roasted Grape Crostini with Brie and Thyme
Thai-Glazed Skillet Corn with Cotija Cheese
Ingredients:
1/2 cup unsweetened coconut milk
1/4 cup soy sauce
2 tablespoons brown sugar
1 tablespoon fish sauce
Squeeze of lime juice
2 tablespoons unsalted butter
4 cups corn kernels
1/2 red onion, diced
1 red pepper, diced
1 thai chile, diced
1/2 cup cotija cheese, grated
lime wedges, garnish
green onion, sliced, garnish
salt and pepper to taste
Directions:
In a small saucepan, add coconut milk, soy sauce, brown sugar, fish sauce, and lime juice. Bring to a slight a boil and cook until thickened and almost syrup like. Remove from heat.
In a 10-inch cast iron skillet, melt butter. Add the red pepper, red onion, corn kernels, thai chile and s&p. Saute for 5 to 7 minutes until softened. Add 1/4 cup of the thai glaze and stir. Cook for another three minutes until everything is combined. Remove from heat. Garnish with cotija and green onions.
adapted from Food and Wine Magazine
All images and text ©