Jalapeno Popper Potato Salad
Jalapeno Popper Potato Salad is a delicious and flavorful potato salad that is the perfect side to any meal!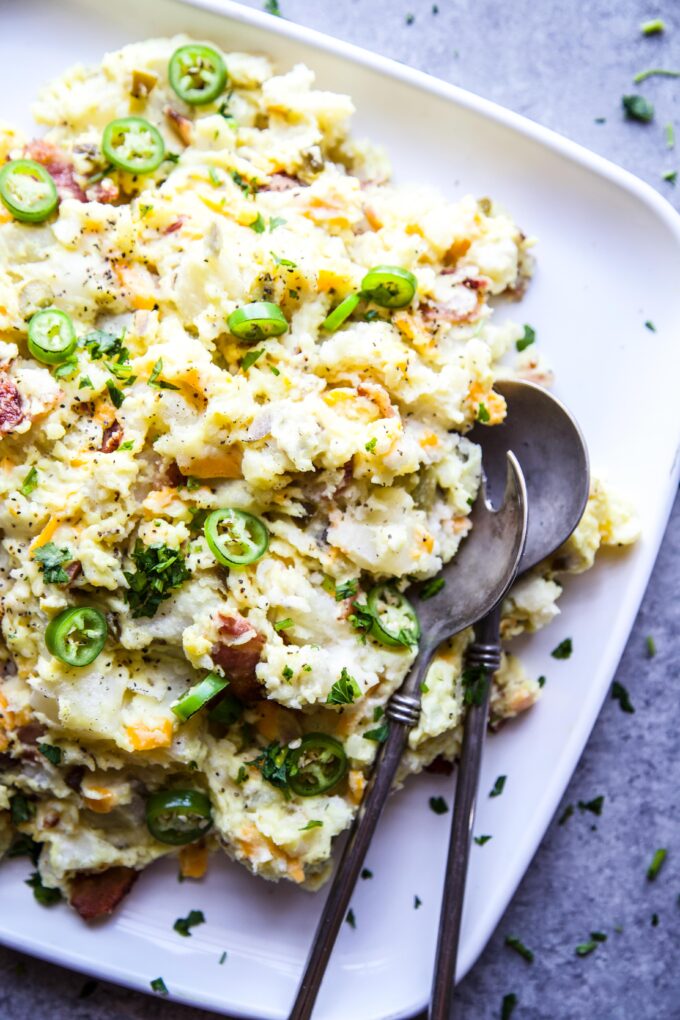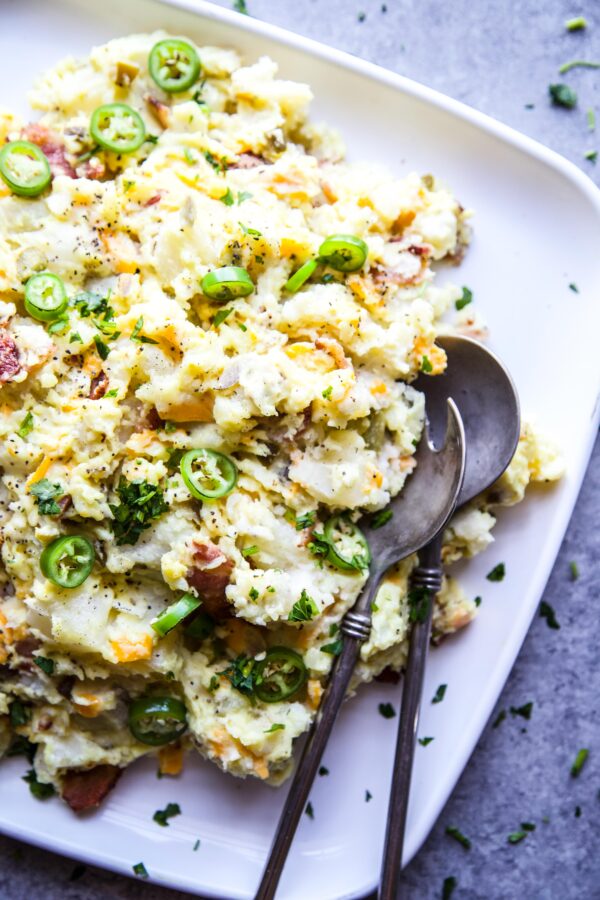 One of my favorite comfort foods are jalapeno poppers.
You know……jalapenos stuffed with cream cheese, cheddar cheese, and then wrapped with bacon and fried. I mean, what's not to like? These spicy, golden gems are best eaten either for lunch, happy hour, or dinner and washed down with a pint of beer.
Now, the weather is warmer and hopefully outside 24/7 especially with a toddler. I figured there has to be a way to incorporate those delicious jalapeno poppers into a more portable vehicle. Enter, Jalapeno Popper Potato Salad.
Oh, yes! We are taking the classic ingredients of a potato salad, but adding a pop of flavor with bacon, jalapeno brine, pickles, and more!
Alright, are you ready to spice up summer? Let's dive in!
What's in this Jalapeno Popper Potato Salad?
The whole point of this potato salad is for it to taste like a jalapeno popper. So we aren't holding back and for this recipe you will need:
Russet potatoes
Bacon
Cheddar Cheese
Hard boiled eggs, optional
Mayo
Jarred jalapenos
Jalapeno brine
Yellow Mustard
Gherkins
Tips for Making the Jalapeno Popper Potato Salad:
1) Potatoes. You can use russet, golden potatoes, red potatoes, etc. The key is to peel your potatoes prior to boiling. Also, you will want to place the peeled potatoes in a pot of cold water and then turn the heat up. This will ensure even cooking!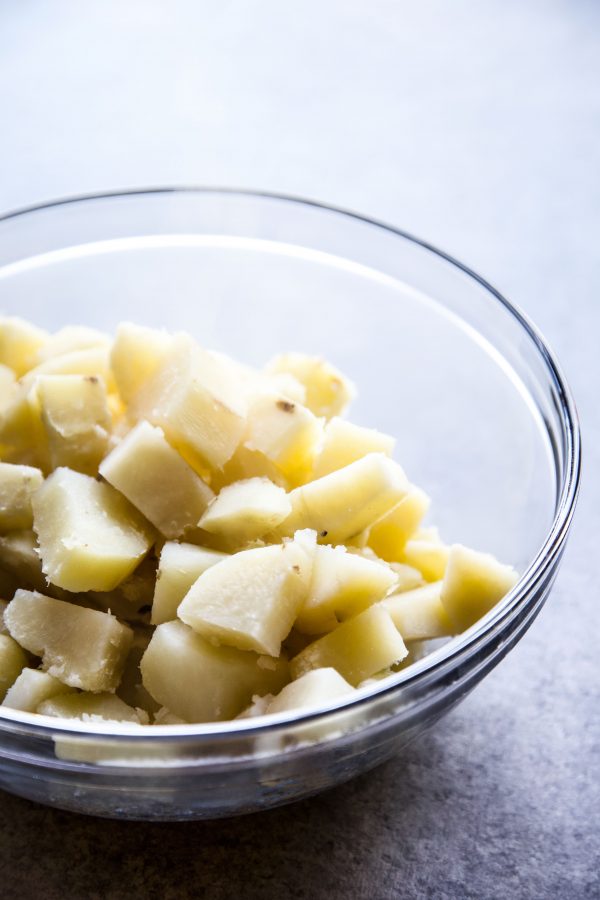 2) Jalapenos. I use Old El Paso jarred jalapenos because they are the best!!! Of course, please use whatever kind you have on hand!
3) Gherkins. If you don't have gherkins you can always chop up a regular pickle.
4) Flavor. This potato salad will taste better the next day. Try to refrigerate it for at least an hour before serving to let the flavors fuse.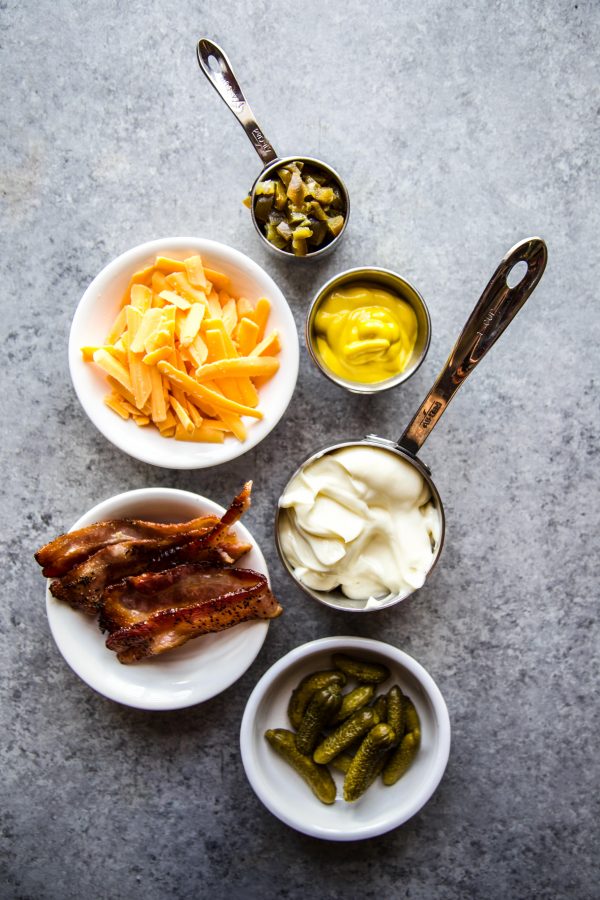 What if I don't like Mayo?
If you don't fancy mayo you can substitute with a mixture of sour cream and Greek yogurt.
How long in advance can I make this potato salad?
This Jalapeno Popper Potato Salad can be prepared at least 2 days in advance.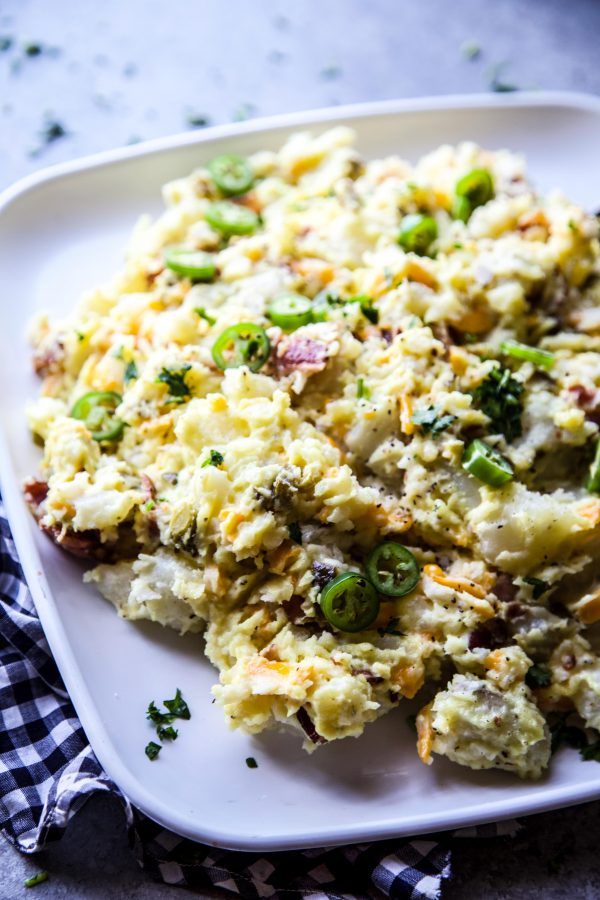 How long will the Jalapeno Popper Potato Salad last?
If you store the potato salad in an air-tight container in the fridge it will keep up to five days!
What do you recommend serving with it?
Any grilled protein will be ideal and barbecue beans!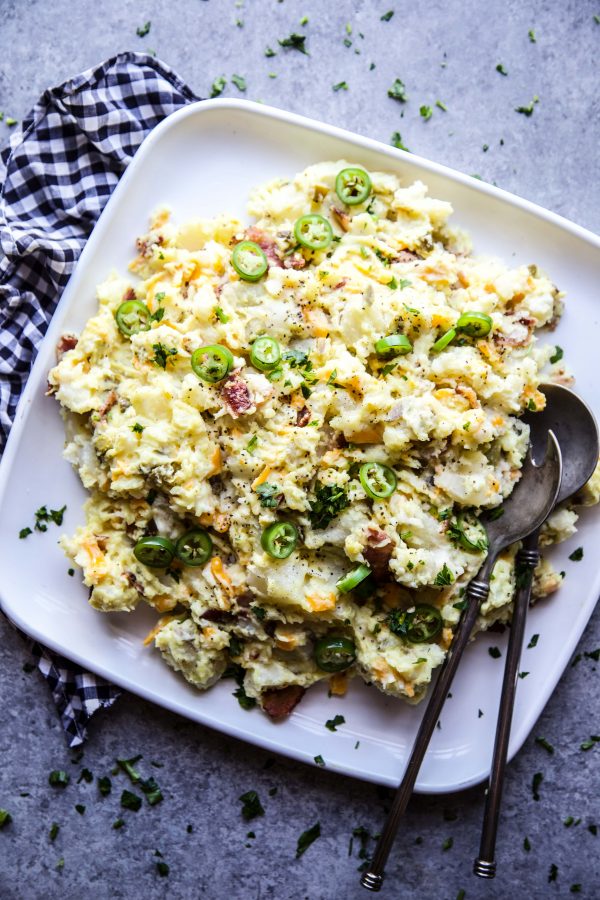 More Delicious Potato Salad Recipes to Enjoy: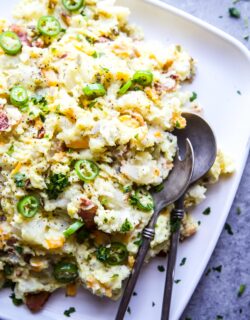 Jalapeno Popper Potato Salad
Ingredients:
4 medium russet potatoes, washed, peeled, and chopped
1 tsp kosher salt + black pepper to taste
6 slices bacon, cooked, chopped
2 cups shredded cheddar cheese
1 cup mayonnaise
1/4 cup jarred jalapenos, chopped (*I like to use Old El Paso)
2 tbsp jarred jalapeno juice
3 tbsp yellow mustard
4 hard-boiled eggs, chopped (*optional)
1/4 cup gherkins chopped
Directions:
Fill a large pot halfway with cold water. Add the chopped potatoes and kosher salt to the pot. Bring to a boil and cook until the potatoes are fork-tender about 15 minutes.
Drain the potatoes and return to the pot to mash gently with a potato masher.
In large bowl, add half of the chopped bacon, cheddar cheese, mayo, jalapenos + brine, mustard, eggs, and gherkins. Stir to combine.
Next, add in the mashed potatoes and gently stir everything together. Check the seasoning and add salt/pepper if desired.
To serve, place the potato salad in a serving bowl and garnish with remaining bacon!
All images and text ©