Jalapeno Watermelon Sesame Poke
Jalapeno Watermelon Sesame Poke is a delightful and refreshing appetizer perfect for summer!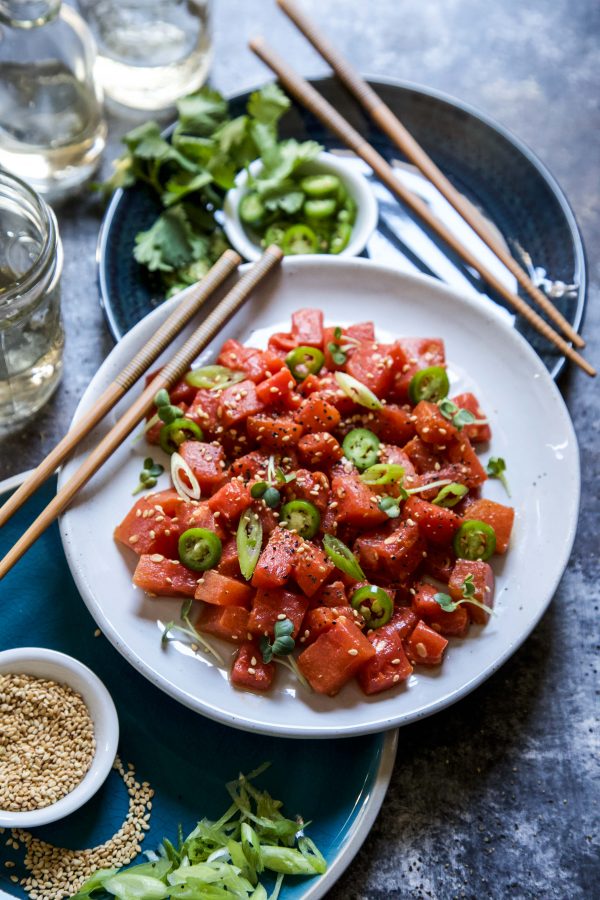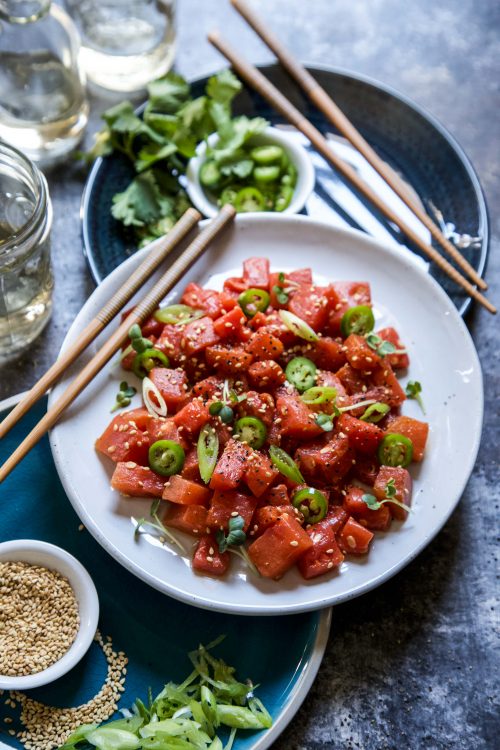 So, is it official?
Summer that is.
Eff it. I say it's official because the sun is out, we've got peach buds on our tree, and our roses are blooming! If that isn't summer magic I don't know what it is!
I'm still adding to that summer bucket list. The other day I was watering our plants and looked at our garage randomly and thought, "Outdoor movies need to happen." Again, is that too big of a task to tackle? Looking for a friend. I'm not even sure where to start!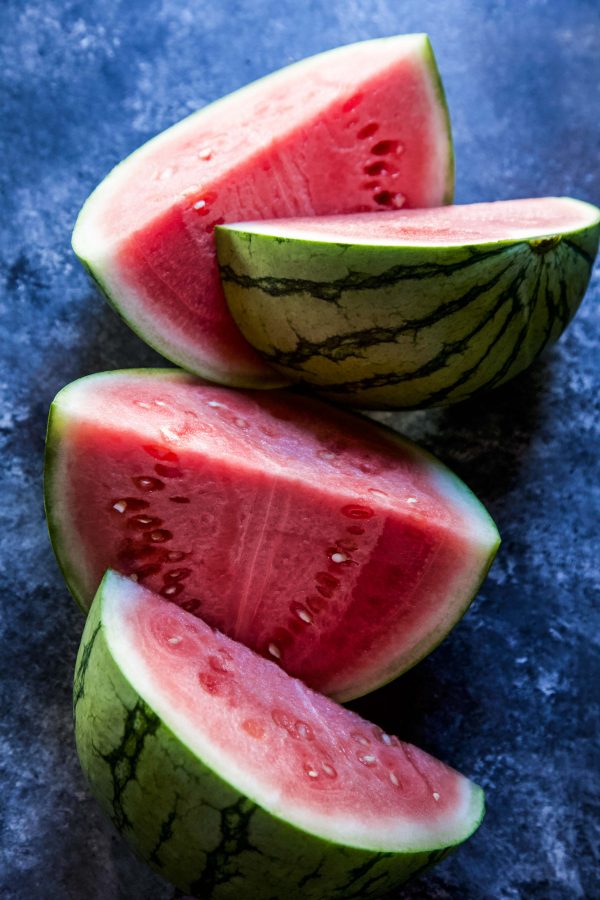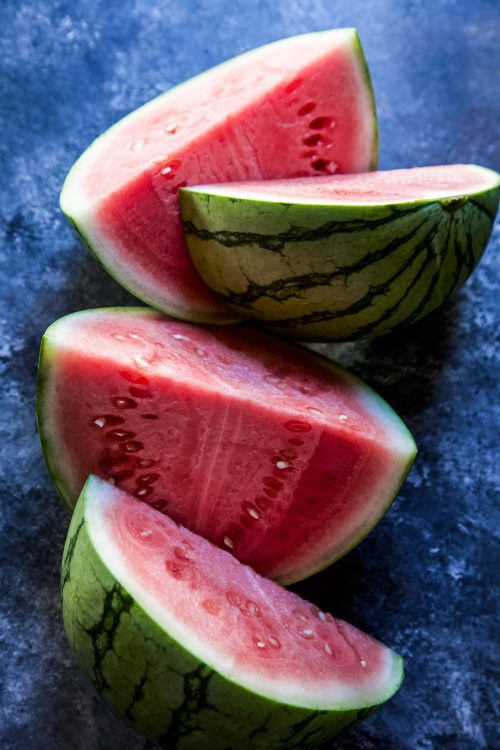 Anyway, are you stoked that it's a short week? Also, can you believe June 1st is this Friday? Not exactly ready for that to happen. BUT! I am ready to make this Jalapeno Watermelon Sesame Poke happen in your lives!
I realize this dish may sound strange, but I promise it's a fresh, easy meal to prepare. Plus, it's way cheaper to make than a traditional poke bowl that has sashimi grade salmon or tuna. Simply marinate some watermelon in a tahini-sesame sauce. Then saute the watermelon, reduce the marinade and BOOM! A light dish perfect for summer!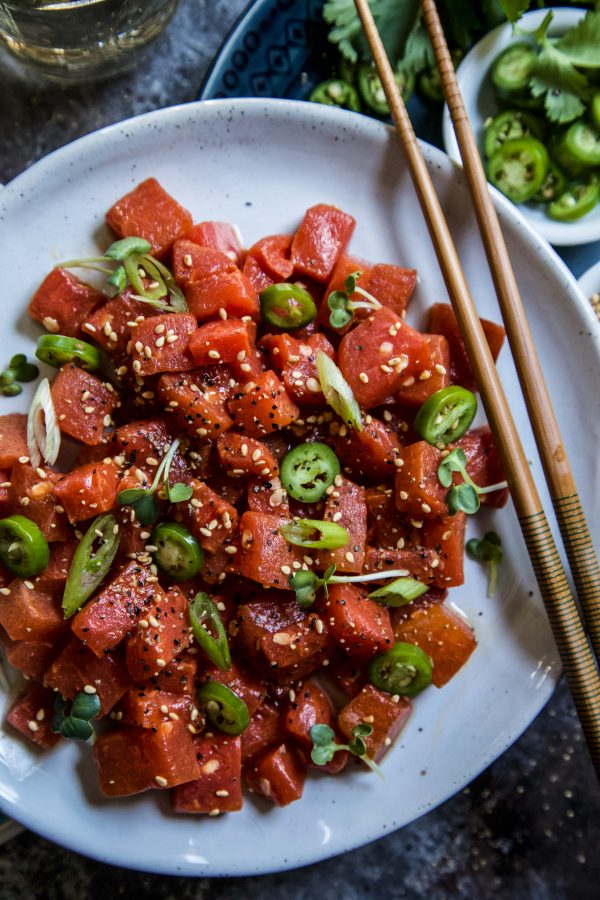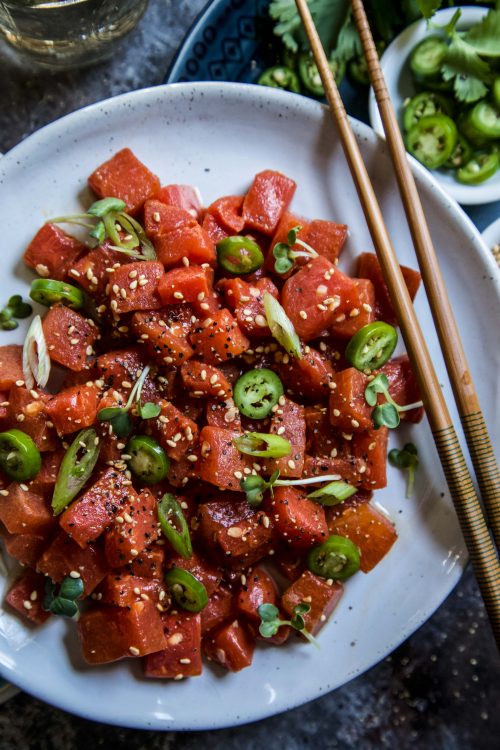 You can top with whatever kind of toppings your heart desires! This poke would be a perfect appetizer to nibble on while watching a movie under the stars. Right? Right.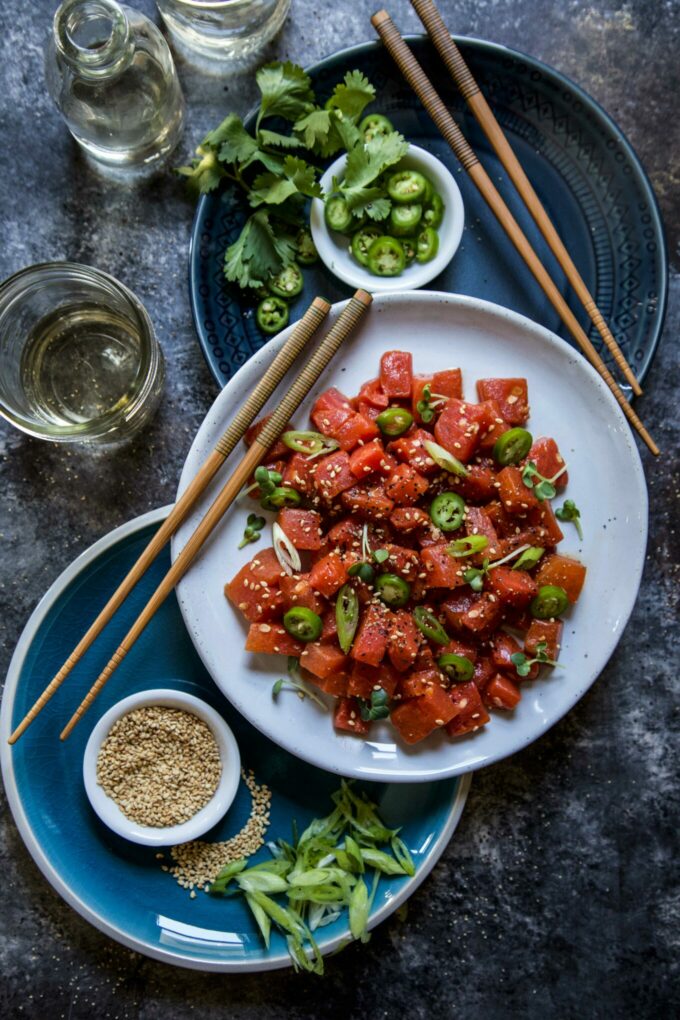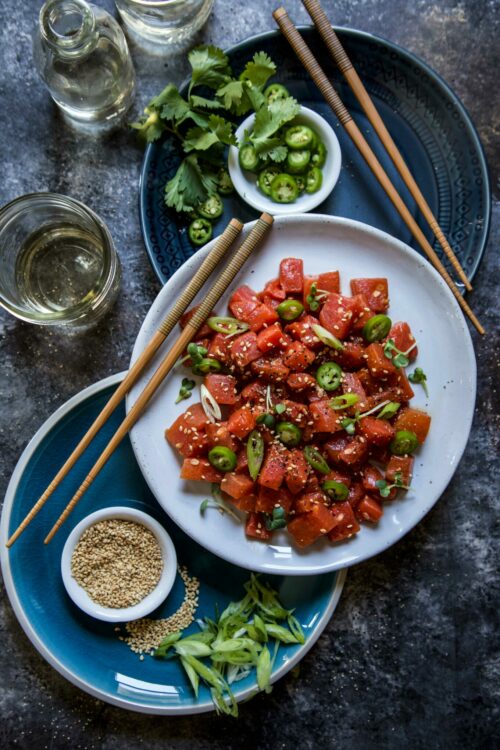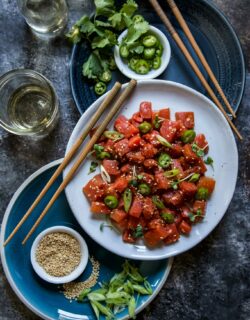 Jalapeno Watermelon Sesame Poke
Ingredients:
3 lbs seedless watermelon, rind removed, cut into 3/4-inch pieces
1/2 cup unseasoned rice vinegar
1/4 cup toasted sesame oil
3 tbsp soy sauce
2 tbsp lime juice
2 tbsp tahini
1 tbsp honey
1 jalapeno sliced into rounds
Scallions sliced, for garnish
Sesame seeds, for garnish
Fresh cilantro leaves, for garnish
Microgreens, for garnish
Directions:
In a food processor add rice vinegar, oil, soy sauce, lime juice, tahini, and honey. Pulse until combined. Next, add the watermelon to a large Ziploc bag. Pour the puree into the bag with the watermelon. Move the watermelon around so everything is coated and then chill the watermelon in the fridge for at least 4 hours or for better results up to 24 hours.
Next, strain the watermelon through a fine mesh sieve. Set marinade aside. In a large skillet preheated to medium-high heat add the watermelon. Cook the watermelon, toss, until lightly caramelized about five minutes. Remove watermelon from skillet and place into a bowl.
In a small saucepan add the leftover marinade. Bring the marinade to a boil and then a simmer for about 12 minutes or until thickened; about 12 minutes.
Chill the watermelon and marinade in the fridge separately for about an hour.
To serve, add the watermelon to a plate. Add the jalapeno rounds. Followed by the garnishes. Next, spoon the marinade over the watermelon and serve!
adapted from Bon Appetit
All images and text ©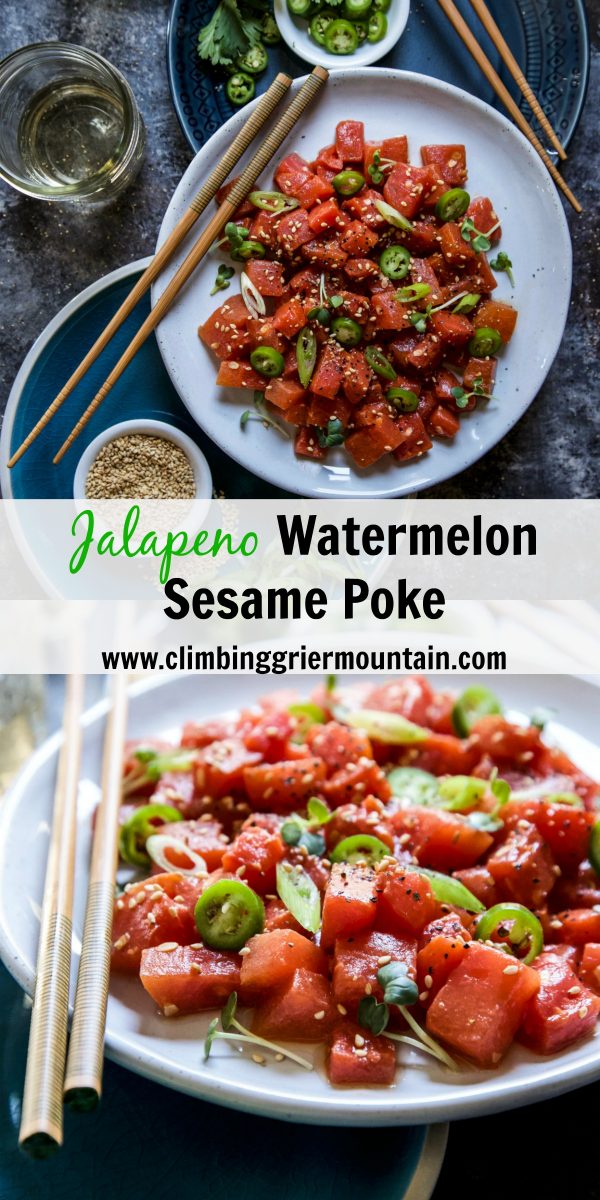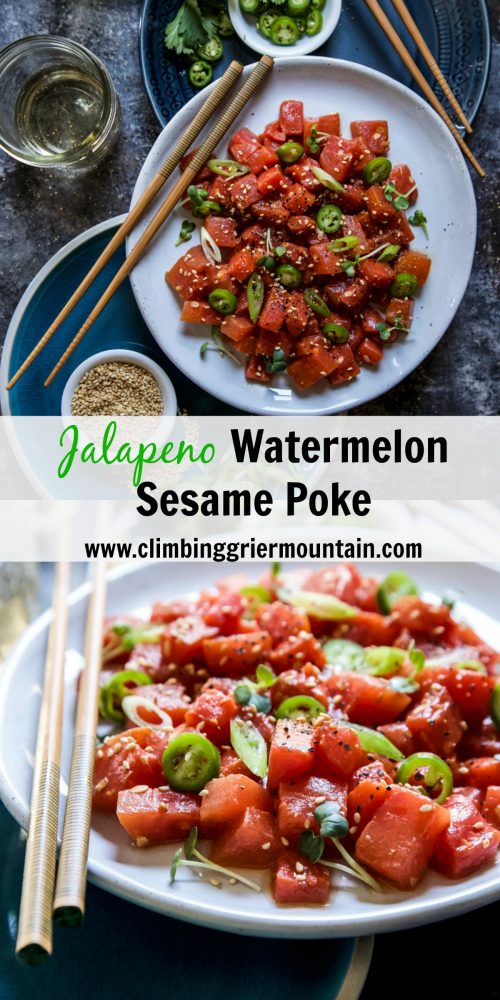 In conclusion, our Jalapeno Watermelon Sesame Poke is a captivating culinary experience that combines the unexpected flavors of heat and refreshing sweetness. It's a dish that tantalizes the taste buds, offering a delightful journey of textures and tastes. Whether enjoyed as an appetizer or a main course, it's a vibrant and unique addition to your dining repertoire. The fusion of jalapeno, watermelon, and sesame creates a harmonious balance that leaves a lasting impression. Embrace the bold and refreshing, and savor every bite of this unforgettable poke!