Korean BBQ Beef & Black Bean Chalupas
Korean BBQ Beef & Black Bean Chalupas are a delicious meal to make any night of the week! Crispy, fried chalupas get smothered with black beans and slow cooked Korean bbq beef. You won't find this on any drive thru menu!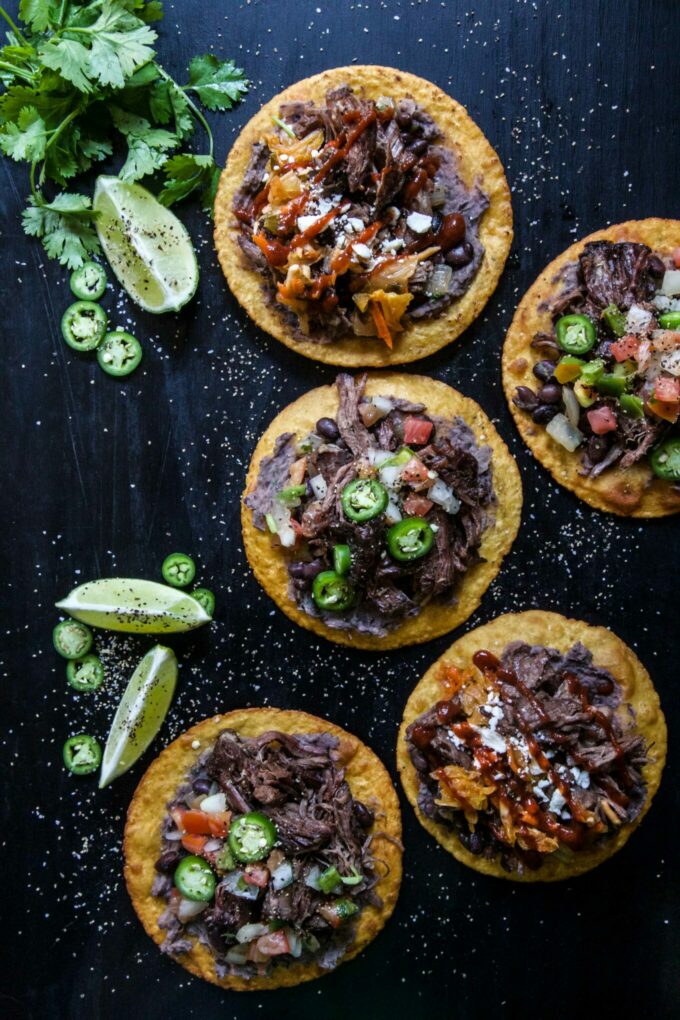 10 days.
I seriously can't believe it.
Part of me does feel a little reserved about going to Jordan. Not because it's in the Middle East and shares a border with Syria and Iraq. My reserved feelings have everything to do with being faraway from home.
Did I ever tell you that I used to get crazy homesick as a kid? Slumber parties were my worst nightmare because once the clock hit midnight I was out of there like Cinderella exiting the ball. But instead of jumping into a carriage my parental units would have to come and pick me up. Which I am sure they didn't mind at all (#jk). Thankfully I grew out of that phase just in time for college.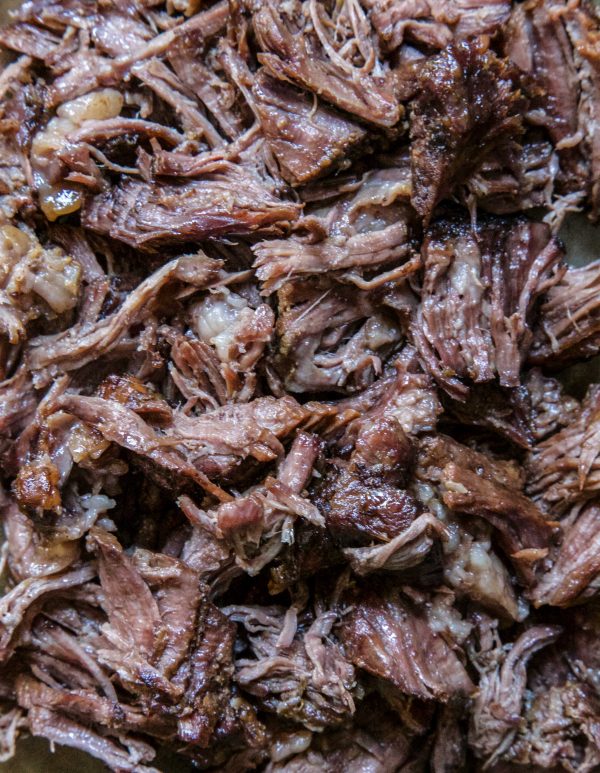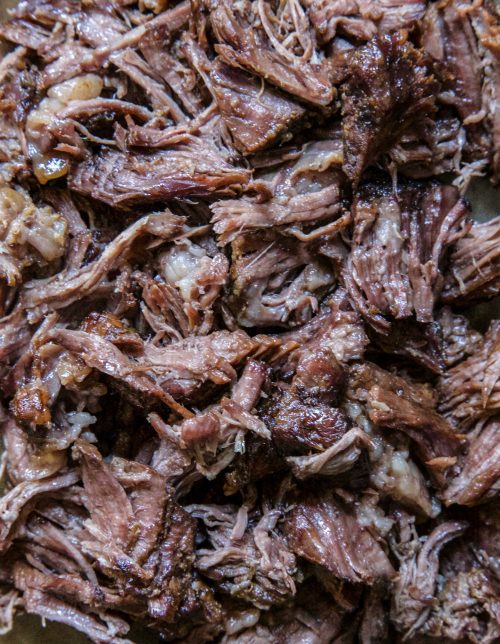 Anyways, this trip is going to be a wild adventure and I'm super excited to learn more about the Jordanian culture. We will spending a few days in Amman exploring the old city and eating all the street food! Next, we will drive down to Petra where the famous temple is built into the side of the canyon wall. You can bet your sweet tookus I will be reenacting some Indiana Jones while I am there.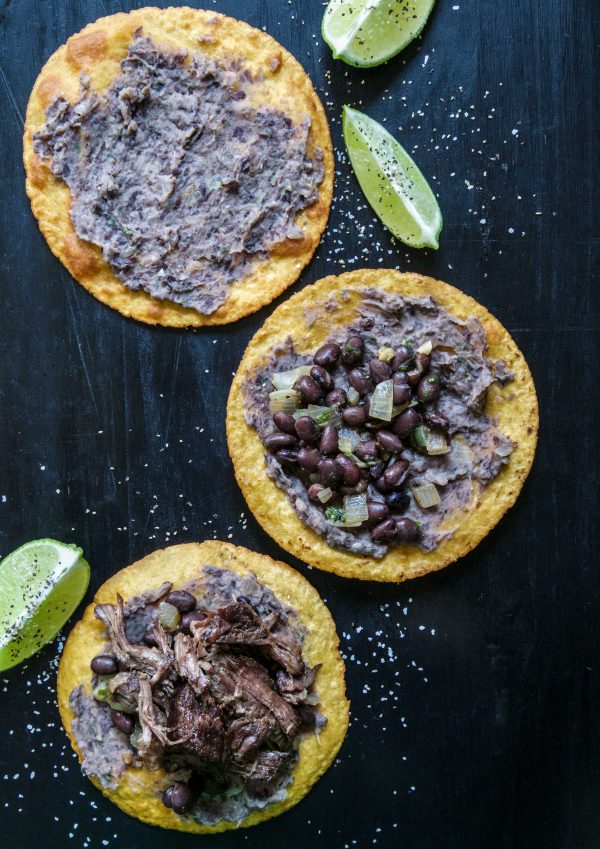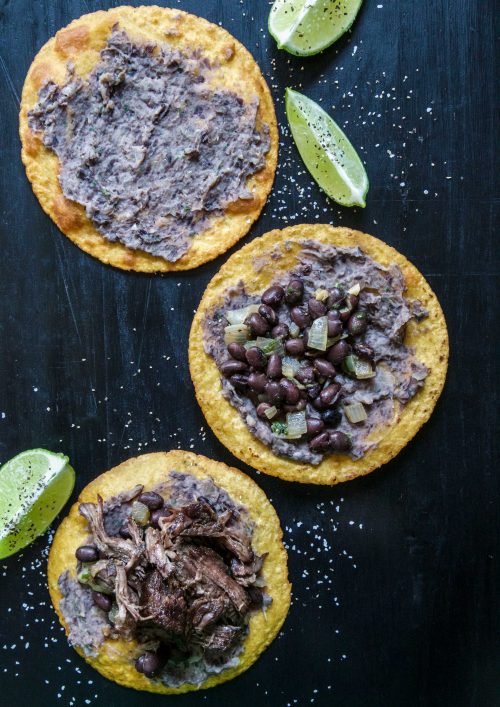 Then I am off to ride camels and camp under the stars in Wadi Rum followed by scuba diving in the Red Sea in Aqaba. I will end the trip with a long float sesh in the Dead Sea. Hmmmm….I think that is it for the big stops. My plan is to share all the experiences via my social media channels so make sure to follow along!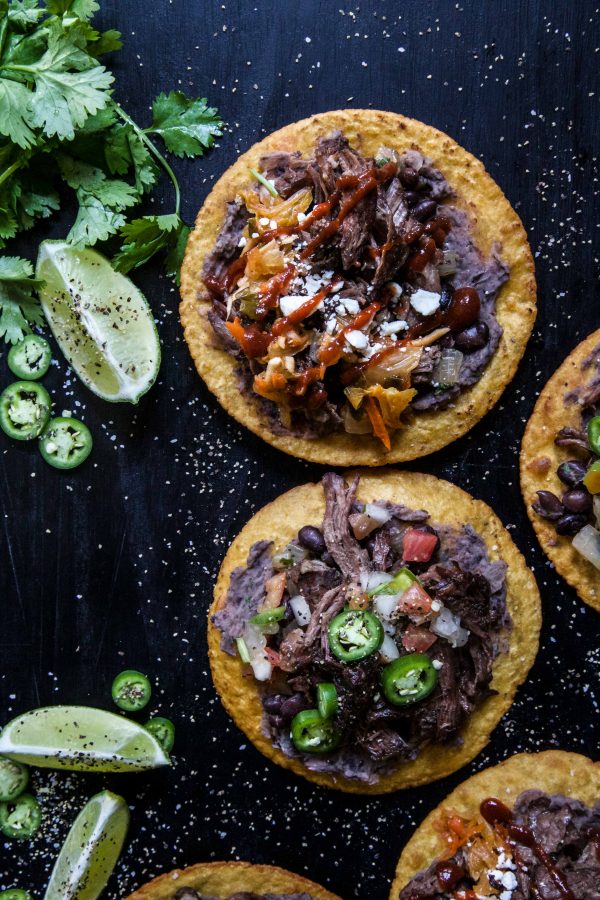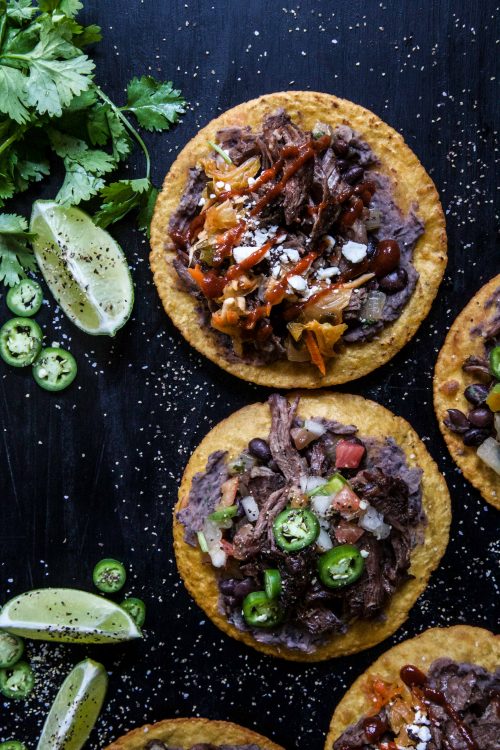 Okay, before I forget and with #tacotuesday coming at us tomorrow, we need to chat about these Korean BBQ Beef & Black Bean Chalupas. These bad boys are a total mash-up of Asian and Mexican food. Beef short ribs are slowly cooked in a Korean BBQ sauce. I fried up some corn tortillas because chalupas are the best thing ever. I used to crave chalupas (okay, still do) from Taco Bell. Thankfully these are little bit healthier because I added black beans, all the pico, slow cooked beef, and kimchi!
I wonder if I could take a few of these Korean BBQ Beef & Black Bean Chalupas with me to Jordan to keep me from getting homesick?
Too much?
Let me call my parents and ask….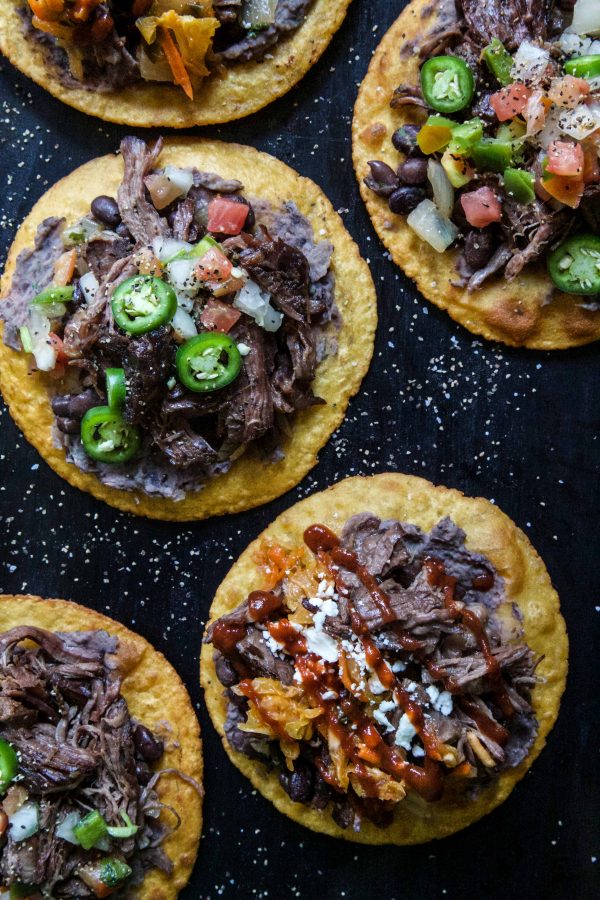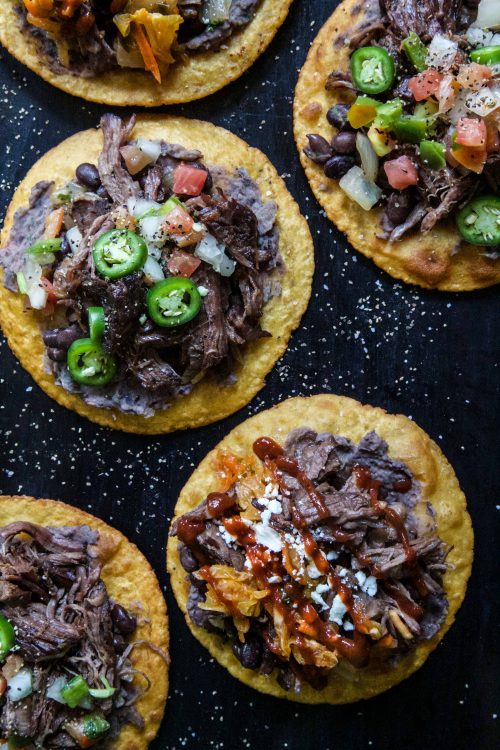 Korean BBQ Beef & Black Bean Chalupas
Ingredients:
1 lb boneless beef short ribs
2 cups gochujang (Korean barbecue sauce)
2 tbsp olive oil + more for frying tortillas
1 cup chopped yellow onion
2 garlic cloves, minced
1 jalapeno, seeded, chopped
1 tsp ground cumin
2 15 oz cans black beans, rinsed
1 tbsp chopped cilantro
1 tbsp hot sauce
1 tbsp lime juice
8 corn tortillas
Kimchi, for garnish
Pico de gallo, for garnish
salt and pepper to taste
Directions:
---
In a slow cooker add the beef short ribs and gochujang sauce. Make sure the sauce is evenly distributed. Add a little bit of water to the bottom of the slow cooker to help the beef from sticking to the bottom. Cook the beef on high for 4 hours or on low for 8 hours. Once cooked, remove the beef from the slow cooker and place on a cutting board. Using two forks shred the beef. Set aside until ready to use.
Meanwhile, preheat a skillet to medium heat. Add the olive oil, onion, garlic, jalapeno, and cumin. Stir to combine. Cook the onions until softened about five minutes. Next, add about 3/4 cup water to the skillet. Simmer until the liquid is reduced about two minutes then add in the beans, cilantro, and hot sauce. Stir until the bean mixture is heated through adding salt and pepper. Remove the skillet from the heat and pour half the bean mixture into a food processor. Puree the beans with some lime juice until smooth. Set aside until ready to use.
In a small skillet, add about 1/4 inch of oil. Heat the skillet to medium to medium-high then add a tortilla. Fry the corn tortilla one at a time about one minute per side until golden brown. Set the fried tortilla on a plate lined with a paper towel. Continue process until all tortillas have been fried.
To assemble, take a fried tortilla and spread some of the black bean puree on top followed by some of the whole beans. Next, add the shredded beef short ribs on top of the black beans. Garnish with cheese, jalapenos, pico de gallo, and kimchi. Repeat until all chalupas have been assembled.
All images and text ©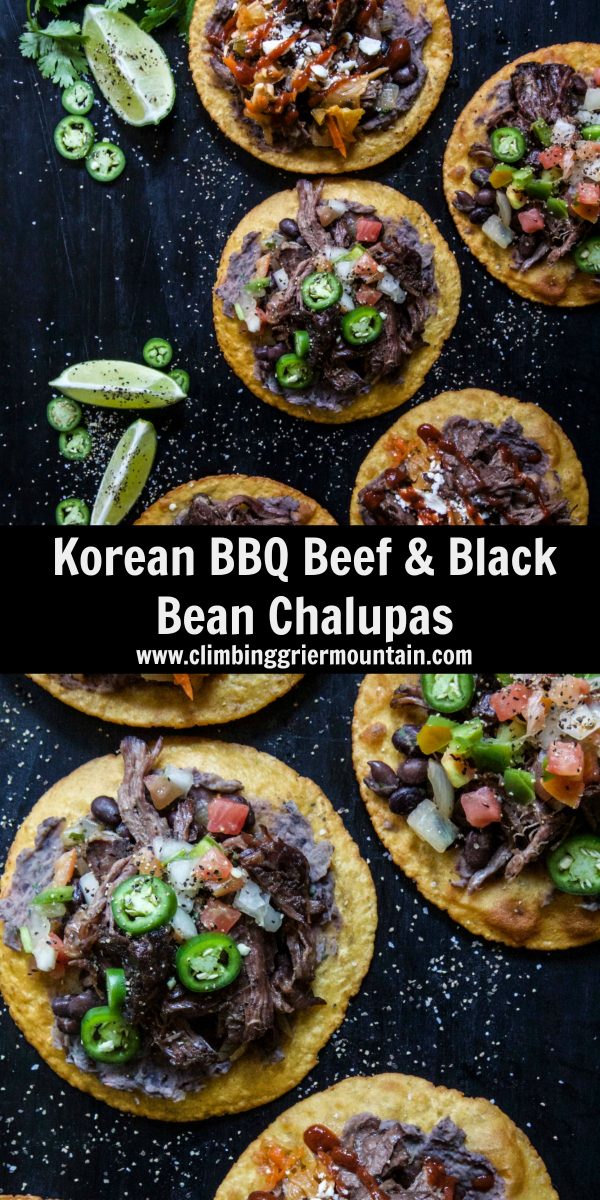 "We're delighted you enjoyed our Korean BBQ Beef & Black Bean Chalupas. We can't wait to have you back for more fusion-inspired culinary adventures. See you soon!"