Loaded Bacon & Kimchi Chicken Salad Sandwich
Loaded Bacon & Kimchi Chicken Salad Sandwich is the perfect sandwich for lunch or dinner! Mayo and kimchi mixed together and tossed with chicken, bacon, and tomatoes. This is the ultimate chicken salad sandwich!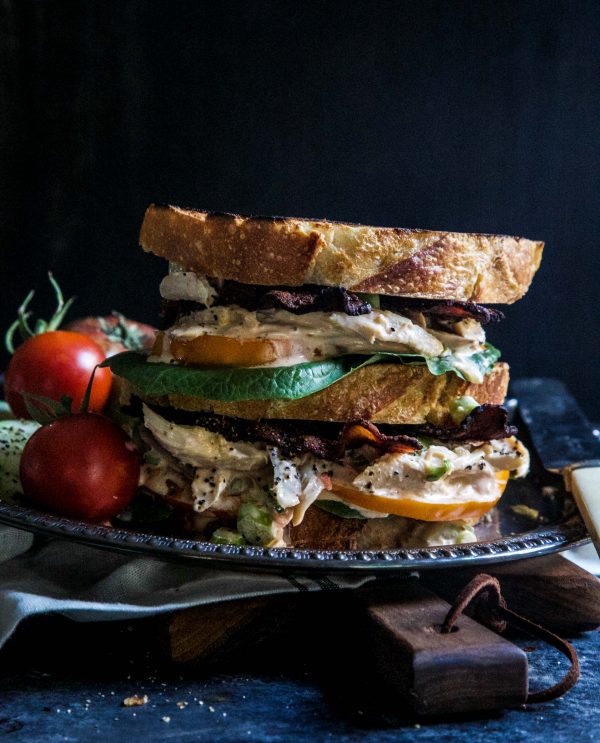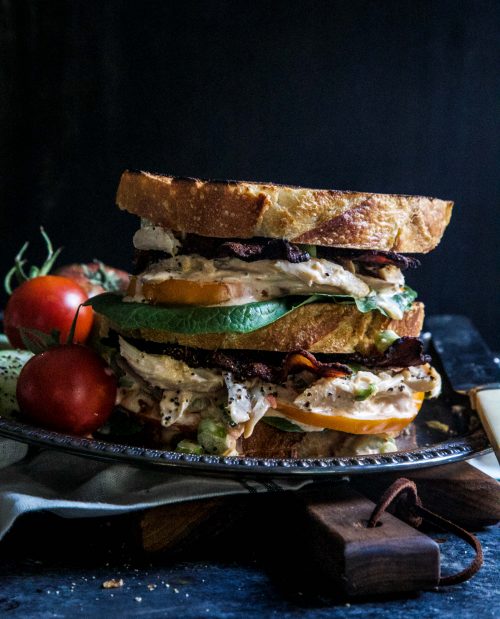 Quick question for you on this hump diggity day.
YAY or NAY on lunch?
I get that lunch is a necessary meal when it comes to business meetings or providing nutrition for kids while at school. But other than that, I am lost on the art of lunch. Maybe I'm missing something? Please tell me because as of this very moment I am on team lunch NAY.
More than anything I hate the process of stopping my day to slug back a meal. I would much rather have a quick snack and keep going. Truth: if I could eat a meal at 10am, have a midday snack, and dinner at 7pm I would a happy camper. Is there a food board that I could advocate my meal concerns too?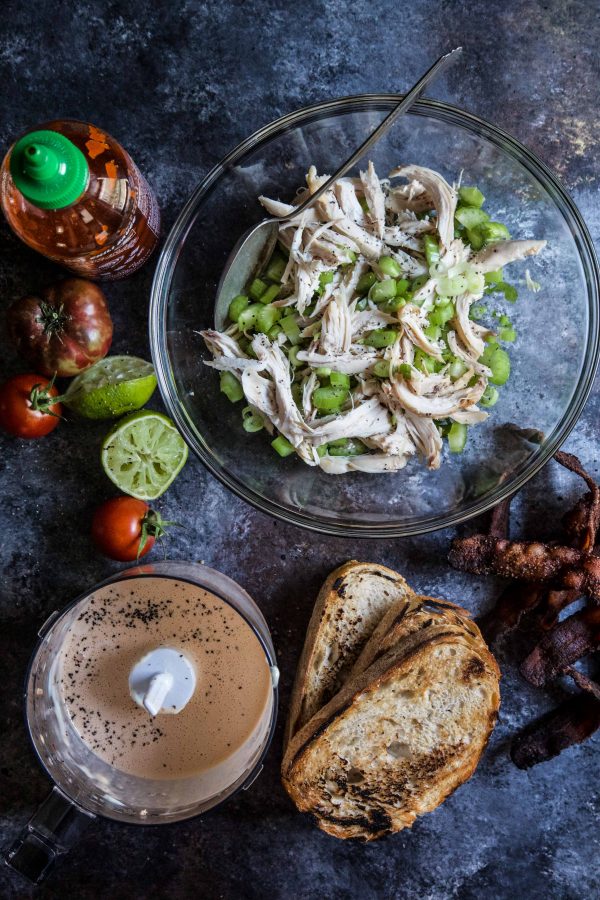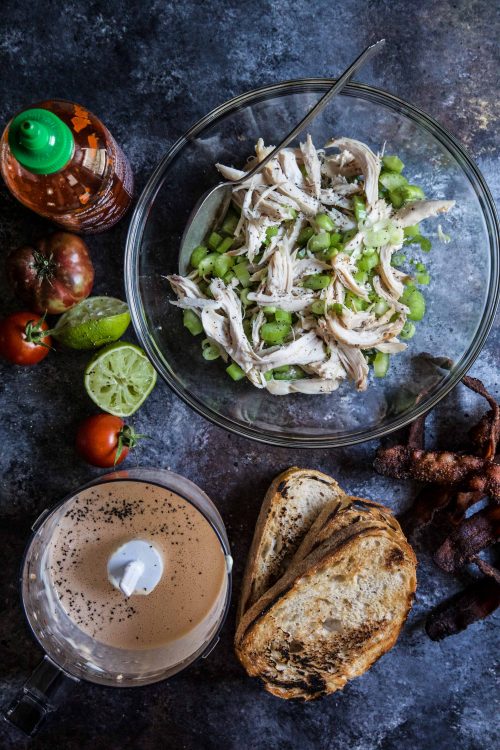 Anyways, if you have thoughts on why lunch should be a priority, I am all ears! Now that I've got that off my chest, let's chat about todays delicious recipe: Loaded Bacon & Kimchi Chicken Salad Sandwich. I like to think of this salad as an upgraded version of the grape, celery, walnut chicken salad that my mother always ate growing up. Don't get me wrong. Luvvvvvv me some old school chicken salad, but home girl here is always about upgrading.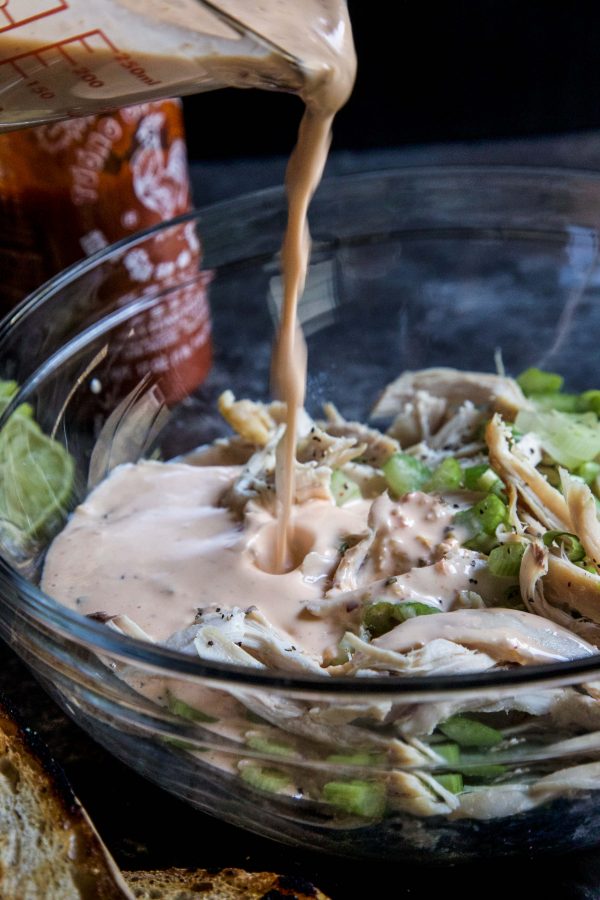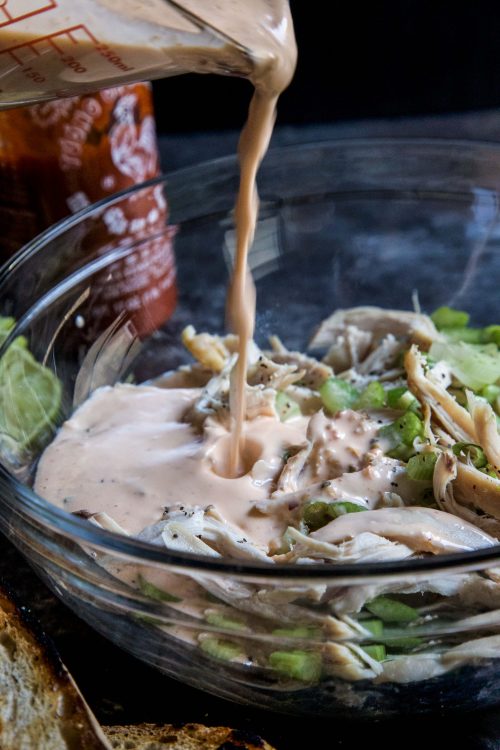 This version has some of my favorite ingredients. Can I get a whut-whut for some rotisserie chicken, Sriracha, mayonnaise, lime juice, scallions, bacon, and tomatoes? If you really wanted to kick this sandwich up a notch you could definitely add a fried egg. Actually, I seriously might have to make these for brunch this weekend because DAMN. Runny egg is where it's at.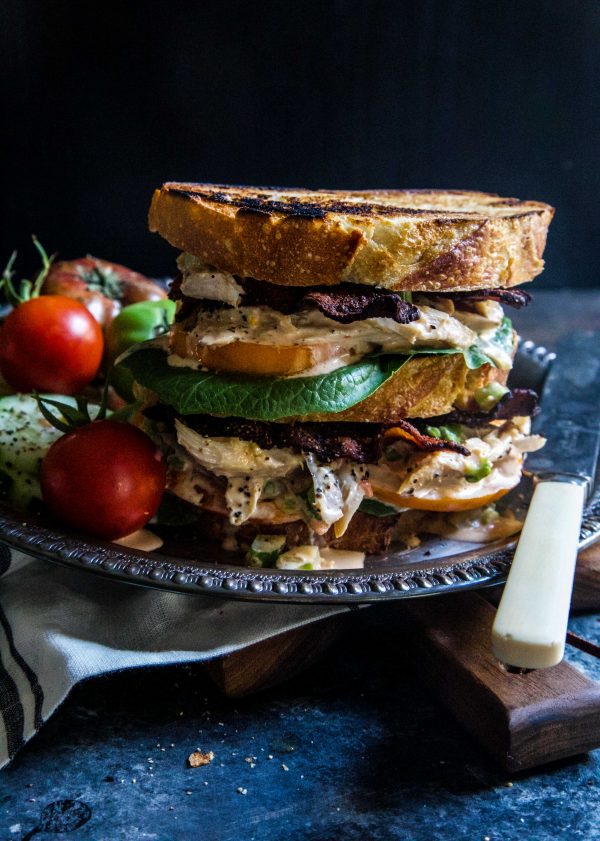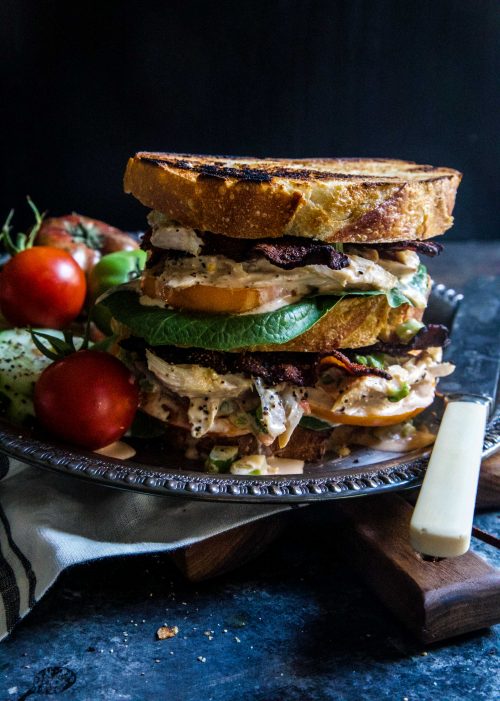 Besides the flavors this sandwich is super simple to put together. Mix the sauce in the food processor and fold in the chicken. Then start layering in the bacon, lettuce, and egg for good measure. BOOM. Breakfast, lunch (<—-maybe?), and dinner approved sandwich ready lickety-split.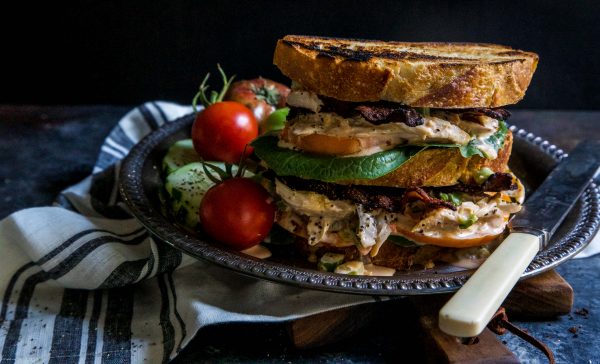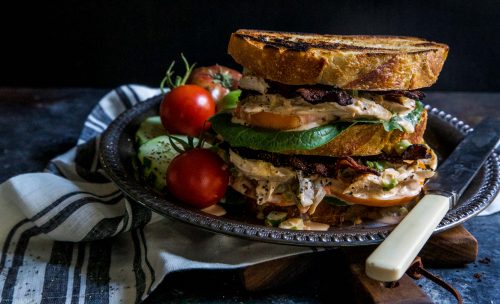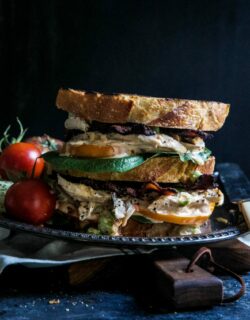 Loaded Bacon & Kimchi Chicken Salad Sandwich
Ingredients:
8 slices bacon
1 cup mayonnaise
1/3 cup kimchi
1 tbsp lime juice
1 tbsp Sriracha
1 tsp honey
2 celery ribs, chopped
2 scallions, chopped
4 cups rotisserie chicken
8 slices sourdough bread toasted
8 tomato slices, for garnish
Romaine lettuce, for garnish
Cucumber slices, for garnish
salt and pepper to taste
Directions:
Preheat your oven to 400 degrees.
Line a baking sheet with foil and spray with non-stick cooking spray. Place bacon on the baking sheet and bake the bacon for about 11 to 13 minutes or until crispy. Remove bacon from the baking sheet and place on a plate lined with a paper towel. Set aside to cool.
Next, place mayo, kimchi, lime juice, Sriracha, honey, salt and pepper. Pulse until smooth. In a large bowl add the celery, green onions, and rotisserie. Pour the kimchi mayo mixture over the chicken. Toss to combine.
To assemble a sandwich take a piece of sourdough and place a piece of romaine lettuce on the bottom followed by two tomato slices. Add some of the chicken on top of the tomatoes followed by two pieces of bacon. Top with another sourdough slice. Repeat process for remaining sandwiches and enjoy!
All images and text ©