BBQ Pimento Cheese Glazed Ribs with Crispy Bacon
BBQ Pimento Cheese Glazed Ribs with Crispy Bacon is an easy, cheesy appetizer to make for game day!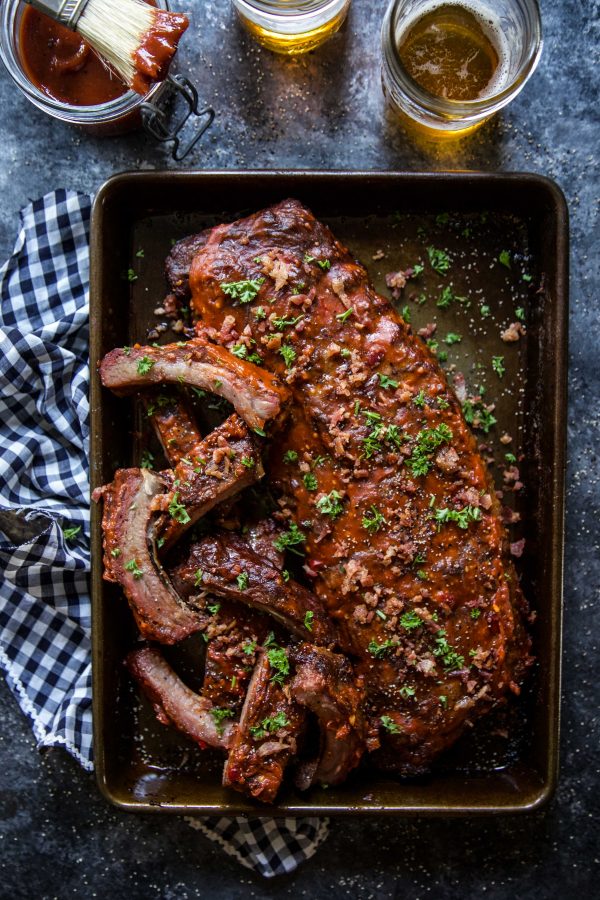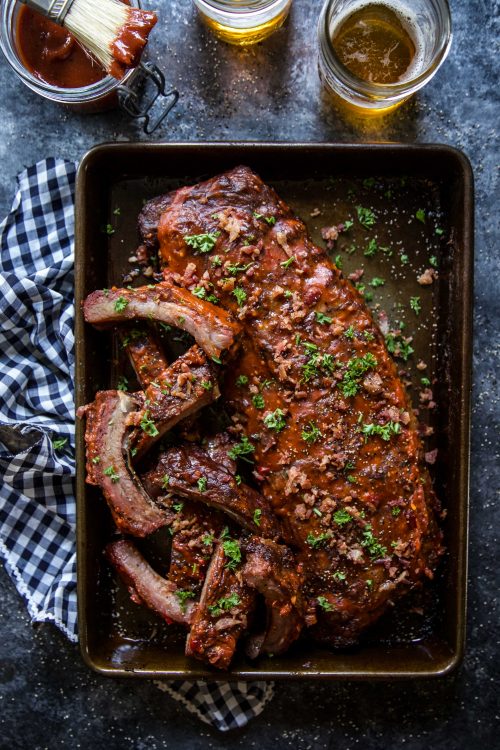 Who's giddy for tailgate season?
ME! ME! ME!
Pssssst! Between you and me it's my favorite part of the whole football watching ceremony. But don't tell Mr. B because he might put me on potato peeling duty.
I'm not sure who invented the concept of tailgating, but I have a secret suspicion that a woman conjured up the idea. The whole idea behind tailgating is gathering with other fans to enjoy festive eats before, during, and after the game. Now, you can't go into a football game on an empty stomach. Can you imagine hanger-itis rearing its ugly head when your team is down 27 points? Yikes.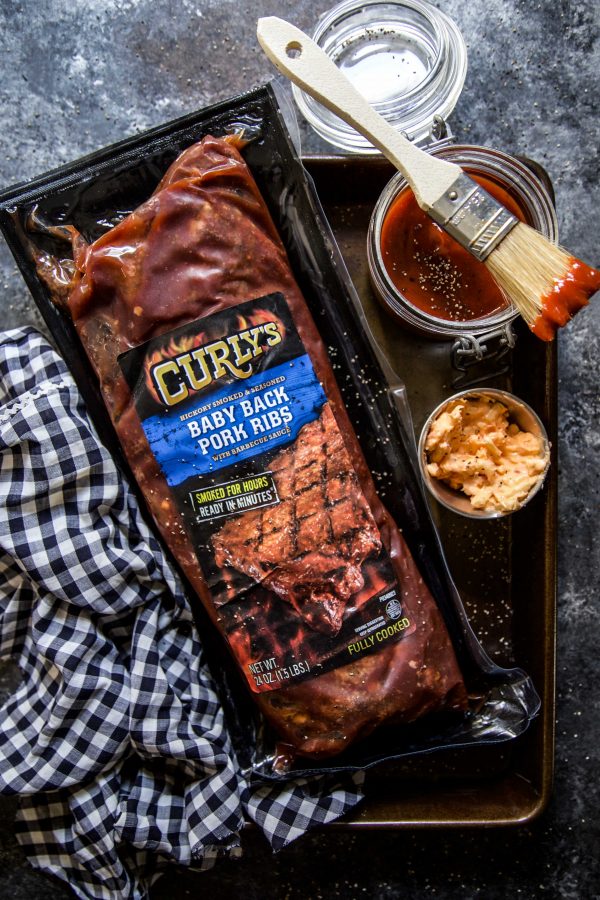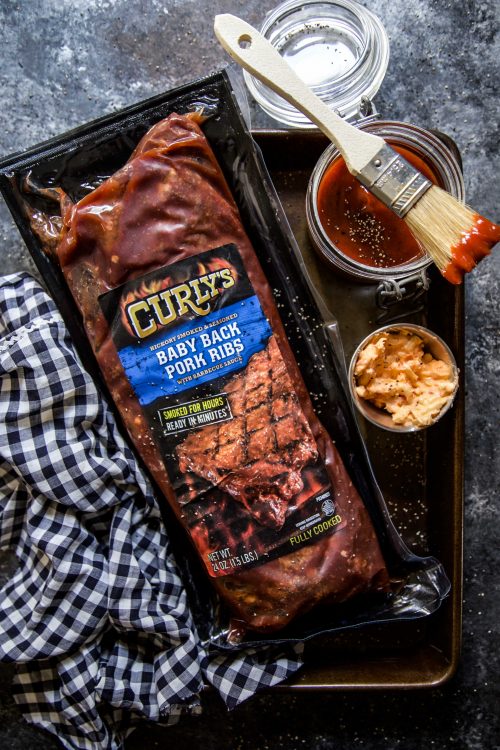 Or imagine discussing the game at halftime over a salad? No great conversation or debate started over a salad. Or imagine after the football game whether your team wins or loses and sitting down to discuss the highs and lows over water and peanuts. It's just not going to cut it.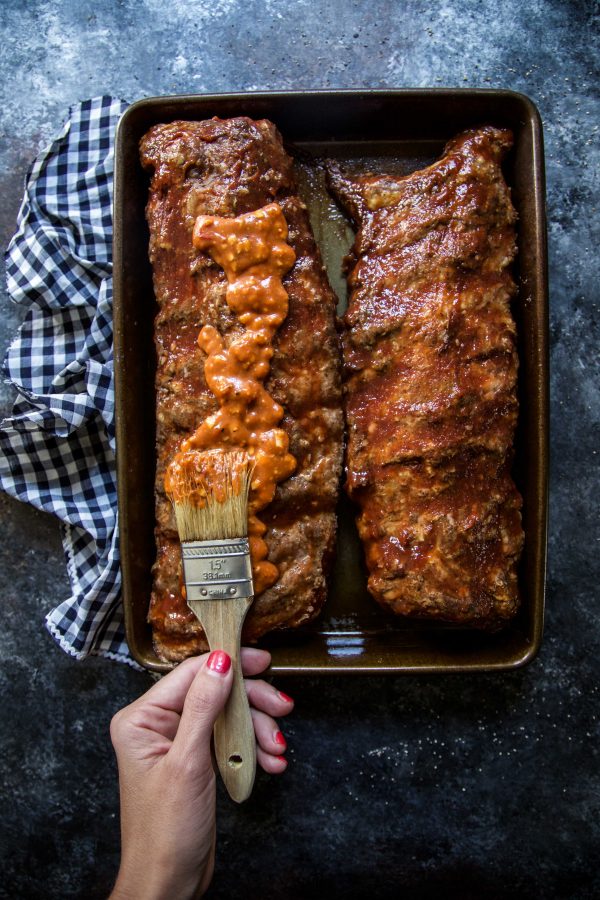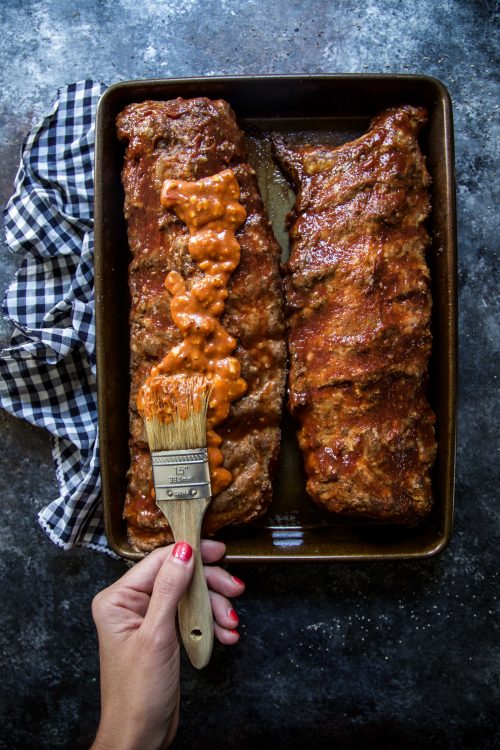 Which is why when I'm hosting a tailgate whether at the football stadium or at my house, I love having Curly's Baby Back Pork Ribs within arms reach. Curly's makes it super easy for me to feed any army within 20 minutes. All you have do is stick these ribs into the oven to reheat, and BOOM! Finger licking ribs in minutes.
Now, if you really want to jazz up your tailgating rib experience, I highly recommend making these BBQ Pimento Cheese Glazed Ribs with Crispy Bacon. Sounds kind of complicated, but I assure that it's painfully easy. All you have to do is melt pimento cheese, stir in your favorite barbecue sauce, and brush it on over the ribs before you place them into the oven.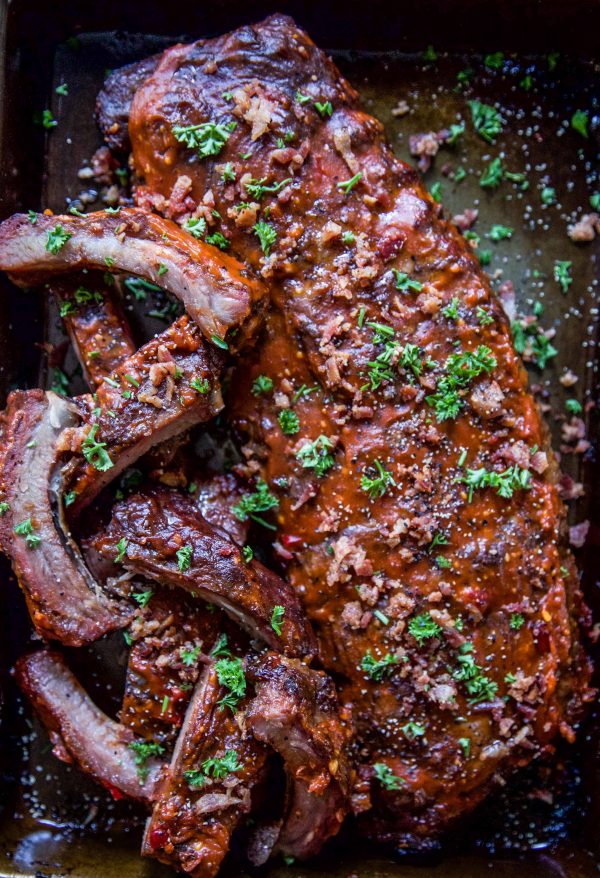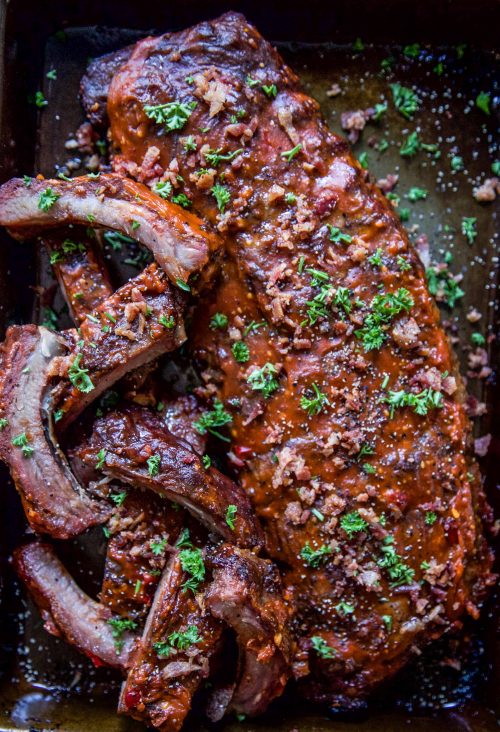 Once the ribs come out of the oven garnish with chopped bacon and serve. I am totally craving these now! If you want to make this recipe, you can find these delicious ribs in the refrigerated meat case at the grocery store. Promise, these ribs are life changing!
Besides winning at tailgate life, Curly's is giving away $10,000 to one lucky winner! All you have to do is go to: Sweeps.RoadTripEats.com to enter for a chance to win. The Sweepstakes last from September 25th to November 5th. The winner has the option to use the travel funds to his/her destination of choice.
Now, that's a touchdown!!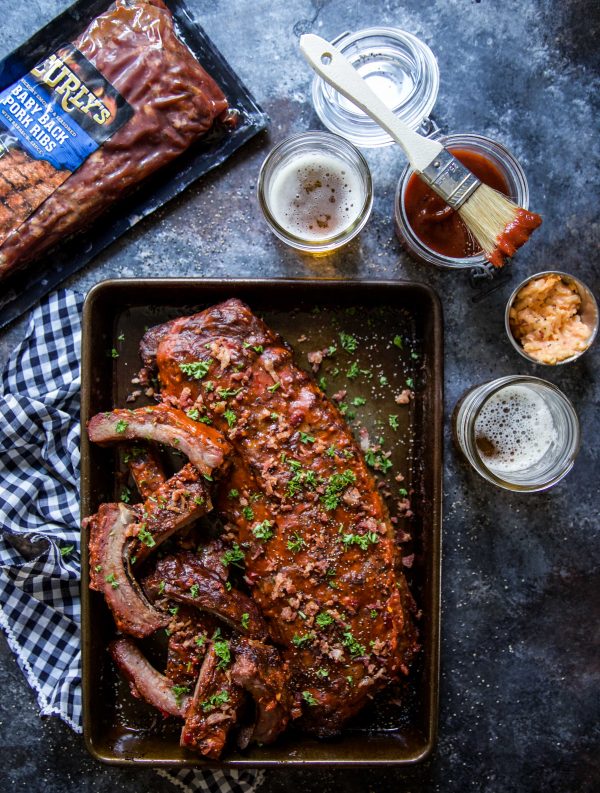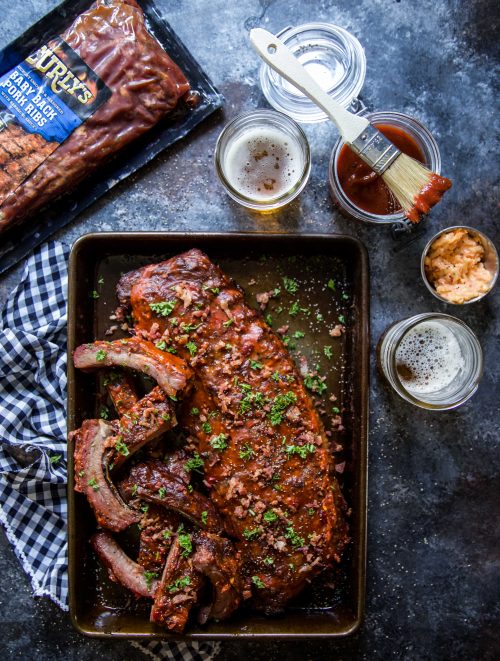 ***This post was sponsored by Curly's. As always, all opinions expressed are 100% my own.***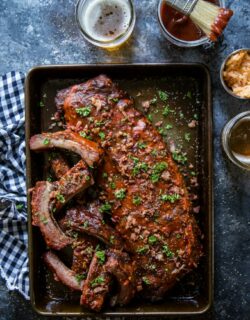 BBQ Pimento Cheese Glazed Ribs with Crispy Bacon
Ingredients:
1 cup barbecue sauce
1/3 cup pimento cheese
2 24oz Curly's baby back pork ribs
5 slices bacon
Fresh parsley, for garnish
Directions:
Preheat an oven to 375 degrees. Spray a baking sheet large enough to fit the entire rack of ribs with non-stick cooking spray.
Next, preheat a medium saucepan to medium heat. Add the barbecue sauce and pimento cheese. Stir to combine and continue stirring until pimento cheese has melted into the barbecue sauce about five minutes.
Place the ribs on the prepared baking sheet. Take a brush and glaze the ribs with the barbecue pimento cheese glaze. Place the ribs into the oven to warm through about 20 to 25 minutes. Meanwhile, preheat a large skillet to medium-high heat. Add the bacon to the skillet and cook until crispy about seven minutes. Remove the bacon from the skillet using a pair of tongs and place on a plate lined with a paper towel to cool.
Remove the ribs from the oven, let them cool slightly before slicing into individual ribs. Roughly chop the reserved bacon and garnish the tops of the ribs along with fresh parsley. Serve and enjoy!
All images and text ©