Za'atar Short Rib Stir-Fry
Za'atar Short Rib Stir-Fry is a delicious dish perfect for weeknight dinner or fancy enough to serve at a party!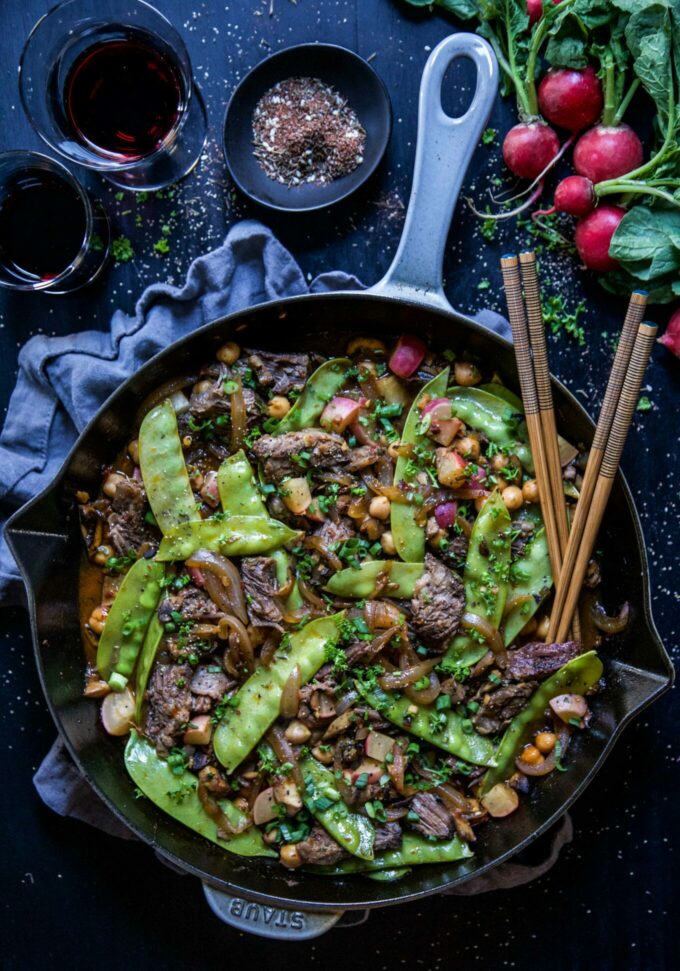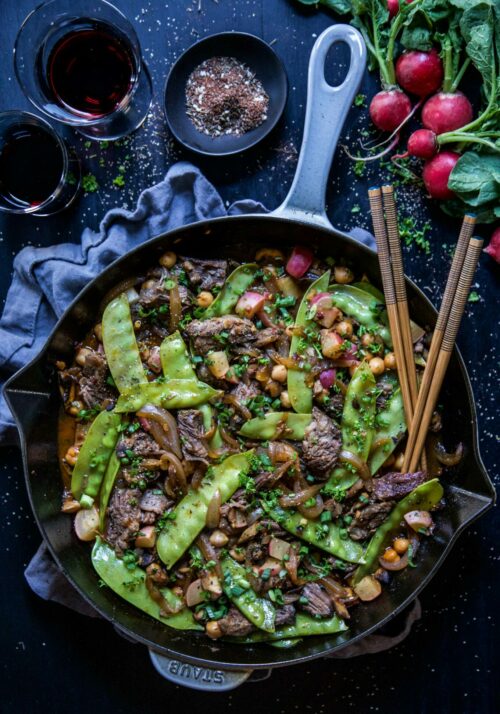 I've been debating.
On what Mr. B and I should be for Halloween.
Truth: it's kind of been after thought this year because everything has been geared towards the cookbook and traveling. I haven't taken a single second to sort through or brainstorm on what we could be. We typically try to dress up in a duo/couples themed situation. Past examples – Axl Rose and Slash, Ike and Tina Turner, Mario and Luigi.
I thought about being some sort of food items this year like ketchup and mustard. Or peanut butter and jelly. Or a bun and a hot dog! Which I have yet to find in case you are wondering. Wait. Is that too much? Meh. I feel like anything goes on Halloween because if girls can dress up as a "sexy deer or mouse" then all bets are off.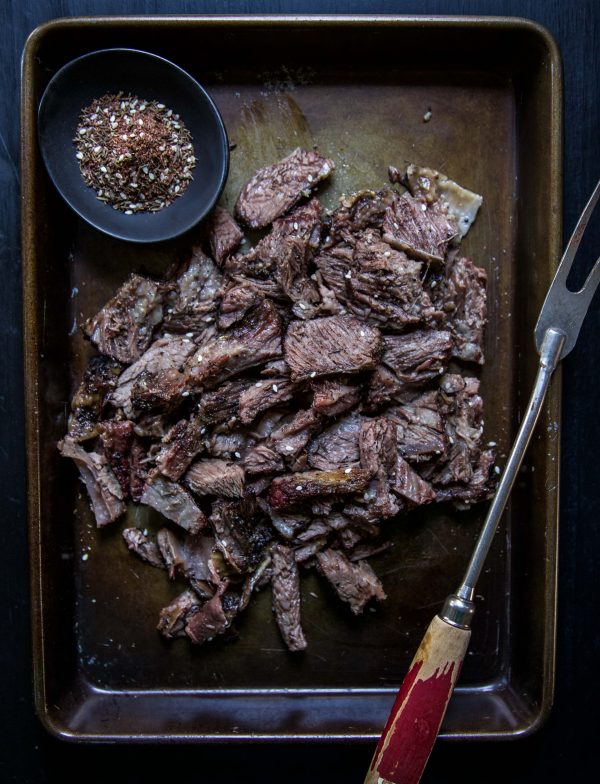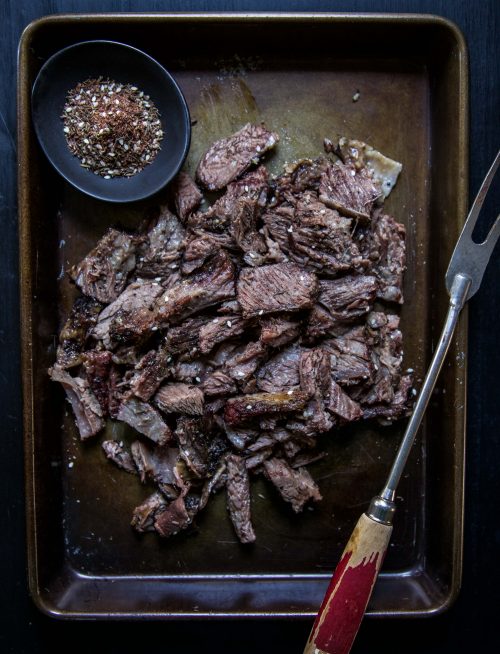 Well, until we get our costumes figured out (please send me your suggestions!!), I'll be over here cooking up a cozy food storm for y'all. Ever since we've returned from Jordan I have been putting za'atar on every single piece of food. If case you don't know what za'atar is it's a mixture of ground sumac, thyme, white sesame seeds, and salt. You can find it at most speciality spice shops.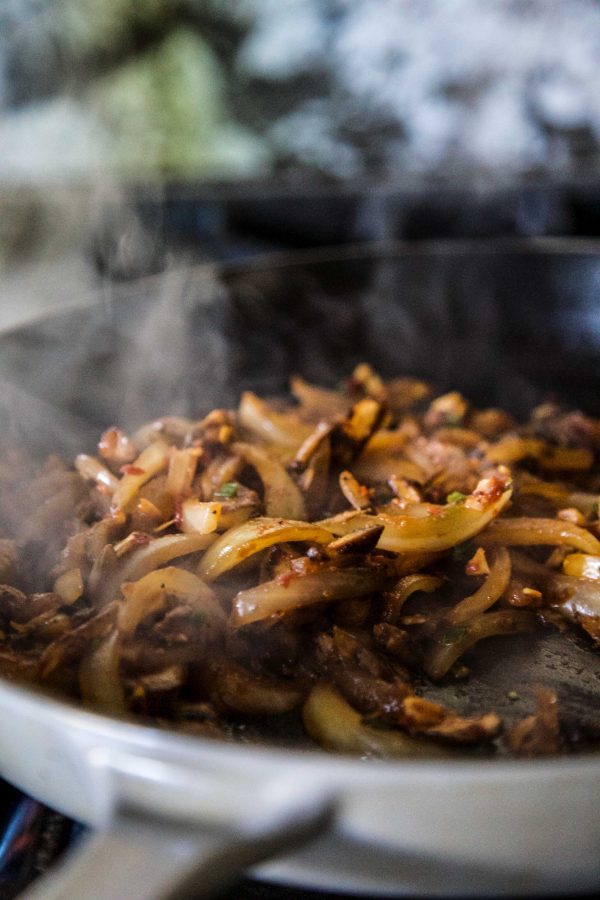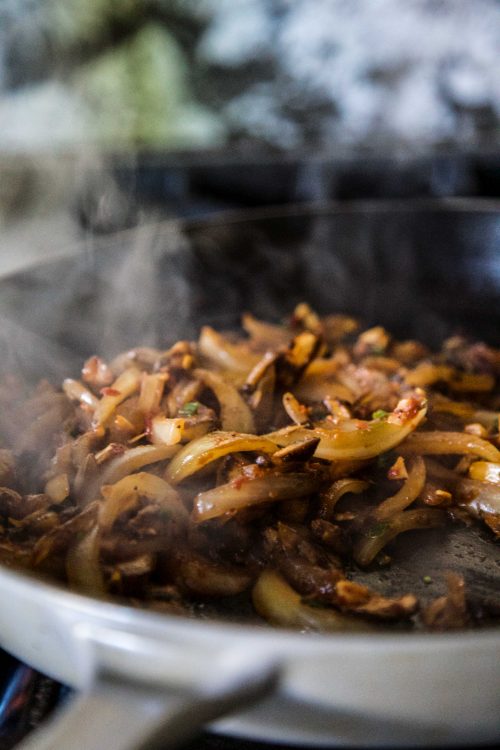 Anyways, I had this crazy idea one day to mash my love for Asian and Middle Eastern cuisine. OH, and by the way, you guys are going to flip out over my Ultimate Mash-Up and East Meet West sections in the cookbook. This recipe for Za'atar Short Rib Stir-Fry is kind of combination of both of these chapters. Actually that might be book number 2 right there!
I seasoned the short ribs with za'atar and placed them in a slow cooker to get that juicy, fall off-the-bone tenderness. I put the slow cooker on high for four hours and it made this recipe come together rather quickly. You could also make the ribs in an Instant Pot for an even quicker process.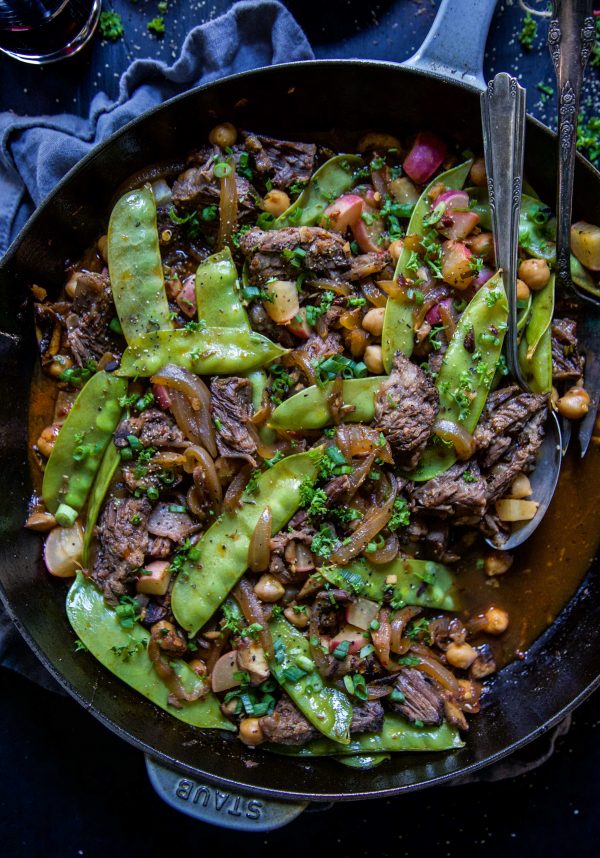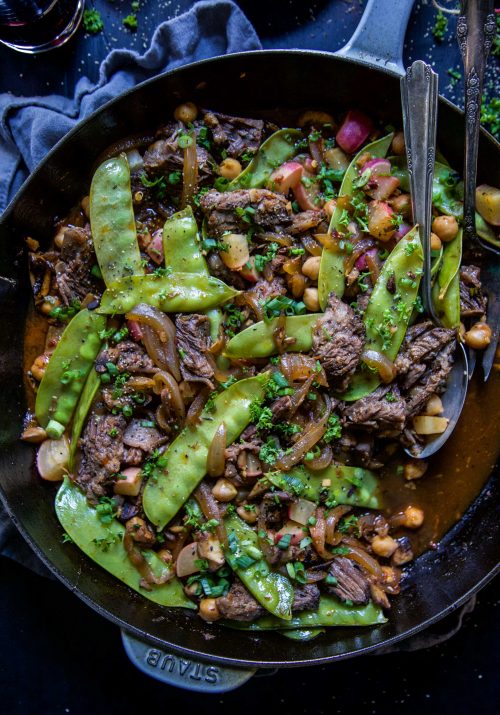 Once the meat is cooked all you have to do is assemble the stir-fry makings. The base of the stir-fry is a mixture of chili sauce and white wine. Easy peasy. Saute the veggies and in the za'atar short rib meat and BOOM! Za'atar Short Rib Stir-Fry for days!
Now, what if we were plug and a socket? Too much?
Sigh……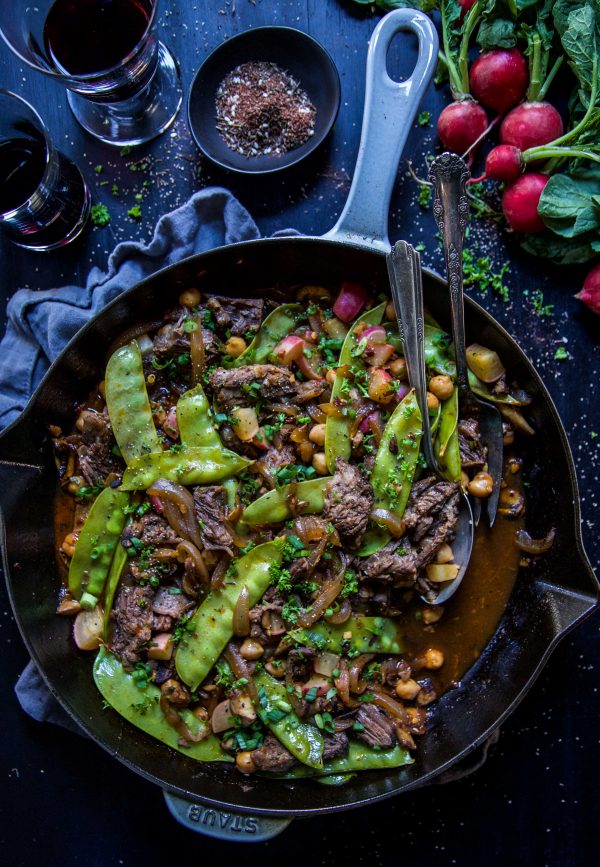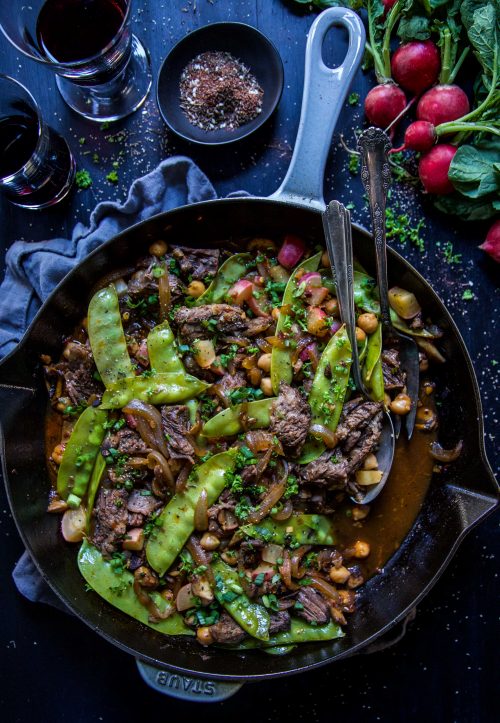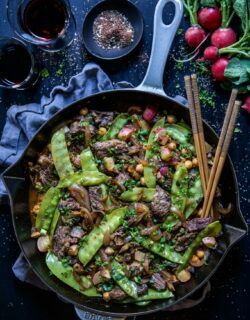 Za'atar Short Rib Stir-Fry
Ingredients:
2lbs bone-in beef short ribs
2 tbsp Zaatar seasoning
3 cups beef broth, divided
1 tbsp olive oil
1 cup yellow onion sliced thinly
1 cup chopped baby bella mushrooms
3 scallions chopped
4 garlic cloves, minced
1 tbsp chopped fresh ginger
3 tbsp chili garlic sauce
2 tbsp white wine
1/2 cup snow peas
4 radishes, quartered
Chopped parsley, for garnish
Chopped basil, for garnish
salt and pepper to taste
Directions:
In a slow cooker, add the short ribs, Zaatar seasoning, salt and pepper. Toss to combine. Next, add in 2 cups beef broth. Set the slow cooker on high for 4 hours. Once cooked, remove the short ribs from the slow cooker and place on a cutting board. Discard the bones and roughly chop the rib meat. Set aside.
In a large skillet preheated to medium-high heat, add the olive oil, onions, and mushrooms. Saute until softened about seven minutes. Next, add in the scallions, garlic cloves, ginger and continue to cook for another two minutes. Add in the chili sauce and white wine, stirring to combine. Next, add in the snow peas, radishes, and 1 cup beef broth. Bring to a boil and let the liquid reduced. Stir in the chopped short ribs. Stir to combine. Garnish with parsley and basil.
All images and text ©