Lemongrass & Basil Lime Sparkling Soda
Lemongrass & Basil Lime Sparkling Soda is a refreshing drink to sip on during the summer months!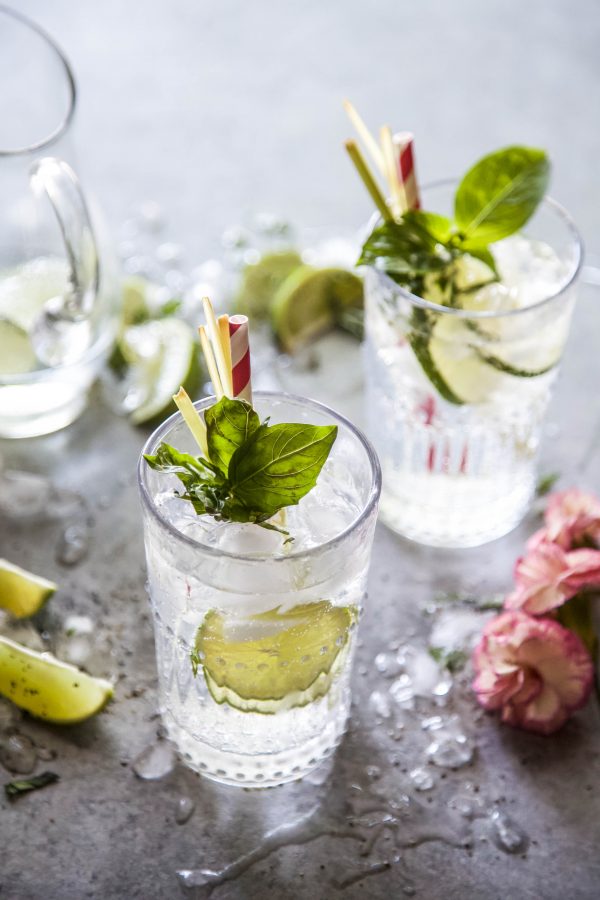 Tomorrow, summer gets real.
We've been lucky that this summer has given us a lot of rain which has kept temps at a manageable level. Well, we can kiss that lovely, mild climate goodbye.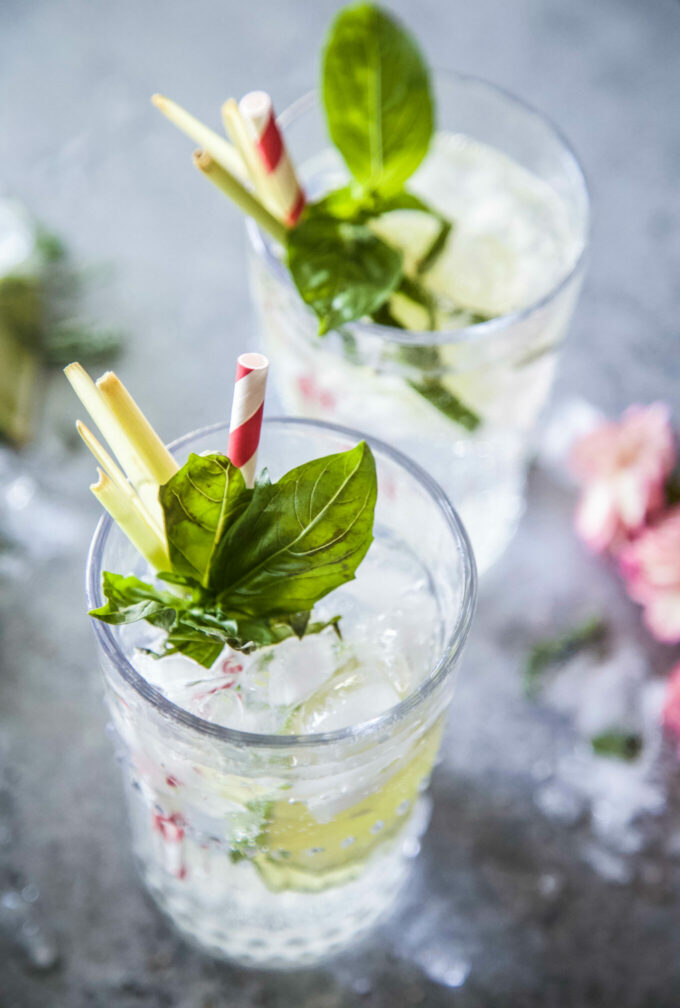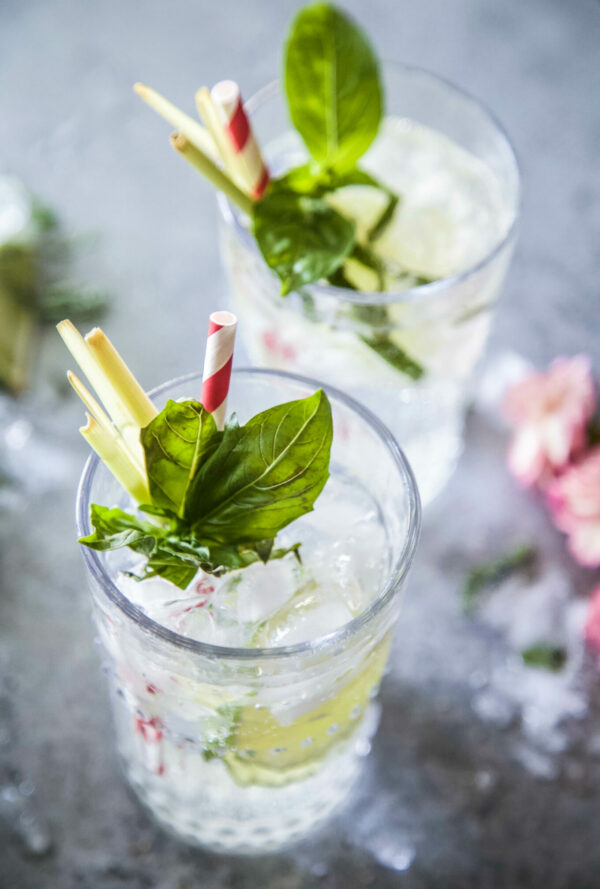 Tomorrow, we hit 100. The only thing I can think about is my ability to stay cool while being seven months pregnant. Oh, and the whole swollen feet situation is not ideal either. Maybe this is why people have winter or spring babies? You get to bypass the entire summer heat situation.
A part of me feels like I need to prepare as if I won't be going outdoors for the next few days. Bottled water, check. Toilet paper, check. Extra who-ha fans, check. If anybody understands my need to keep my tookus in an ice box it's Juniper. Homegirl is not digging the heat whatsoever.
Maybe we will just sit in front of the icebox and eat popsicles all day? Could be worse. There could be zombies trying to get into the house to eat said popsicles. Wouldn't that be the worst?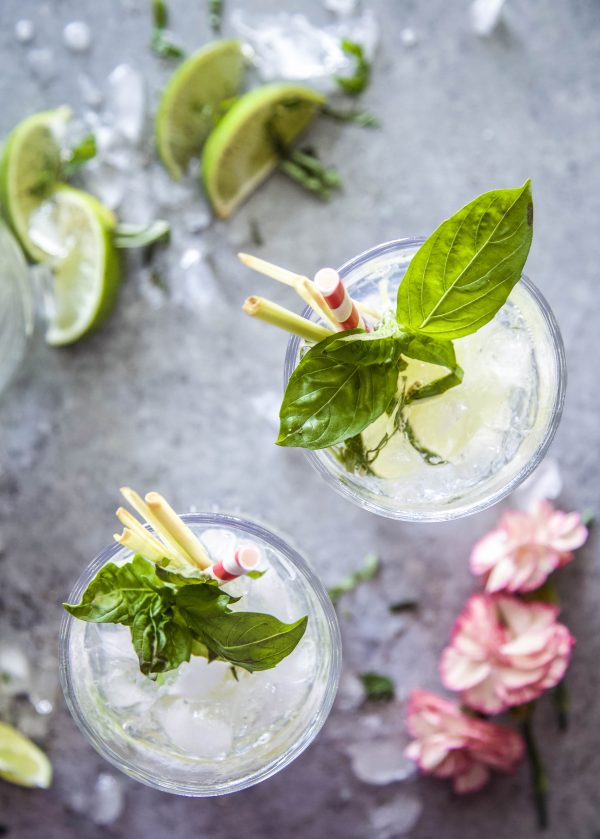 Instead of focusing on the heat, I am going to focus on making something refreshing to sip on while I wait on this mini heatwave to pass. Have you ever used lemongrass in a drink or cocktail? It's one of those random ingredients that get overlooked because lime and lemons are so accessible. But next time you are in the grocery store go over to the herbs and grab the yellow-ish looking stalk.
It's not the prettiest fellow in the herb row, but he packs a refreshing punch. Simmer with some basil, lime and sugar. This is how all simple syrups should be made.
Toss in a little club soda or sparkling water and you've got yourself a Lemongrass & Basil Lime Sparkling Soda that will knock those sweat drips right off your face.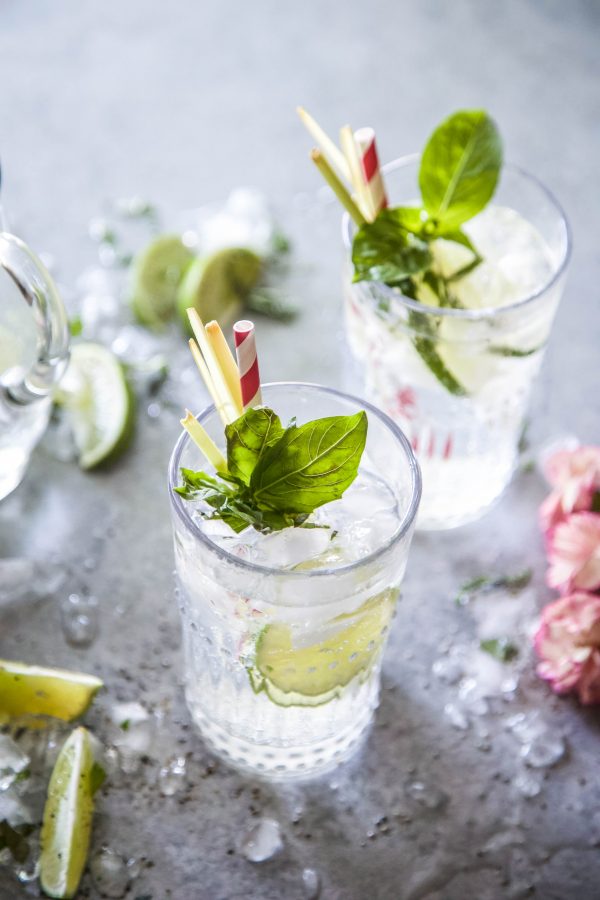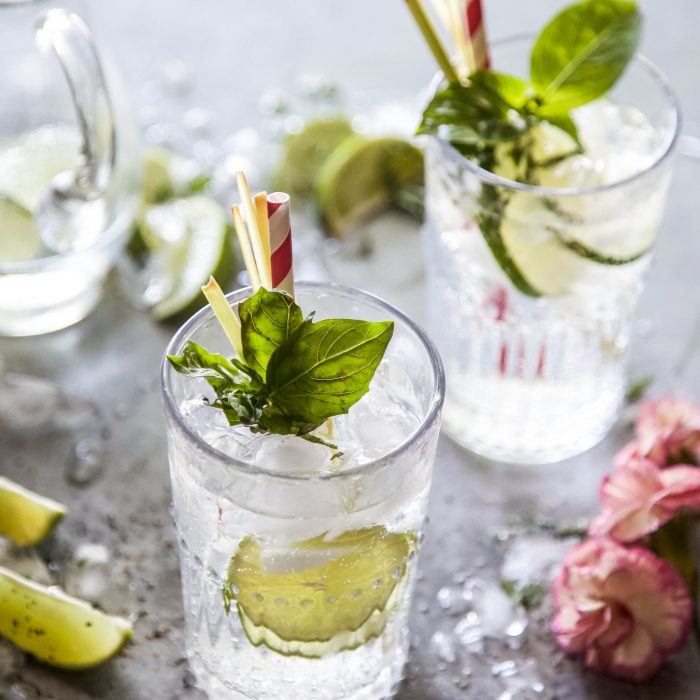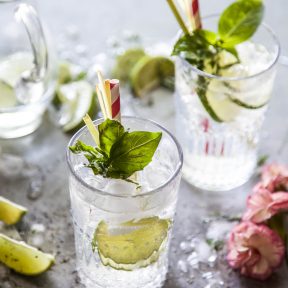 Lemongrass & Basil Lime Sparkling Soda
Lemongrass & Basil Lime Sparkling Soda is a refreshing drink to sip on during the summer months! 
Ingredients
3 stalks of lemongrass
1 cup granulated sugar
¼ cup fresh basil + more for garnish
2 oz fresh lime lime juice
lime wedges, for garnish
8 oz favorite sparkling soda
crushed ice
Instructions
Take the lemongrass and trim off about five inches; reserving roughly two inches for garnish.

Remove the outer layer as it can be tough. Take the five inch piece and roughly chop.

In a small saucepan add 1 cup water, chopped lemongrass, 1 cup granulated sugar, and basil to a boil. Reduce the heat to a simmer and simmer the simple syrup for about 5 to 7 minutes. Turn off the heat and let cool before straining through a fine-mesh strainer. Place the simple syrup in the fridge to cool.

Next, divide the lemongrass syrup, lime juice and sparkling soda between two glasses. Fill the glasses with ice and stir to combine. Garnish with basil, lemongrass and lime wedges.
Did you make this recipe?
Please leave a comment below and share a photo on Instagram with the hashtag #thecuriousplate!