Dark Chocolate Oatmeal Moon Pies
Dark Chocolate Oatmeal Moon Pies are a delicious treat to make all summer long! Made with dark chocolate, toasted almonds, and Bob's Red Mill old fashioned oats!
***This post is sponsored by Bob's Red Mill. As always all opinions are 100% my own.***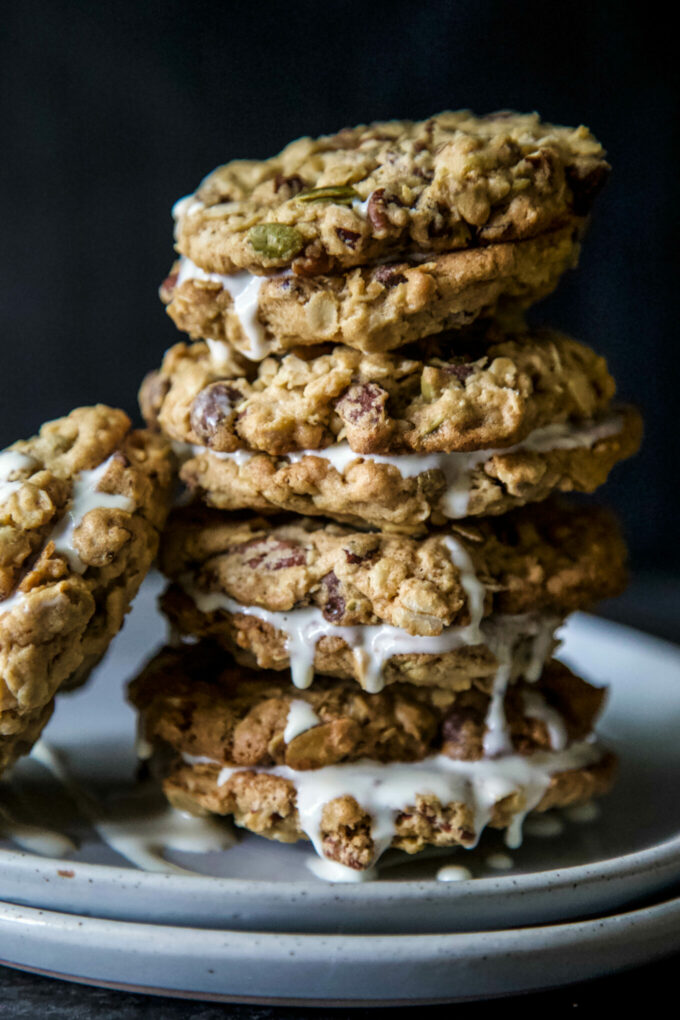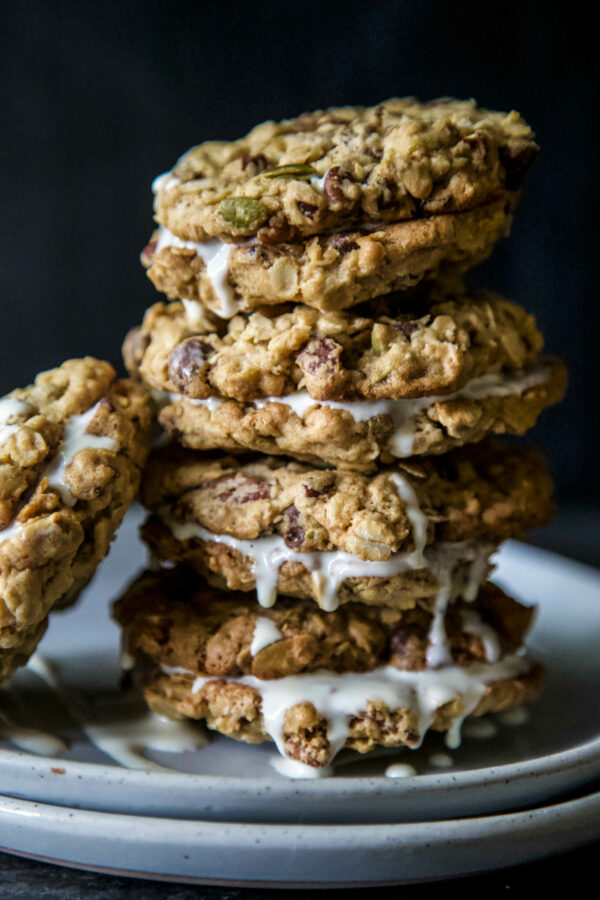 Right after the Fourth of July, I got an email.
The subject line left me a little perplexed.
FALL TRENDS is all it said.
Wait. WHAT? Does that mean the Fourth of July is the end of summer? Last time I checked we had at least a full month to discuss ice cream, pool parties, dining al fresco, and summer produce. In no way is my mind ready to chat about flannel, boots or pumpkin. 
Doesn't this seem odd? Or is the movement by the PSL folks to get us to chat more about fall before it dips below 92 degrees? Anyway, I instantly deleted the email and told myself to focus on summer because in three months you'll have a baby and have all the time to enjoy fall-ish weather.
So, to keep us all distracted, I thought we could use a treat on this Monday. I am a sucker for old school desserts whether brownies, blondies or cupcakes. But I'm currently digging these Dark Chocolate Oatmeal Moon Pies. Besides the simplicity of ingredients like dark chocolate, toasted almonds, and Bob's Red Mill Old Fashioned Oats they are easy to put together.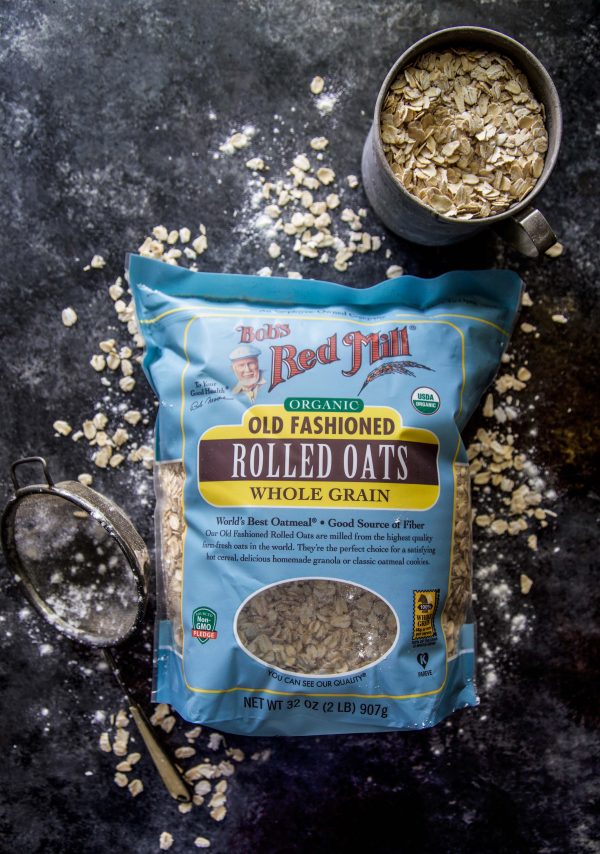 Fun fact about Bob's Red Mill oats: they help you feel fuller longer and contain more soluble fiber than any other grain. So that means you definitely need to make a big batch to snack on all week long. Just don't forget the marshmallow frosting to sandwich in between the pies. It will make your seven year-old self giddy.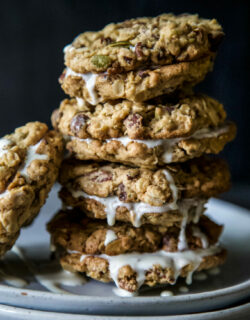 Dark Chocolate Oatmeal Moon Pies
Ingredients:
1 1/4 cups all-purpose flour
3/4 tsp baking powder
1/2 tsp baking soda
1/2 tsp kosher salt
2 1/4 cups Bob's Red Mill Old Fashioned Oats
1/2 cup toasted sliced almonds
1/2 cup chopped pecans
1/2 cup toasted pepita seeds
3/4 cup dark chocolate chips
1 1/2 sticks unsalted butter, room temperature
1 1/2 cups brown sugar
1 large egg
1 tsp vanilla extract
Marshmallow creme
Directions:
Preheat your oven to 350 degrees. Line two baking sheets with silpat or foil. Spray with non-stick cooking spray if using foil
In a large bowl combine flour, baking powder, baking soda and salt. In another large bowl combine oats, almonds, pecans, pepitas, and chocolate chips.
In a stand mixer fitted with a paddle attachment, beat the butter and brown sugar together until smooth. Next, add in the egg and vanilla extract. Continue to beat until combined.
In thirds add the flour mixture to the butter mixture. until everything is well combined. Fold in the oat mixture.
Using a 1-oz. ice cream scoop, scoop out the cookie batter and place it on the prepared baking sheets. Once you've lined the baking sheets use your hands and gently press down on each ball into a 1/2 thick disc. Bake the cook for about 10 to 12 minutes. Rotate the baking sheets midway and continue to cook for about five more minutes.
Remove cookies from the oven and allow to cool on a wire rack before assembling.
Once cooled spread some of the marshmallow frosting on the bottom of some of the cookies and top with another cookie creating a sandwich. Enjoy!
All images and text ©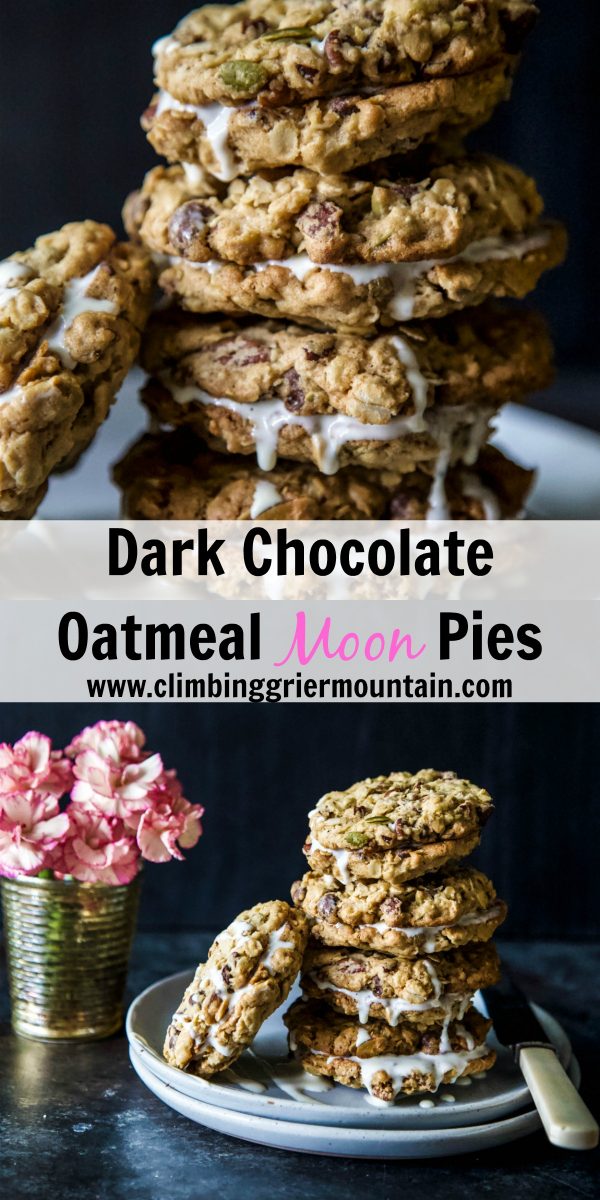 In conclusion, Dark Chocolate Oatmeal Moon Pies redefine indulgence with their rich cocoa and hearty oats, delivering a decadent and satisfying finale to any sweet craving. Enjoy the heavenly fusion in every delightful bite.