salted oreo ice cream pie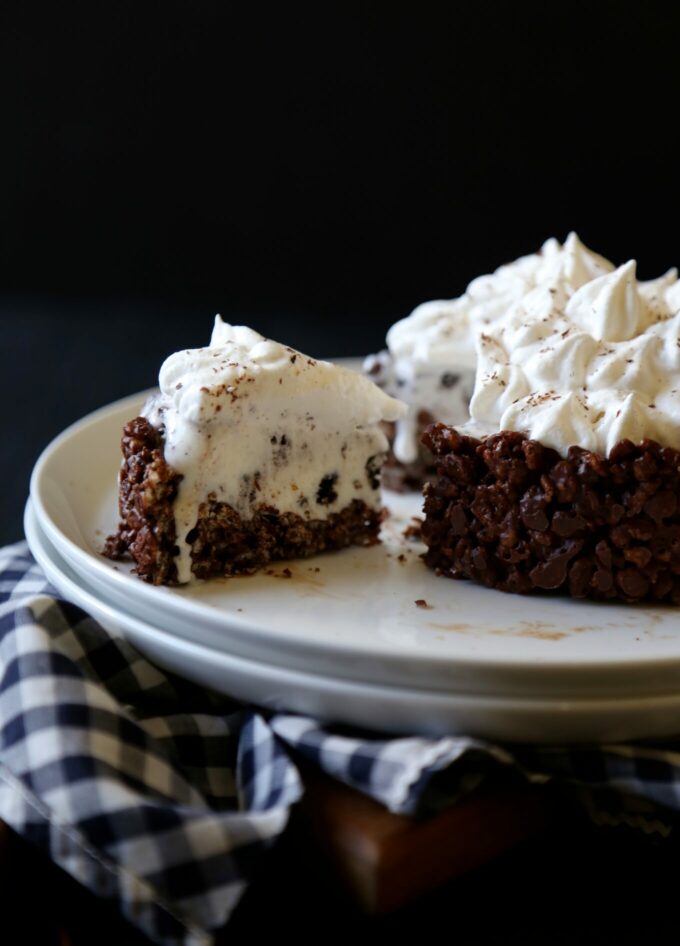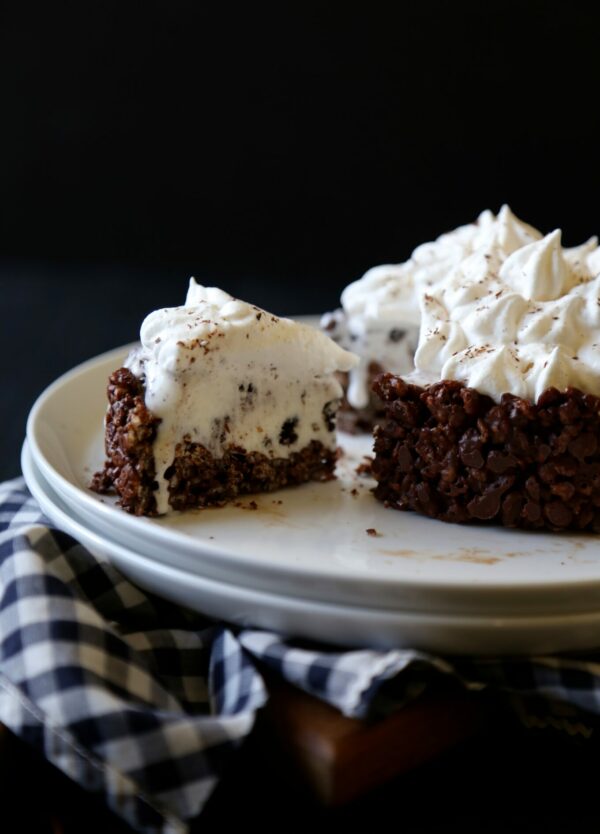 In Denver, there's one place to go for ice cream.
If you are a Denverite, you know what milk carton establishment I am referring to. You have waited in the long lines that wrap around the corner even on a Wednesday night at 9pm. You know that deciding on a particular flavor is like deciding between who's hotter: Ryan Gosling or Ryan Reynolds.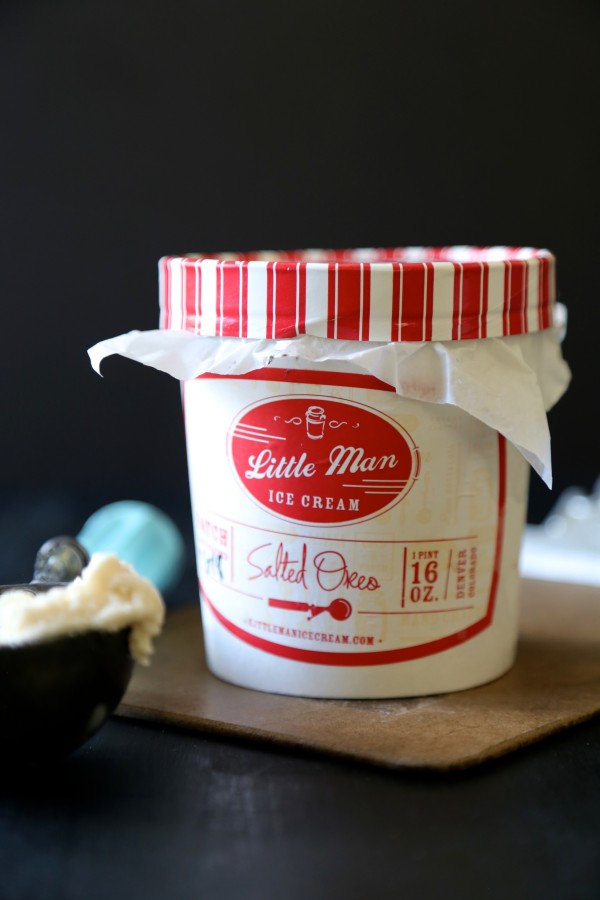 The lines are long and by the time you get to the window to order, you have sweat dripping down your butt crack and drool running down your face. BUT! It's the taste of the that first bite that makes the conditions survivable.
See, Little Man Ice Cream has a way of whisking you away back to nostalgia land with a single lick. You forget about immediate to-do's, wackadoo people, and the thought that back to school is a month away. My personal favorite flavor is always dark chocolate with some sort of brownie chunks stuffed inside and dolloped on top of a waffle cone.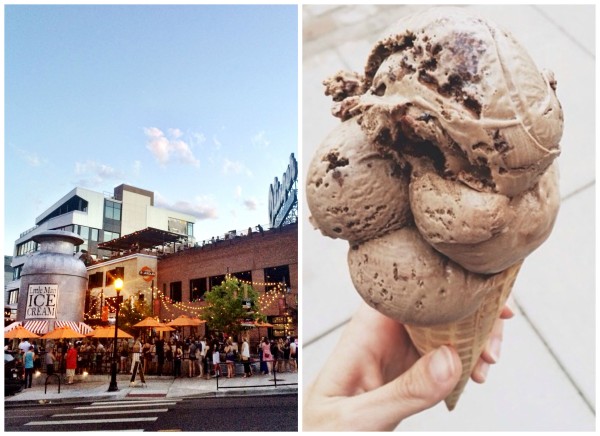 Since I can't camp out in front of the iconic milk carton 24/7, I decided to go rouge and buy a carton of their famous Salted Oreo to make this epic ice cream pie. Can one say that a certain ice cream flavor can be life changing? Well, if you are in Denver and have never tried Salted Oreo, DEWWWWWW It. You'll thank me, then hate me, then thank me.
Not only does this pie have three ingredients, but it comes together lickey-split. Because when you have ice cream on the mind things not need be complicated. Am I right? Make this pie and forget about lone lines and the dog days of summer.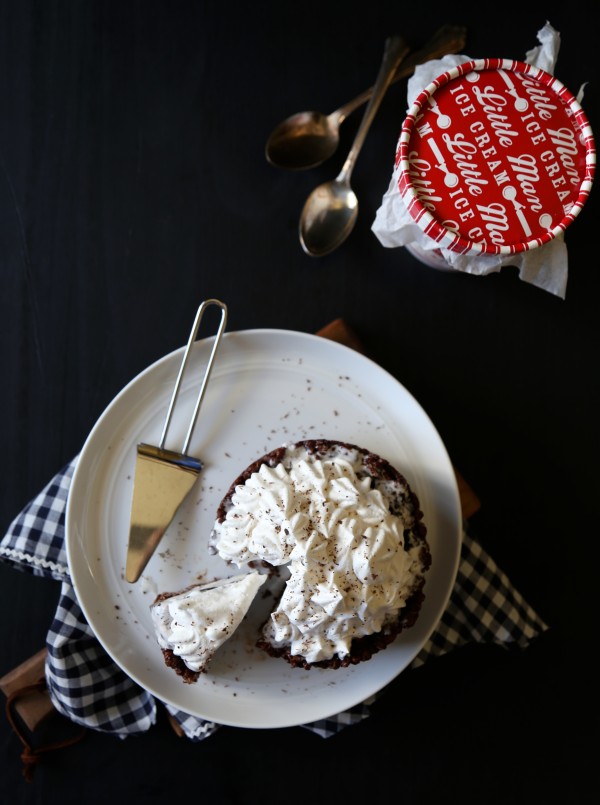 PSA: Hey Denverites! Starting this Sunday August 2nd through the 8th is National Farmers' Market Week. To celebrate and support family farms, Chipotle is giving away a free $5 voucher from Chipotle Mexican Grill to use at any vendor for local produce within the farmers' market. Plus, a BOGO (buy-one-get-one) card to use on any Chipotle entrée to the first several hundred people to attend one of the following participating farmers' markets
8/2/2015 – Sunday 9am to 1pm – Old South Pearl Street
8/2/2015 – Sunday 9am to 1pm – Highland Farmers' Market
8/4/2015 – Tuesday 4pm to 7pm – Broomfield Farmer's Market at Holy Comforter Episcopal Church
Now, go get some veggies and wash it down with some delicious ice cream!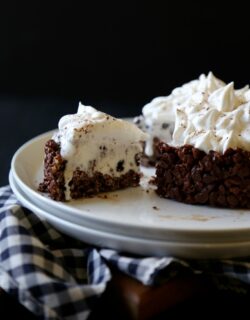 Salted Oreo Ice Cream Pie
Ingredients:
1 2-quart container Little Man Salted Oreo
3 cups Chocolate Coca Krispies
1/3 cup semi-sweet chocolate chips
Whipped cream, garnish
Directions:
In a medium saucepan, melt chocolate chips over medium heat. Once melted, remove from heat and add cocoa krispies. Stir to combine and let it cool completely before adding to spring foam pans.Once cooled, take the cocoa krispie mixture and press into the spring foam pan and up the side creating a crust. Place the pan in the freezer for at least 15 minutes. After 15 minutes, remove from freezer and scoop salted oreo ice cream into the pan filling it to the top. Place the pans back in the freezer for at least 3 hours to set. To serve, remove from freezer, take out of the spring foam pan, and garnish with whipped cream.
adapted from Real Simple Magazine
All images and text ©