Loaded Barbecue Bison Hot Dogs
Loaded Barbecue Bison Hot Dogs are an easy and delicious meal to make all summer long!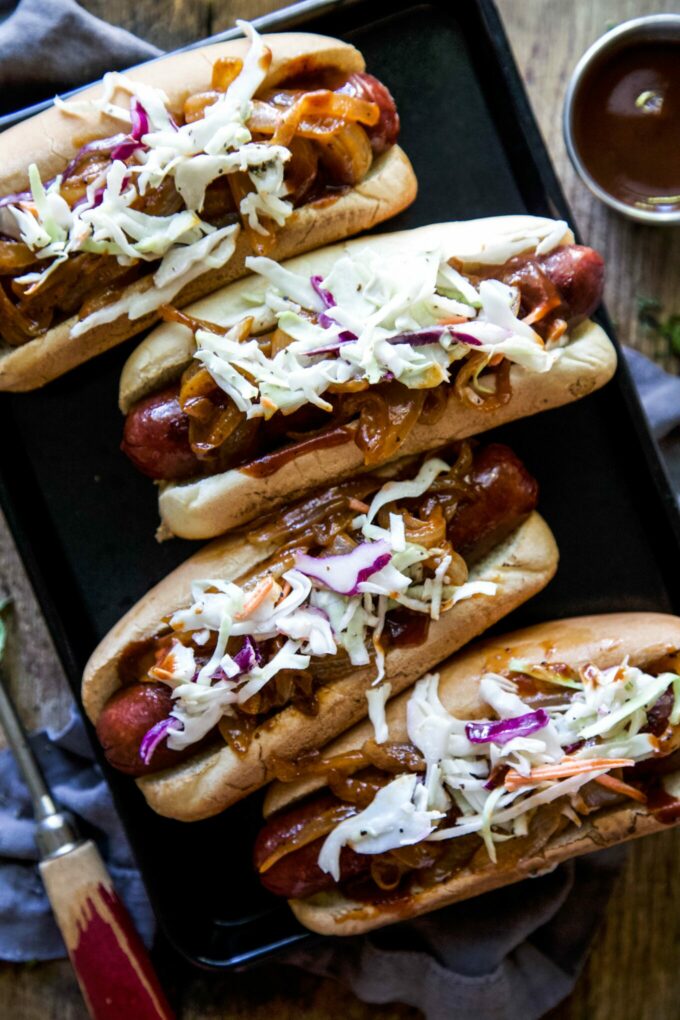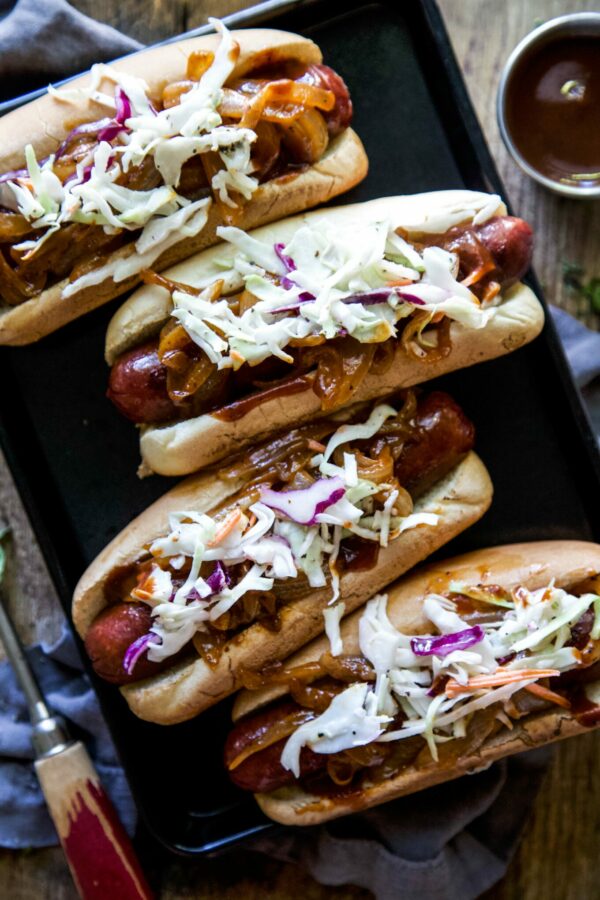 FINALLY.
We finally hooked our Roku up!
I ordered it in December of last year during our deep construction phase thinking we'd have time to watch a few shows. NOPE. By the time we were done working on the house and taking care of an infant, we were smoked! I think we watched five minutes of TV and went to bed every night.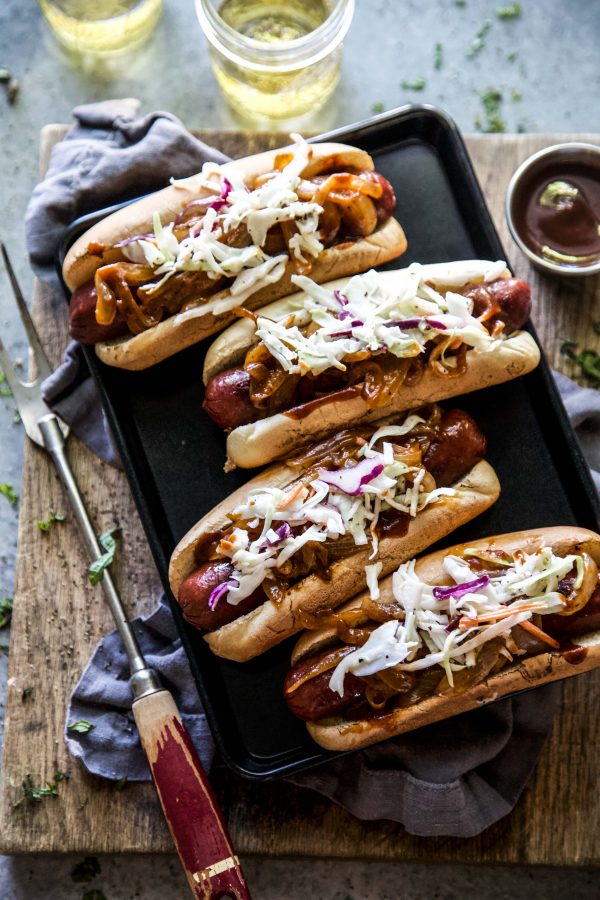 Fast forward. We are at the end of our remodel and now have time to catch up on, oh, you know….Ozark Season 3! I just love Jason Bateman. BUT! A new show that has been brought to my attention is Outer Banks. My word.
Mr.B started watching it the other night and was like, "Babe, we've got to watch this show. Basically, it's like a modern-day treasure hunt." Um, sold! Anyway, if you need a good show to Netflix and chill this is it!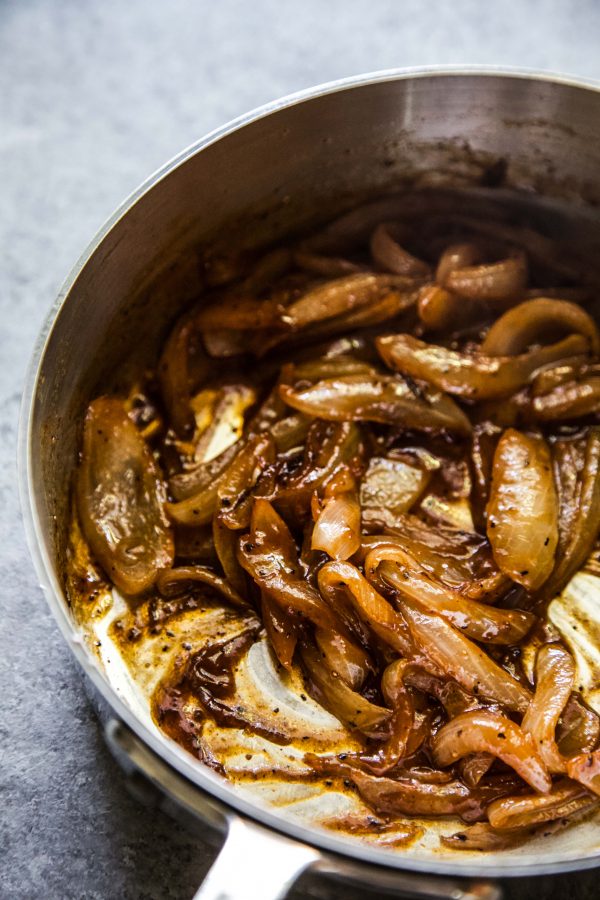 Oh, and if you are wondering if we still have cable we do. Baby steps. We are slowly making our way back to "living again." It feels GLORIOUS!
Besides entering society again and catching up on shows, I made y'all the best hot dog recipe! With a certain holiday coming up I figured we all needed a juicy wiener recipe. Well, instead of your standard pork hot dog, I found these delicious bison dogs at Sprouts.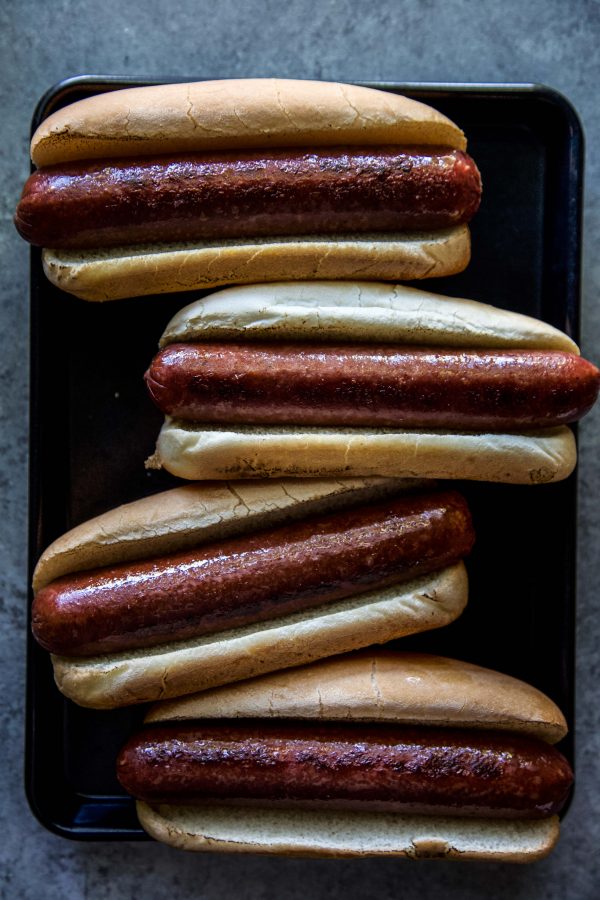 Can you say game changer? These Loaded Barbecue Bison Hot Dogs will up your backyard BBQ situation. Mr.B and I both thought the bison hot dogs had more flavor and were less rubbery tasting than a standard hot dog. Pile on the barbecue onions and coleslaw…..and prepare to drool!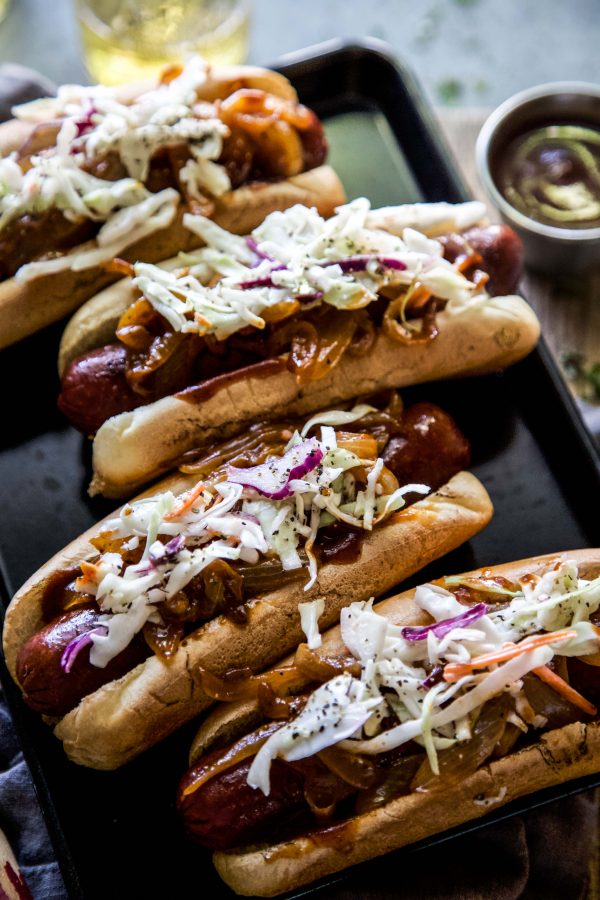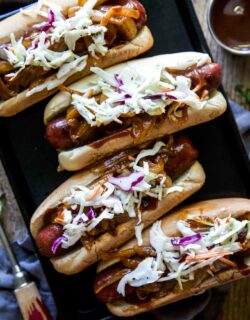 Loaded Barbecue Bison Hot Dogs
Ingredients:
4 bison hot dogs
2 tbsp unsalted butter
1 large yellow onion, sliced thinly
salt and pepper to taste
2 to 3 tbsp barbecue sauce
1 16oz bag coleslaw mix
1/2 cup mayonnaise
1/4 cup white vinegar
2 tbsp granulated sugar
4 hot dog buns
Directions:
Preheat your grill to medium-high heat. Cook the bison hot dogs for about 8 to 10 minutes or until browned and juicy.
Remove them from the grill and set aside.
In a large skillet preheated to medium heat melt the butter. Add the onions, salt and pepper. Cook the onions until golden brown about 10 to 15 minutes. Stir in the barbecue sauce. Remove from heat and set aside.
In a large bowl combine coleslaw, mayo, white vinegar, granulated sugar, salt, and pepper. If you have time set the coleslaw mix in the fridge for an hour to allow the flavors to combine. If not, no worries!
To assemble, place a bison hot dog into a hot dog bun. Top with bbq onions and coleslaw mix. Repeat until all hot dogs have been assembled. enjoy!
All images and text ©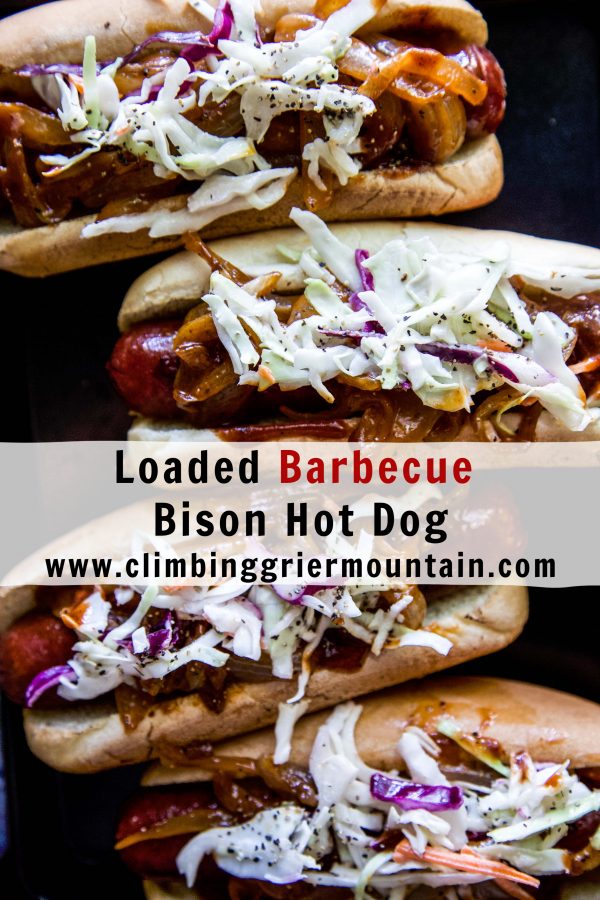 MORE HOT DOG RECIPES TO ENJOY: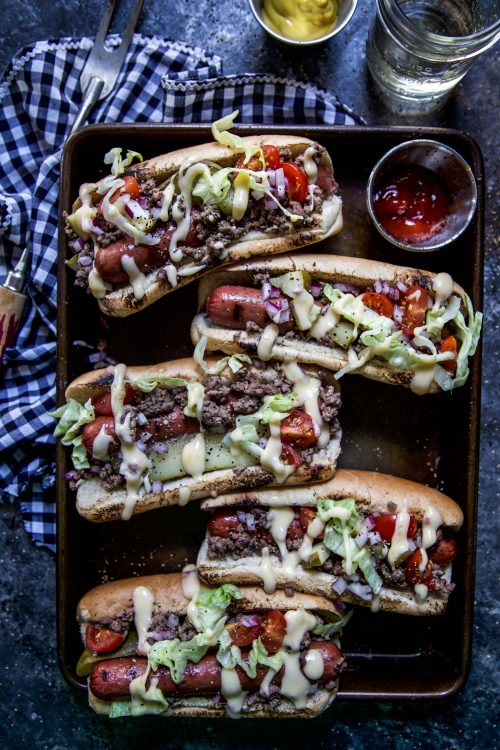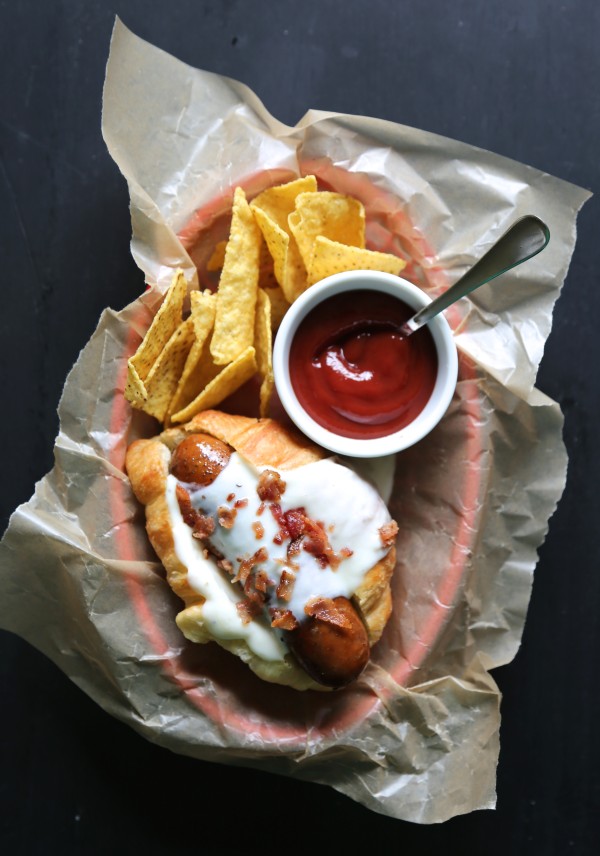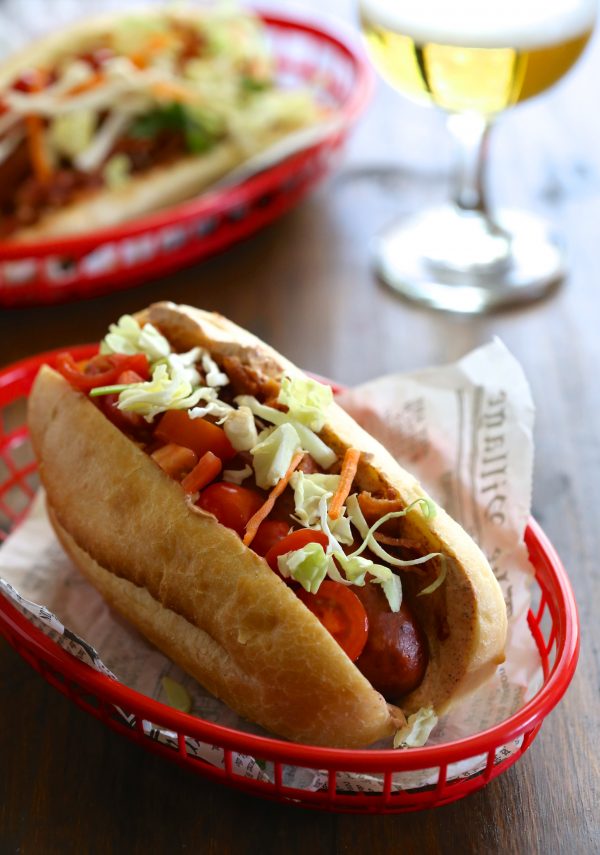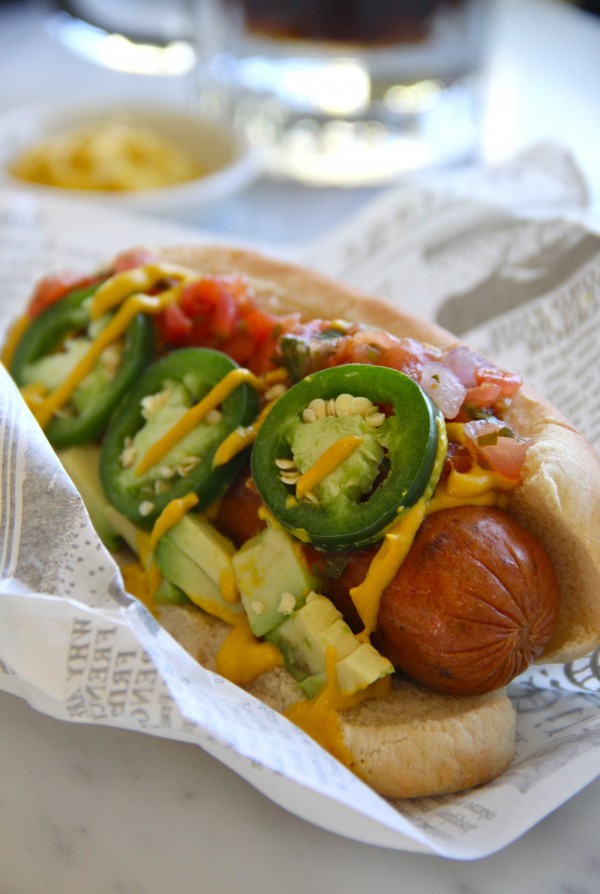 "In sum, Loaded Barbecue Bison Hot Dogs elevate the classic BBQ fare with gourmet flair. These delectable treats promise to enhance your barbecue experience with their irresistible flavors and top-quality ingredients."