Strawberry Gin and Tonic
Strawberry Gin and Tonic is a refreshing summer drink that is best enjoyed al fresco! "Experience the perfect balance of refreshing and sweet with our Strawberry Gin and Tonic. This delightful twist on a classic cocktail combines the crispness of gin with the lusciousness of ripe strawberries."
Who needs a cocktail?
*RAISES BOTH HANDS*
I felt like a mid-week libation was something we could all use.
Is it me, or is everything just so intense right now? With the riots, shootings, and not to mention COVID, I just want to send everyone to their corner for a time out.
Anyway, I'm hoping the world will settle down for a bit so we can celebrate all the dad's this weekend! Still can't believe Father's Day is on Sunday. I ordered a gift for Mr. B, but with shipping being slowwwwwwwww, I 'm not entirely sure it will get here on time. I purchased the gift over three weeks ago too!
Well, either way, I know we will have a good time celebrating. Not sure what we will do. I think he wants to take Charlie fishing and grill some ribs. All very manageable. What are you doing to celebrate a special dude in your life? If you need some last minute grilling recipes check out my page HERE.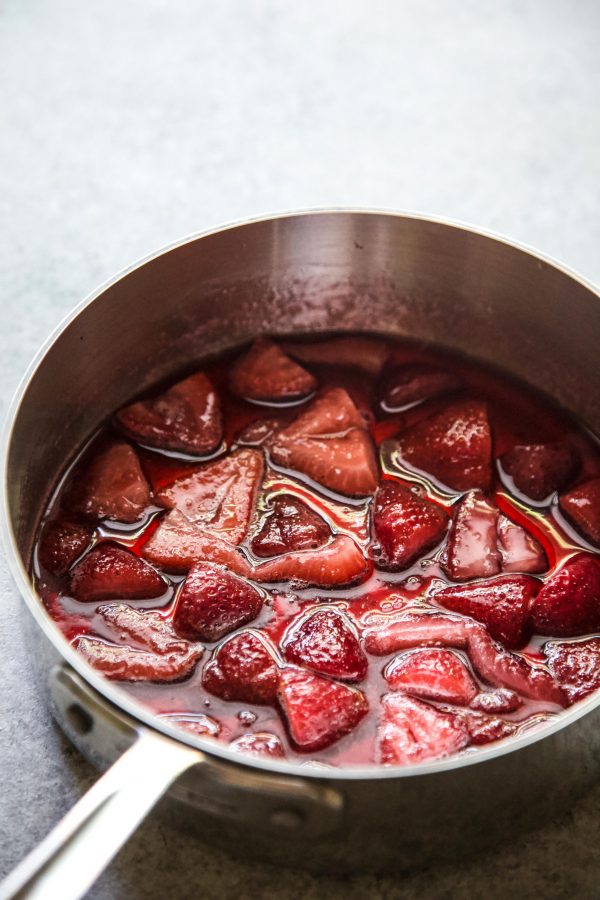 Okay, before I forget let's chat about today's refreshing cocktail. Back in the day I was a big fan of a gin and tonic. It's a great drink to sip on when it's a bazillion degrees outside. Anyway, I wanted to jazz it up with some fresh summer flavors…strawberry puree!
Basically it's a strawberry simple syrup that you stir in with the gin, tonic, limes, and mint. Another reason why I love this cocktail is the strawberry cuts the gin so it's not as intense. BUT! Don't let that confuse you because this drink stills backs a punch! 
Alright, let's cheers to rest of the week!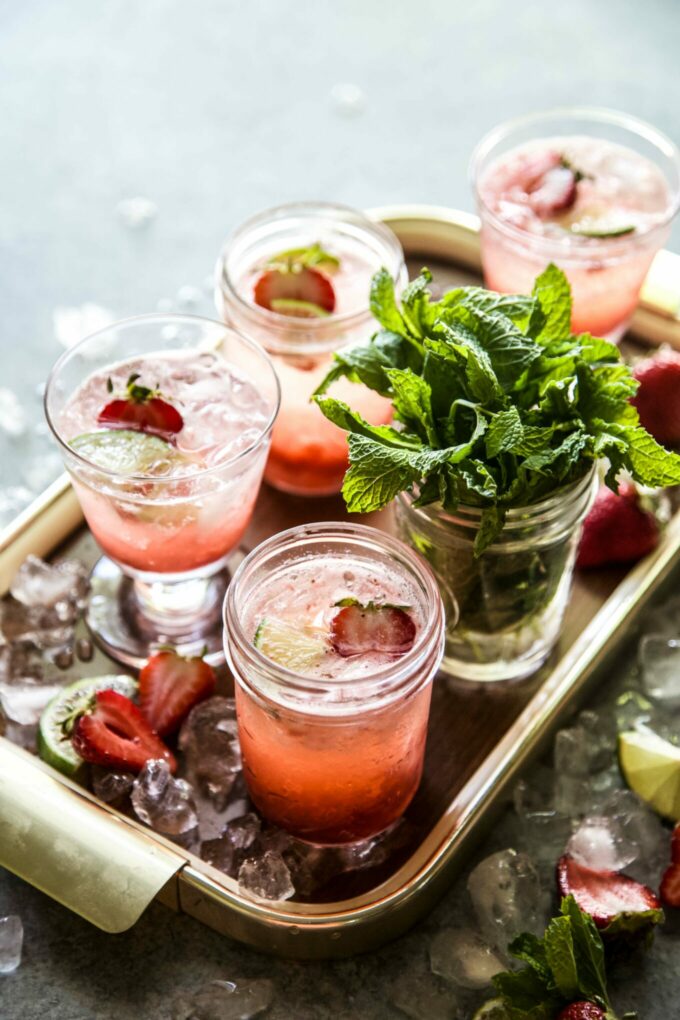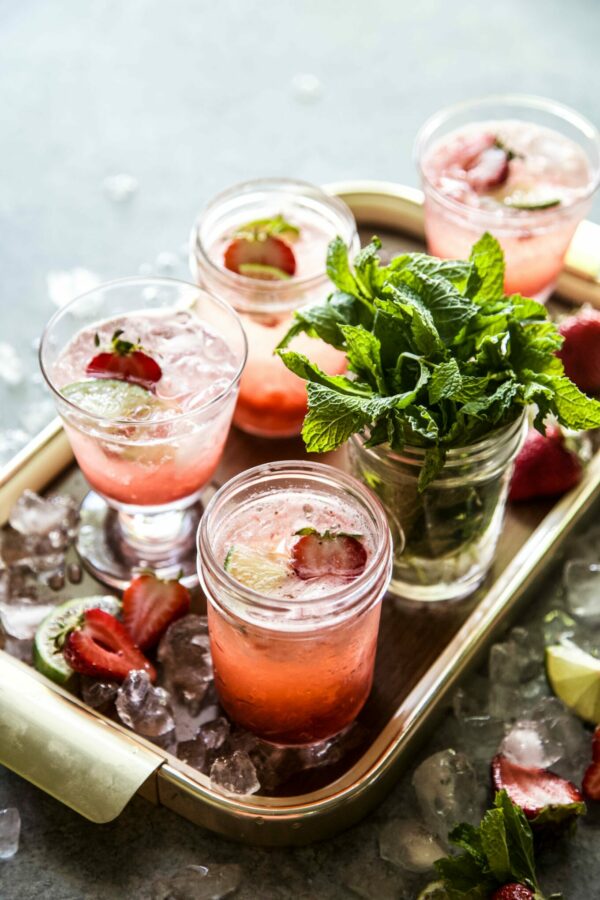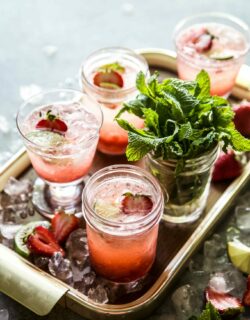 Strawberry Gin and Tonic
Ingredients:
2 cups chopped strawberries + more for garnish
1/2 cup granulated sugar
1/2 cup water
1 tbsp fresh lemon juice
Gin (certainly omit the alcohol for a lovely mocktail!)
Tonic water
Ice
Fresh mint leaves, for garnish
Lime slices, for garnish
Directions:
In a medium saucepan add strawberries, sugar, water, and lemon juice. Stir to combine. Bring the mixture to a simmer. Simmer the mixture for about 5 to 10 minutes. Remove the saucepan from the heat and pour it into a blender. Blend the mixture until pureed and allow to cool completely.
To make the drink, fill a few glasses with ice and one shot of gin (or more!) followed by some strawberry syrup. Top the mixture with tonic water and garnish with mint and lime slices. Enjoy!
All images and text ©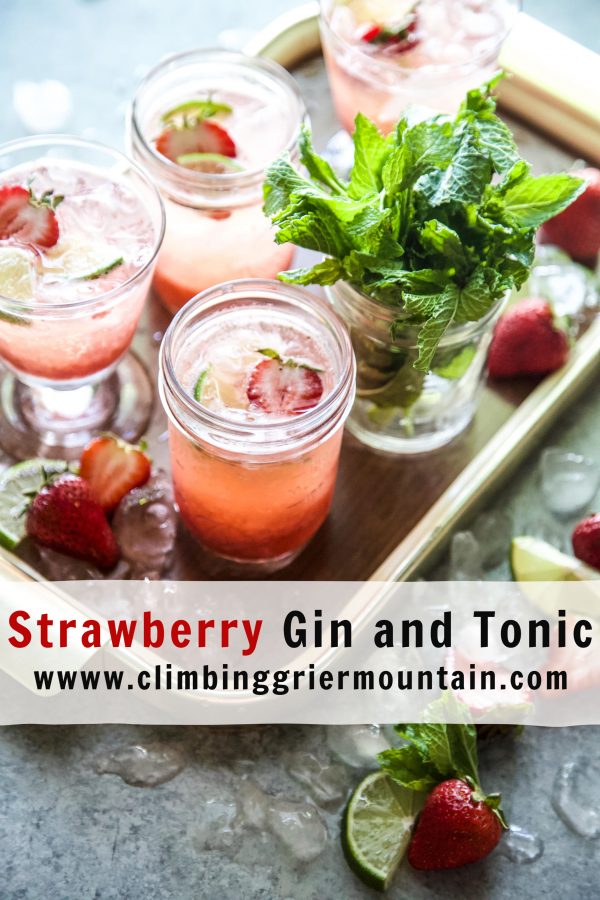 More Father's Day Recipes to Enjoy: