Maple Roasted Pumpkin Grits
***This post is sponsored by Maple from Canada. As always, all opinions expressed are 100% my own.***
Cozy comfort food. "Maple Roasted Pumpkin Grits: Fall in a bowl! Dive into the heartwarming fusion of roasted pumpkin and luscious maple."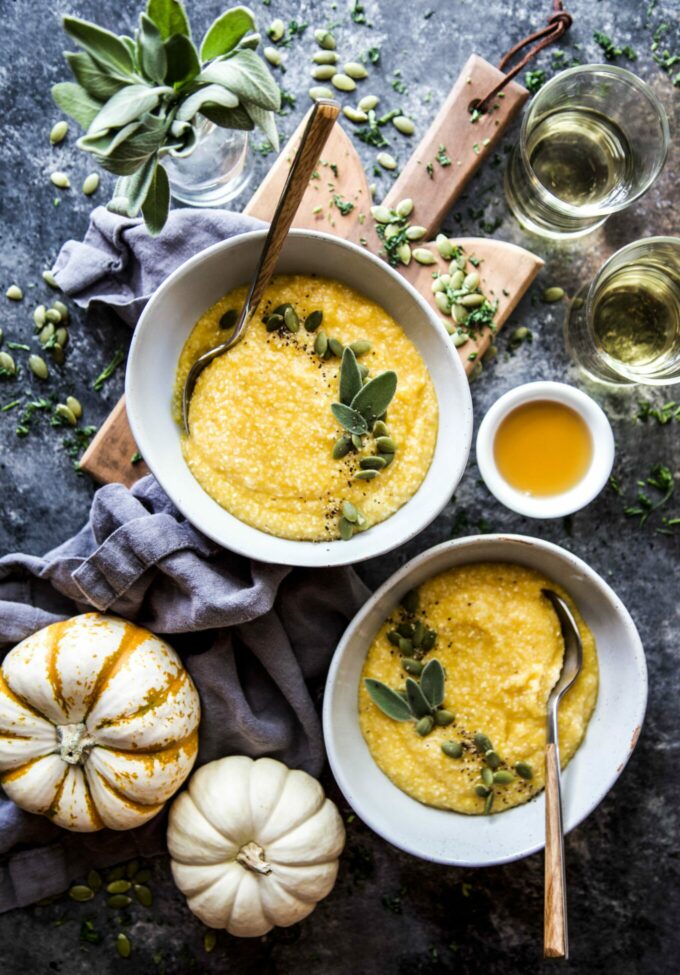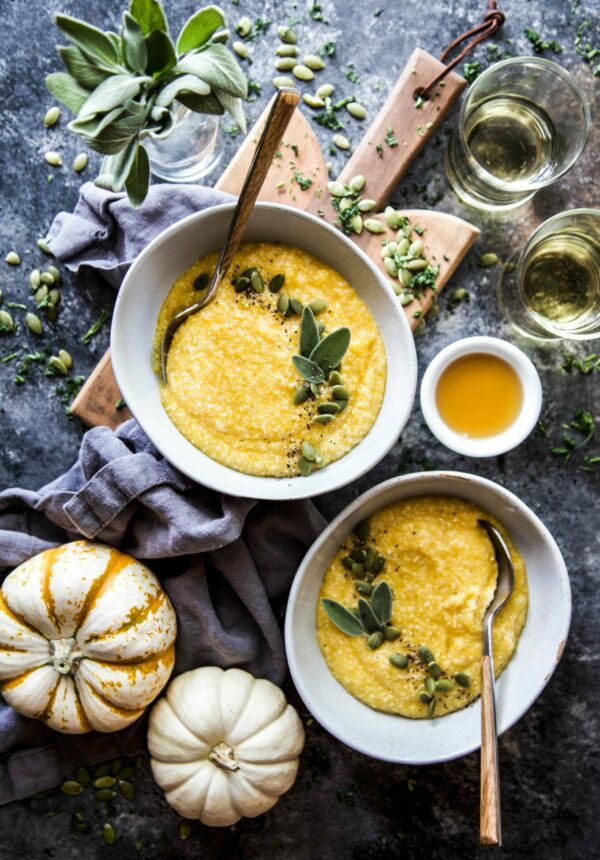 With cooler temperatures setting in there's nothing better than a bowl of warm Maple Roasted Pumpkin Grits to start the day. Best consumed while admiring the golden and red hue foliage if I must say.
These particular Maple Roasted Pumpkin Grits are not only luxurious, but pack a whole lot of flavor from a very special ingredient: Pure Maple from Canada.
What is Pure Maple from Canada?
So glad you asked! Fun factoid: Canada produces over 71% of the world's pure maple syrup. Of that, 91% of that syrup is produced in Quebec. That leads to over 12.5 million pounds produced from our friends up North!
Now, when they say Pure Maple from Canada they mean just that. It's the only ingredient you will find on their golden maple leaf bottle. All of their maple syrup is collected from trees, then sent to storage where it goes through the maple syrup evaporation process, and then bottled!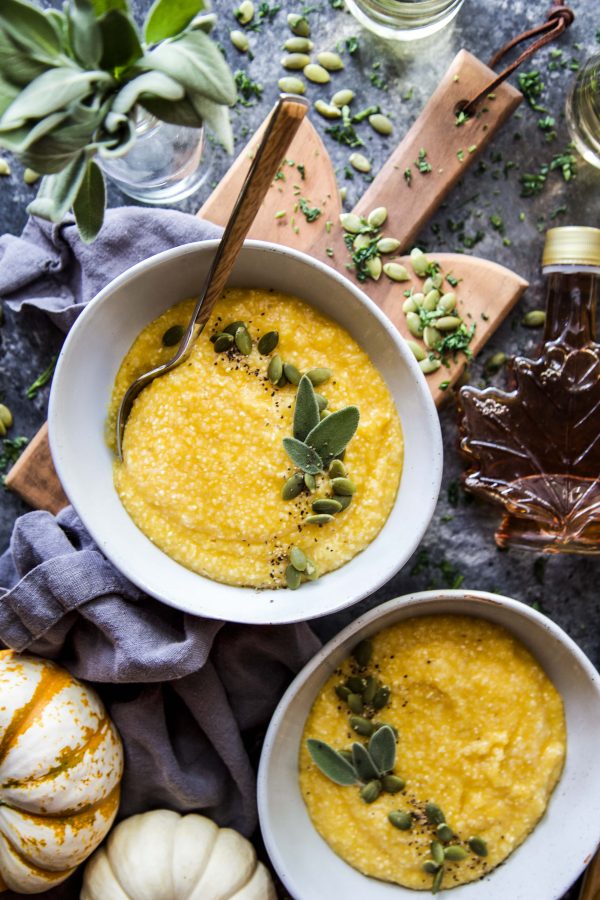 How do you cook with Pure Maple from Canada?
Simple! Pure Canadian maple syrup can be used as an alternative to sugar. Meaning you can replace granulated sugar in that pie recipe you make every Thanksgiving with maple syrup. So cool! Besides acting as a sweetener it can also be used to add depth to many entrees, glazes or rubs!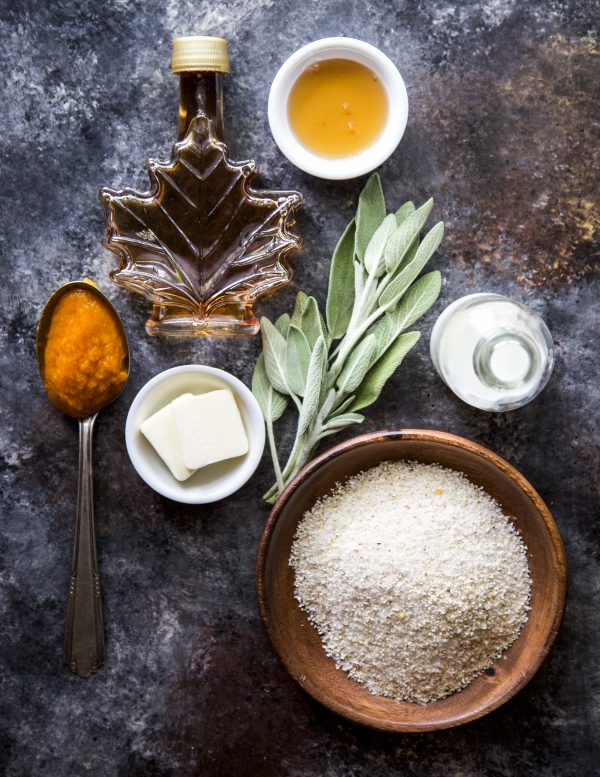 Sugar Alternative Formula for Most Recipes:
1 cup = 1 cup Pure Maple Syrup – 1/4 cup liquid
What you'll need to make these Maple Roasted Pumpkin Grits:
– 100% pure maple syrup from Canada – check the label and look for only 100% pure maple
– Stone ground corn grits
– Whole milk
– Unsalted butter
– Canned pumpkin puree
– Pumpkin pie spice
– Pepitas (pumpkin seeds)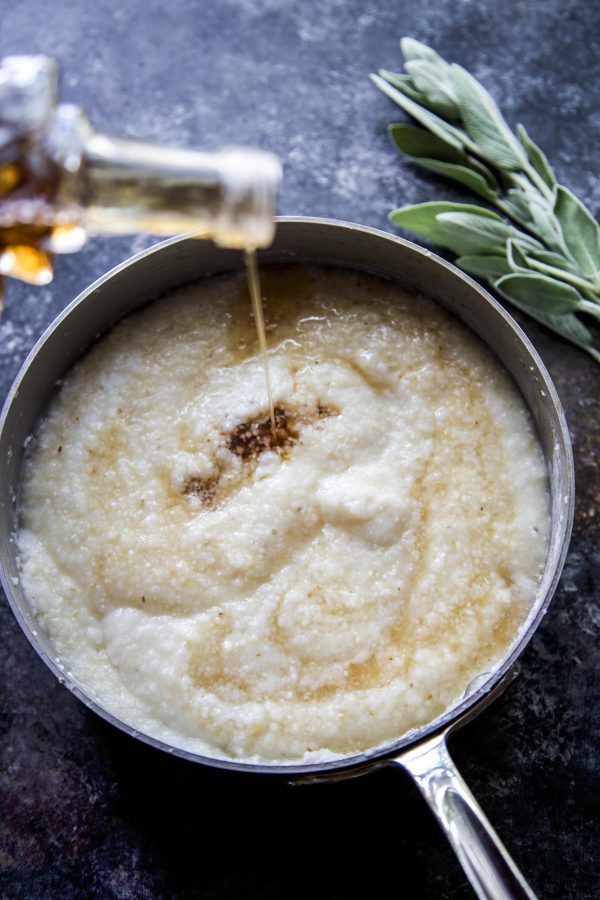 How to Cook Maple Roasted Pumpkin Grits:
– Combine water, milk, and grits in a saucepan. Bring to a boil, then simmer, cover and continue to cook until the grits are smooth
– You'll stir in the butter, pumpkin puree, pumpkin pie spice, and 100% pure maple syrup
– Top with Pepitas and serve!
That's it! Are you ready to dive into a big bowl?
For more information and recipe inspiration on Pure Maple Syrup from Canada visit their website: www.puremaplefromcanada.com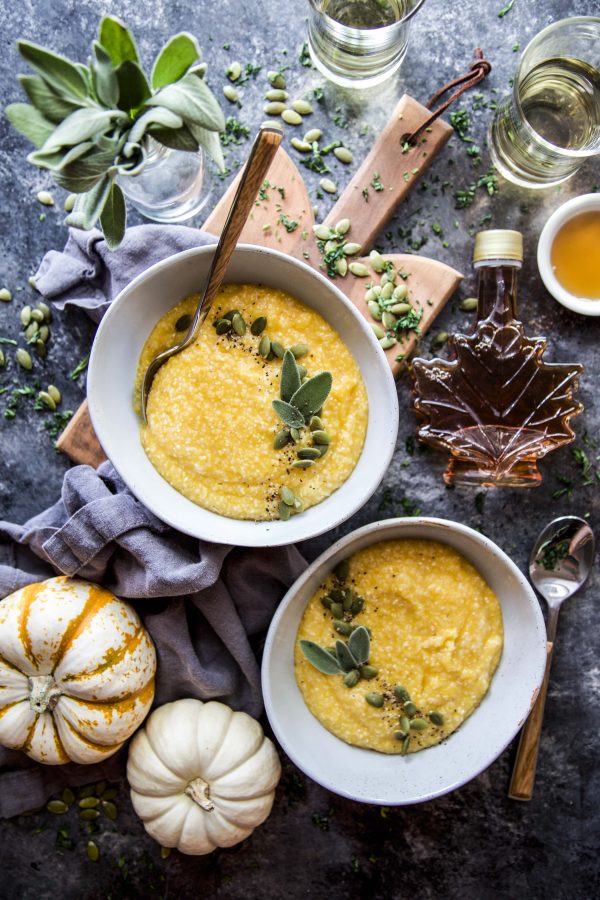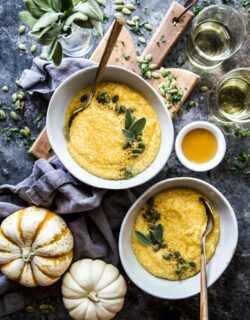 Maple Roasted Pumpkin Grits
Ingredients:
4 cups water
1 cup whole milk
1 cup uncooked stone-ground grits
3/4 cup whole buttermilk
2 tbsp unsalted butter
1 cup canned pumpkin puree
2 tsp 100% pure maple syrup from Canada
1/2 tsp pumpkin pie spice
salt and pepper to taste
Pepitas, for garnish
Directions:
Fill a large stock pot or saucepan with 4 cups water, 1 cup milk, and a pinch of salt. Bring to a boil and then gradually whisk in 1 cup of the grits. Return to a boil and then reduce the heat to medium. Stir the grits occasionally until thick and creamy for about 25 minutes.
Remove the pan from the heat and stir in the buttermilk, butter, pumpkin puree, maple syrup, pumpkin pie spice, salt, and pepper. Divide the mixture among four bowls and garnish tops with pepitas. Serve and enjoy!
All images and text ©