Mediterranean Chicken Meatball Skewers
Mediterranean Chicken Meatball Skewers are a fast, flavorful, and healthy meal ready in 30 minutes!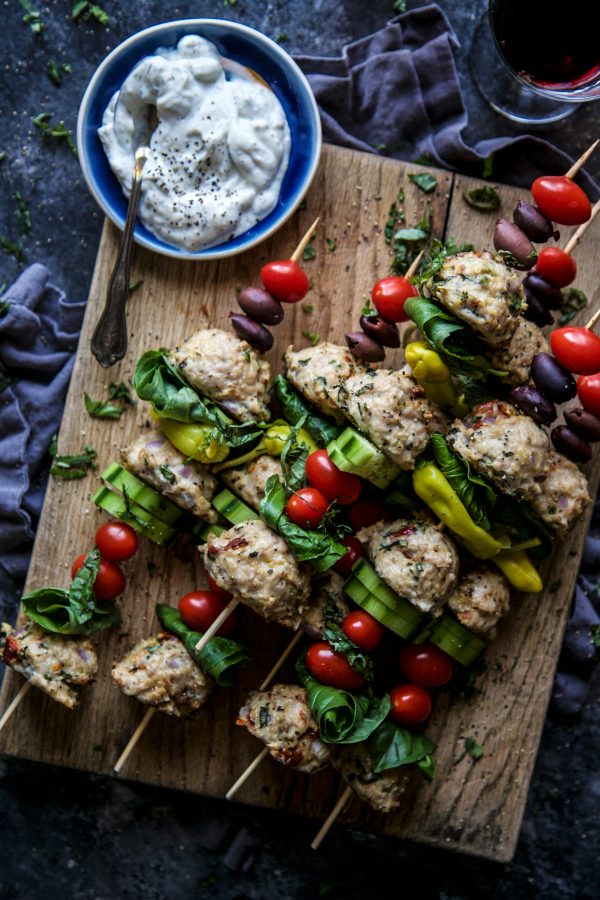 Top three.

Meatballs that is.

My first love will always be French fries. Luuuuuuuuv them. Whenever Mr. B and I are out for dinner at a hamburger joint I always order a copious amount. Like a basket for myself. The best part is I've trained Mr. B to not take a single fry from the said basket. That's how much I love these golden, fried gems.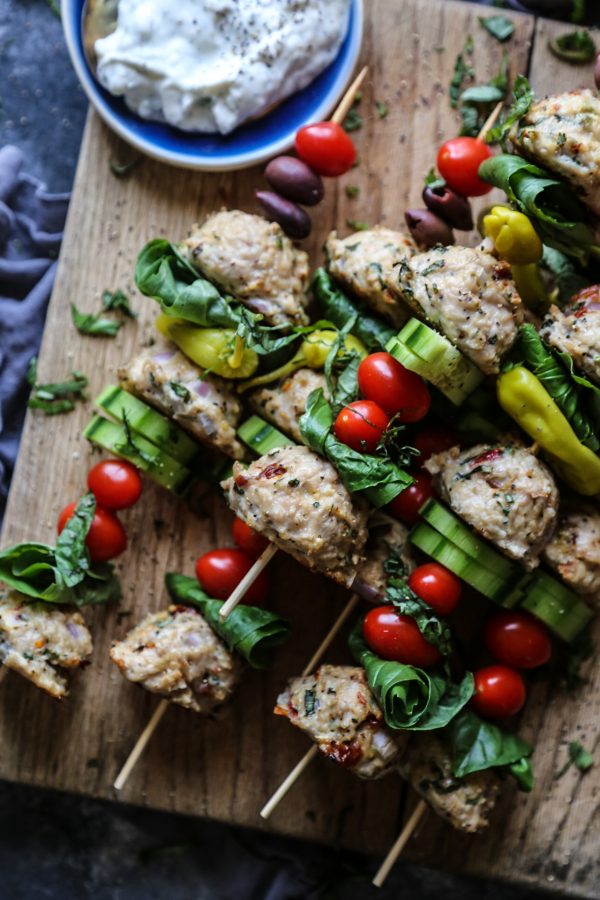 Second favorite is definitely a cheeseburger. Blame it on my McDonald's loving childhood days. Back in the day when my dad was out of town my mom would take to McDonald's for a cheeseburger it was a big deal. I still wish dining out was considered a treat. Now, we don't even have to get dressed to have food in front of our face.
You might have guessed but number three favorite is definitely meatballs. I am a sucker for a meatball sub from Snarfs (a sandwich shop here in Denver). I always order it with extra jalapenos too. Now, I'm hungry for a meatball sub.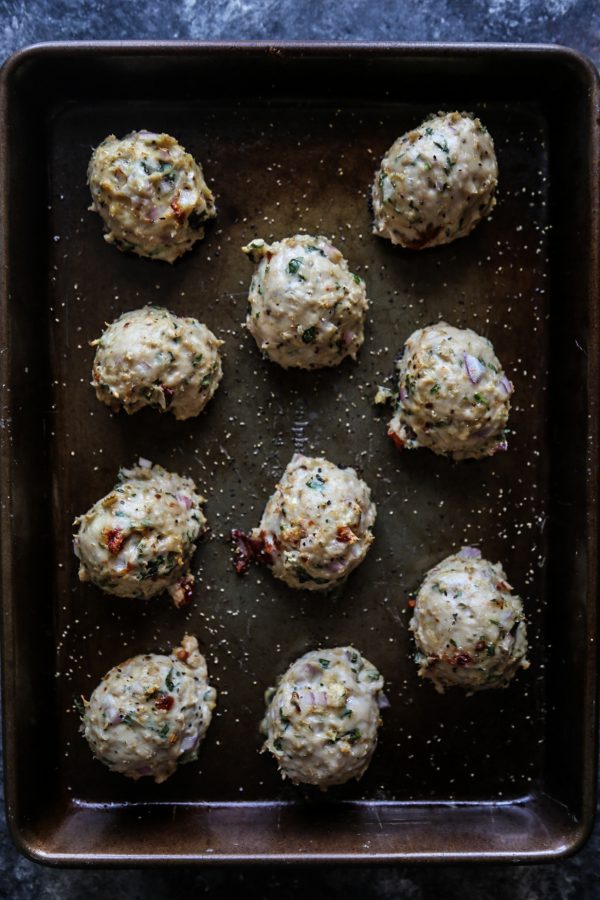 With the new year and trying to be mindful of the lbs, I came up with the best alternative to satisfy my meatball craving – Mediterranean Chicken Meatball Skewers! You guys. These are legit. Bursting with all the Mediterranean flavors like fresh basil, oregano, garlic, sun dried tomatoes, and lemon juice.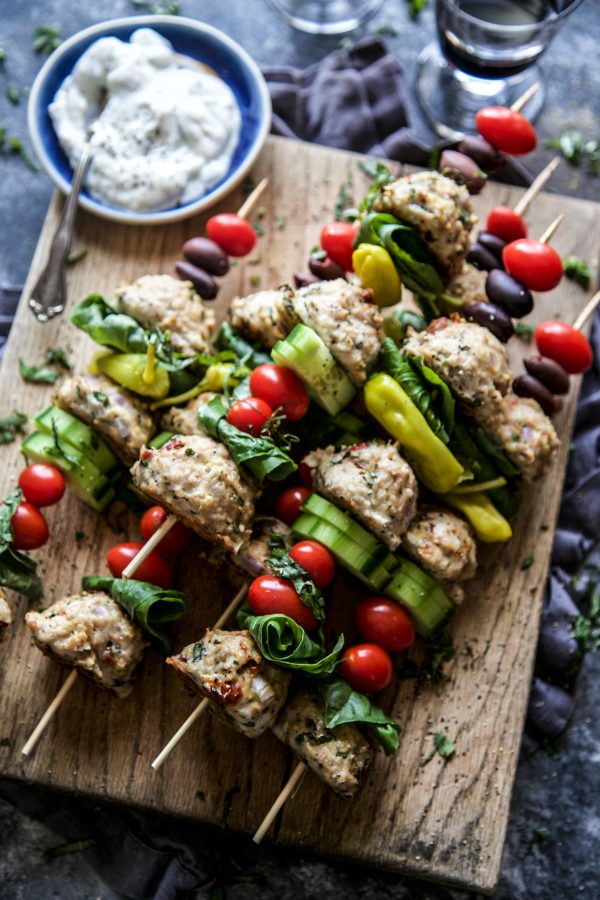 Make a big batch on Sunday and nosh on them all week. Plus, with the skewers it makes it way more fun and interactive. Because eating healthy need not be boring, right? Now, pass me some fries. Wait.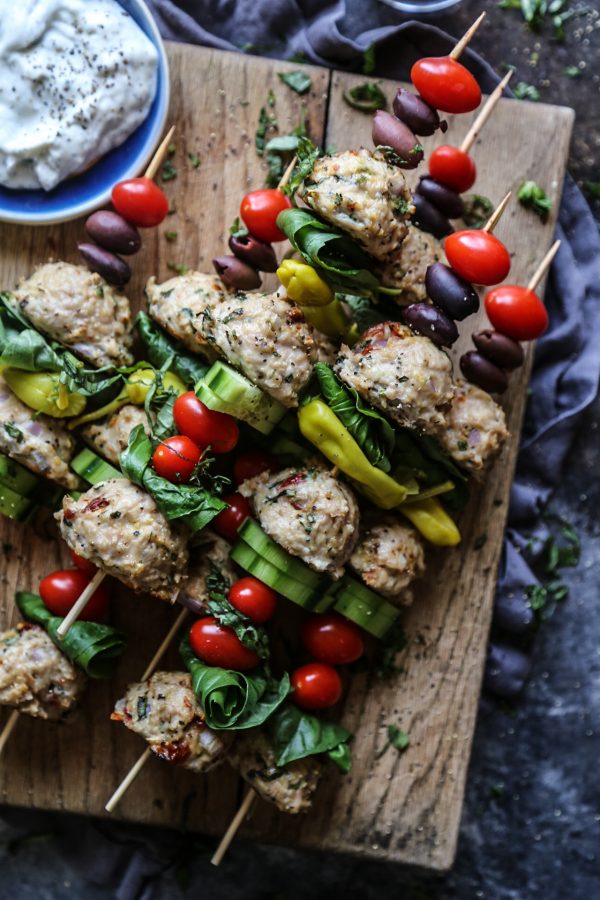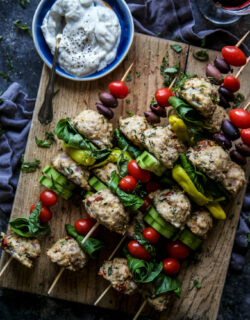 Mediterranean Chicken Meatball Skewers
Ingredients:
1/3 cup finely diced red onion
1/2 cup chopped fresh basil + more for skewer garnish
1/4 cup drained sun dried tomatoes, roughly chopped
1 tbsp lemon juice
1 1/2 tsp dried oregano
2 garlic cloves, minced
1/2 cup panko
1 large egg, whisked
1/2 tsp red pepper flakes
salt and pepper to taste
1.5 lbs ground chicken
Grape tomatoes
Pepperoncini
Olives
Directions:
Preheat oven to 400 degrees.  Spray a baking sheet with non-stick cooking spray.
In a large bowl, combine red onion, 1/2 cup fresh basil, sun dried tomatoes, lemon juice, oregano, garlic, panko, egg, salt and pepper. Once everything is combined add in the ground chicken. Using your hands gently work in the mixture with the chicken being careful to not over mix or the chicken will become dry.
Using an ice cream scoop, scoop out about 12 chicken meatballs and place onto the prepared baking sheet. Bake the meatballs for 15 minutes (no longer!) or until juices run clear.
Remove the baking sheet from the oven and let the meatballs cool slightly before skewering.
Once cooled thread the meatballs along with the garnishes in anyway you see fit. I put three meatballs per skewer. Serve and enjoy!
All images and text ©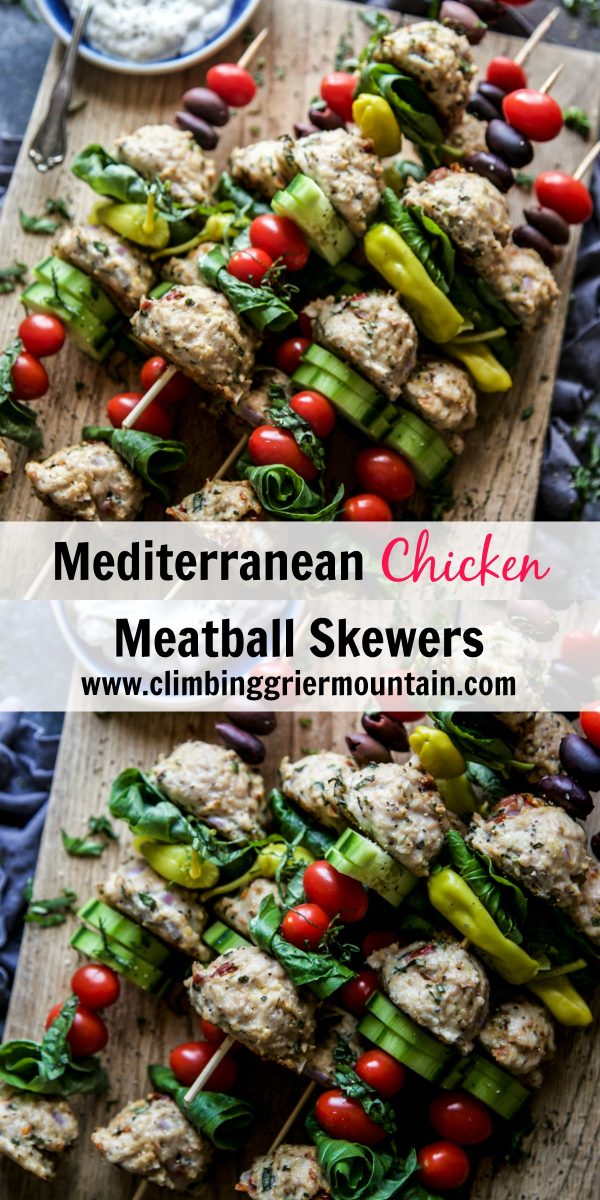 In conclusion, our Mediterranean Chicken Meatball Skewers offer a tantalizing journey through the flavors of the Mediterranean. With each succulent bite, you experience a taste of this rich and vibrant culinary tradition. Enjoy the delicious adventure!