Mediterranean Tuna and Quinoa Salad
Mediterranean Tuna and Quinoa Salad is a refreshing salad made with easy to find pantry staples!
Disclosure: This recipe is sponsored by Bumble Bee® Tuna. As always all opinions expressed are 100% my own.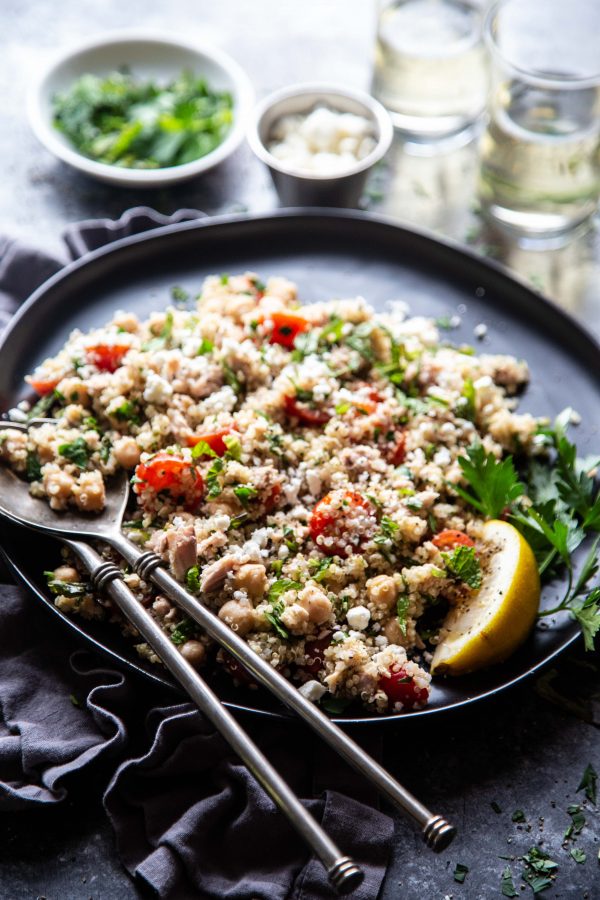 The pantry.
Is it me, or do you look at those stocked shelves a little differently?
I'll be the first to admit, I took my pantry for granted. Over the past few weeks I have never spent more time organizing, pursuing, and meal planning based off pantry ingredients. In a way it feels like I renewed my pantry vows.
Can one fall back in love with their pantry? I think so.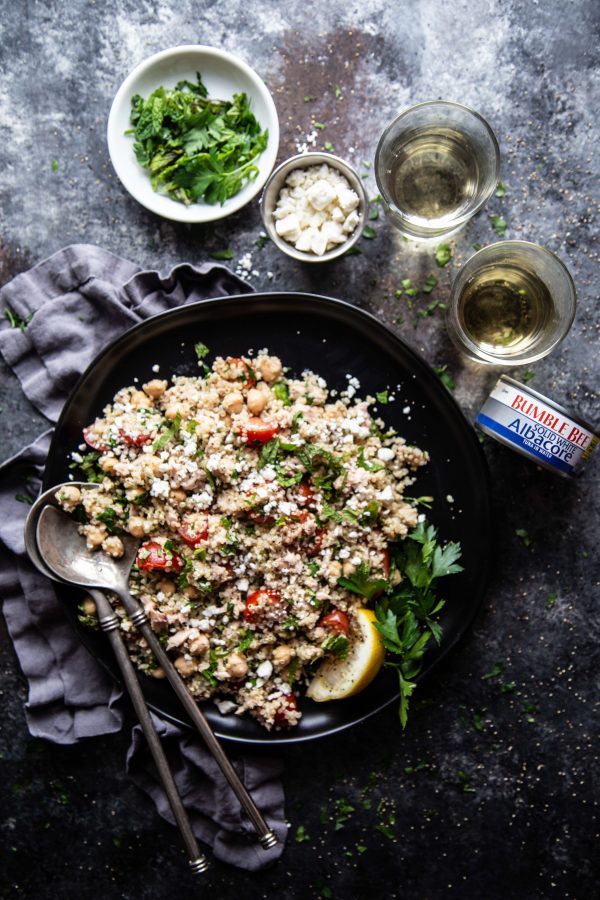 Well, if you're like me and getting reacquainted then I bet you've gone back to stocking up on tried and true staples like canned tuna. Spoiler alert: I love it! I've been eating canned tuna since I was a little kid when my mom would make tuna casserole.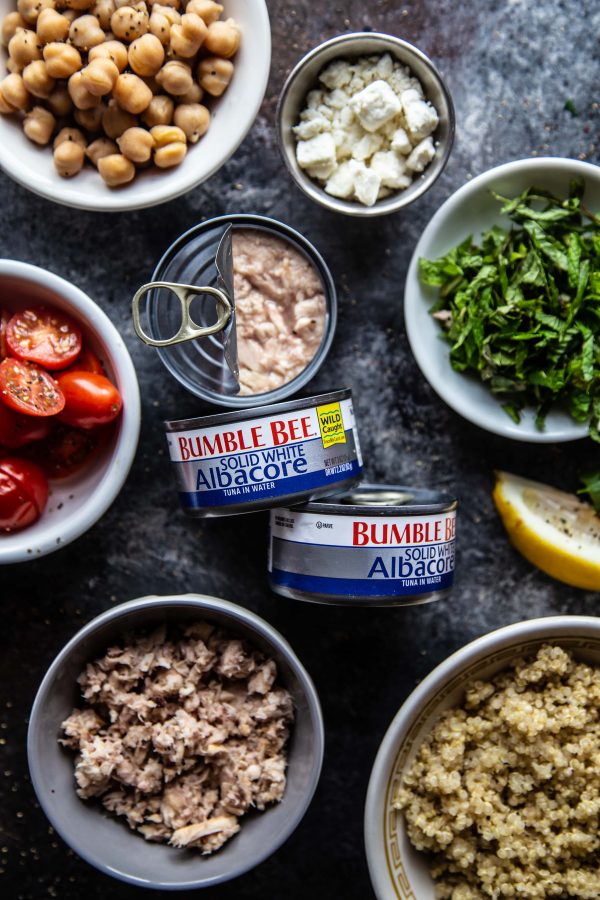 Today, we are going to use Bumble Bee® canned solid white albacore tuna in water. Since 1899, Bumble Bee® Seafoods have been on a mission to show the world A Better way to Seafood™. Well, there's no time like the present which is why I'm sharing this Mediterranean Tuna and Quinoa Salad.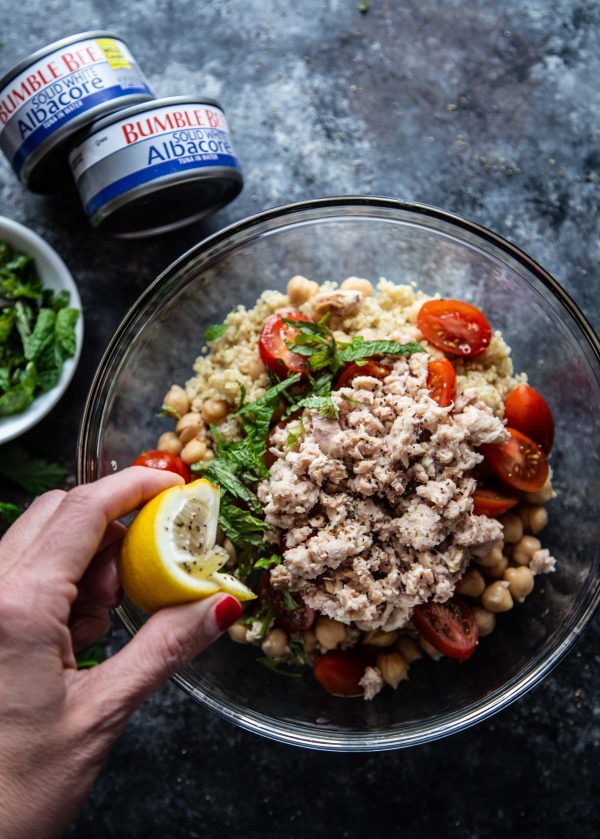 Some day I will get to the Mediterranean again, but until then this salad will help channel those fresh, coastal vibes. Plus, by eating canned tuna I will still feel healthy and active. Fun fact: ounce for ounce tuna is lower in calories, fat, sat fat, and cholesterol than even the leanest cuts of beef and chicken.
This Mediterranean Tuna and Quinoa Salad is completely versatile not to mention bursting with flavor. Toss the tuna, chickpeas, quinoa, any fresh herbs, and a squeeze of lemon. Easy peasy!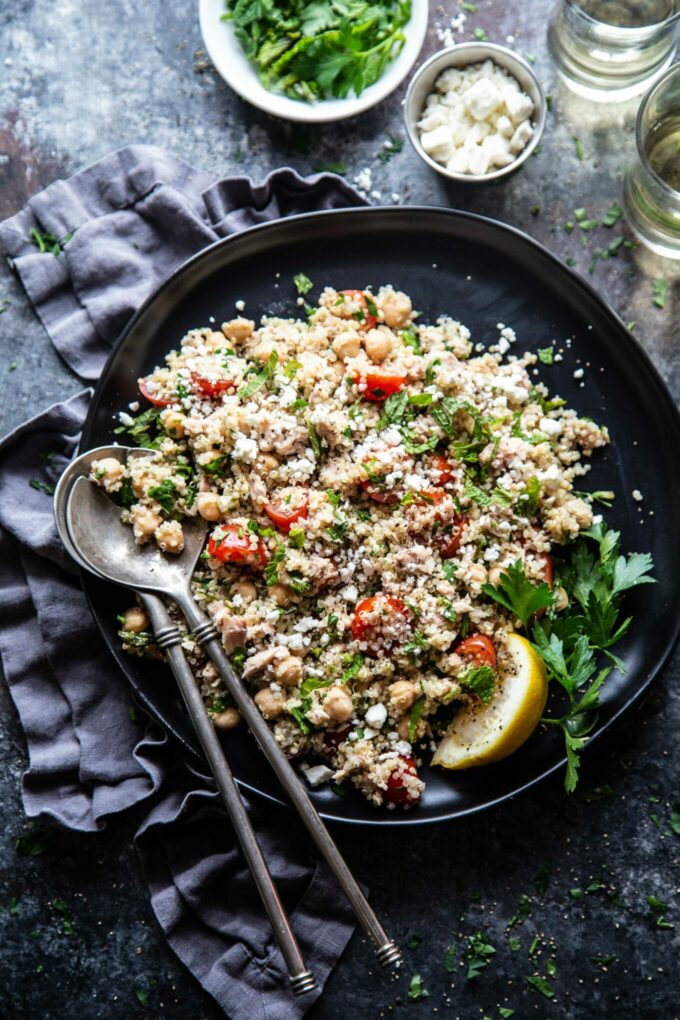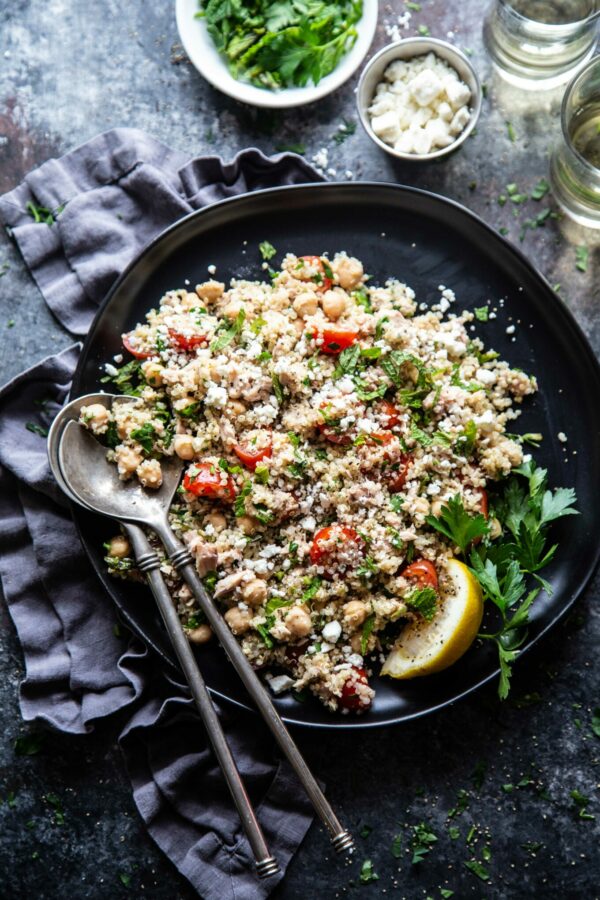 Make sure to visit www.BumbleBee.com for more recipes and information!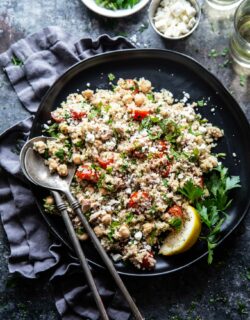 Mediterranean Tuna and Quinoa Salad
Ingredients:
2 cups cooked quinoa
2 cans Bumble Bee® canned tuna
1 cup halved grape tomatoes
1 15oz can chickpeas, drained, rinsed
1/4 cup chopped fresh mint
1/4 cup chopped fresh parsley
juice of 1 lemon
1/4 cup olive oil
2 tbsp red wine vinegar
salt and pepper to taste
feta crumbles, for garnish
Directions:
In a large mixing bowl add quinoa, Bumble Bee® tuna, tomatoes, chickpeas, mint, and parsley. Toss to combine.
In a small mixing bowl whisk together lemon juice, olive oil, red wine vinegar, salt and pepper.
Pour the dressing over the quinoa mixture. Toss to combine. Garnish with feta crumbles and enjoy!
All images and text ©