Mini Cherry & Lavender Skillet Pies
Mini Cherry & Lavender Skillet Pies are a delight summer treat! Fresh cherries and lavender tossed together then poured into a cast iron skillet and topped with a golden puff pastry crust. This will be in your go-to pie rotation all year round! 
And just like that, we're back!
We had a wonderful time at the lake with my family this past week. Even though it was super HAWT that didn't keep us from enjoying all the lake activities. Spoiler alert: three person skiing did not go down (#bummerdude). I'm not giving up hope just yet. Maybe next year will be the year! Right? Right.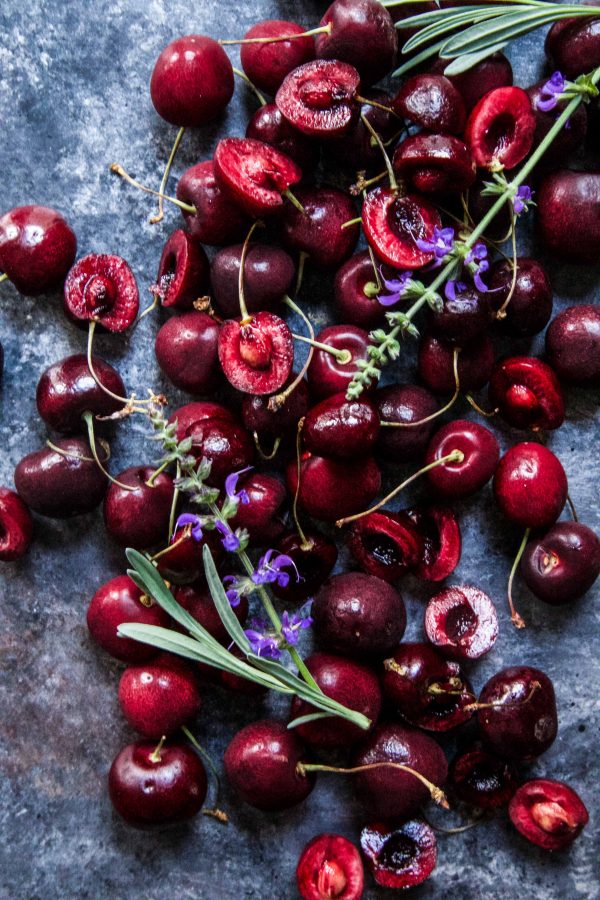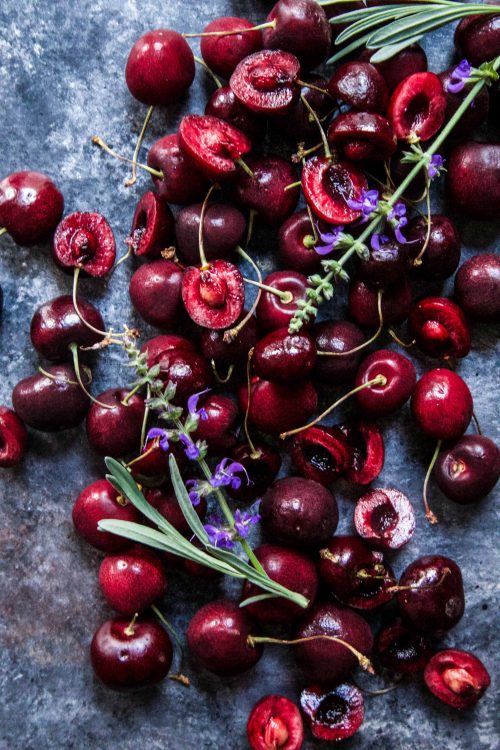 I will say there were two successful things that happened while we were at Table Rock Lake. One, my five year-old niece Josie caught her first fish. I see a future fly fisher in her! Second, my future sister-in-law Arin got up on skis for the first time! She totally rocked it. Everyone concluded her rite of passage into the family is complete and my brother and her can now officially get married.
Anyway, it was the perfect way to end our summer travel! Can you believe that? Come to think of it, we have been on vacation or traveling for the past two months. Mr. B and I are ready to buckle down and get back to the grind for a bit. I have a few fun things planned for today like attending a Cheese Block Party and a dinner at Lynette's Farm in Lyons. Make sure to follow along on InstaStories for all the fun!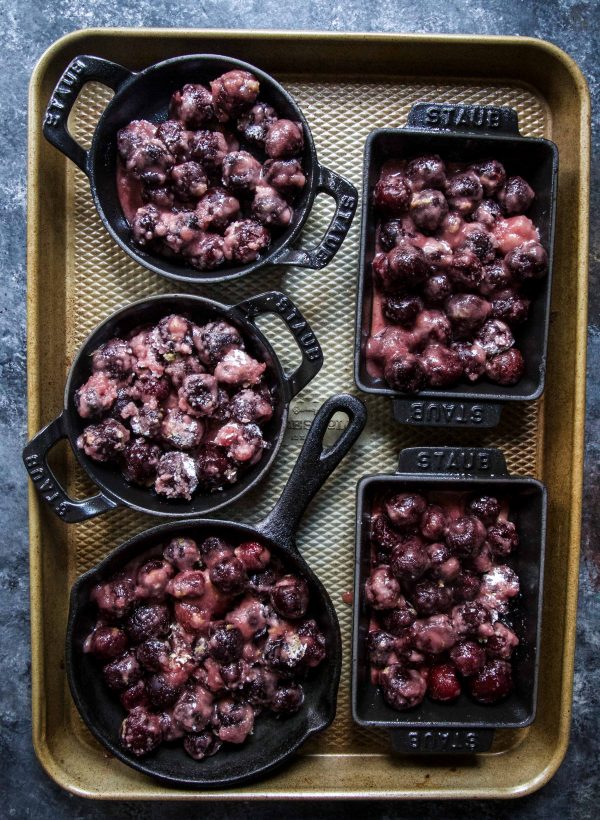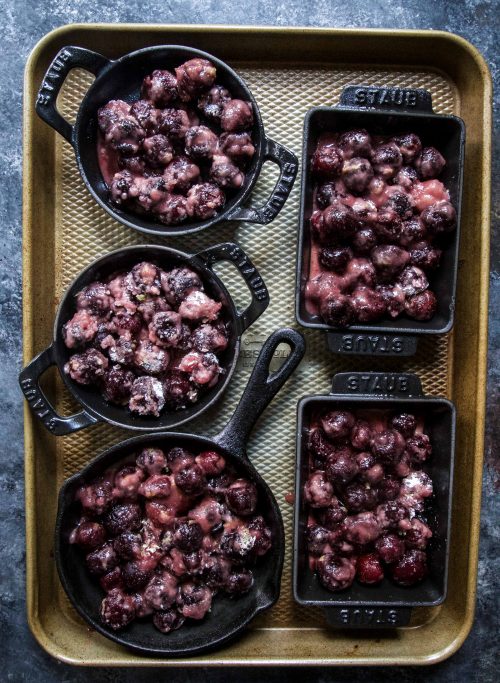 Oh shoot! My attention span is terrible right now. Can you say vacay brain? Geesh. Let's chat real quick about these Mini Cherry & Lavender Skillet Pies. Y'all know that I am not a baker. If you're in the same boat as yours truly then I want to let you in on a little secret. These pies require zero leveling or sifting. Simply combine the cherry filling in a bowl, pour it into a skillet and then top with puff pastry. It still tastes like a pie just without all the lattice drama.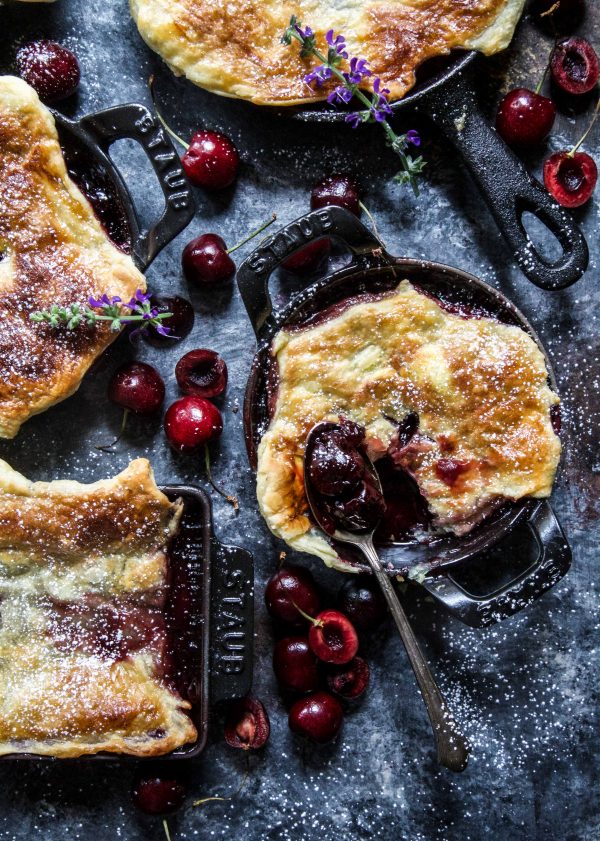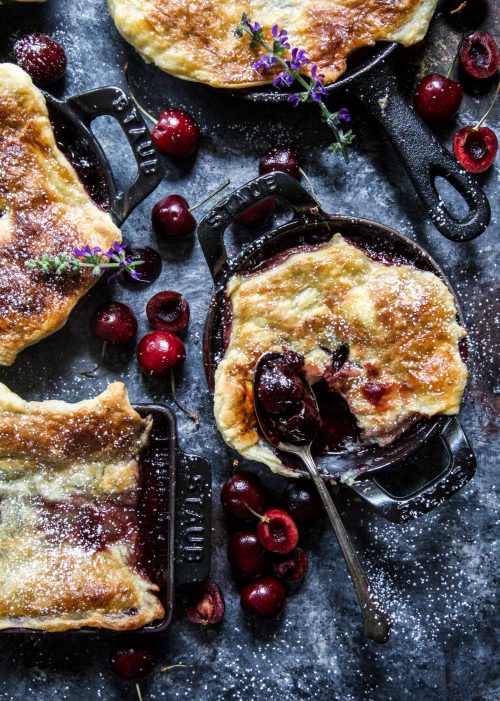 These Mini Cherry & Lavender Skillet Pies are great to serve at a potluck or for an impromptu dinner party. Or make a big batch of them and nosh on them all week long, which I may or may not have done. Shhhh! Don't tell anyone.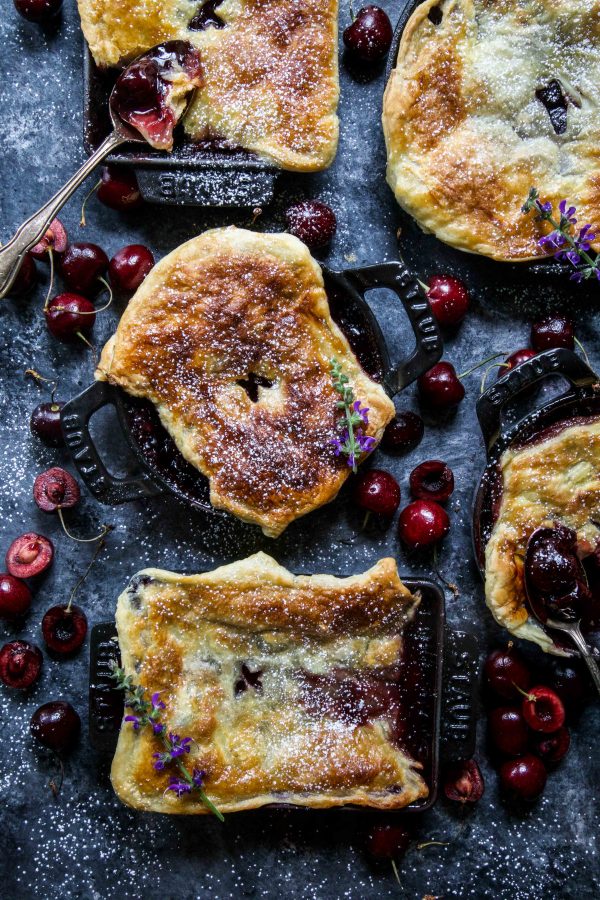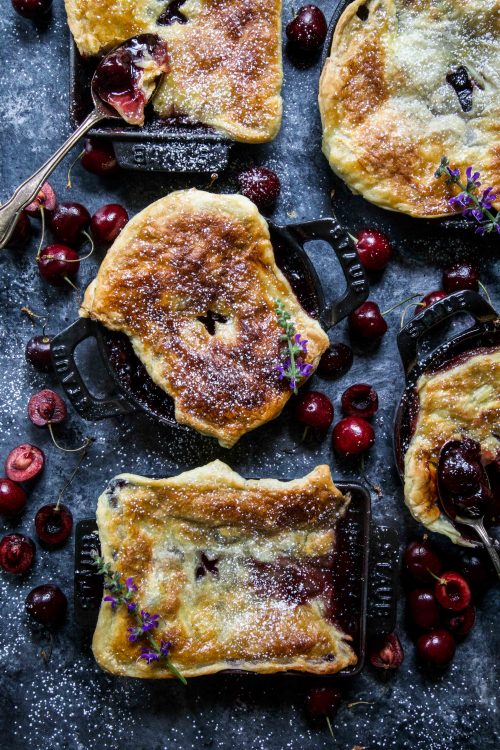 Mini Cherry & Lavender Skillet Pies
Ingredients:
1 lb fresh sweet cherries, pitted or 2 12 ounce bags frozen sweet cherries, defrosted
1 1/2 tbsp corn starch
1/2 cup granulated sugar + more for dusting
2 tsp grated lemon zest
1 tsp dried lavender
1/4 tsp kosher salt
1 sheet puff pastry
1 egg whisked
Directions:
Preheat an oven to 375 degrees. Either spray four 6-inch mini cast iron skillets or one 10-inch cast iron skillet. For this recipe I used the mini skillets. Spray the cast iron skillets with non-stick cooking spray for a little extra insurance. Set aside.
Meanwhile, in a large bowl combine cherries, corn starch, granulated sugar, lemon zest, lavender and salt. Once everything is combined, divide the cherry mixture between the mini cast iron skillets. If you are using the 10-inch cast iron skillet just dump the entire cherry mixture into the skillet.
Next, flour your counter top. Take a sheet of puff pastry and place it on top of the flour. Using a rolling pin gently roll the puff pastry sheet out into a thin square. You don't want the puff pastry to be super thin just thing enough to create a light crust. Take a pairing knife and a cut out four large squares. They don't have to be perfect. Take a square and place it over each skillet. Using your fingers to help spread the puff pastry so it lays nicely on top. Next, take a brush and dip it into the whisked egg. Brush the puff pastry with the egg wash followed by a sprinkle of granulated sugar.
If you are using the 10-inch skillet just lay the entire sheet of puff pastry on top of the skillet. Brush the top with egg wash and sprinkle sugar on top.
Place the mini skillets on a baking sheet and bake them for about 20 minutes checking midway to make sure the tops aren't burnt. If you are baking with the 10-inch skillet you might want to go an extra five minutes longer. Once the crust is golden remove the skillets from the oven and let cool slightly before serving!
All images and text ©