Modern Comfort Cooking One Month Recap!
Modern Comfort Cooking One Month Recap! Check out the month long journey of my first cookbook! Between a cookbook trailer, launch parties, and outstanding reviews, Modern Comfort Cooking has been on one joyous ride!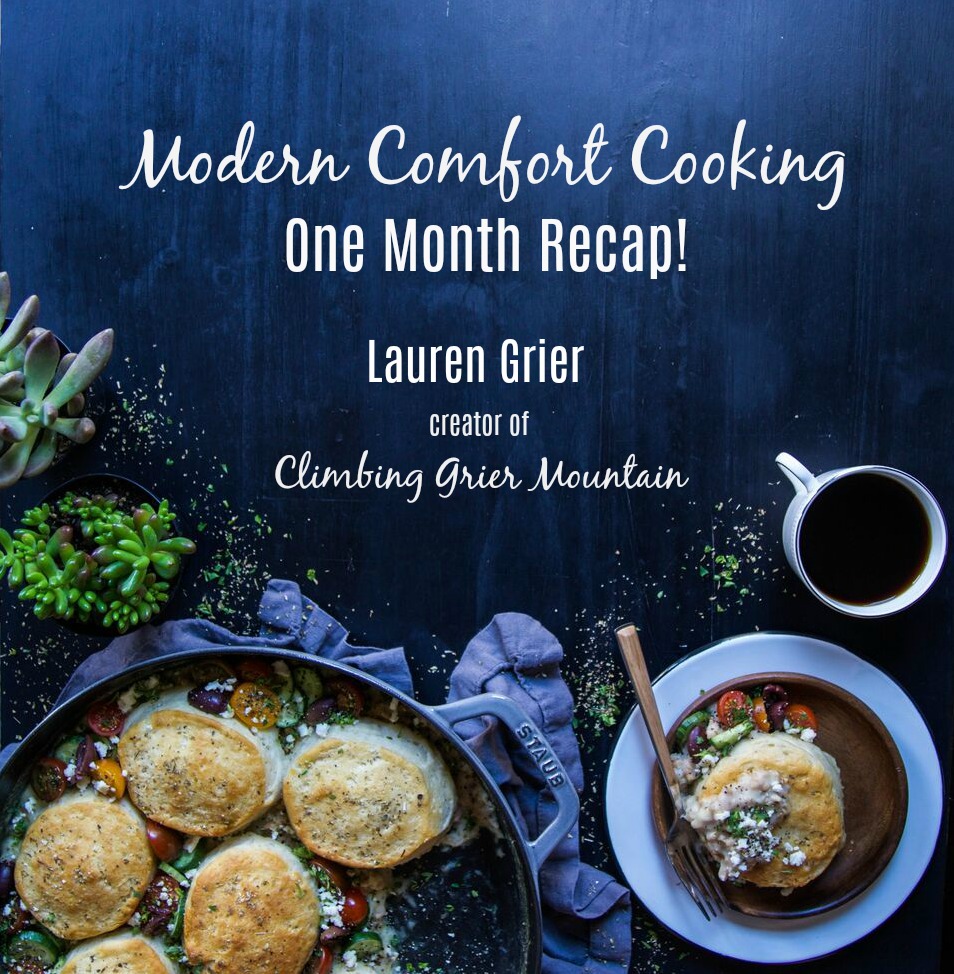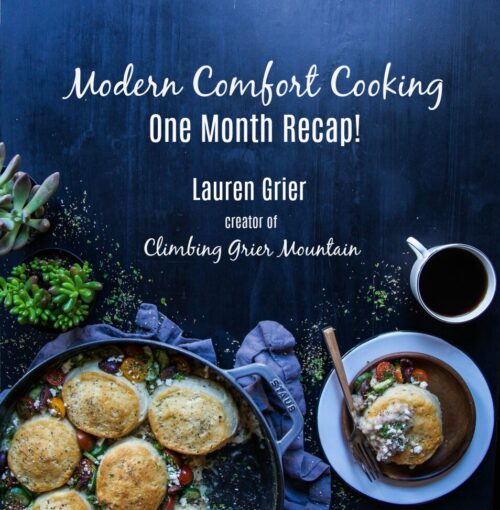 30 days on the dot.
Today, Modern Comfort Cooking has officially been out for one whole month! Can you believe it?
December 5th, 2017 is a day I will never forget. I was full of excitement, anticipation, and to be real honest, nervous as f*ck. Nervous that people wouldn't understand the cookbook. Nervous no one would like the recipes, formatting, or photography.
The photography was a huge hurdle for me. Writing and cooking recipes yes is a challenge, but styling and editing photos was physically draining for me. I remember calling my mom almost in tears asking her how do I keep my energy level up between photoshoots. Every photo took superhuman focus and more energy than I expected. After I was done, I would have to lie down to recharge before the next shot.
Looking back, I'm not sure how the hell I survived the whole cookbook-making process. Modern Comfort Cooking came to fruition in 90 days. 90 days! My Aunt Joan and I would write and develop 10 recipes a week. I swear if I didn't have her help I don't know if I would have made it. Pro tip to future cookbook authors: hire help and delegate.
BUT! I am a firm believer that life doesn't give you more than you can handle and to witness the smiles and praise over the past month have been worth all the blood, sweat and tears.
With that, here is a look back at Modern Comfort Cooking One Month Recap . Between making a cookbook trailer, three launch parties, blogger recipe shoutouts, and reviews from major publications, it's been one hell of a ride!
Monday November 27th – Making a Cookbook Video Trailer
I debated whether or not to do a "trailer" for the cookbook. I told myself, "Lauren you don't have time to do one.more.thing." But once I found the Meili and Stephen of Olena Films, I knew the universe thought otherwise.
What took about 8 hours to shoot for about two minutes of film is something I will cherish forever. It was a chance for me to take a moment and get excited about the launch of the cookbook. Cooking for Meili and Stephen and seeing their eyes light up when they devoured Mumbai Shrimp Tacos, I knew I had nailed it.
Anyway, once I saw the trailer, I cried tears of joy for a full five minutes. The trailer captured the heart and soul of the cookbook. And now I can cherish that moment for the rest of my life. If you haven't seen the trailer, you'll want to press play….right now.
Wednesday November 29th – Going Back to My Hometown
My hometown is where everything kicked off. One week before the official release date of the cookbook and there I was standing in Central Standard Brewing waiting for the crowd to arrive. With 50 bags of swag and a beautifully styled giveaway table (thanks to my sister-in-law Kelly!), I paced and fretted wondering if people would show up to bear witness to my creation.
Well, as they say, if you build it they will come. What felt like a giant family reunion, Wichita, Kansas was the perfect setting to showcase Modern Comfort Cooking. The best part? We had the highest pre-order to date!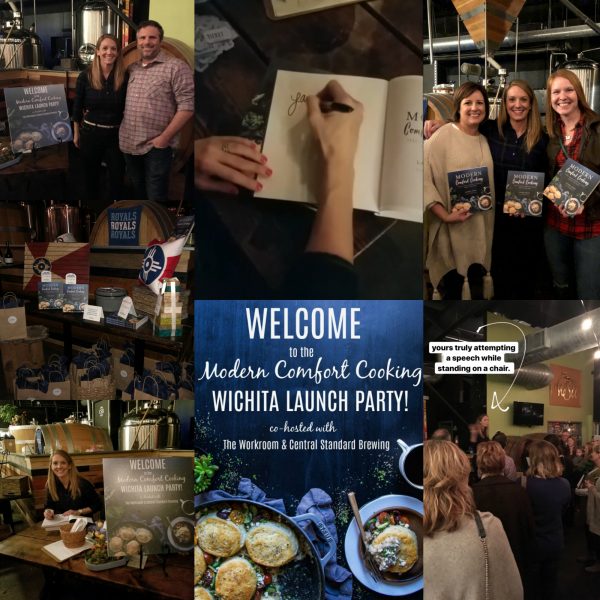 Tuesday December 5th – My Beloved Denver
Barnes and Noble – 10:20am
Mr. B had a brilliant idea to visit a Barnes and Noble and do an official author walk. True story: I actually called ahead to make sure they had Modern Comfort Cooking in stock. Thankfully the gentleman kindly responded, "Yes, we have several. Lauren Grier is the author's name just to confirm. Would you like for me to hold one?" No need I replied. I hung up the phone and off we went.
Strolling up to the front doors I was a mix of emotions. Caught somewhere between, "damn right I deserve to be in Barnes and Noble" to "F*ck I am in Barnes and Noble." As we ventured to the cookbook section, I felt like I was floating outside myself. It took an eternity to find the cookbook, when finally Mr. B spotted it. In case you want to know it was listed by author's last name. Duh!
I reached for the cookbook and slowly came back into my body. I smiled and flipped through it. Bursting with joy and overcome with relief. It was officially out in the world.
Oh, and before we left, you can bet your sweet tookus I reshuffled a few Rachel Ray cookbooks to make Modern Comfort Cooking stand front and center. I had completed my author bookstore initiation.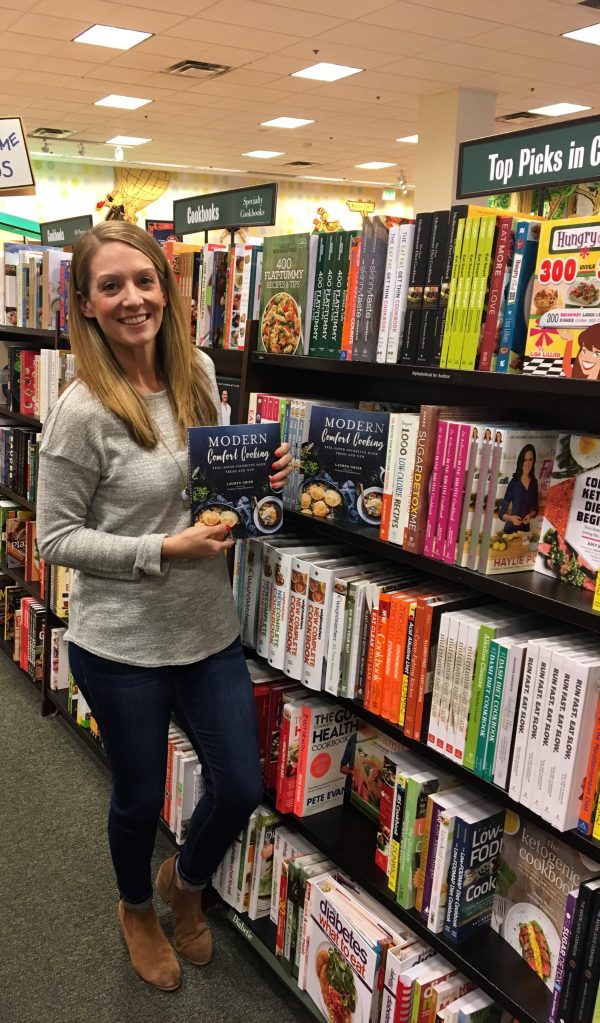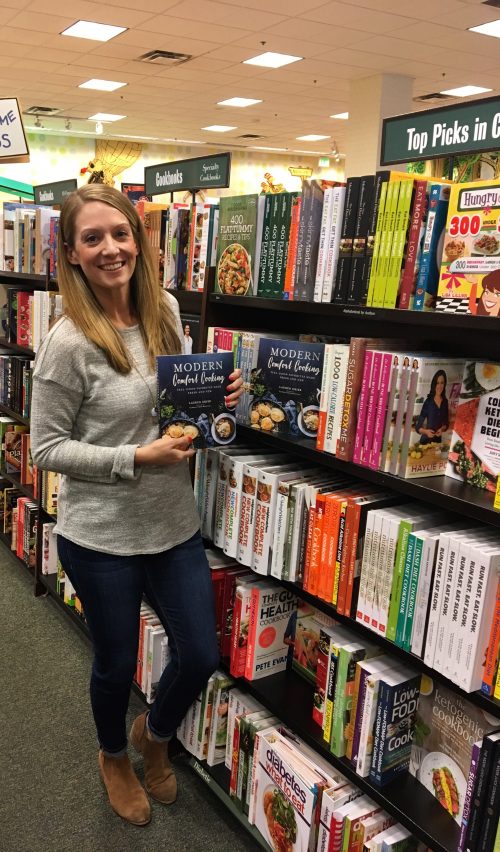 10 Barrel Brewing – 5:35pm
I wanted to be in Denver for the official launch date of Modern Comfort Cooking. Mr. B and I have lived in the Mile High City now for a decade (still can't believe it!) and I wanted to pay homage to a city that started it all. 10 Barrel Brewing was the chosen venue for the evening. Between their craft beer, insanely delicious nachos, good friends, and more sold out cookbooks, I couldn't have asked for a better launch party.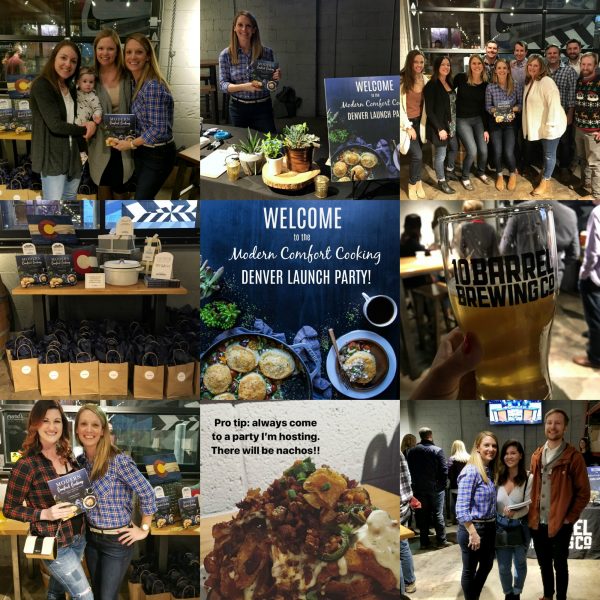 Thursday December 7th – Family, Friends, and Sorority Sisters of Kansas City
Last, but not least we ended the launch tour at a swanky social club in Kansas City called SOT. My goal for this launch party was to have a more intimate atmosphere. Close friends and family made catching up and toasting to the cookbook that much more special.
One of things I learned most of all is that it takes a village to write, produce and promote a cookbook. I'm a lucky girl that I was able to say thank you to a core group of folks that have always believed in me. Kansas City's launch party was one for the books!
Modern Comfort Cooking National Publication Features:
– Real Simple Magazine: Voted Modern Comfort Cooking the #1 December cookbook for holiday gifting and buying!
– Washington Post: Featured Modern Comfort Cooking's Shrimp Scampi Zucchini Noodles!
– O, The Oprah Magazine: Featured Modern Comfort Cooking casserole recipes that are must make for 2018!
– Food52: Featured Modern Comfort Cooking champagne marshmallow treats as the perfect dessert for the New Year!
Food Blogger Recipe Reviews:
One of the best things about being a blogger is being connected to so many wonderful and talented people. The food blogging community is unique in that we don't get to see each other in a traditional office setting, but we make it for it with continuous support and encouragement. Below are a few food bloggers that I love and admire. They graciously took the time to write and review a recipe from Modern Comfort Cooking. I am forever in their debt!
– Floating Kitchen: Champagne Marshmallow Treats
– Rachel Cooks: Chai French Toast Skewers
– The Lemon Bowl: Asian-Style Sloppy Joes
– Cake-n-Knife: Twice Baked Stuffed Chicken Shawarma
– Recipe Runner: One Pot Greek Biscuits and Gravy Cobbler
– Well Plated: Champagne Marshmallow Treats
– Simply Scratch: Lebanese Margherita Lamb Pizza
– Set the Table: Bacon and Kimchi Mac & Cheese
– The Food in My Beard: Beef Stroganoff Toasts
– Melanie Makes: Beef Stroganoff Toasts
– A Beautiful Plate: Mumbai Shrimp Tacos
– Macheesmo: Bacon and Kimchi Mac & Cheese
– Dessert for Two: Philly Cheesesteak Pasta
– Chelsea's Messy Apron: Chicken Cheesesteak Baked Ziti
– Sweet Phi: Champagne Marshmallow Treats
– Chez Us: Cauliflower Clam Chowder with Crispy Bacon
Anyway, a huge thank you to everyone for all your love and support. The first month of this cookbook has been an overwhelming flood of emotions and I couldn't be happier.
Looking forward to see what 2018 will bring for Modern Comfort Cooking. Cheers!