Spiced Vietnamese-Style Beef Skewers
Spiced Vietnamese-Style Beef Skewers are a delicious, no-fuss dish full of flavor!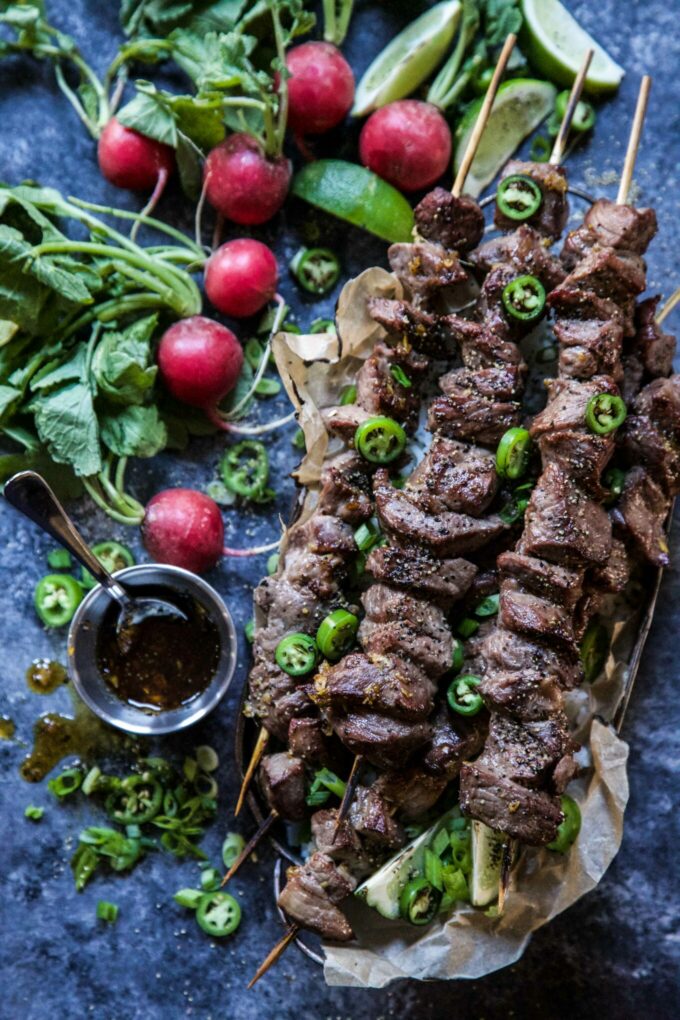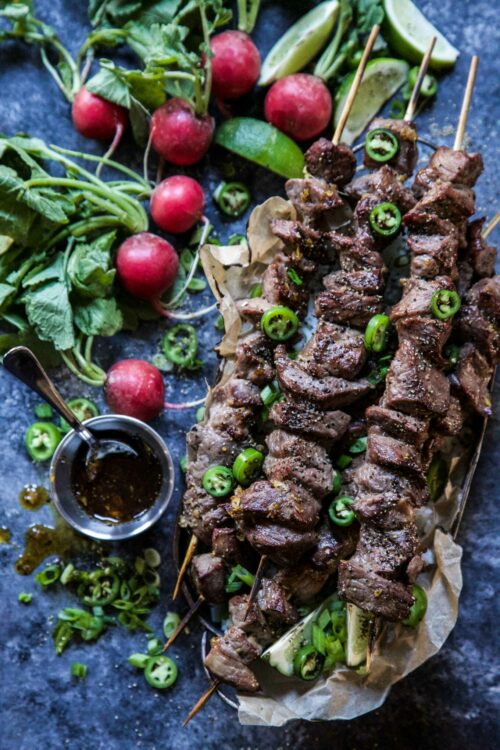 Welcome to 2018, friends!
First of all, I want to say thank you to all of you who have followed Climbing Grier Mountain over these past seven years. 2017 was a big year for CGM. Between travel and the cookbook, it was definitely one for the books. I couldn't have done it without y'all by my side!
Second, I want to say welcome to the new readers! I'm so glad that you are here and are joining this journey. What I can promise you is a joyous adventure full of comforting recipes, laughter, and a chance to push yourself out of your comfort zone. My goal here at CGM is about connection and making yourself better from the inside out. So, hold on for the ride because 2018 is going to be the best year yet. I can feel it!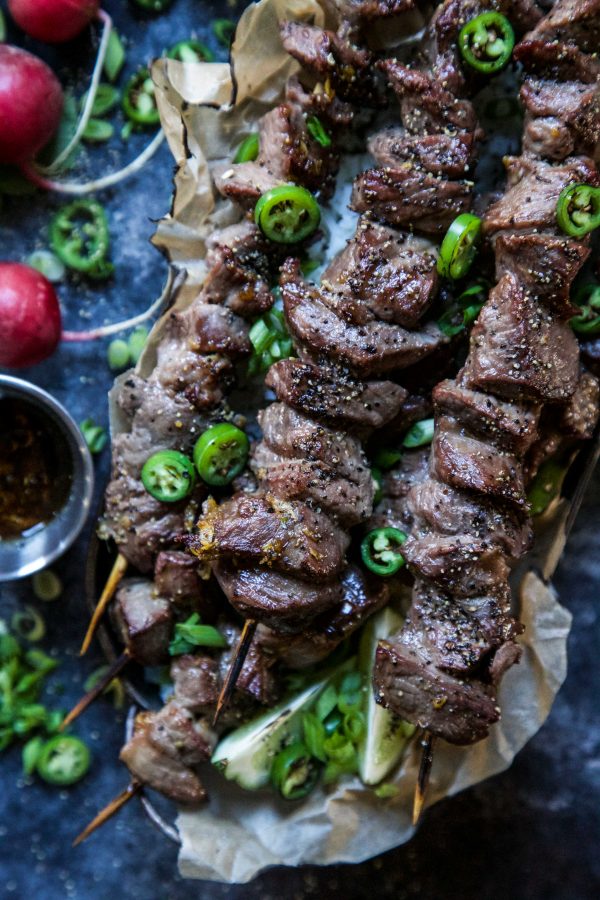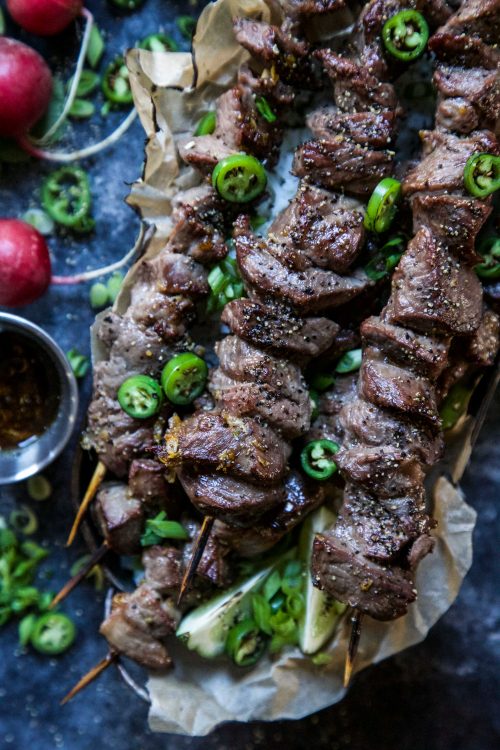 With a new year comes endless possibilities. I am always on the lookout for new flavors, new travel destinations or new ways to improve my life. As I was sorting through what I wanted to accomplish this year, I wanted to ask what are some of your goals for 2018? I would love to know because we are friends, right? Right.
One of my main goals this year is to push people in the kitchen when it comes to flavor. I found through the cookbook process that people are hesitant to cook with spices like turmeric, paprika, red pepper flakes, etc. Let me fill you in on a little secret: Eating these kinds of spices doesn't mean your tongue is going to fall off. Spices are meant to bring warmth to dishes without having to add a lot of fat to the dish. Can you say winning?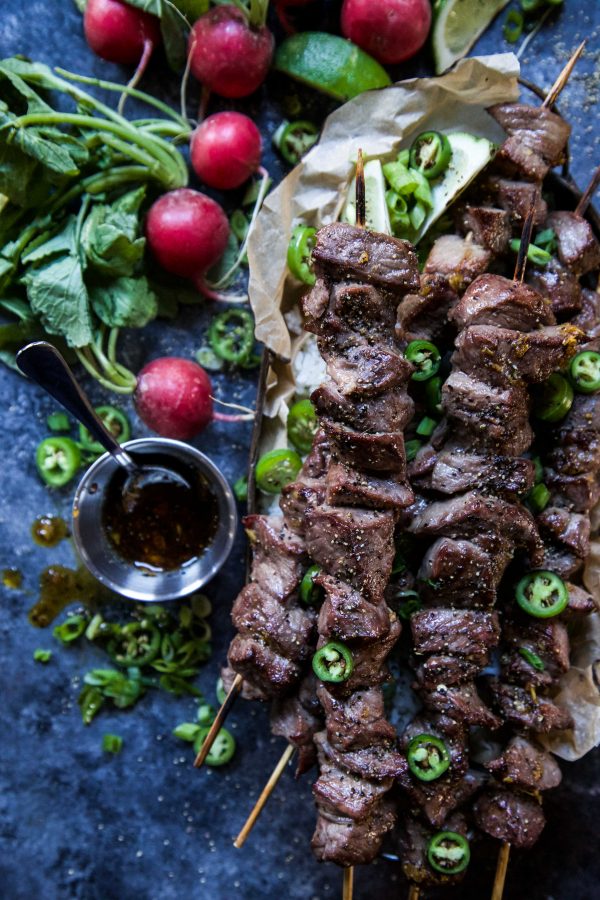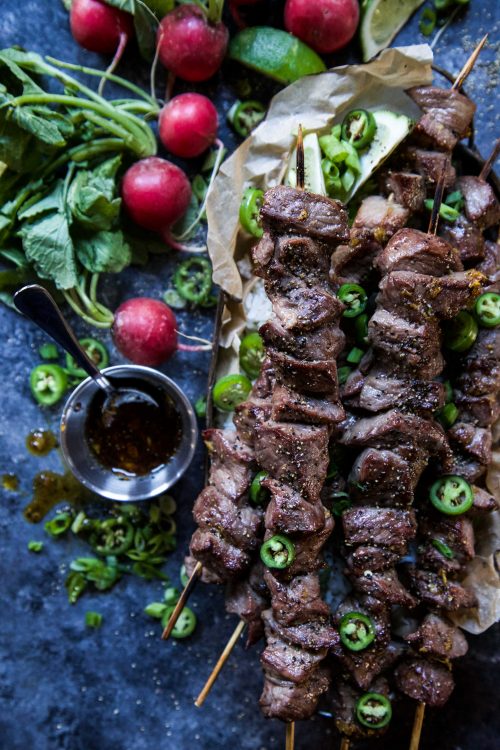 Which brings me to today's recipe these Spiced Vietnamese-Style Beef Skewers! One of my new favorite go-to's during the weeknight because these can be made ahead of time. Or whipped up in 30 minutes if you are running around like yours truly. Simply make the spiced sauce, grill the beef skewers, dip, and eat! Simple, easy, and delicious. Actually that should be our motto for 2108. Who's with me?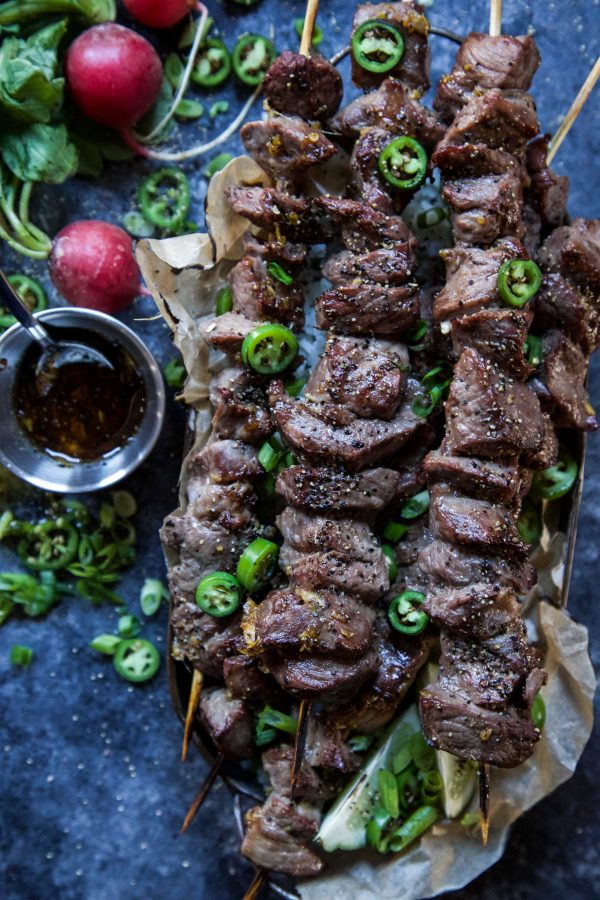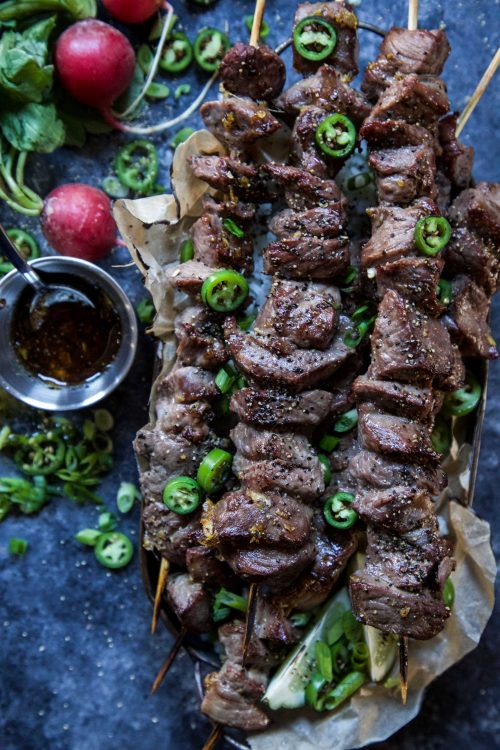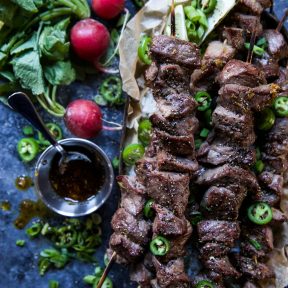 Spiced Vietnamese-Style Beef Skewers
Spiced Vietnamese-Style Beef Skewers are a delicious, no-fuss dish full of flavor! 
Ingredients
½ cup granulated sugar
3 tbsp fish sauce
1 garlic clove, grated
1 tbsp grated fresh ginger
½ tsp ground coriander
½ tsp ground cumin
¾ tsp ground pepper
2 lbs beef stew cubes, cut into 3/4-inch cubes
1 tbsp olive oil
Lime wedges, for garnish
Jalapeno rounds, for garnish
Radish slices, for garnish
Instructions
In a medium skillet add the granulated sugar and spread into an even layer. Heat the skillet to medium-high heat. As the skillet starts to heat, begin to swirl the skillet making sure the sugar does not burn. Whatever you do don't whisk the sugar. Just keeping swirling until the sugar is golden brown about two to three minutes.

Next, add in the 1/3 cup water. Careful it will be hot and will sizzle. Keep swirling the pan once you've add the water for about 30 seconds.

Stir in the fish sauce, garlic, ginger, coriander, cumin, and pepper. Once combined remove the skillet from the heat and set aside.

Meanwhile, thread beef onto a few skewers. With 2 lbs of beef cubes I got about 5 skewers threaded. Cover the skewers with olive oil.

Heat a grill pan to high heat and then grill the skewers for about five to six minutes turning to make sure all the meat is evenly browned.

Remove the skewers from the grill and place on a platter. Drizzle the tops of the skewers with the sauce and garnish with lime wedges, jalapeno rounds, and radish slices!
Did you make this recipe?
Please leave a comment below and share a photo on Instagram with the hashtag #thecuriousplate!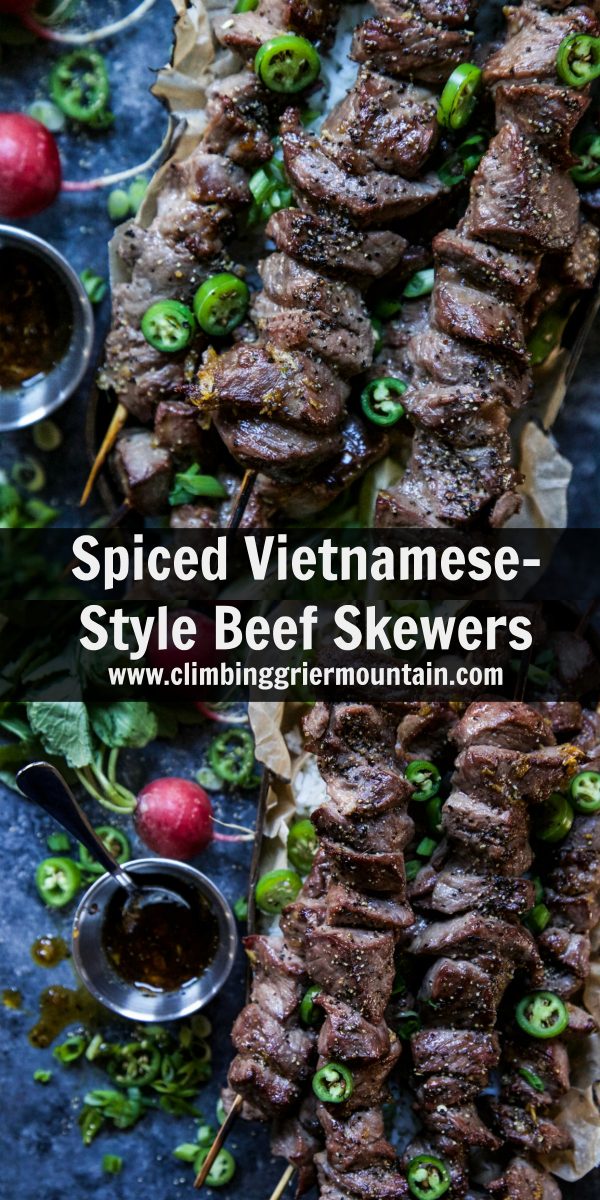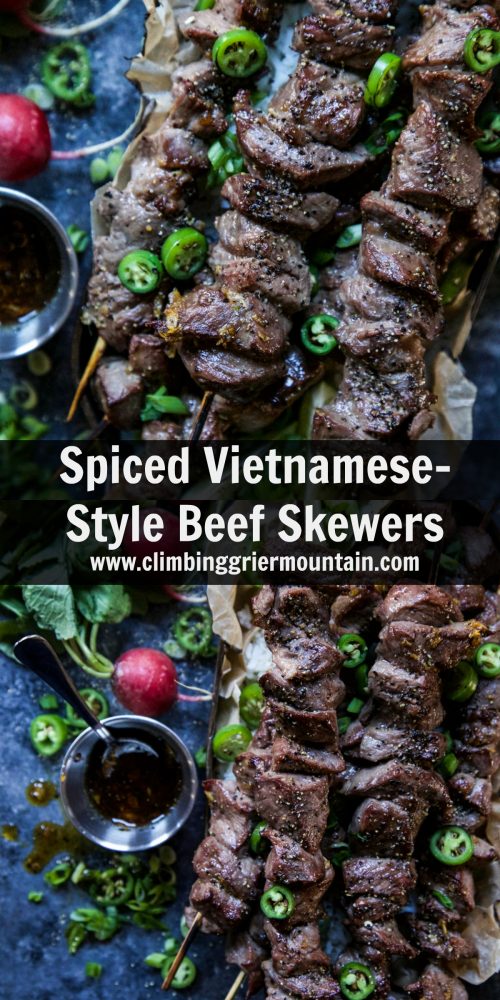 In conclusion, our Spiced Vietnamese-Style Beef Skewers offer an authentic burst of flavors that will elevate your grilling game. With each delicious bite, you embark on a culinary journey that celebrates the rich and vibrant taste of Vietnamese cuisine. Enjoy the fusion of spices and authentic delights that these skewers bring to your table!