monte cristo lasagna
Monte Cristo Lasagna – is a fun twist on a Monte Cristo sandwich. Made with lasagna noodles, white cream sauce, ham, shredded Swiss cheese, turkey, and topped with golden puff pastry. Serve this Monte Cristo Lasagna for breakfast, lunch, or dinner.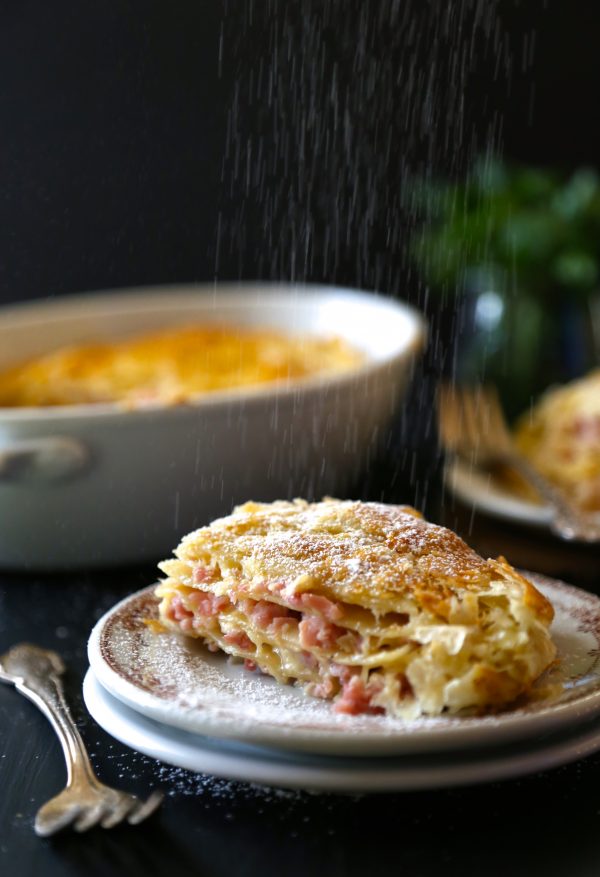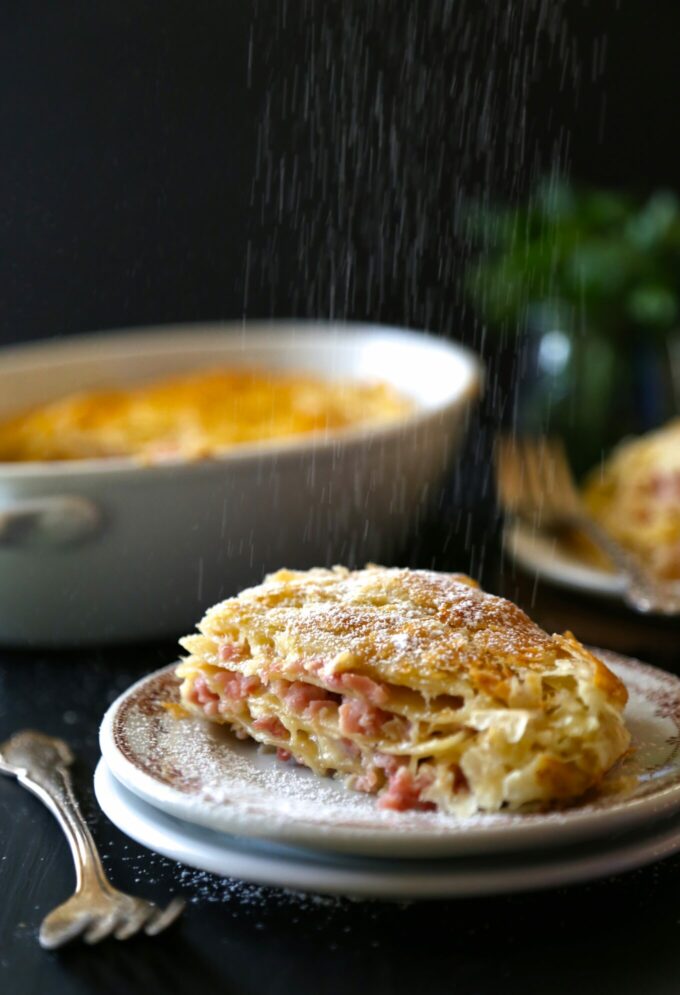 Have you ever been somewhere that just gets you?
As in every detail, corner, object, and smell makes you sparkle, inside and out. Well, I found my little sparkly mecca when I traveled to
Cleveland
, Ohio this October with the
ADA Mideast
folks. I'm talking about a little place called
Melt Bar & Grill
. Matt Fish, the owner of Melt Bar & Grill, is a complete genius. Every grilled cheese on the menu is deliciously thought-out and makes your inner phat kid want to party until the cows come home.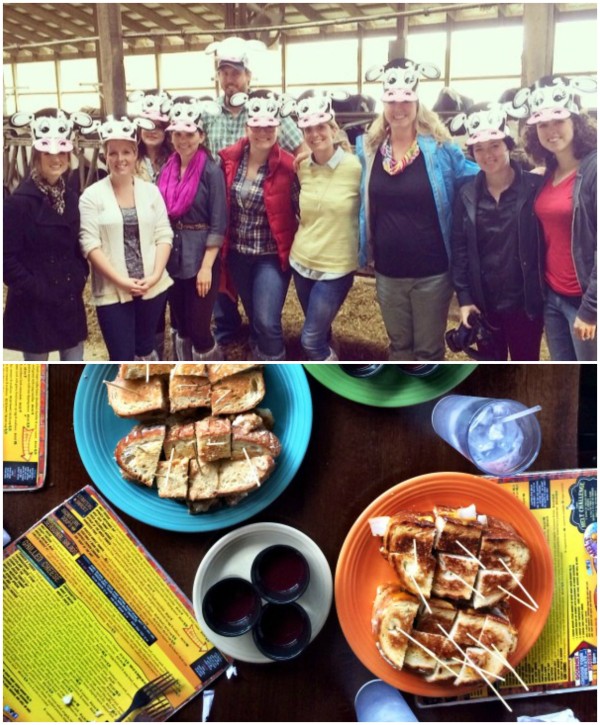 There was Fried Green Tomato BLT, Beef Bologna Slab, and Mom's Meatloaf, oh my! Each grilled cheese peaked my curiosity and had me jazz-hands-ing for more. But for me, the piece de resistance was the Monte Cristo.
You've heard of this little fellow, right? Fried ham, turkey, and cheese sandwich dusted with confectioners sugar. This famous sandwich (hello, they wrote a book about it. wait. the book isn't about the sandwich? no wonder English lit was confusing) even has a sister-cousin called the croque-madame.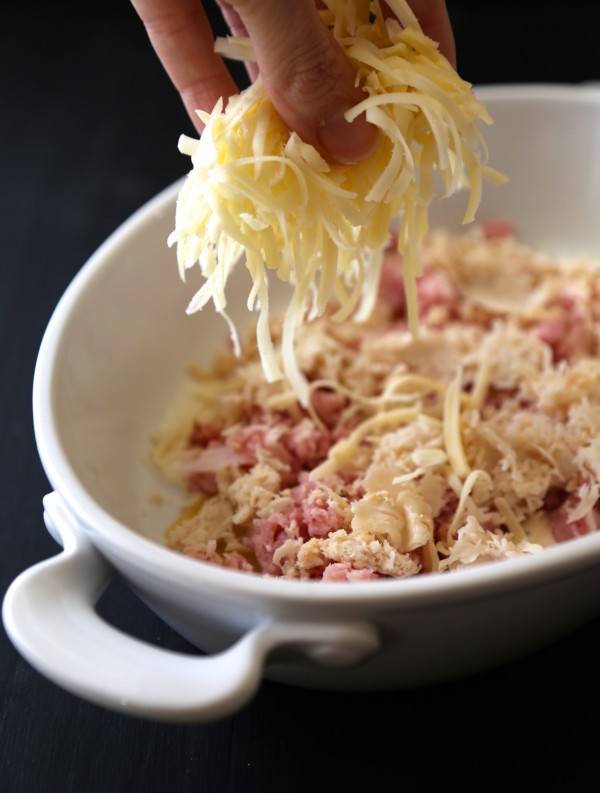 Now, you can't talk about decadent grilled cheese without talking about lasagna. Do WHUT? Just go with me for a second. Don't get me wrong, I luvvvvvv me some grilled cheese. But it's the holidays and with the potlucks every other night, things can get a little hectic. So, I decided to turn the Monte Cristo into a more portable vehicle, lasagna.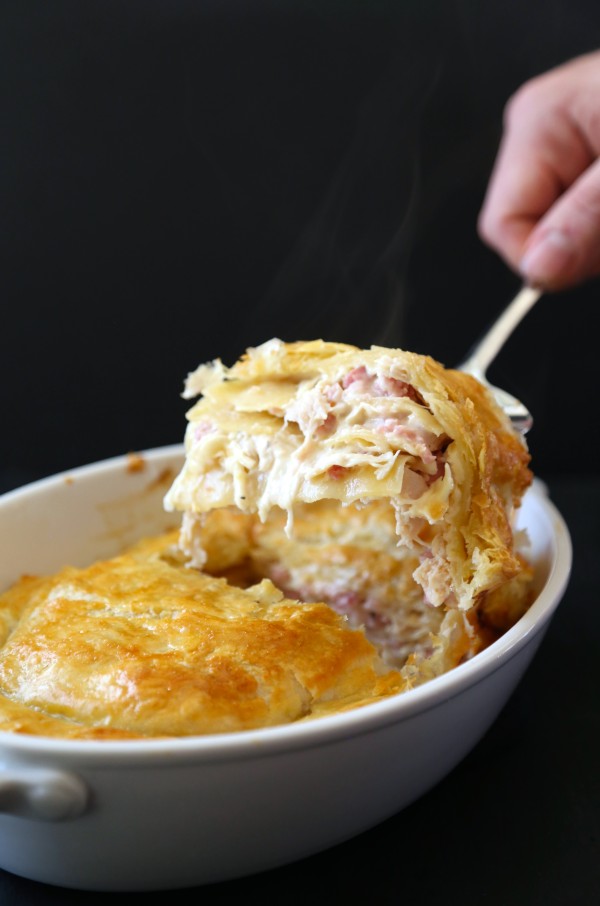 Layers of noodles, ham, turkey, Swiss cheese, white sauce, and a perfectly golden puff pastry crust makes this dish the must-have for any holiday recipe exchange. Oh! And speaking of recipe exchange, I want to invite y'all along to our holiday recipe exchange party!
The amazing peeps over at ADA Mideast along with a fab group of bloggers listed below are joining forces to spread the word about the Great America Milk Drive (GAMD). This program delivers highly desired and nutrient-rich gallons of milk to hungry families. Pretty sweet, huh?!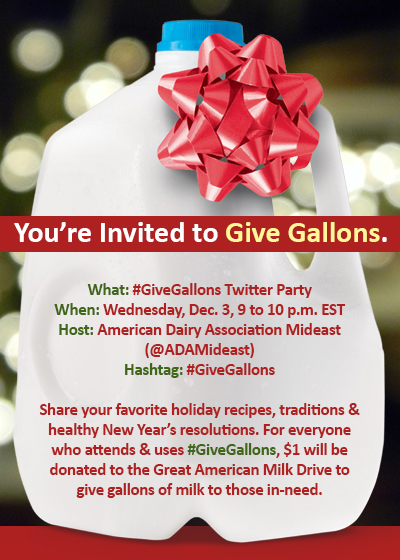 But wait. Here's where you come in, my friends. For every "like," share or comment of our recipe photos on the ADA Mideast Facebook page from today through Dec. 12, ADA Mideast will donate $1 to the GAMD. Plus, the country's dairy farmers and milk companies will match the total donation, doubling the gallons of gifts! YIPPEEE!!!
Make sure and check out the rest of the dairy crew and their fabulous recipes!
Shugary Sweets – Eggnog Latte
In Katrina's Kitchen – Gingerbread Steamer
The Law Student's Wife – Cheesy Mushroom Puff Pastry Bites
Lemons for Lulu – Hot Bruschetta Dip
Garnish With Lemon – Slow Cooker Reuben Dip
The Lemon Bowl – Chicken and Mushroom Casserole with Crispy Panko Topping
Eat2Gather – Cheese Platter 101
Dessert for Two – Skinny Chocolate Peppermint Mousse
Inside BruCrew Life – Hot Chocolate Cheesecake Dip
Food, Faith, Fitness – Coconut Pistachio Crepe Cake
Love Grows Wild – Sausage Cheese Breakfast Casserole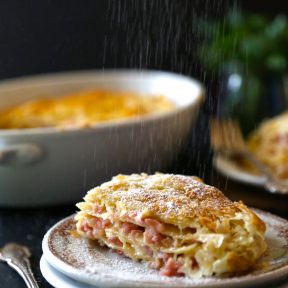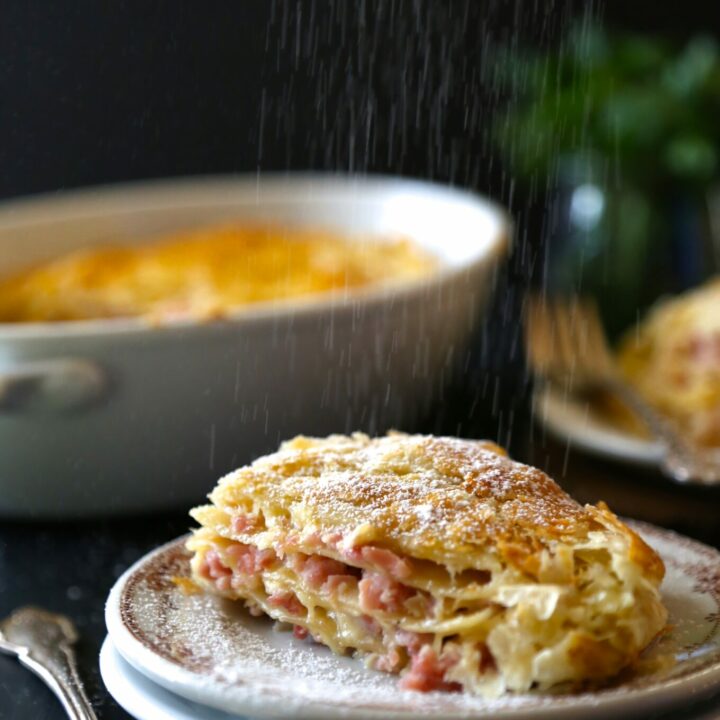 Monte Cristo Lasagna
Monte Cristo Lasagna – is a fun twist on a monte Cristo sandwich. Made with lasagna noodles, white cream sauce, ham, shredded swiss cheese, turkey, and topped with golden puff pastry. Serve this Monte Cristo Lasagna for breakfast, lunch, or dinner. 
Ingredients
1 package no boil lasagna noodles
2 cups cooked ham, diced
1½ cups cooked turkey, diced
3 cups Swiss cheese, shredded
1 sheet thawed puff pastry
6 tablespoons all-purpose flour
6 tablespoons unsalted butter
3 cups whole milk
⅛ teaspoon nutmeg
1 egg
confectioner sugars, dusting
Instructions
Preheat oven to 400 degrees.

In a medium saucepan preheated to medium heat, melt six tablespoons of butter. Add the flour and whisk until the flour is cooked out and you have roux. Gradually add the milk and nutmeg. Whisk until the sauce has thickened about five minutes. Stir in a little s&p too.

Spray a standard 13X9 baking dish with non-stick cooking spray. Pour 1/3 cup of the white sauce on the bottom of the baking dish. Then grab 3 noodles and place them over the sauce. Then spread 1 cup of the white sauce over the noodles and top it with 1/2 cup ham, 1/2 cup turkey, and 1 cup Swiss cheese. Repeat layering 2 more times!! On the final layer of noodles, pour any remaining sauce over the top and sprinkle with remaining cheese. Next, top the lasgana with a sheet of puff pastry. In a small bowl, whisk an egg and brush the top of the puff pastry with the egg wash. Make sure to make two or three small cuts in the puff pastry to keep it from rising.

Bake lasagna for about 40 to 45 minutes or until golden brown. Remove from oven and cool slightly before serving and dusting with confectioners sugar!
Did you make this recipe?
Please leave a comment below and share a photo on Instagram with the hashtag #thecuriousplate!