moroccan spiced chicken enchiladas with harissa red sauce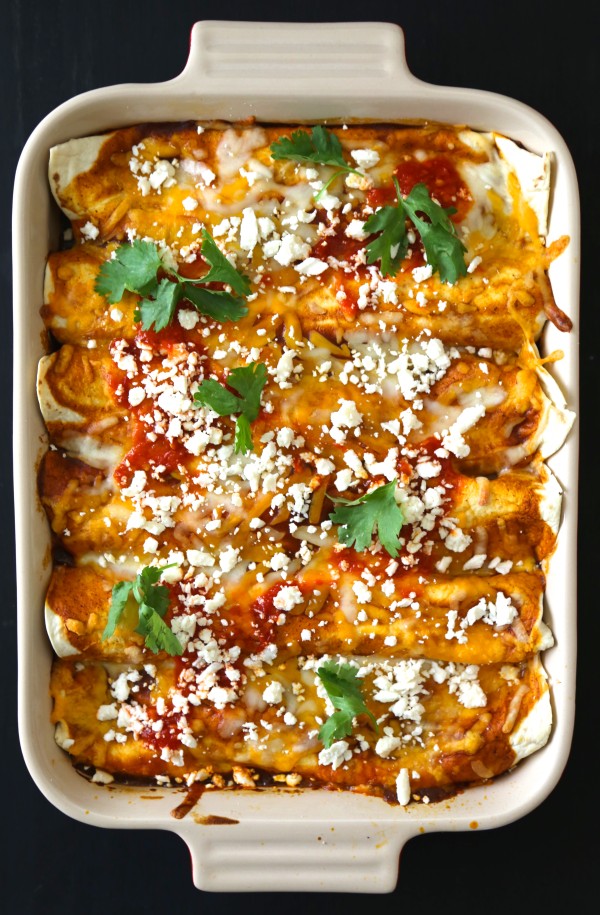 Weeknight dinners can be frustrating.
And I say this as if I cook for seven kids, a husband, and two dogs. But that's far from the truth. Dinner on the weeknights are 86% just Mr. B and I. We sit on the couch, catch up on The Big Bang Theory, Homeland, Sons of Anarchy, and nibble away at whatever I managed to cook up that evening. There's nothing magical to this equation.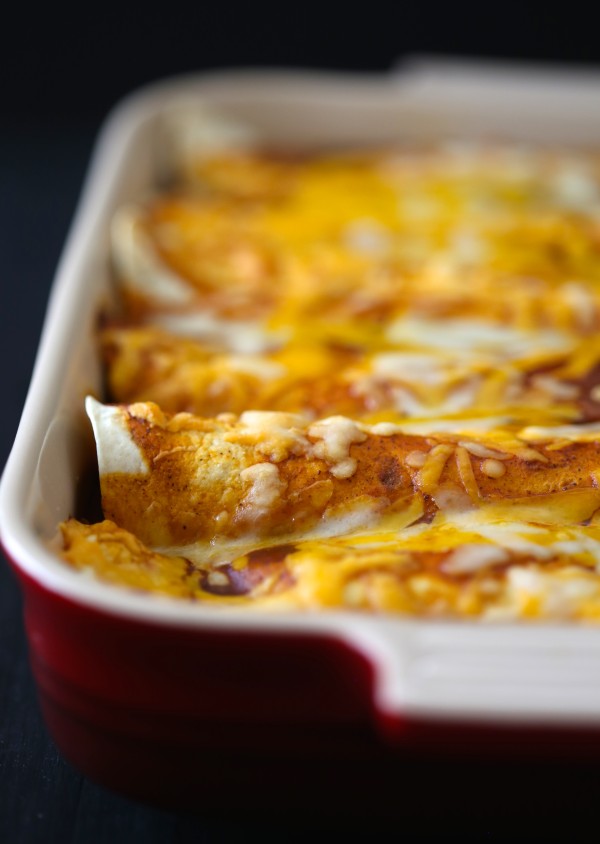 Still, every time Sunday rolls around (and I get a case of the Sunday evenings), I want to pull my hair out at the thought of meal planning. You'd think with the amount of hyperventilating I do,  I was planning on feeding the Queen of England. But I don't think it's so much about who I'm feeding, it's what I'm eating. Because no one wants to end their day with a bowl of stale Cheerios. Am I right?
Which is why when I am in a mega weeknight dinner decison-making rut, I go for a staple: enchiladas.  Believe it or not, enchiladas are a new dinner rotation in the Grier household. GASP! I have been trying new versions every week and recently I added harissa to the sauce!! Get excited.
You've heard of harissa, right? If not, you've got to meet my homegirl, Mina Harissa. She makes ready-to-go jarred harissa in three different flavors: green, mild & spicy red. Shoot. Where are my manners? Harissa is a North African spice made up of red chili pepper, garlic, red bell pepper, olive oil, and vinegar. Delish!
Anyways, I added harissa to the enchilada sauce, tossed the sauce with the Morrocan spiced chicken, stuffed the tortillas, covered the tops with gobs of cheese, and baked until the all flavors combined. It's a weeknight dinner fit for royalty sans the Queen of course.
To learn more about Mina Harissa, visit their webiste and follow them on Facebook and Twitter.
***This post was sponsored by Mina Harissa. As always, all opinions expressed are 100% my own***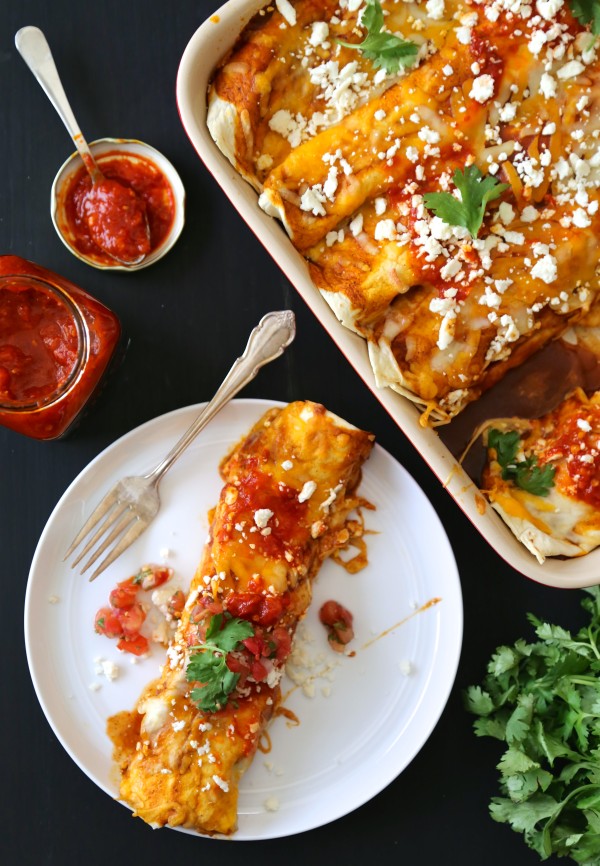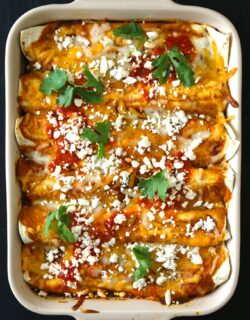 Moroccan Spiced Chicken Enchiladas with Harissa Red Sauce
Ingredients:
2 1/2 cups chicken breast, cooked, chopped
1 tablespoon cumin
1 teaspoon coriander
1/2 teaspoon cinnamon
4 ounces plain cream cheese, room temperature
1/4 cup Spicy Mina Harissa
2 1/4 cups Red Enchilada Sauce
1/2 cup cheddar cheese, shredded
1/2 cup mozzarella cheese, shredded
8 flour tortillas
Feta crumbles, garnish
Cilantro, garnish
Pico de gallo, garnish
salt and pepper to taste
Directions:
Preheat oven to 350 degrees.
In a large bowl combine, chicken breast, cumin, coriander, cinnamon, cream cheese, Mina Harissa, one cup of the red enchilada sauce, salt, and pepper. Pour 1/4 of the red enchilada sauce on the bottom of a 9 x 13 baking dish. Next, fill a tortilla with the chicken mixture and roll. Place the tortilla seam side down in the baking dish. Repeat until all the chicken has been used. Once you have filled the baking dish, pour the remaining enchilda sauce over the top of the tortillas. Top with cheddar and mozzarella cheese. Bake uncovered for 30 minutes or until warmed through and the cheese has melted. Remove from oven and garnish with cilantro, pico, and feta crumbles.
All images and text ©