trip recap: biarritz, france – part two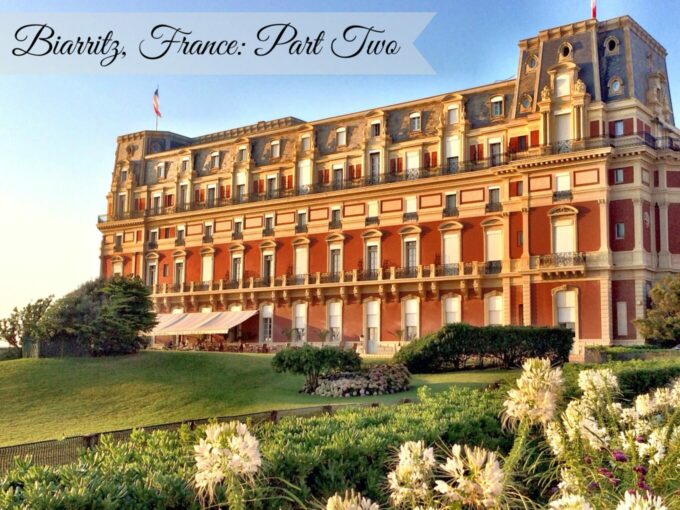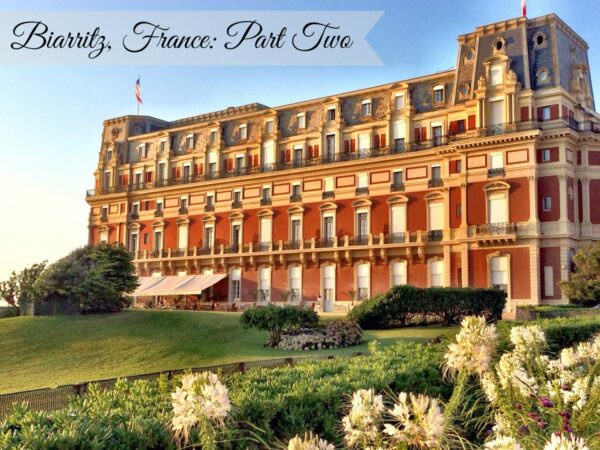 Bonjour!
Welcome to part two of my recap of Biarrtiz, France. If you are just joining our little adventure, I kindly suggest you check out part one to see what we have been up to so far.
Now, where were we?
Oh, yes, fish heads.
Wait. Let me explain.
One of my must-dos on this trip was to take a traditional French cooking class. My uncle Michael, who regularly takes culinary classes, suggested that we try a class at Gourmet Kitchen.
On Tuesday morning Mr. B and I arrived at 9am (considered early by French standards) eager and ready to get our hands busy. Our instructor was Chef Jean. He was knowledgeable, hospitable, and spoke enough English to keep our deer-in-the-headlights moments to a minimum.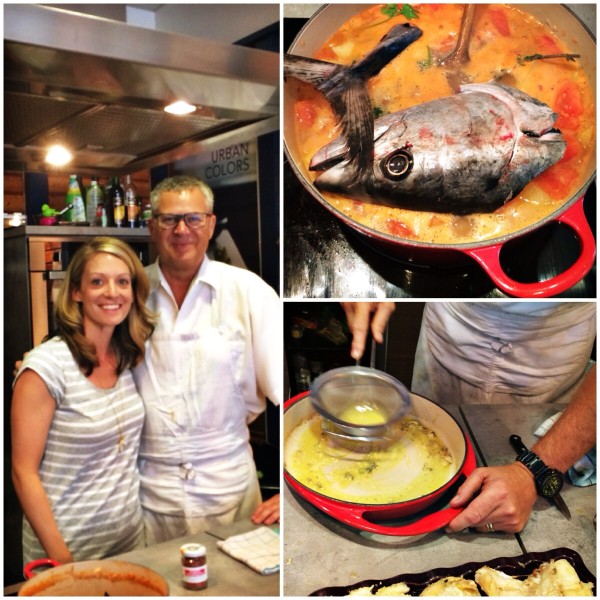 Mr. B and I didn't know this at the time, but we thought we would be dicing and slicing during the class. Well, the French take a little different approach. Basically, you observe the chef and then replicate the recipes at home. We were both a little bummed about not being able to "Iron Chef" the ingredients, but watching Chef Jean gut a fish and place a fish head into a stew was priceless. The visual display was well worth it.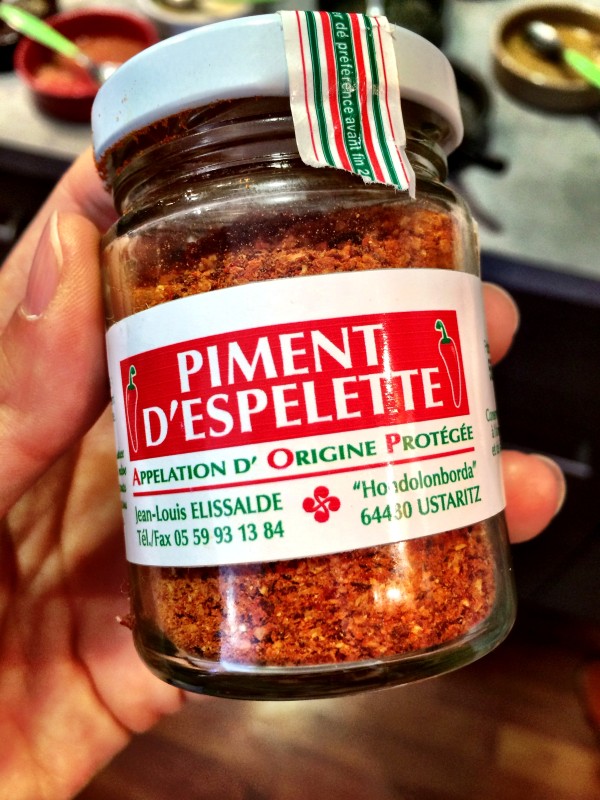 Chef Jean started two amazing dishes by infusing the olive oil with a Basque pepper, piment d'Espelette. From there he layered the dishes with garlic and onion, in essence creating his own vegetable stock. Chef Jean hardly used pepper and salt, and no ingredients went to waste. He even made mayonnaise from cod fat after he sautéed it.  Can you say bad-ass? Mr. B and I left the two-hour cooking class scratching our heads saying, we didn't cook a darn thing, but learned some fresh new approaches to French cuisine.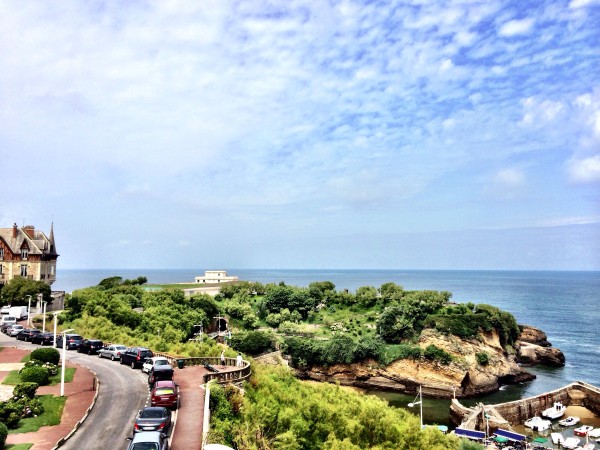 With the rest of the afternoon wide open, we decided to take a stroll along the beach to the lighthouse. The walk from town to the lighthouse is about a mile and a half. Along the way you pass the Grand Plage, Hotel du Plasis, the Russian Orthodox church, mansions along the cliff, and enter into an almost forest-like setting. Rows of trees , shrubs, and flowers  line the cliffs with little openings to take a pictures of the coastal panorama.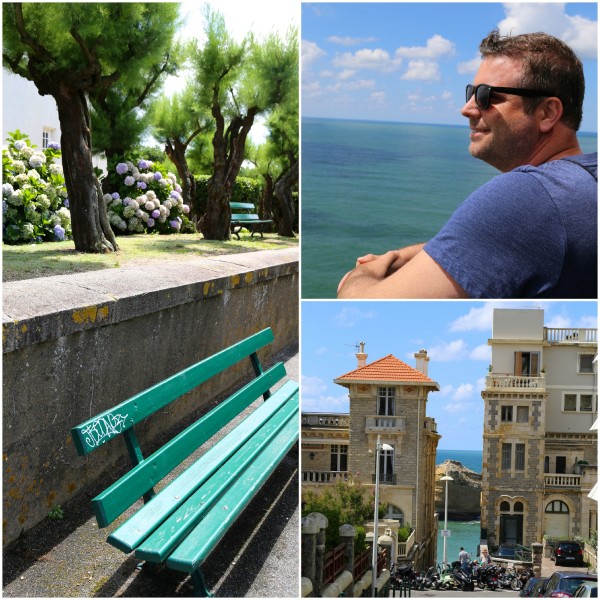 We climbed all 240 stairs up to the lighthouse and the whole time I kept thinking, could you imagine the poor trucker who pulled lighthouse duty? Jeez.  Of course, every step was worth it because the views were breathtaking. Thankfully, we arrived on a clear day because we could see the mountains in Spain to the south and the port of Bayonne to the north.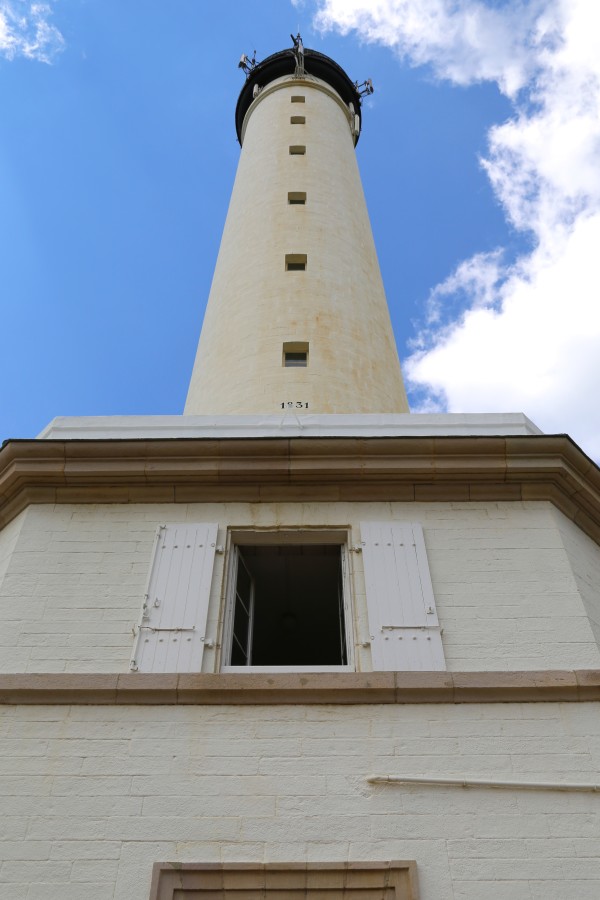 After our little lighthouse tour, Mr. B and I ventured back to town exploring every nook and cranny. There are so many hidden gems in Biarritz.. I fell in love with this one side-street because of an interesting piece of history. While the beach is a favorite destination for everyone, it seems royalty wanted the access all to themselves. When the Hotel du Palasis was built it blocked the view of the beach of the mansion owners behind it. Well, they had their homes moved brick by brick down the street to restore their rightful view. #firstworldproblems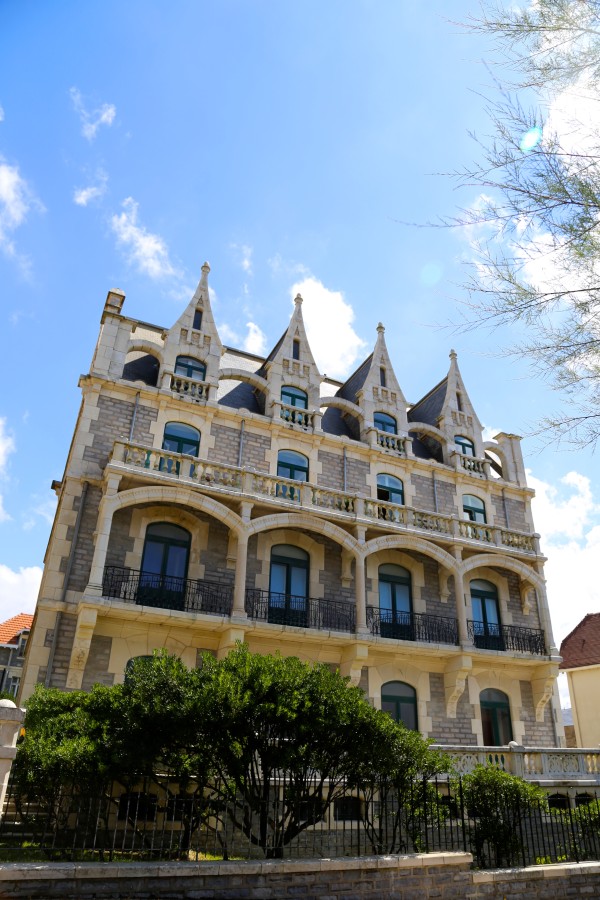 With our stomachs grumbling, we stopped at one of the many beach side restaurants for a quick appetizer and refreshing glass of white wine…..or really a siesta sans the sleep. The abundance of fresh seafood produce in the Basque region made light snacking a unique culinary experience.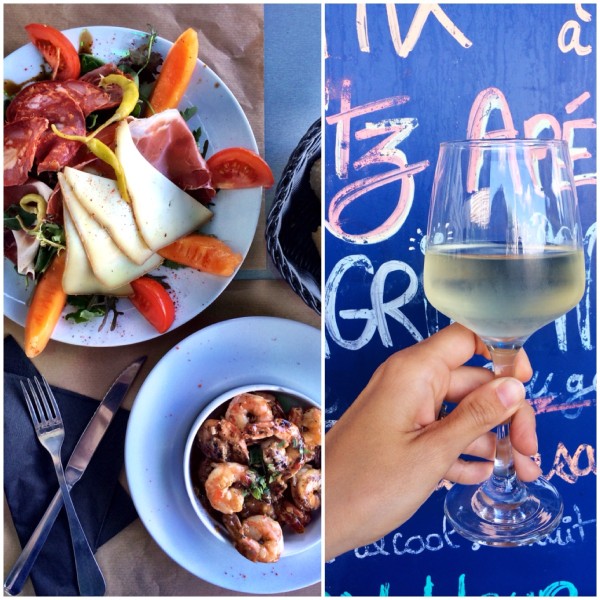 As I mentioned in a part one, having my uncles around was like having a personal tour guide. We were invited that evening to a local art opening. Mr. B and I didn't know a soul, but it was refreshing to be amongst the "locals" of Biarritz and to catch up on all the gossip. Plus, we had to sip on a local Basque mojito.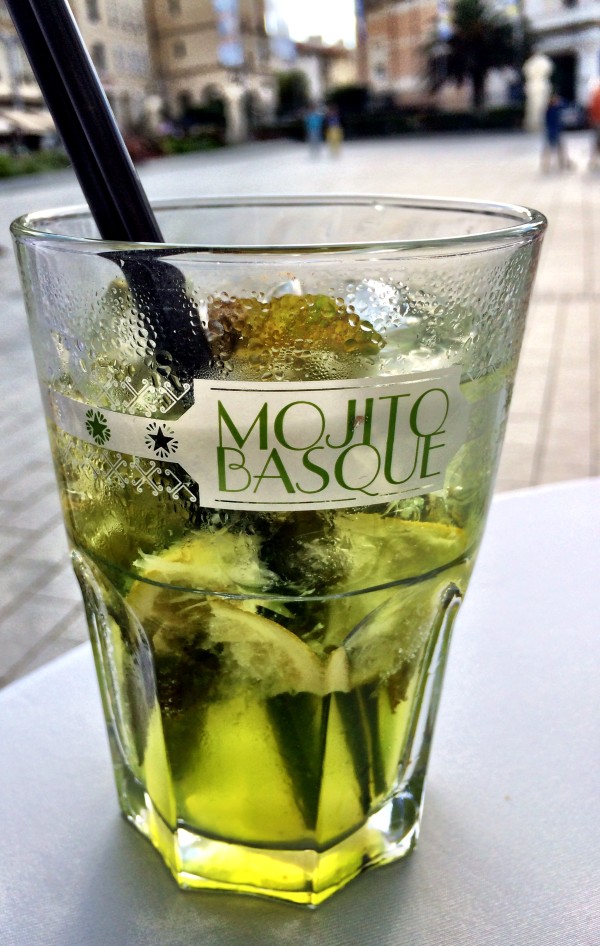 With the sun starting to set, we dashed over to the Hotel du Sillehetto, a secret dinner spot that my uncles frequent. This hotel resembles a grand chateaux plopped right in the middle of downtown Biarritz. Seating at the restaurant is on the outside patio with what looks like a faux pasture with miniature sheep grazing in the background. 
We started with a glass of Bourdeax and dove into a conversation about real estate in France. In France, you can't really flip houses like we do in the states because you must stay ten years or more before you can sell. Thoughts?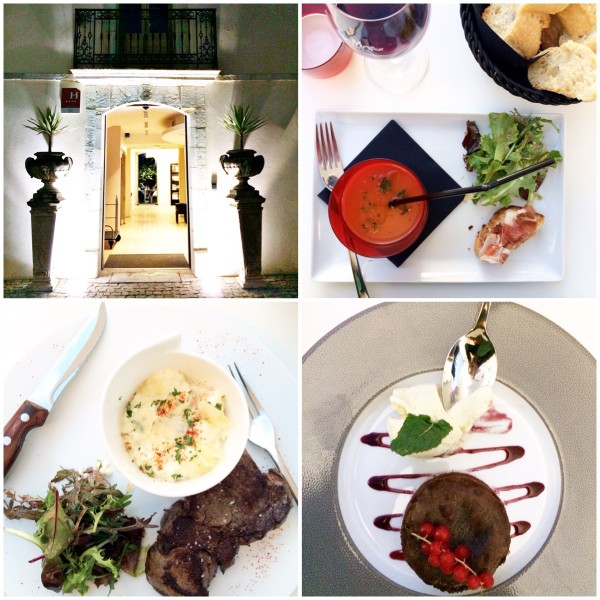 Our first course was a light and refreshing watermelon gazpacho served with a straw. Random, right? We immediately asked the waitress for a spoon and she politely told us to give it a try. Well, when in Rome. So, we sipped the gazpacho through the straw and didn't ask any more questions. The second course was a decadent and perfectly prepared risotto. Damn, the French can cook. Our entree was a simple steak followed up with a chocolaty molten cake and a peach sorbet with macaroons. Can you say swoon?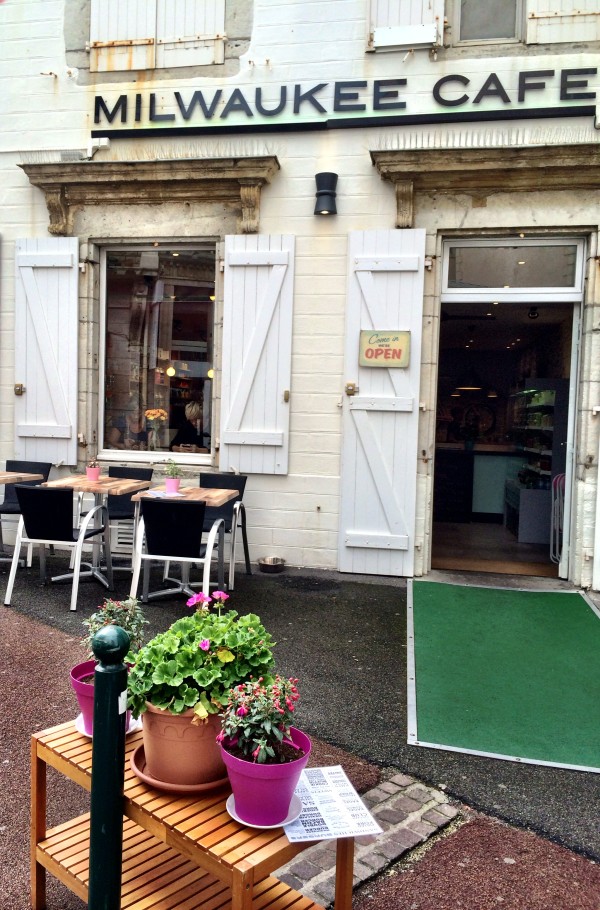 The next day we were slow moving. I felt the casual French lifestyle taking over and I wasn't about to complain. We had lunch again at the Milwaukee Cafe and strolled through the Grand Halles market. This was our routine for the remainder of the trip. Sleep in, grab pastries or lunch, stroll through the market, and then start our day.
With no set agenda for the day, Mr. B and I decided to walk around the city to see more history and architecture. There's a mixture of old world art deco, the dreadful seventies, and modern architecture. One of my favorite buildings or should say chateaux is set among the cliffs in the Cote de Basque. It used to be a house back before being chopped up into apartments and I believe Jim Morrison had wild parties there back in the day. Also, WWII German bunkers are nestled into the sides of the cliffs.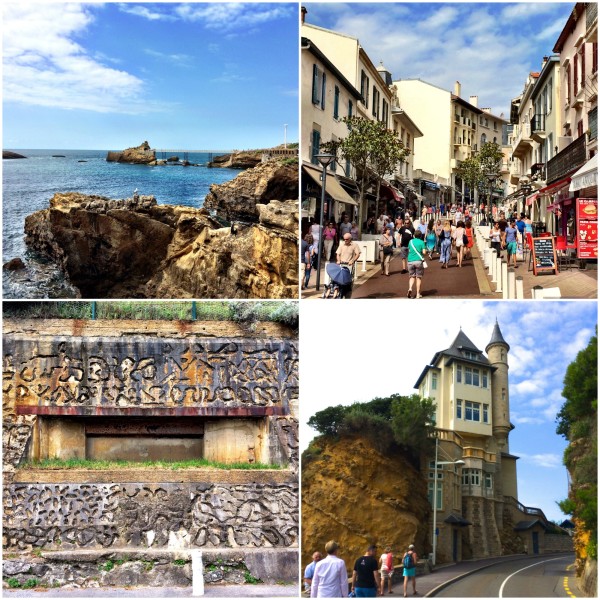 Since the sun was out, we stopped by the Petite Plage (a.ka. the Little Beach) on the way back to the apartment. Little Beach was the cats meow back in roaring 20's. F. Scott Fitzgerald's "Tender is the Night" is loosely based on this area. I imagined Great Gatsby characters, champagne flutes, and bands playing into the morning light. Now, that's one heck of a party.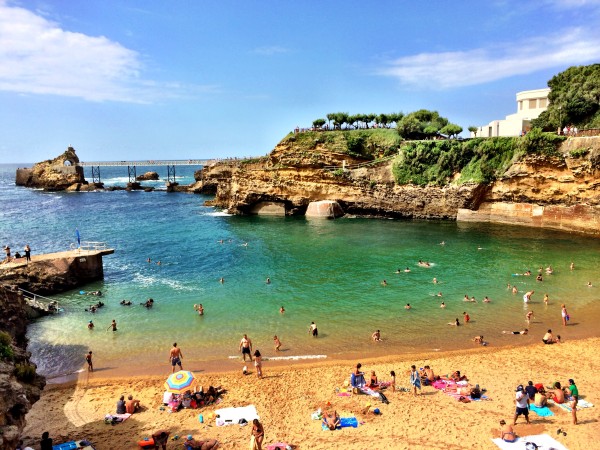 We marched back to the apartment for a quick change, and then dashed to the night market. On Wednesday nights, the Grand Des Halles reopens 6pm to midnight. The city closes off streets and vendors line up selling fromages, pastries, wine, olives, clothes, bags, while local bands fill the air with music. This was hands-down one of my favorite experiences because it was one giant foodie block party!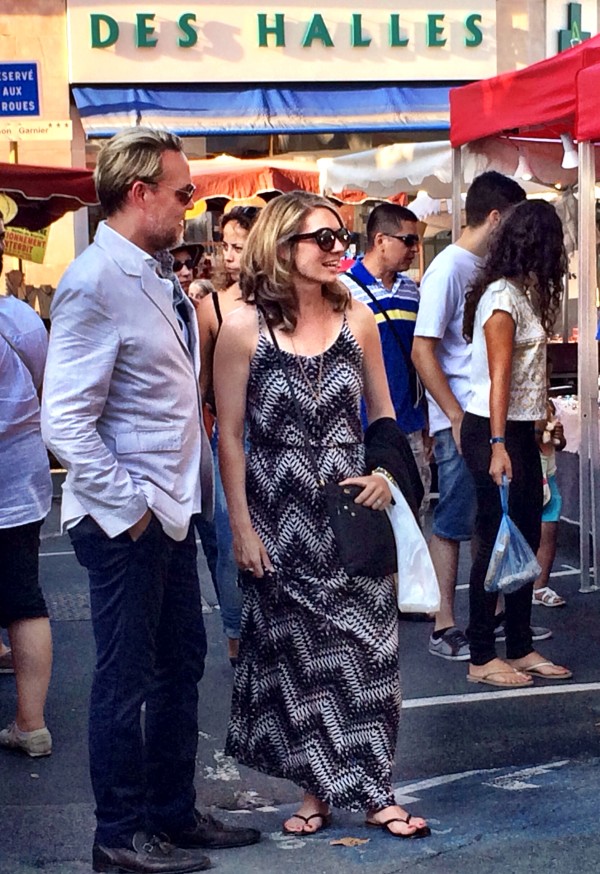 After we left the market, we strolled to the Hotel du Palasis where another international classical piano performer was playing. Don't worry we didn't fall asleep again. The performer was one of the best in the world and played a Pepin piece in five minutes. The dude was a rock star and wrapped up with four encores.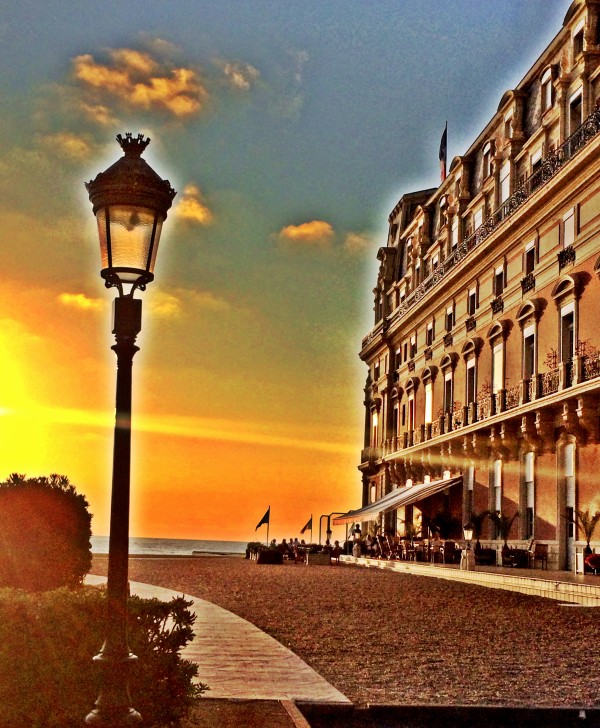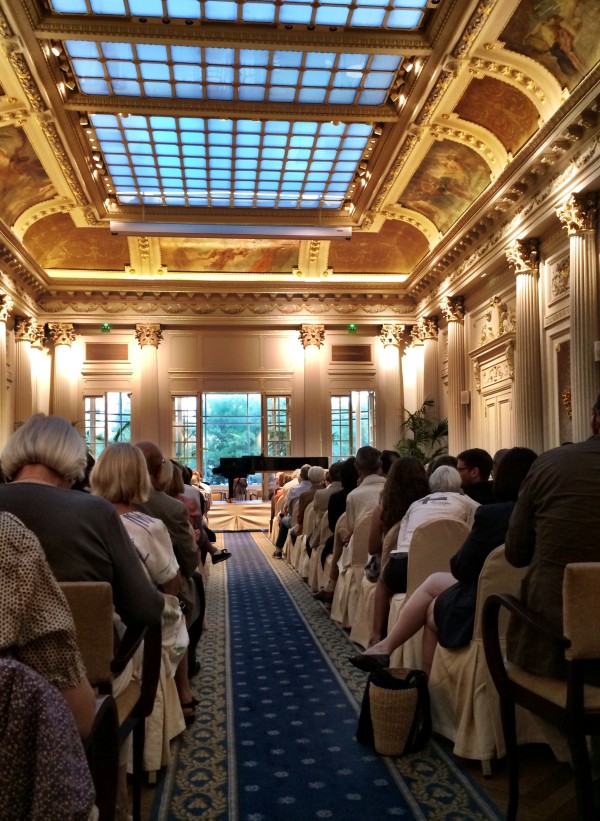 Still more to come! More beaches, a scooter adventure, and surf lessons…….stay tuned, you don't want to miss part three!