One-Pot Chili Mac & Cheese
"One-Pot Chili Mac & Cheese combines rich, bold flavors and gooey cheese in a single, convenient meal. This dish is a taste explosion that's both hearty and satisfying, making it a go-to option for a quick and delicious dinner. With minimal cleanup, it's a win-win for busy weeknights and comfort food cravings."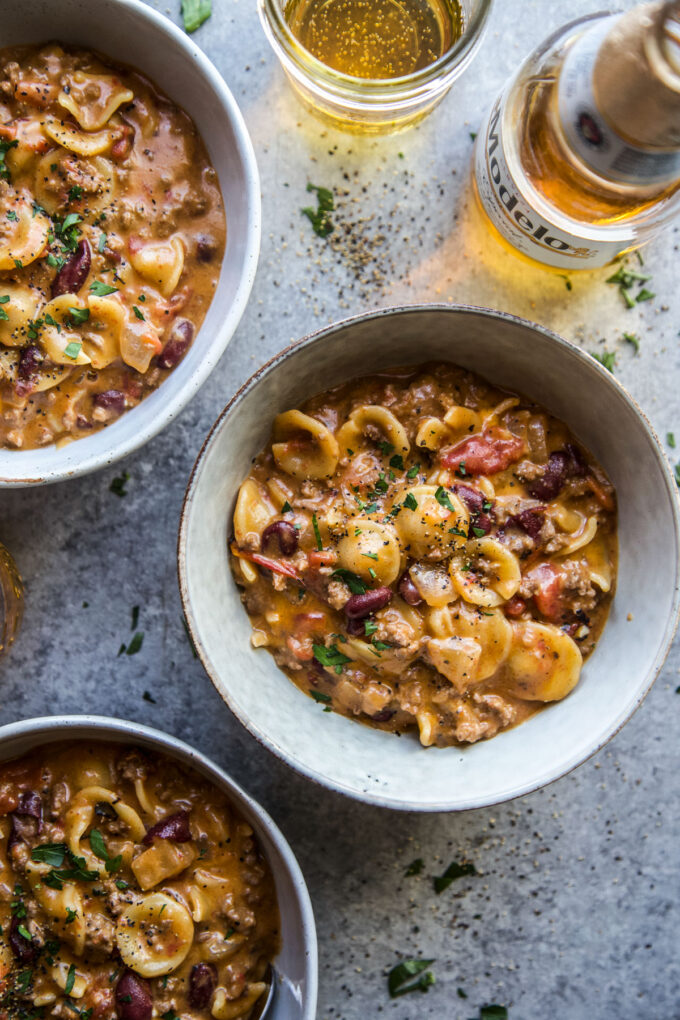 In Denver, we can get some pretty cold days.
Thankfully I have a slew of one-pot meals that keep my family full and warm.
This One-Pot Chili Mac & Cheese is a new go-to. Made with ground beef, fire roasted tomatoes, spices, and a fam favorite, orecchiette pasta. It's the best mash-up of flavors between hearty chili and cheesy mac & cheese.
Great meal to freeze, bring to a new mama, or when need a tasty dish in 30 minutes. I promise this these will be a regular in your dinner rotation.
Let's get cooking!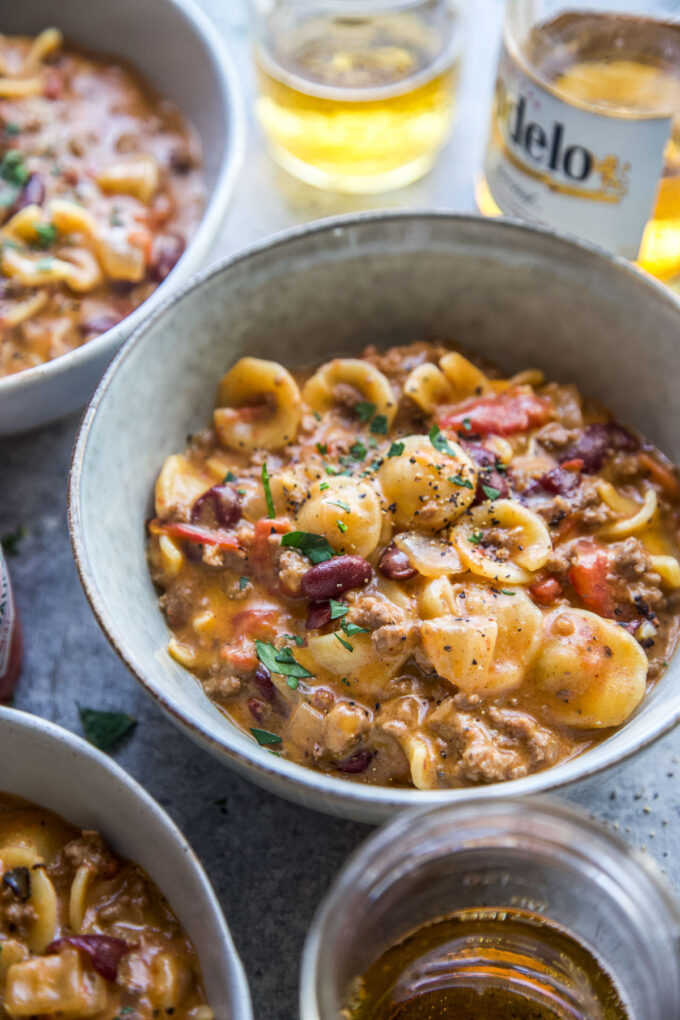 What's in this One Pot Chili Mac and Cheese?
In my opinion there is nothing better during the cooler months than a big pot of warming soup, chili, or stew. This One-Pot Chili Mac and Cheese hits all the right spots and will leave you satisfied and full. You will need:
Onion
Garlic
Ground beef
Fire Roasted Tomatoes
Kidney Beans
Chili powder
Cumin
Cayenne
Chicken stock
Orecchiette pasta
Shredded Cheddar cheese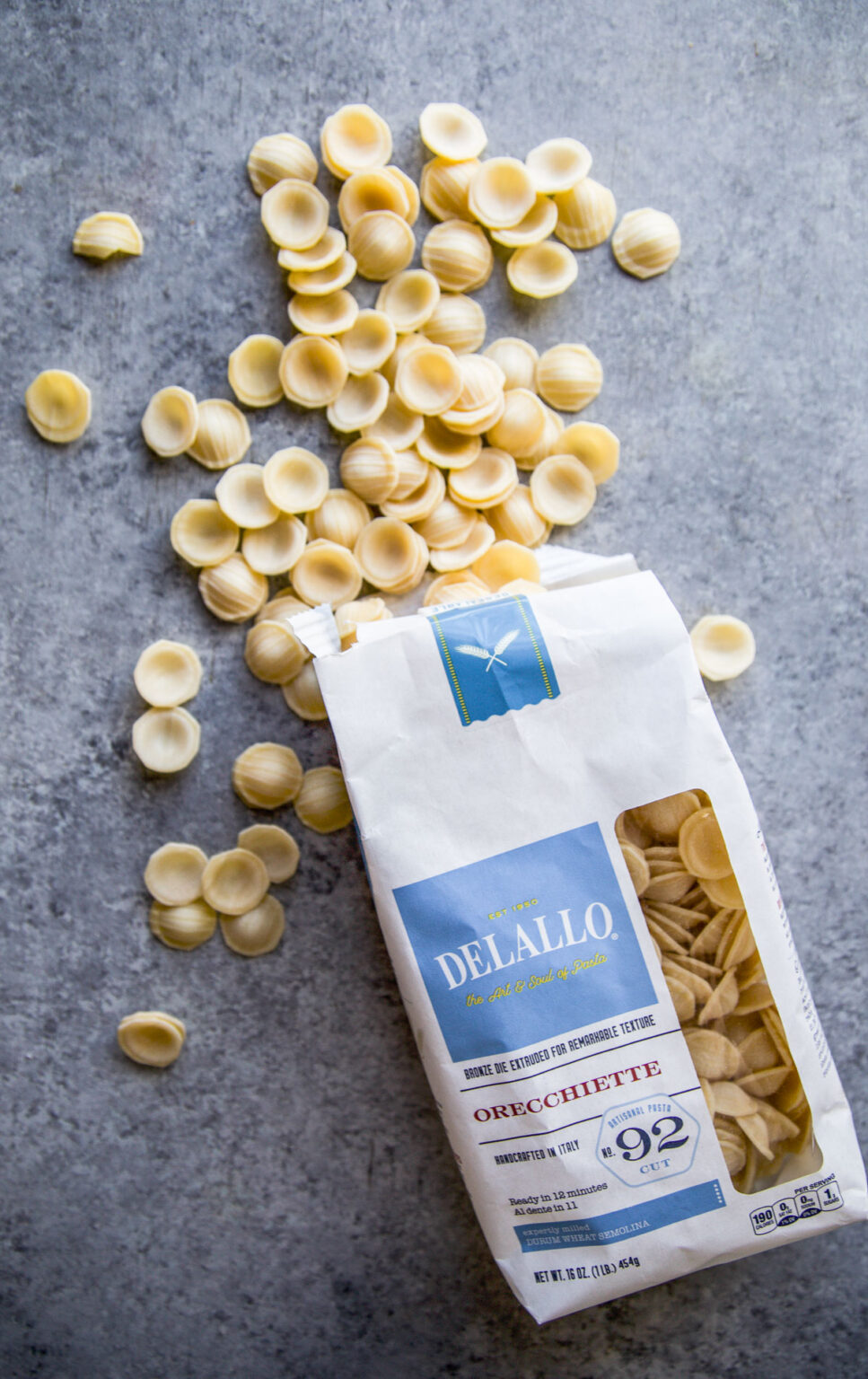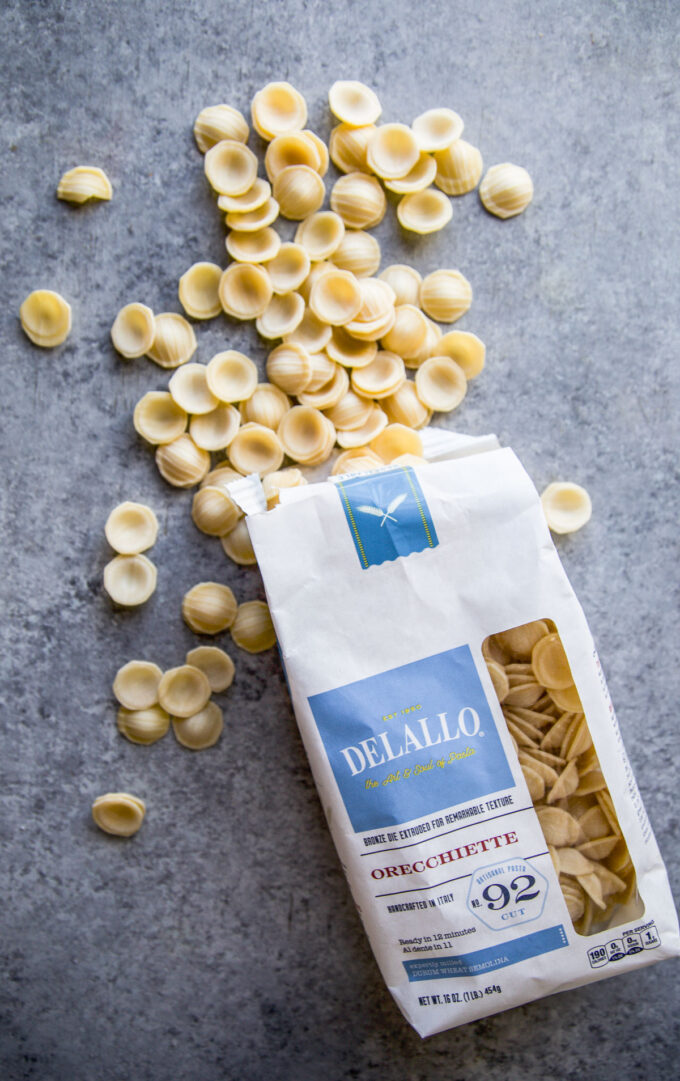 Tips:
Orecchiette. This ear shaped pasta is super fun to mix up from traditional shells. However, use whatever kind of pasta you have in the pantry.
Beans. I adore kidney beans which is why I used them in this recipe. Again, you can use any variety of bean like pinto, black bean, etc.
Cayenne pepper. If you like heat I would definitely add a pinch of cayenne. If cayenne isn't your thing you could try a couple dashes of your favorite kind of hot sauce.
Cheddar cheese. You can't go wrong with cheddar, but pepper jack, Colby jack, or Monterey cheese would be excellent substitutes.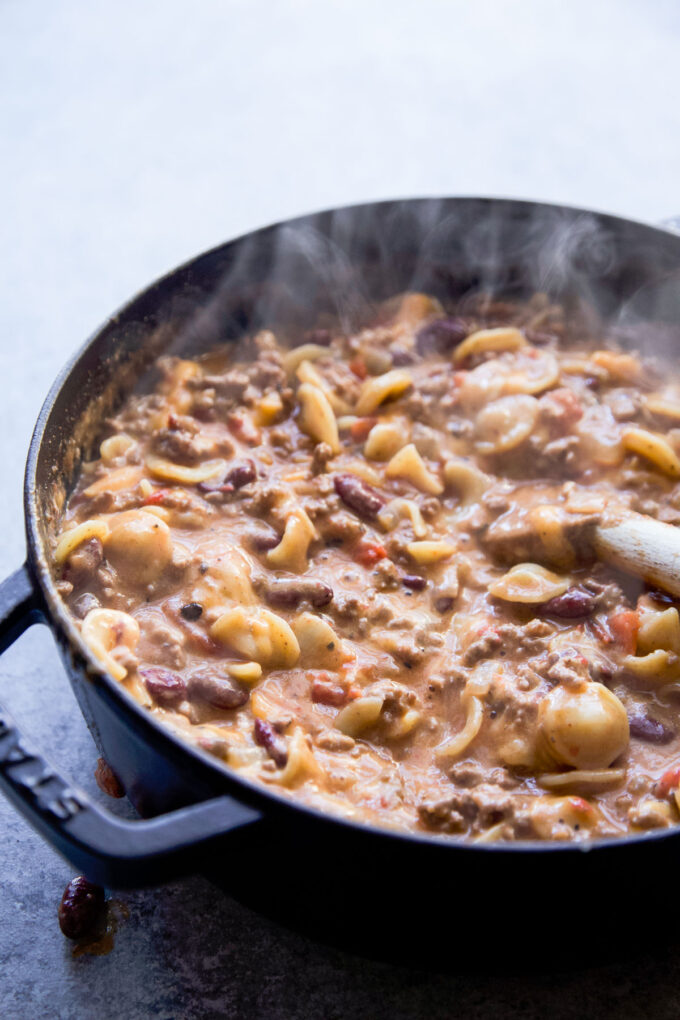 Frequently Asked Questions:
Can I substitute the ground beef?
You bet! I would suggest using ground chicken, pork, or turkey. Or, if you really want to kick things up a notch try chorizo!
Can you freeze this One-Pot Chili Mac & Cheese?
Yes! This is any excellent meal to freeze. Make sure you allow the meal to cool completely before storing in the freezer. It will keep up until a month.
What sides do you recommend serving this with?
I would suggest a side salad or a big loaf of garlic bread!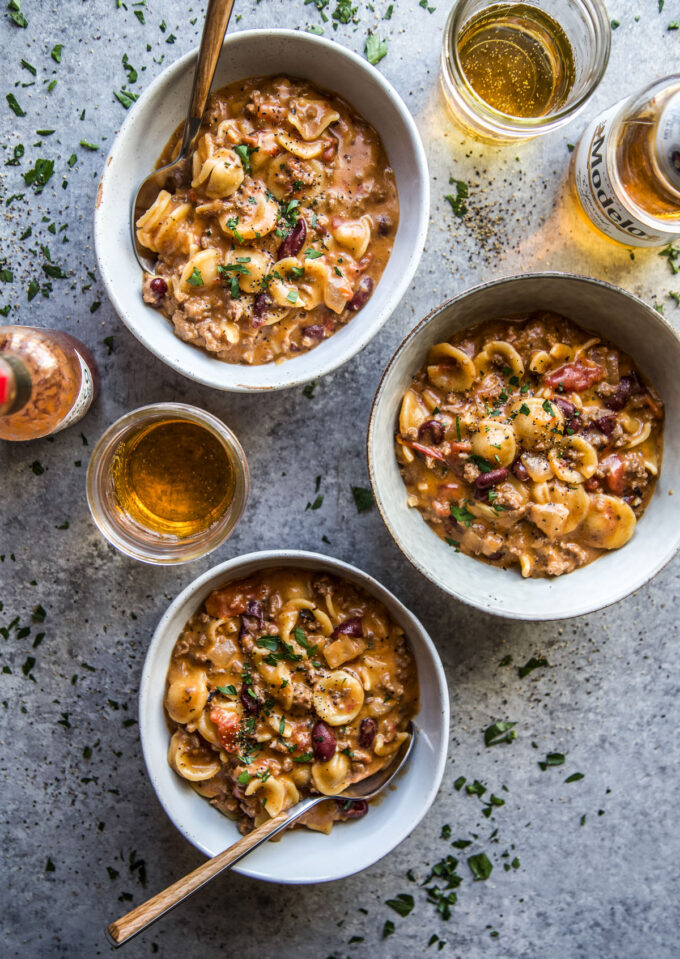 More Delicious One-Pot Meals to Enjoy: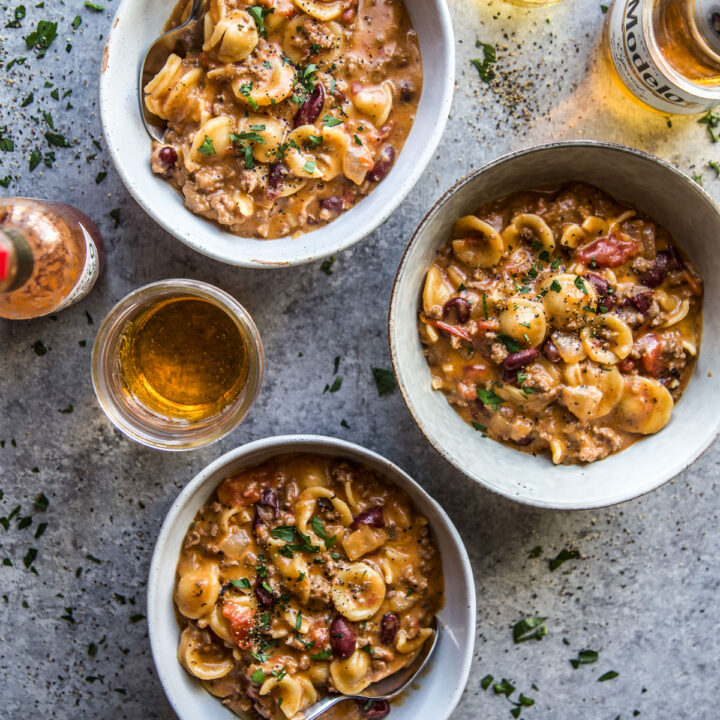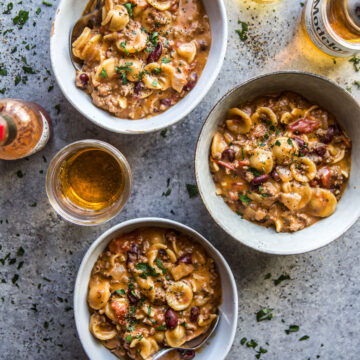 One-Pot Chili Mac & Cheese
One-Pot Chili Mac & Cheese is a delicious, one-pot meal that's bursting with flavor and cheese!
Ingredients
1 tbsp Olive oil
1 large Yellow onion, diced
3 cloves Garlic, minced
1 lb Ground beef
1 15oz Can fire-roasted diced tomatoes
1 15oz Can kidney beans, drained and rinsed
1 tbsp Chili powder
2 tsp Cumin
1 tsp Paprika
1 tsp Celery Seed
1 tsp Onion powder
1/4 tsp Cayenne pepper
3 cups Chicken stock
12 oz Orecchiette pasta
2 cups Shredded cheddar cheese
Fresh chopped parsley, for garnish
Instructions
In a large Dutch oven preheated to medium heat, add the olive oil. Next, add in the onion and cook until softened about four to five minutes.

Stir in the garlic and cook until fragrant. Next, add in the ground beef and using a wooden spoon break up the meat. Cook the beef until no longer pink, about 5 minutes and drain any excess fat.

Next, add in the diced tomatoes, kidney beans, chili powder, cumin, paprika, celery seed, onion powder, chicken broth, and pasta. Make sure everything is combined and bring the mixture to a boil and then simmer until the pasta is cooked.

Remove the pot from the heat and stir in cheddar cheese. Garnish with parsley and enjoy.
Did you make this recipe?
Please leave a comment below and share a photo on Instagram with the hashtag #thecuriousplate!
"Summing it up, One-Pot Chili Mac & Cheese is your go-to for a convenient, flavorful, and comforting meal. Delight in its deliciousness with ease and minimal cleanup!"