One-Skillet Curry Steak
One-Skillet Curry Steak is a hearty, but delicious meal ready in 20 minutes or less! Seared steak dusted with curry powder and tossed with spiced chickpeas make for an easy weeknight dinner!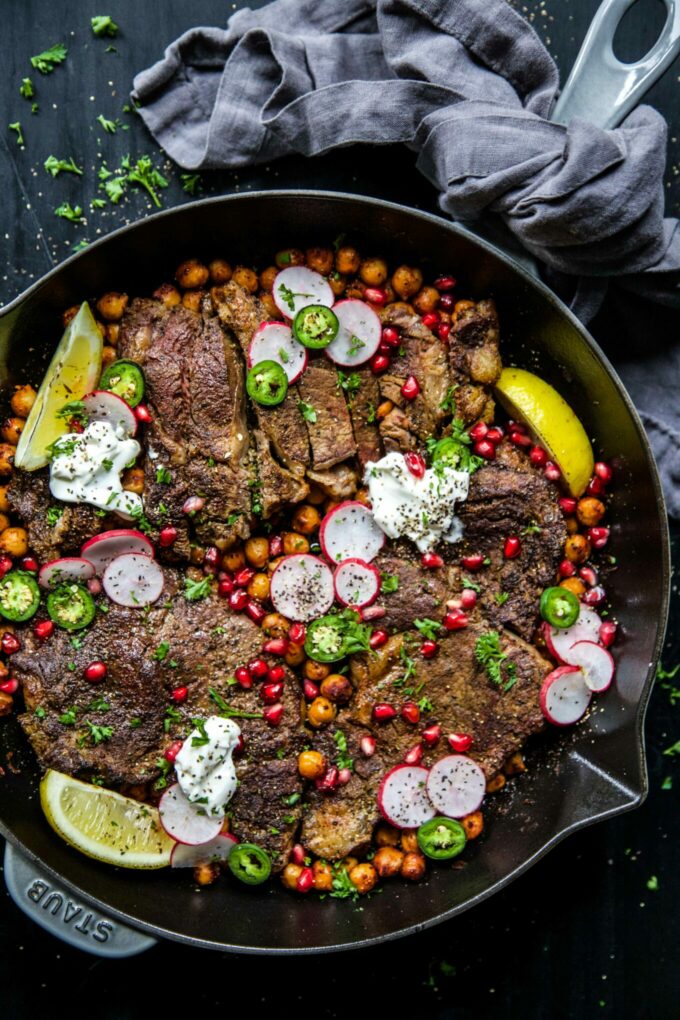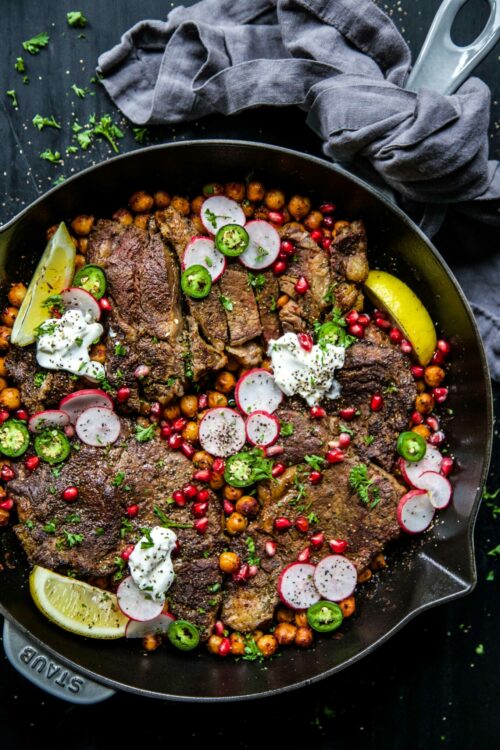 I have another one!
Wait. I should probably mind my manners and ask you if this is something you enjoy hearing about. Never assume anything, right? Right. I clearly watch way too many Amazon Prime and Netflix shows. I'll be the first to admit, but I can't help it. It's how I unwind at the end of a long day along with a glass of red wine, Mr. B by my side, and the opportunity to not think about a single thing for 45 minutes.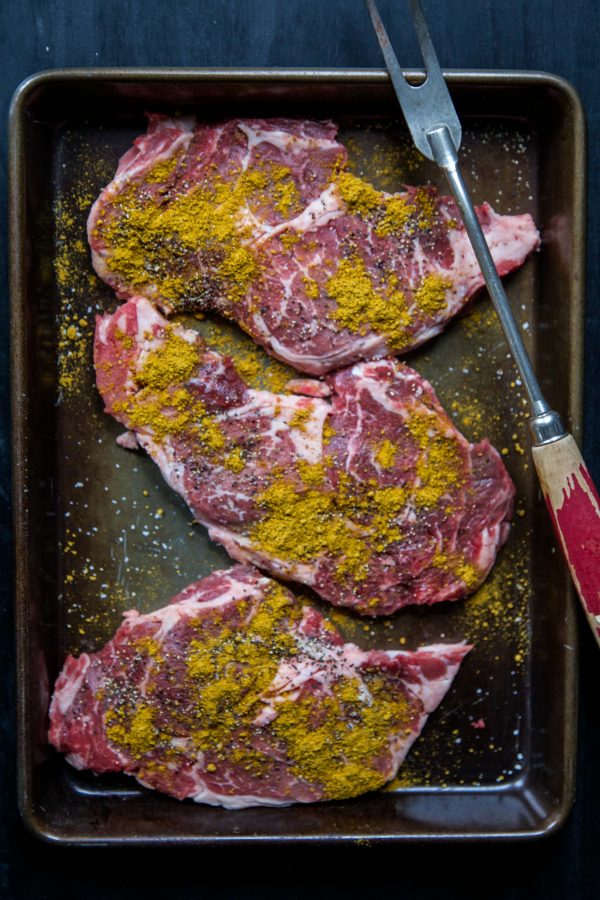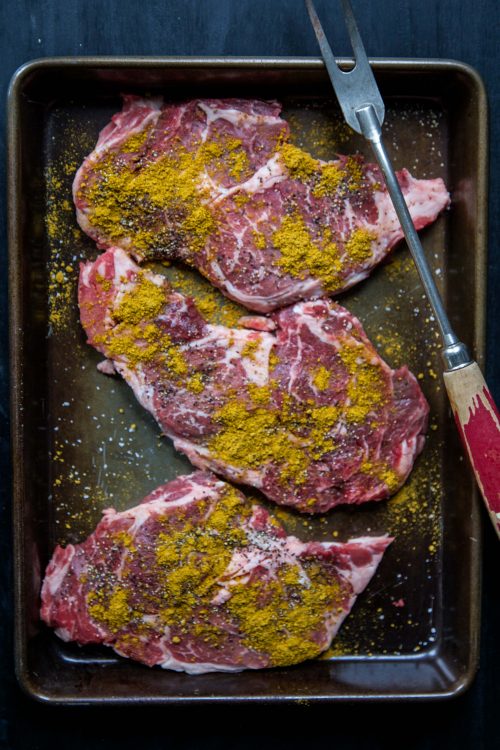 Anyway, the whole point of this ramble was to tell you that I have another amazing show to share with y'all. We are currently watching Marvel's Iron Fist on Netflix. So, the writing is fantastic, but the acting is a little cheesy. Like a step up above soap opera acting. I know that sounds totally strange, but it works. Rosario Dawson is in the show which keeps it from going full on cheese fest. If you are looking for another show to watch or need something to zone out for a bit this show is it!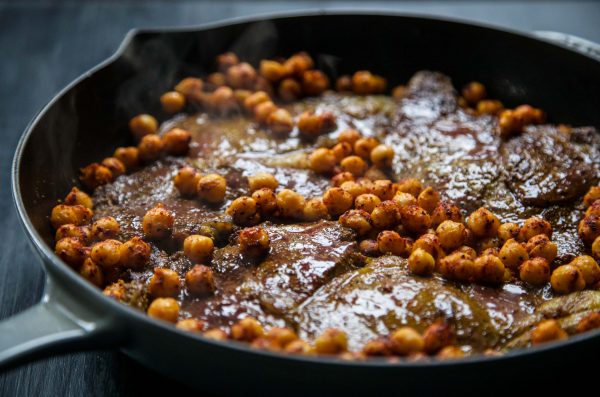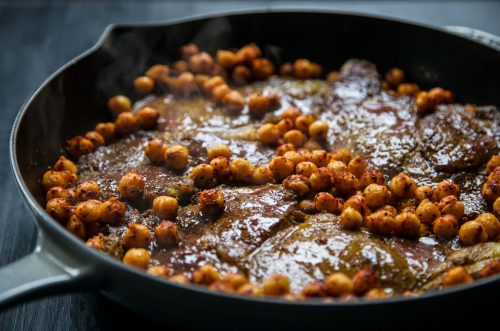 All this talking about superheroes has me working up quite the appetite. Thankfully what I have prepared for us today is soooooooo easy to make. I'm talking 20 minutes to the most flavorful, juicy meal of your life. This One-Skillet Curry Steak should be a part of your regular dinner rotation.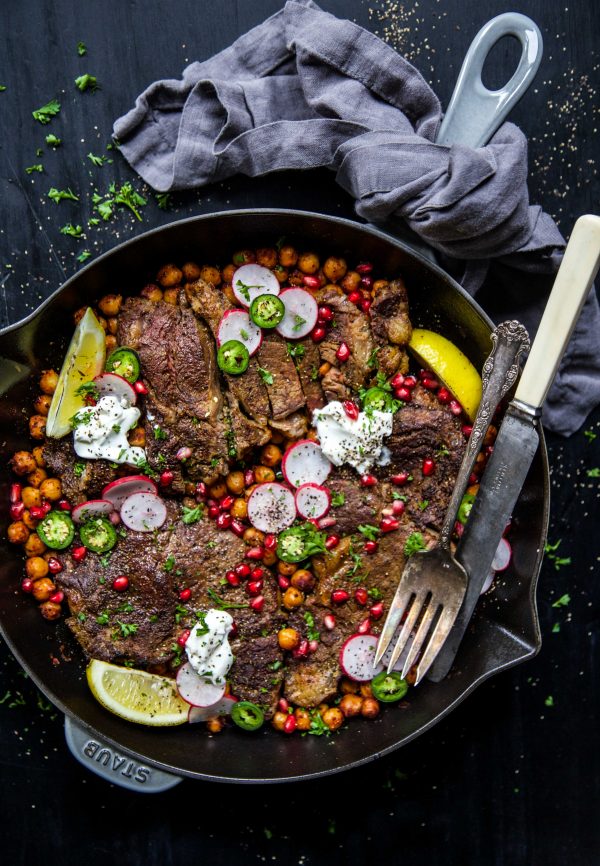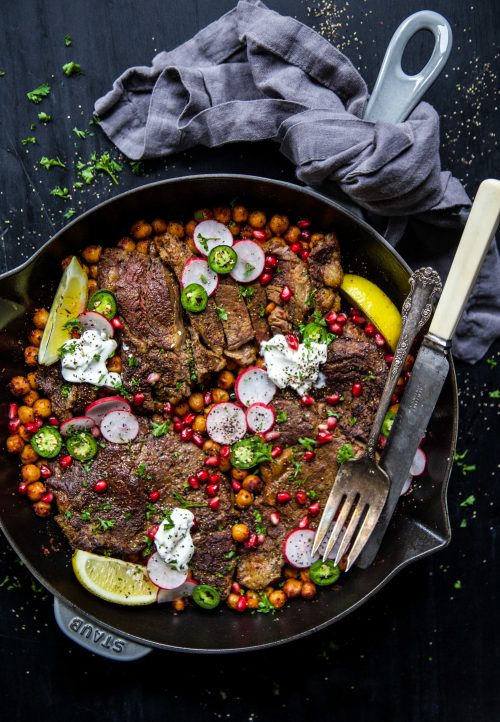 Dust any cut of steak your heart desires with curry powder. Next, heat a large cast iron skillet to like HOT-HOT level (don't be scared!) and sear each steak on both sides. Toss in some chickpeas and slide the cast iron into the oven to finish cooking the steaks. Once cooked, remove the steaks from the oven and garnish with toppings like Greek yogurt, fresh radishes, and cilantro. Plop the skillet right onto the table and dive in.
WARNING: superheroes may appear if served. Or really just Stan lee.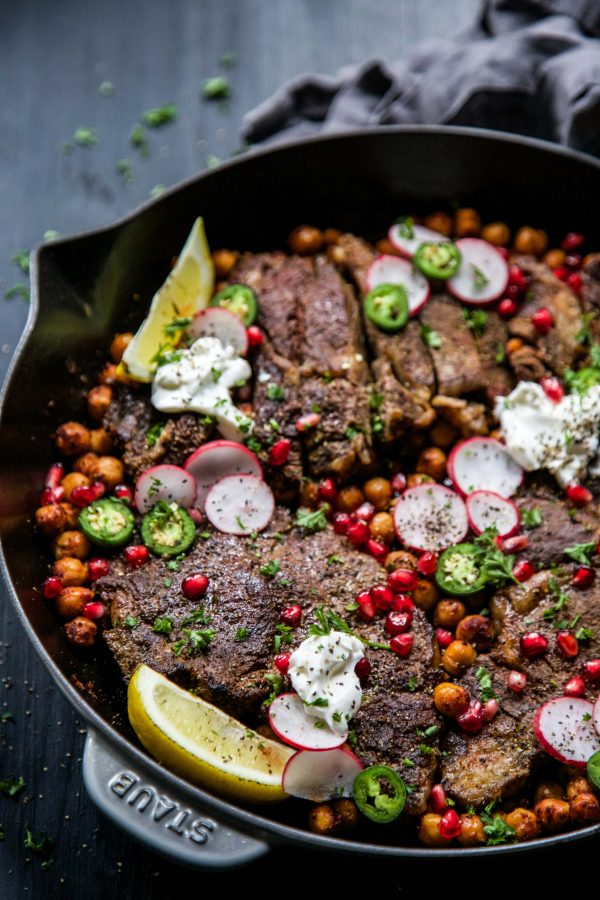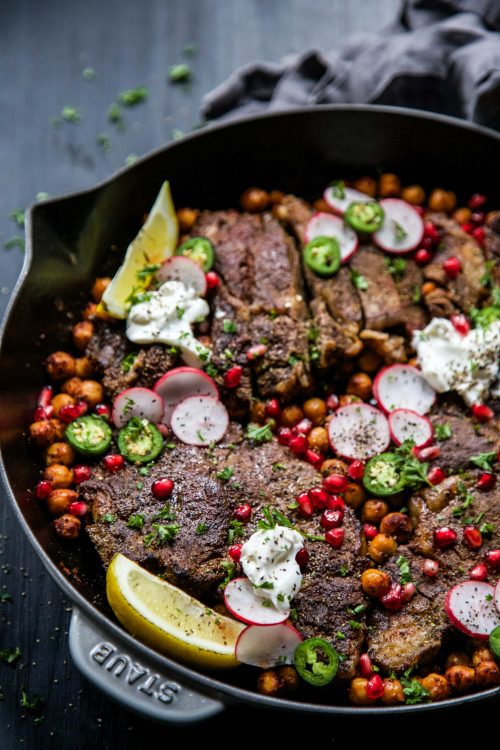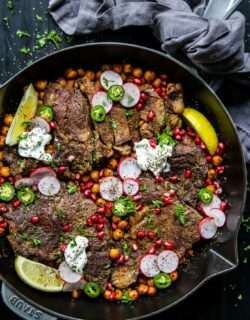 One-Skillet Curry Steak
Ingredients:
one 15 ounce can chickpeas, rinsed and drained
2 tsp ground paprika
1 tbsp olive oil
4 boneless ribeye steaks
2 tbsp curry powder
2 tbsp unsalted butter
salt and pepper to taste
Greek yogurt, for garnish
Radish slices, for garnish
Fresh cilantro, for garnish
Directions:
Preheat oven to 400 degrees.
In a medium bowl add the chickpeas, paprika, olive oil, salt and pepper. Toss to combine and set aside.
Place the steaks on a plate. Dust both sides of each steak with the curry powder followed by salt and pepper. Next, preheat a large cast iron skillet to medium-high heat and melt the butter. Add the steaks to the skillet and sear on both sides until slightly golden brown about two to three minutes. Turn off the heat and then add the chickpeas. Place the cast iron skillet into the oven and cook the steaks for about four to five minutes. Remove the cast iron skillet from the oven and set aside to rest before slicing. Once cool, slice the steak and garnish with Greek yogurt, radish slices, and fresh cilantro.
All images and text ©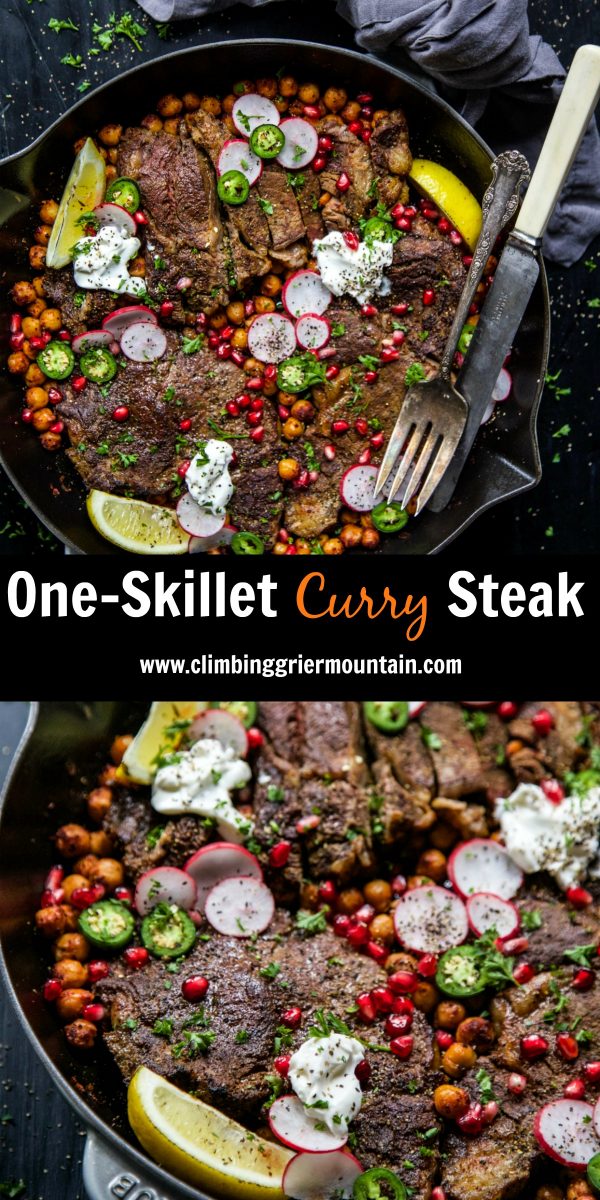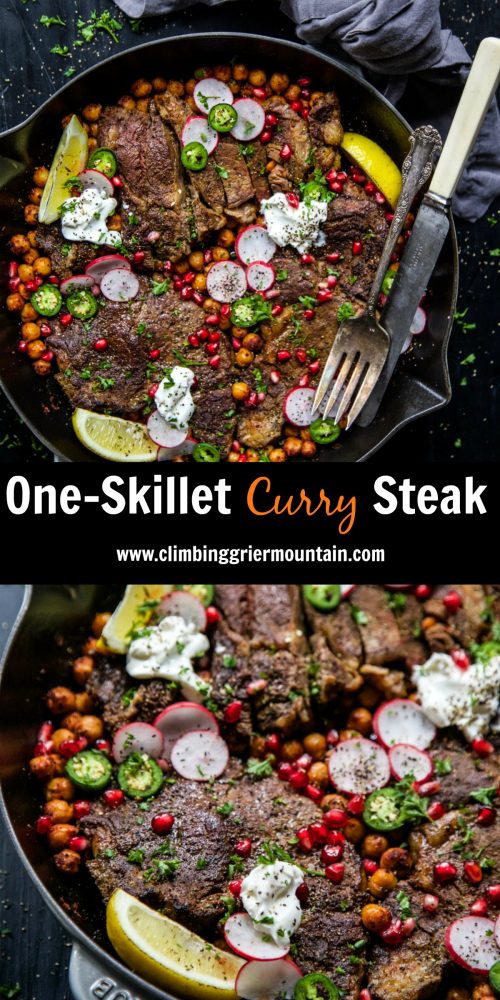 In conclusion, One-Skillet Curry Steak is a culinary delight that effortlessly combines tender steak with aromatic curry flavors, delivering a savory, satisfying meal in one pan.