open-faced parmesan chicken burger with balsamic caesar dressing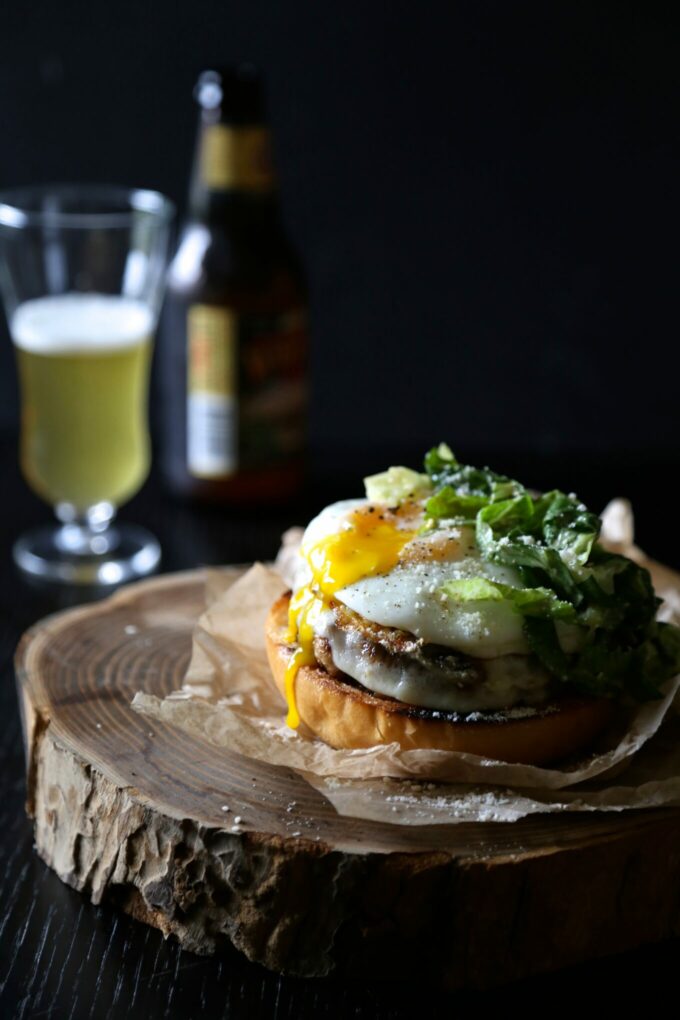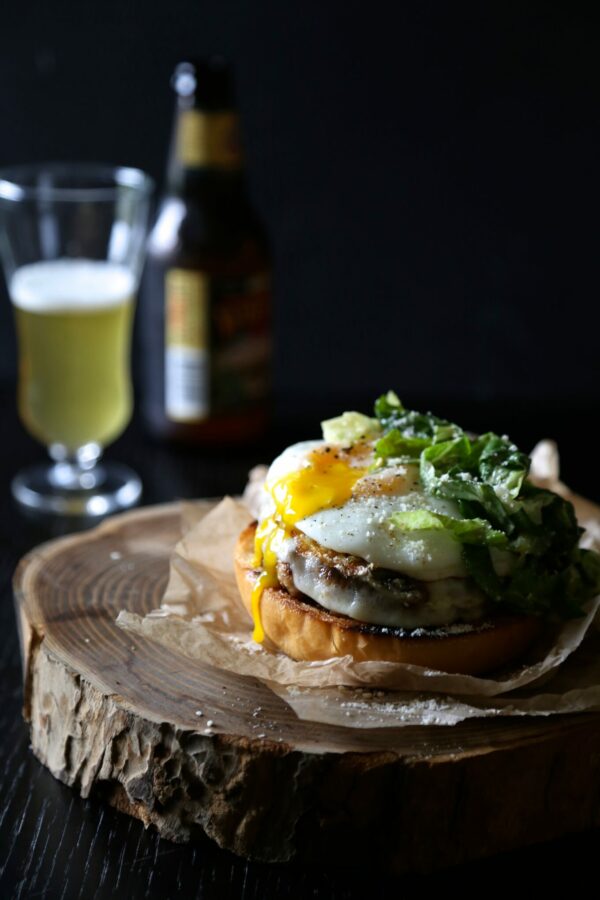 I read this article in Distractify about "What You Need to be Doing Now to Be Healthy When You're 50," and let me say "Whoa bessie!" While it was fascinating to learn that it would help to meditate, or even do one thing every day that scares you, well, I can barely keep up with my thirty-something life as it is. I promise I'll prepare – later. Scouts honor.
For now, I say let's forget about time and enjoy the present. Oh, and do I have a present for you today. I am on a mad burger kick right now so brace yourselves. Today, I grilled up a burger inspired by one of my favorite vinegars from Star Fine Foods, Modena Gold Edition Balsamic Vinegar.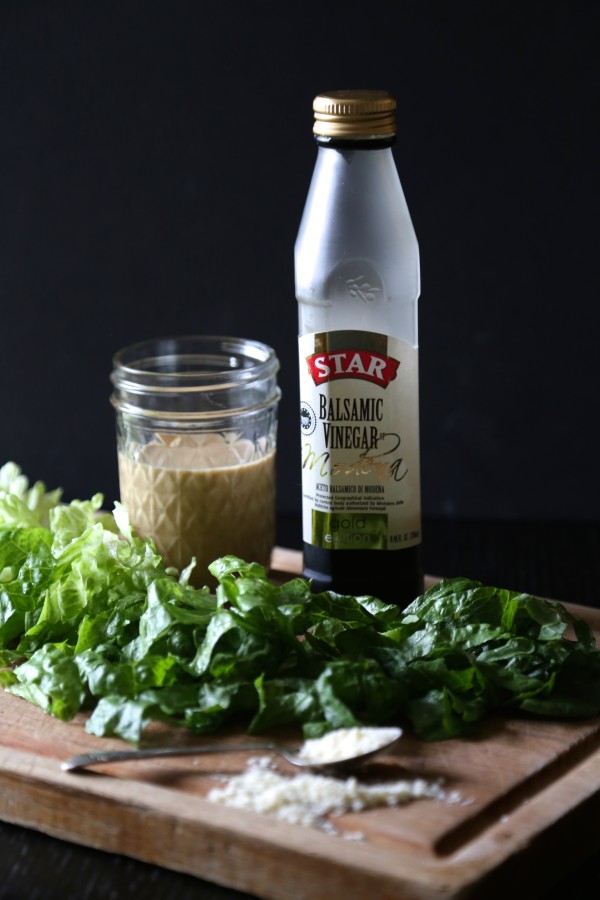 This two-snaps up vinegar is made in the province of Modena, Italy and aged in oak casks. It's a perfect balance of flavor and consistency, and not to mention huge health benefits ( it aids in the absorption of calcium) and is a rock star when it comes to cooking. So, I decided to kick up the ordinary Casear dressing and add Modena Gold Balsamic Vinegar.
What I love about this burger is the fact that it's open-faced so the Caesar salad can go on top. It comes together super fast. Just make the dressing in the food processor, slap the burger on the grill, pile high with the lettuce and dressing. . . and BOOM! Casear approved burger.
And what could be more healthy than a hamburger with a built-in salad?
My thirty year-old self rests her case.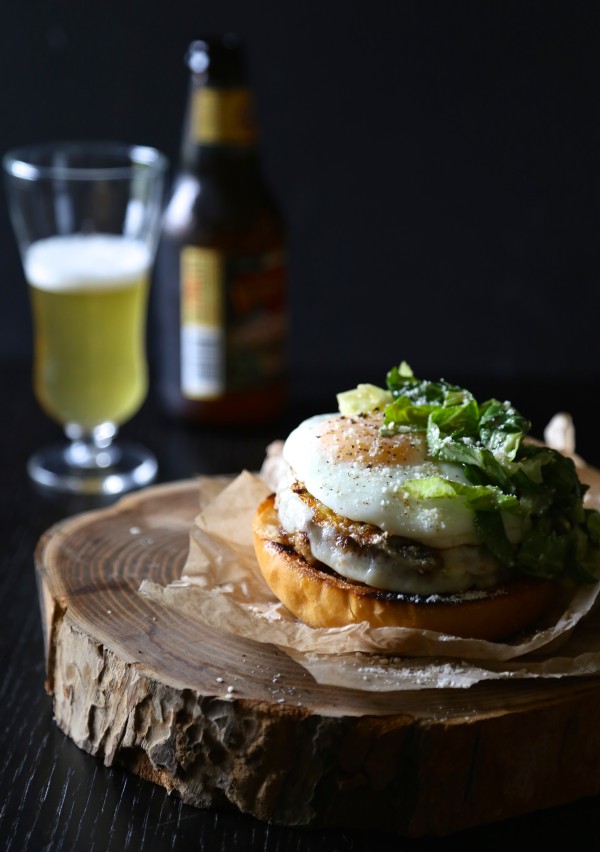 ***This post was sponsored by Star Fine Foods. As always, all opinions expressed are 100% my own.***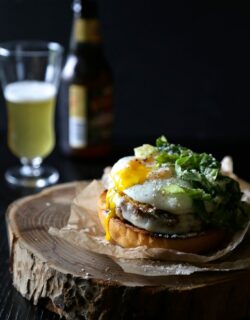 Open-Faced Parmesan Chicken Burger with Balsamic Caesar Dressing
Ingredients:
for the burger:
2 tablespoons unsalted butter
1 pound ground chicken
1/2 cup Parmesan cheese, grated
1/3 cup mayonnaise
3 cups romaine lettuce, chopped
4 slices white cheddar
4 bottom buns
Red onion, garnish
4 sunny side-up eggs, cooked, garnish
salt in pepper to taste
for the balsamic caesar dressing:
2 tablespoons flat anchovies, drained, chopped
3 tablespoons balsamic vinegar
2 tablespoons mayonnaise
1 tablespoon Worcestershire sauce
1 garlic glove, minced
1/4 cup olive oil
1/4 cup Parmesan, grated
Pepper to taste
Directions:
for the burger:
In a large bowl, combine ground chicken, Parmesan, mayo, and s&p. Form four patties. Preheat a grill or skillet to medium-high heat. Melt the butter and then add the chicken patties to the skillet. Cook for about five minutes on the first side, flip, and cook additional three minutes. In the last minute, add white cheddar slices to tops of the burger to melt. Remove burgers from skillet and place on a plate to rest for a few minutes before serving. In a large bowl, add the romaine lettuce and toss with Balsamic Caesar Dressing. Take a bottom bun and place on a plate. Add the chicken patty on top followed by red onion, fried egg, and topped with Caesar salad. Serve immediately.
for the balsamic caesar dressing:
Place the anchovies, vinegar, mayonnaise, Worcestershire, garlic, and pepper into a food processor. Process until combined while the machine is running pour the olive oil into the food processor. Finally, add the Parmesan cheese and pulse until everything is combined. Pour into a bowl.
All images and text ©