trip recap: eat sea retreat
A couple of weeks ago, I headed west to sunny California with a group of fabulous food bloggers (Liz, Megan, Kristin, Amelia, Nikki, Ashley, and Lindsay) for a weekend retreat.  Our mission: to relax, connect, teach, laugh, drink giggle juice, soak in the sun, and of course, eat!
These smaller, boutique-style retreats are quickly becoming the norm in the food blogging world. It's a chance to truly connect with our peers and walk away gaining knowledge instead of leaving with our heads spinning.
Our retreat was held at the five-star hotel and resort located in Rancho Palos Verdes called, Terranea. Terranea in a word, majestic. The amenities included oceanfront dining, spa, pools, hiking trails, and even a local farm. It's a place that I like to think of as "affordable luxury." If you experience this place first hand you will know exactly what I mean.
Let's take a look back, shall we?
We arrived at Terranea on Thursday afternoon with the sun shining and a cool ocean breeze in the air. It had snowed that morning in Denver so to be walking around in flippie-floppy's among the palm trees by afternoon was a dream come true.
Megan, Ashley, and I were the first to arrive. We checked in and headed to our villa where the entire gaggle would be staying. The villas were breathtaking. Each villa had two bedrooms/ two baths with a large gourmet kitchen, a spacious living room for our group sessions, and a walkout terrace complete with a fireplace. I plopped on the couch and felt right at home.
Pool time! Terranea has three pools: one exclusive for families complete with water slide (!!!), a spa pool, and an adults only pool. We decided to try out the adult pool to grab cocktails and some snacks. Why, yes, I'll take some fresh fish tacos and a glass of bubbly.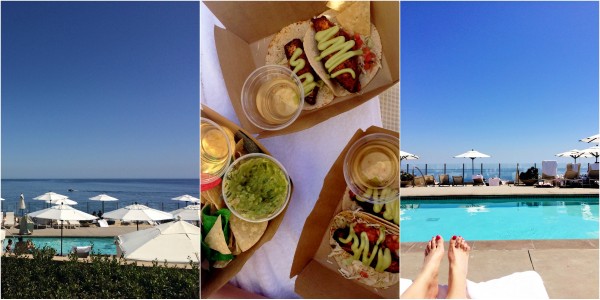 As the rest of the crew arrived, we quickly made ourselves presentable just in time for happy hour on the terrace. A girl could get use to this lifestyle!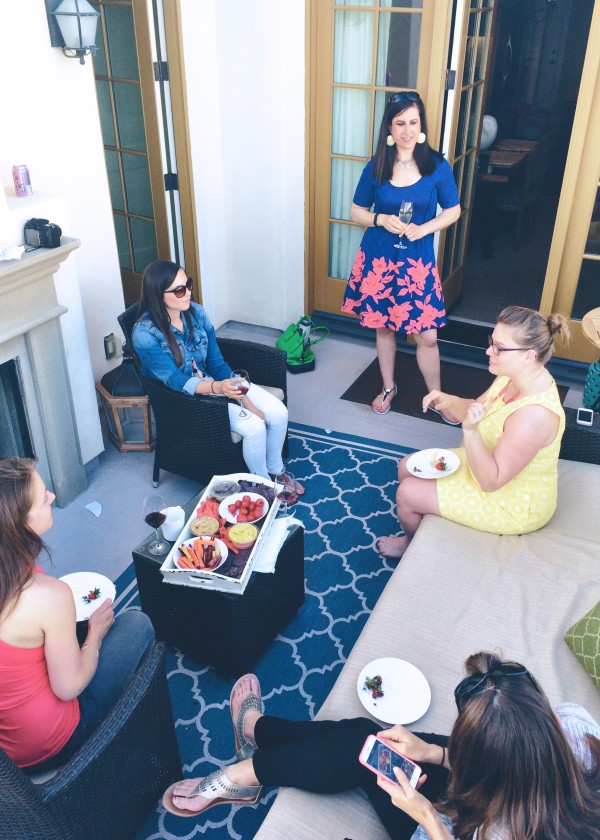 Dinner that night was served at the extraordinary culinary restaurant Mar'sel. We decided to have an aperitif before dinner next to the fire pit and watched our first official sunset of the weekend.
Once we sat for dinner, we were greeted by the Chef who dazzled us with visions of what we were about to eat – seared scallops, Brussels sprout salad, asparagus soup, and a mixture of desserts like chocolate tart and carrot cake. The food was beyond incredible. I'm planning on re-creating a few of these in my kitchen back home.
The next morning, a few brave souls attended the seaside cycle class at 6am. Megan and I decided to hike one of the many trails around the resort. We walked to the lighthouse and back while watching the waves crash against the rocks. This was a moment of zen for me.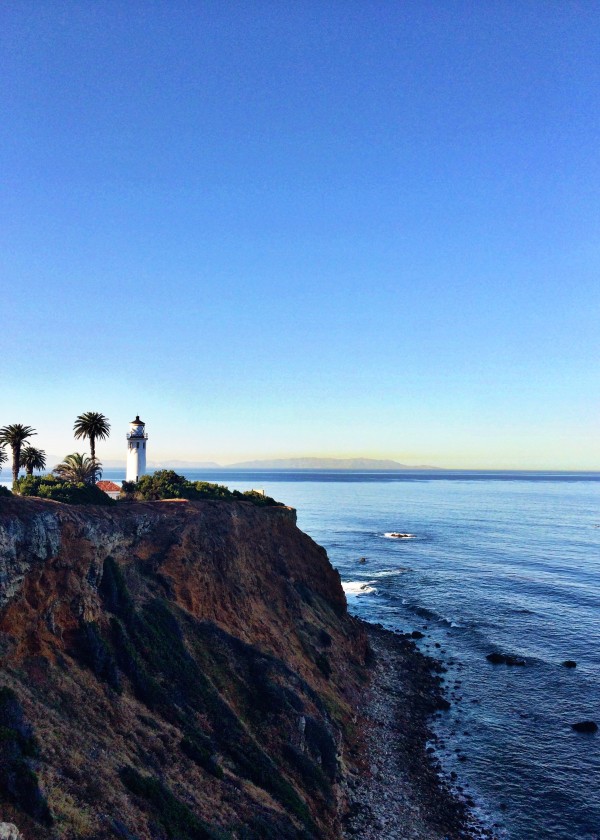 Breakfast was a bowl of goodness thanks to our sponsors Nature's Path and Stonyfield. Our bowls contained Greek yogurt, chia seeds, local honey (from the Terranea farm), peanut butter, fruit, and granola!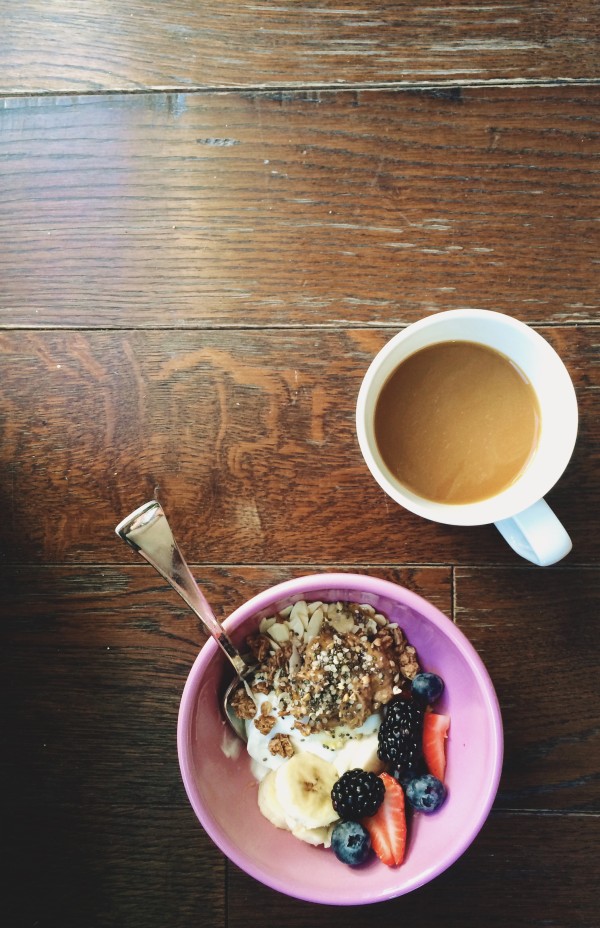 Session time! Brainstorming and discussing our industry with seven brilliant women for four hours was exactly what I needed. These chics are so SMART!
All that session talk worked up quite an appetite. The wonderful folks of Terranea hosted a private lunch to showcase Chef Bernard Ibarra's (who is Basque!) wonderful dishes. We dined on fried squash blossoms stuffed with local goat cheese, gazpacho, Catalina cod with roasted cauliflower hummus, and lavender honey mousse. There aren't enough words to describe the beauty and flavor of this meal!
Back to the pool for some slide and marinating time!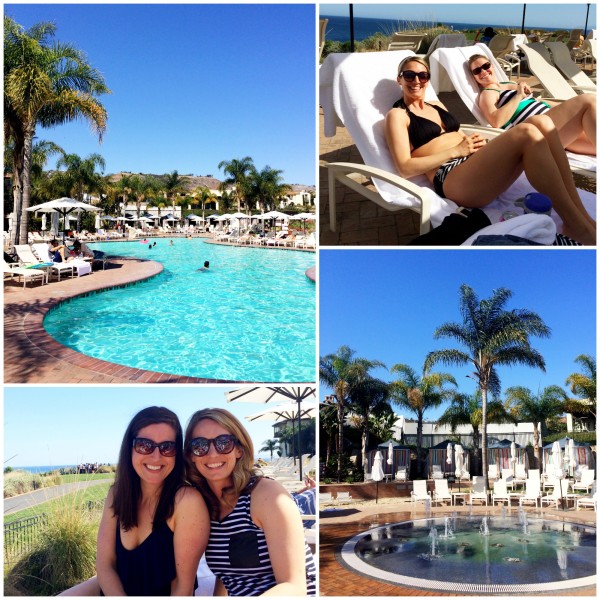 We decided to watch our final sunset of the weekend at Nelson's – nibbling on giant pretzels, calamari, chips & guac while sipping margaritas. The purpose of this gathering was to have an open discussion about certain challenges we face as bloggers. To have thoughtful critics and solutions is the most valuable thing I walked away from this weekend. So….expect some changes around CGM in the near future. #effinggiddy
As if we couldn't eat anymore, Amelia was a genius and made sure to have an assortment of salads with chips & salsas to make at the villas from Nature's Path for dinner.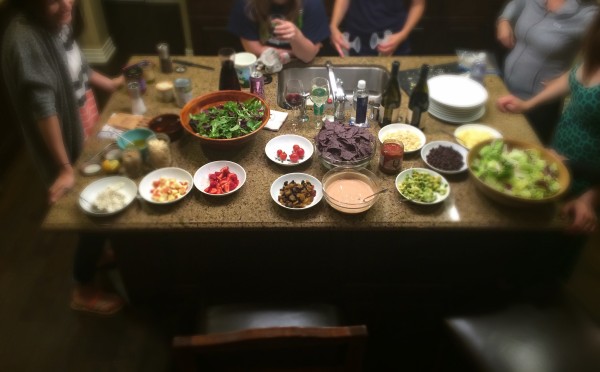 On our last morning, Megan, Ashley and I ventured out for walk down to the rocky shore. Waking up early to breathe in the fresh ocean air and watch the sunrise was invigorating.
Breakfast was another bowl of Greek yogurt fruit goodness!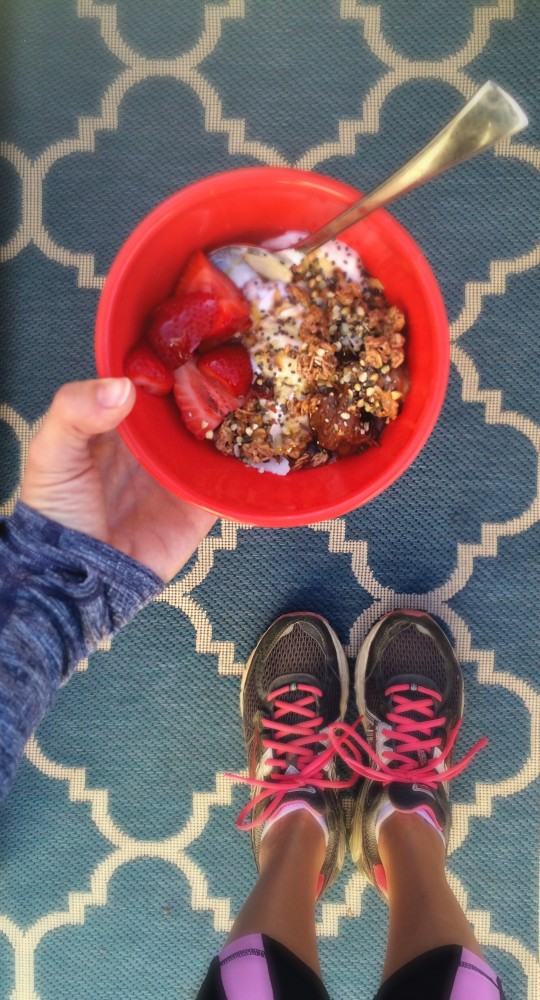 We wrapped up our weekend with some final sessions and a tutorial on Lightroom from Ashley. Dang she is good!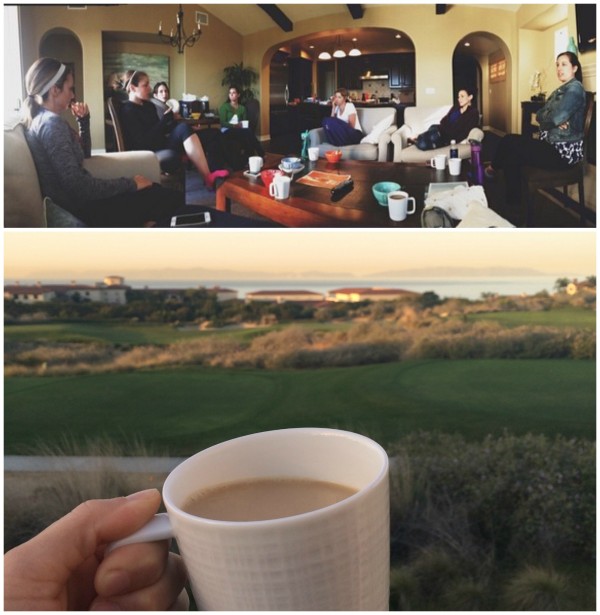 And just like that our weekend came to a close. I can't thank Ameilia enough for organizing everything and making the whole weekend run smoothly. You are amazing! Also, I want to thank Terranea for hosting us and Nature's Path and Stonyfield for the wonderful eats.
Until next time, Cali!