Oven Baked Pulled Pork Sliders with Beer Cheese Sauce
Oven Baked Pulled Pork Sliders with Beer Cheese Sauce is a delicious and easy dish to make! Pulled pork smothered with a decadent beer cheese sauce is perfect for gameday or any impromptu party!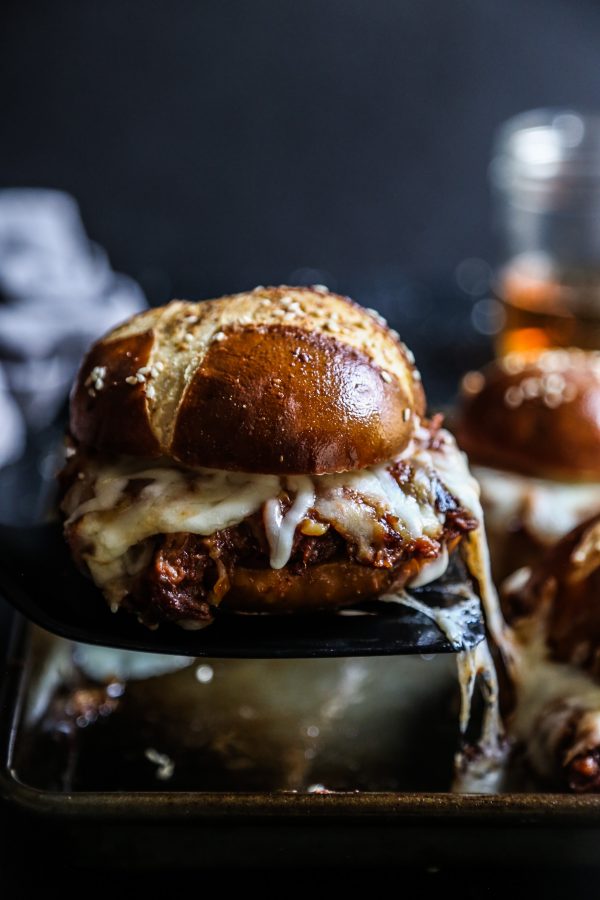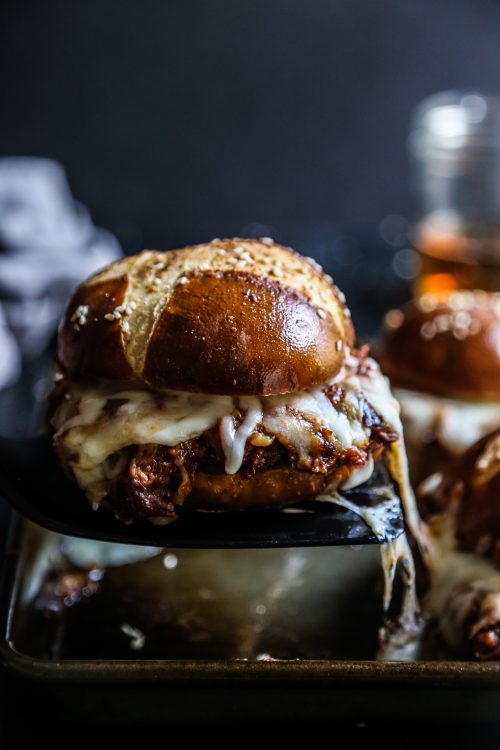 Growing up in Kansas, you learn about the game of basketball before you can walk.
You knew that Dr. Naismith was not your local family physician, but a man who invented the game of basketball. Shooting drills and scrimmaging outside on the concrete driveway was considered the norm on a Saturday morning. You played until the sun set (of course sneaking in household chores in between) and only to start the whole cycle over again the next day.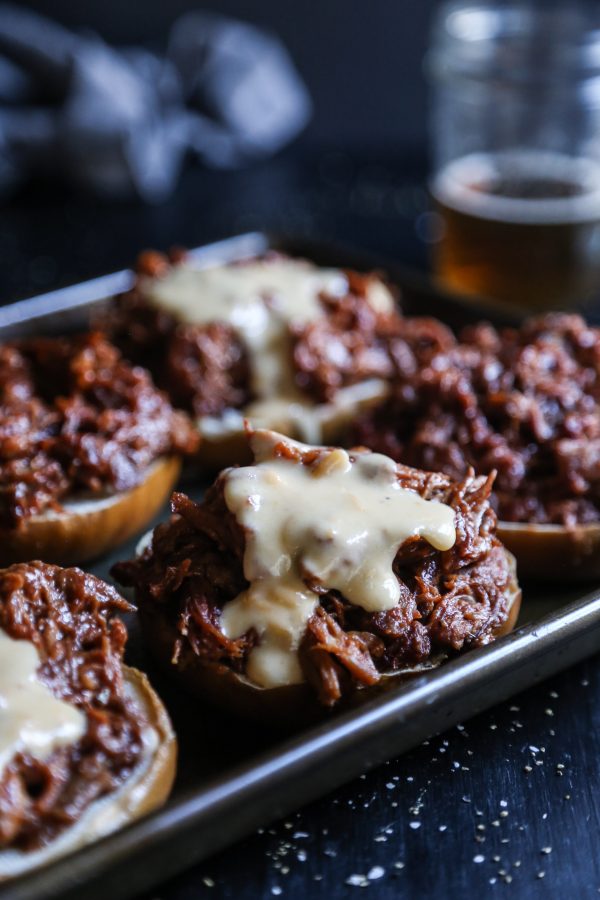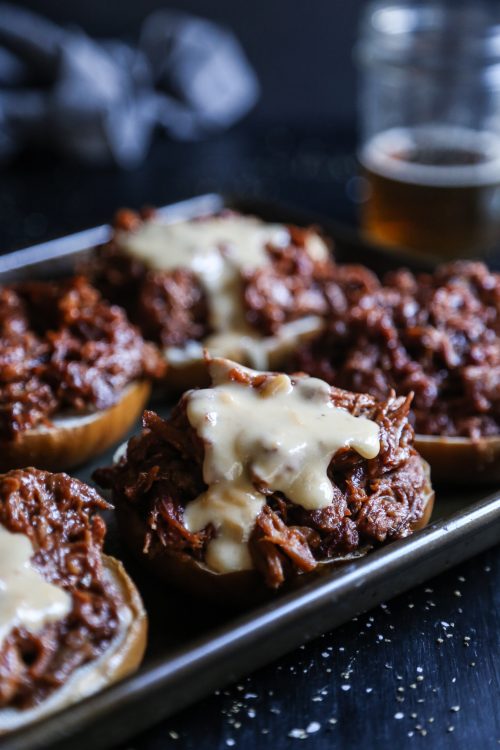 I did play competitive basketball as a teenager. I honestly don't know how my parents endured traveling all over the country and watching yours truly attempt a layup over 70 times. It was exhausting, but in the end of my competitive basketball tenure now looking back, I marvel at the discipline it took to make it to each game. Basketball was a sport that taught me to focus, the importance of teamwork, and patience.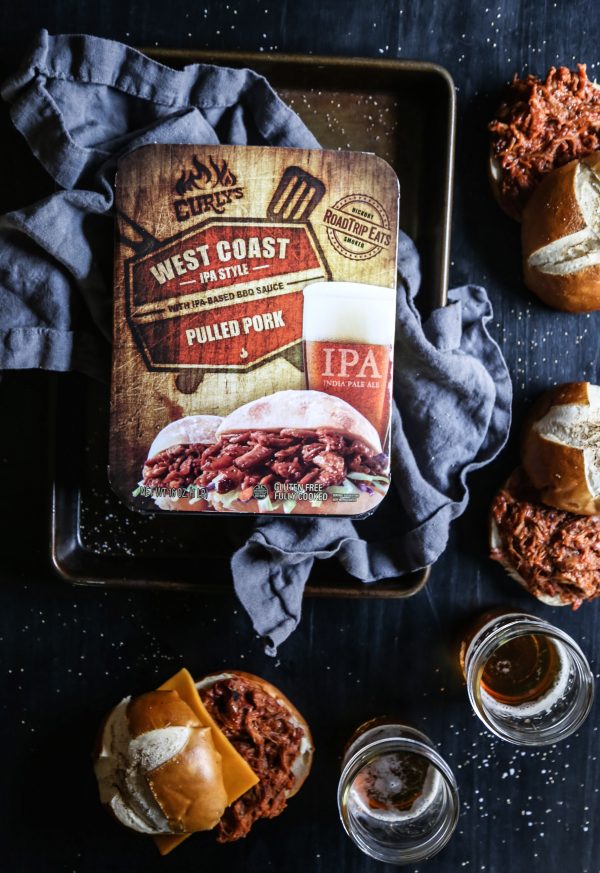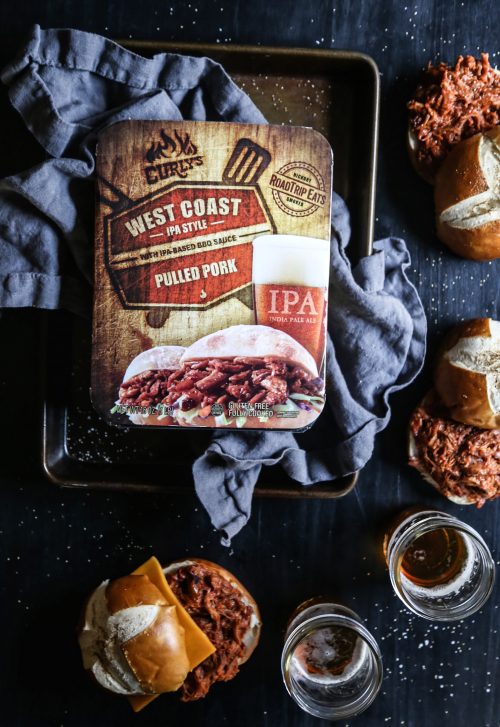 And speaking of patience, let's talk about today's recipe! Even though I don't play the game of basketball anymore, I'm still a huge fan of watching the two hour, balls-to-the-wall-action-packed-game especially during the month of March. Since a typical basketball game isn't as long as an all day football game, I like to keep my game day spread easy, approachable, and delicious. This is why Curly's West Coast IPA Style Pulled Pork is a dream come true. Or, better yet, a slam dunk!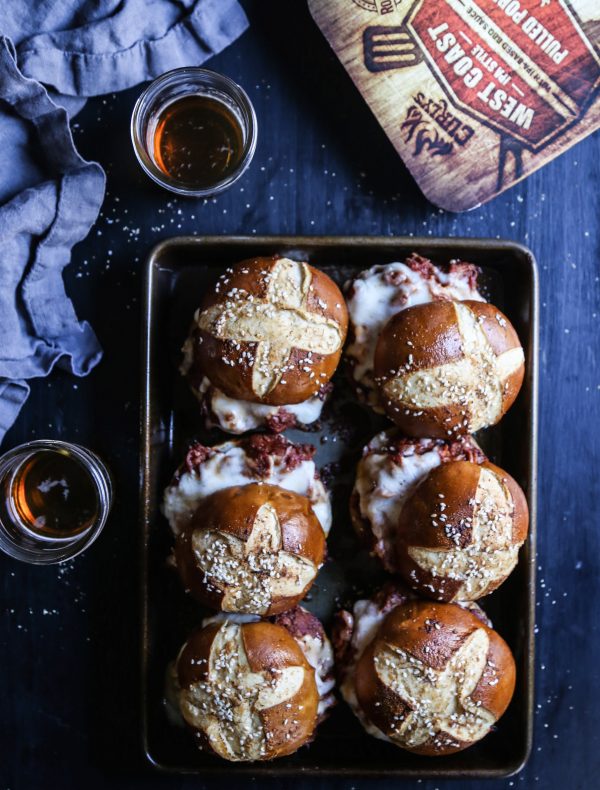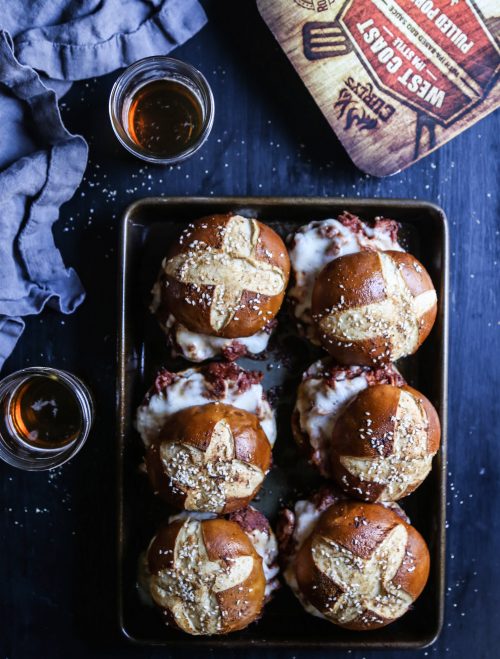 All you have to do is reheat and eat! I added the pulled pork on top of some pretzel buns. Then I smothered the pulled pork with a very necessary beer cheese sauce, and more cheese. Plus! Don't forget about the sassy butter mixture drizzled over the top bun. Have mercy. Bake the sliders until the cheese is gooey and buns are toasty. Trust me, your game day crowd will be draining threes like it's their job after a few bites of these Oven Baked Pulled Pork Sliders with Beer Cheese Sauce.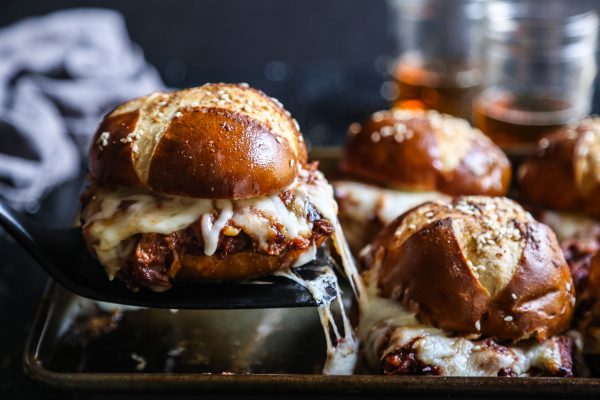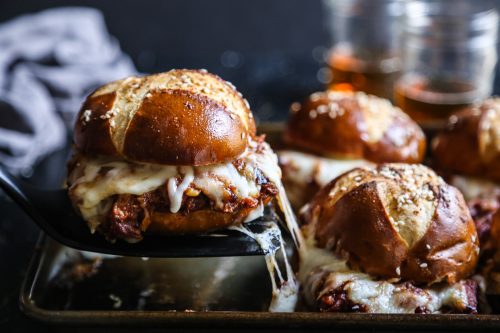 With that, I need your help! Curly's is putting together a recipe challenge called Curly's BBQ Showdown. My Oven Baked Pulled Pork Sliders with Beer Cheese Sauce is going up against some amazing recipes from a few fabulous food bloggers and I need your HELP to WIN! If you vote for my recipe you gain an entry for a chance to win a trip for two to Phoenix for the game on April 3rd! HOLLA!
So, what are you waiting for? Enter here: Sweeps.RoadTripEats.com
"……it's, Lauren, …………….for T-H-R-E-E!!"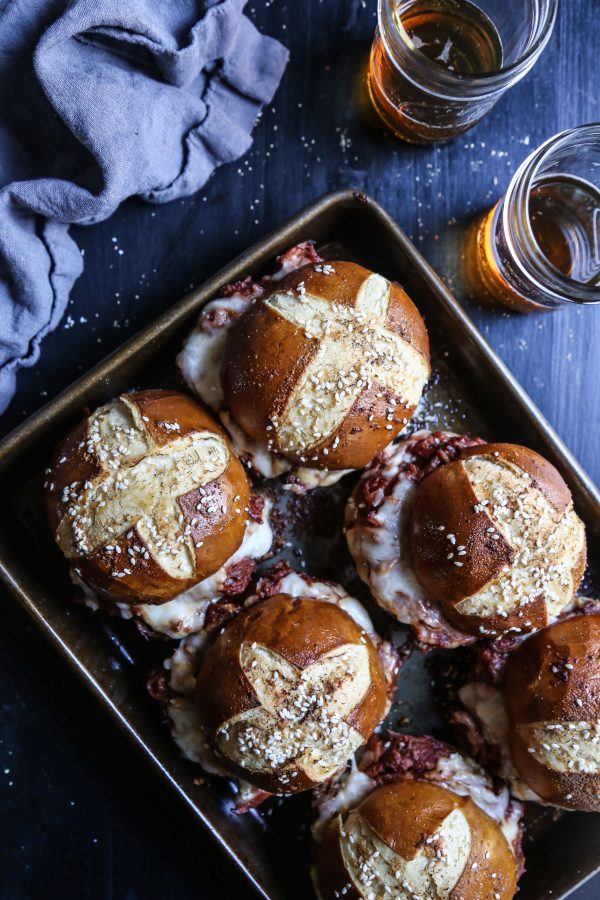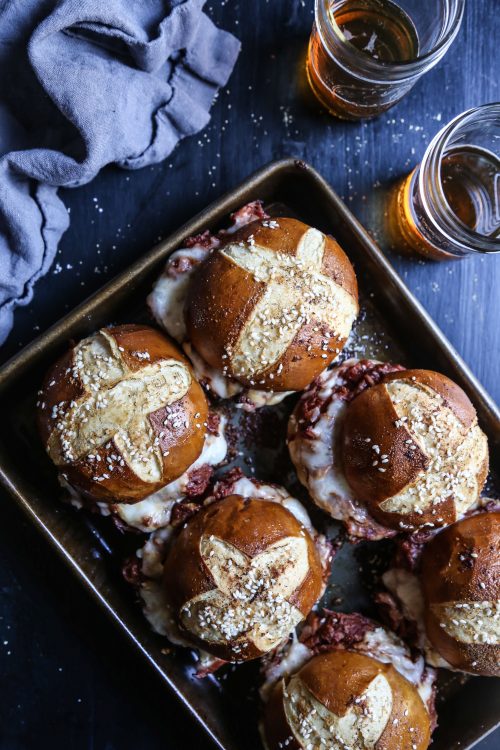 ***This post was sponsored by Curly's. As always, all opinions expressed are 100% my own.***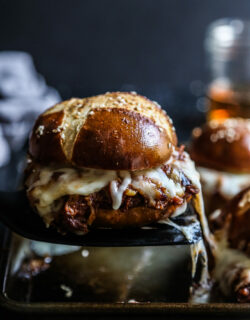 Oven Baked Pulled Pork Sliders with Beer Cheese Sauce
Ingredients:
for the beer cheese sauce:
3 tablespoons unsalted butter
3 tablespoons all-purpose flour
1 cup whole milk
1/2 cup mild ale beer
1 cup shredded mild cheddar cheese
1/2 teaspoon kosher salt
1/2 teaspoon ground pepper
for the sliders: 
6 slider pretzel buns
two 1 lbs Curly's West Coast IPA Style Pulled Pork
1 1/2 cups shredded mozzarella cheese
1/2 cup unsalted butter
3 teaspoons Worcestershire sauce
1 teaspoon garlic powder
1 teaspoon onion powder
Sesame seeds, for garnish
Directions:
for the beer cheese sauce:
In a medium saucepan preheated to medium heat, melt the butter. Add the flour and begin to whisk creating a roux. Once the flour has been cooked out about two minutes, gradually pour in the milk and beer. Keep stirring until thickened about five minutes. Remove saucepan from the heat and stir in cheese, salt, and pepper.
for the sliders: 
Preheat an oven to 375 degrees. Spray a baking sheet with non-stick cooking spray and set aside.
In a small saucepan preheated to medium heat, melt the butter. Once the butter is melted stir in the Worcestershire sauce, garlic powder, and onion powder until well incorporated. Turn the heat to low until ready to garnish pretzel buns.
In a large skillet preheated to medium high heat, remove Curly's West Coast IPA Style Pulled Pork from the packaging and place into the skillet. Stir the pulled pork until heated through about five minutes and remove skillet from heat. Next, place six bottom pretzel buns on the baking sheet. Divide the pulled pork between the six pretzel buns. Spoon some of the beer cheese sauce over the of the pulled pork followed by a 1/4 cup mozzarella cheese on each slider. Place the remaining top bun over the pulled pork and cheese. Next, take some of the melted butter and using a pastry brush, brush the tops of the pretzel buns. Garnish with sesame seeds. Place the sliders into the oven for about 15 minutes or until the cheese has melted and the pretzel buns are toasted. Remove the sliders from the oven and serve immediately.
All images and text ©