oven fried guinness onion rings with stout gravy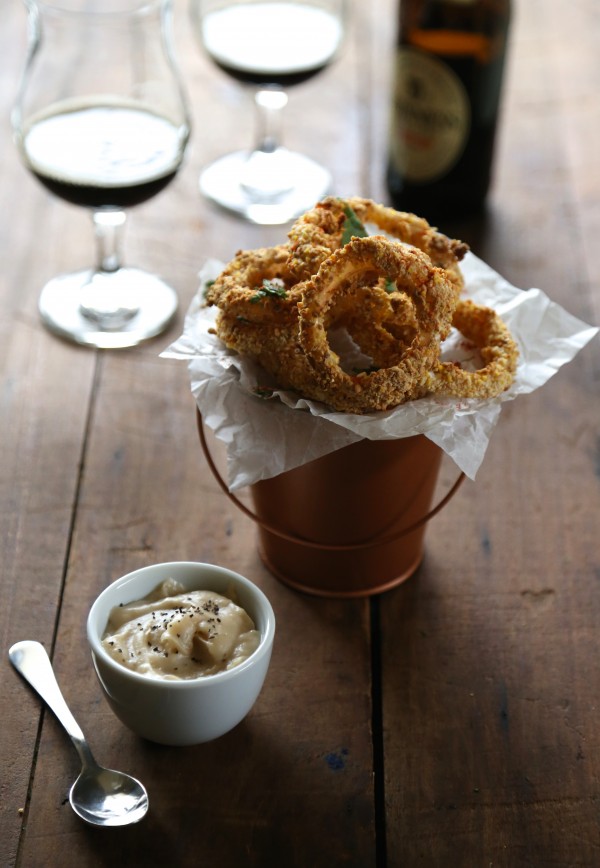 In the pecking order of side foods that are fried, where does your loyalty lie?
Classic French fries? Maybe you swing to the sweet potato fries because if you're like me you've convinced yourself that these are somewhat healthy therefore devouring a basketful wouldn't add a single pound. No sirree. Or, maybe your loyalty lies in the great and mighty, tater tot. You know my feelings about Sir Tot.
But somewhere between a tot and a fry, lies the ol' onion ring. Is it me, or did onion rings get a pushed out of the way when Funyons made their appearance? Folks could hardly resist the yellow and green packaging. Plus, the bonus part, these onions didn't evoke tears.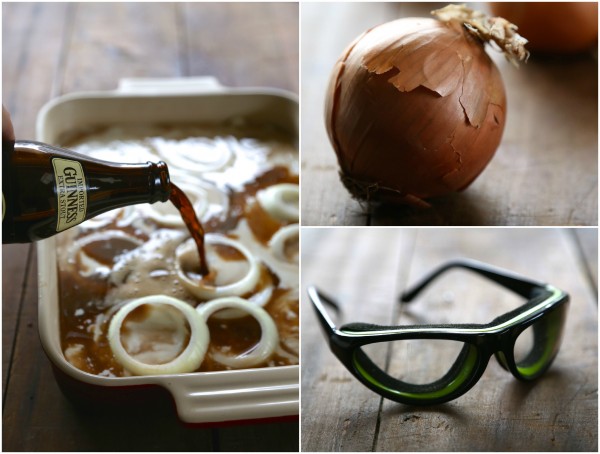 So, today I am being a fried side food team player, and putting in the ol' standard onion ring. And can we please talk for a moment about how I used to dread cutting onions. Mr. B actually received onion cutting goggles from my mother as a gag gift for Christmas a couple of years ago. Gag gift aside, these truckers work. I may look like a major tool shed, but it beats looking like Fiona Apple with mascara running down my face.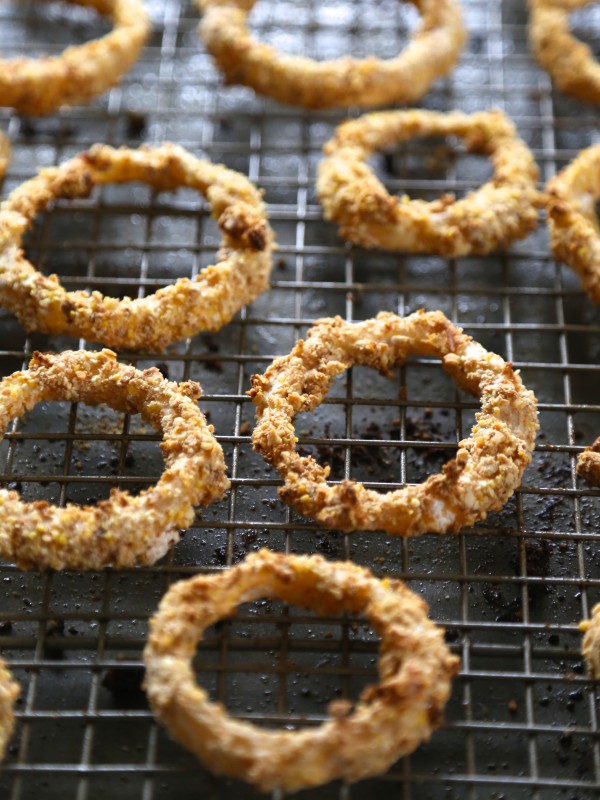 With my onion goggles on, I had no problem taking one for the team and whipping up these Guinness oven fried onion rings. Since St.Paddy's Day is five minutes away, why not make a bag of Funyons jealous and add a little giggle juice? Oh, and then dip them into some stout gravy.
My 1/200th Irisih heritage is doing an Irish jig.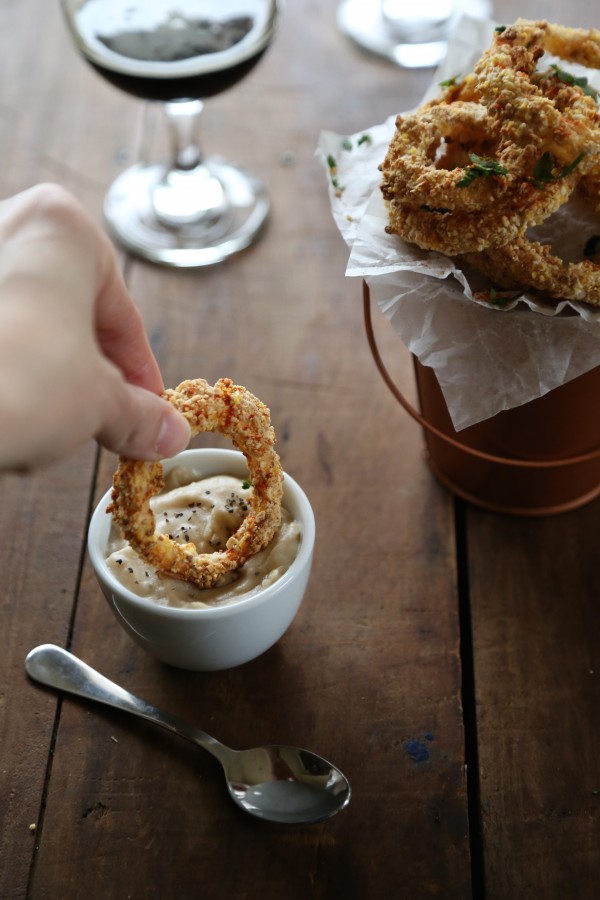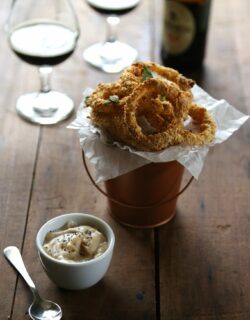 Oven Fried Guinness Onion Rings with Stout Gravy
Ingredients:
for the onion rings:
2 large yellow or sweet onions, cut into 1/2 inch slices
3 cups buttermilk
1/2 cup Guinness
3 eggs
2 cups all-purpose flour
2 teaspoons paprika
2 teaspoons kosher salt
2 1/2 cups panko
1/4 cup fine cornmeal
Parsley, garnish
for the stout gravy:
3 tablespoons unsalted butter
3 tablespoons all-purpose flour
3/4 cup chick stock
1/4 Guinness beer
Directions:
for the onion rings:
In a casserole dish, place sliced onions and cover with 2 cups buttermilk and beer. Cover dish with foil and put in fridge for at least 5 hours or for better results overnight.
Preheat oven to 450 degrees. Remove onions from fridge and set aside. In a large bowl, combine flour, paprika, and salt. In another bowl, mix together remaining buttermilk and eggs. Take half of the flour mixture and add it to the buttermilk and give it a good whisk. In another large bowl, combine panko, cornmeal, and salt.
Spray two baking sheets with non-stick cooking spray. Take an onion slice, dip into the flour, then the buttermilk, and then the panko. Place on baking sheet. Repeat with remaining onion slices. Bake onions for about 15 to 20 minutes, flipping midway. Bake until crispy. Serve gravy alongside.
for the stout gravy:
Preheat a sauce pan to medium heat. Melt butter. Add the flour and begin to whisk creating a roux. Let the flour cook out for a minute. Add the chicken stock and stout. Continue to whisk until thickened, about 5 minutes. Remove from heat.
All images and text ©