peach and lavender crisp with vanilla bean ice cream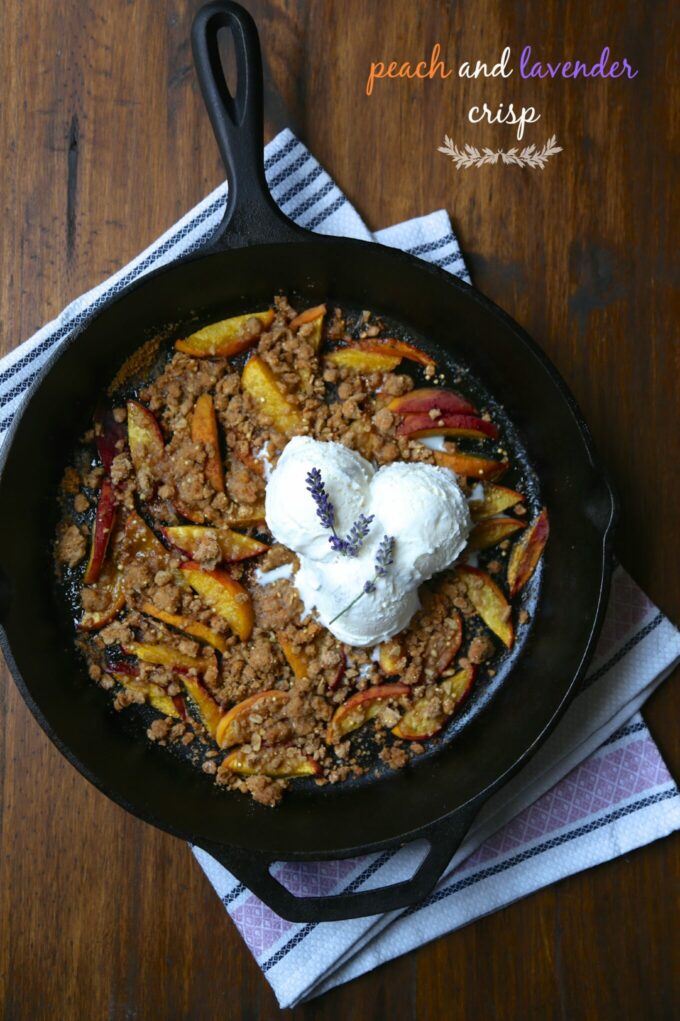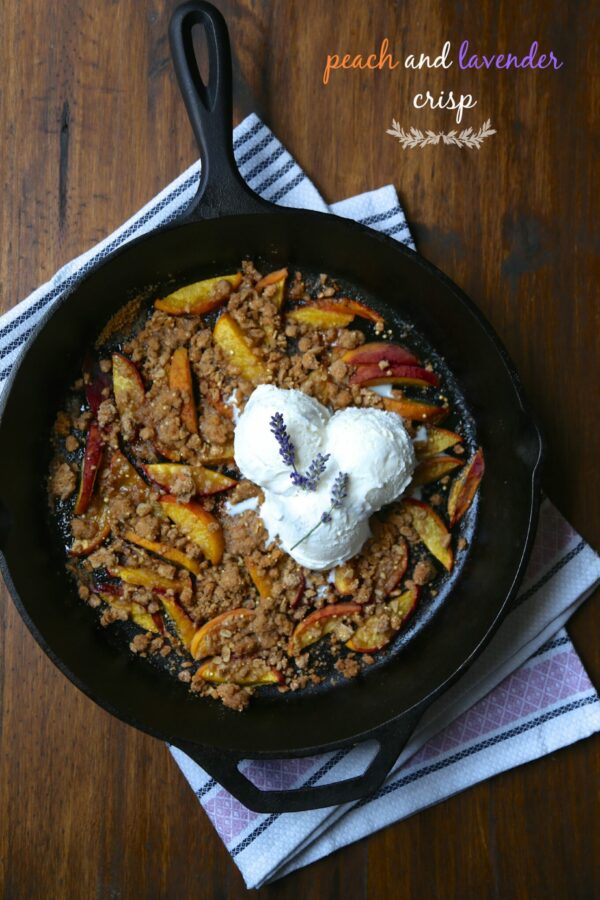 I'm easily amused.
I should say very easily amused.
Like when the iPhone first came out circa 2007, and you could hold your phone up to the radio, click on Shazam, and it would tell you who was singing the song; well, I clicked Shazam like crazy. I must have tapped that sucker at least 67 times because I thought it was a flipping miracle. I seriously felt like Helen Keller learning how to spell. You could imagine my giddiness when FaceTime came around. O.M.G.
I'm also easily amused with our garden this year. Every time I go outside with Mr. B to check on the status of the garden and see that nothing has bit the dust, I become super jazz-hands excited. Like I shout twelve octaves higher telling Mr. B that there appears to be a bud. An actual tomato bud! BABE! Look, a potential tomato! Mr. B is generally not as amused.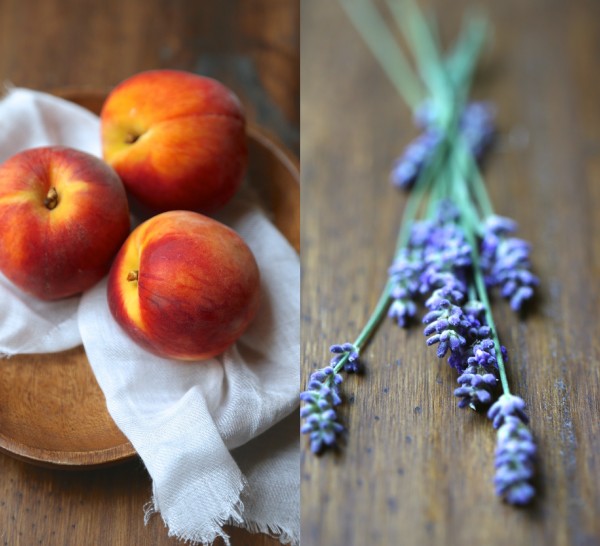 Well, apparently being easily amused is working on our garden because not only will we have to make caparese salads for the next hundred years, but our herbs are kicking butt, too!  A current fav is the Aristotle basil because it looks like a brain full of secrets and serious thought. I am also madly crushing on the lavender because she's a beaut and smells incredible.
I wish you could have been there when I decided to put lavender into this peach crisp. Holy bonkers. You would think it would have been the first time I discovered seamless unmentionables. Yes, this peach crisp goes into the fruit dessert category. Baby steps. I'm getting better at allowing those two fellows to play together in the same sentence.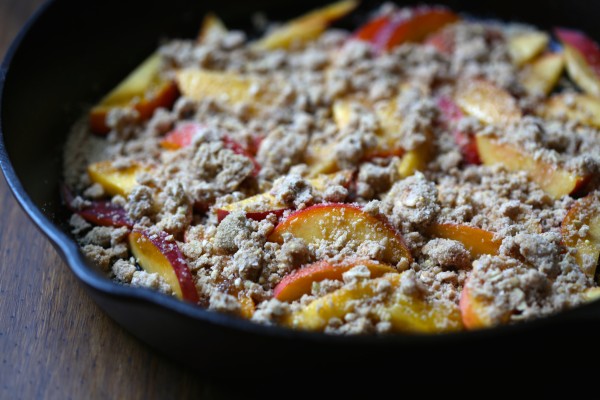 But really, this crisp is seriously insane. Peaches are in season right now and let me tell you, go buy yourself buckets of these juicy suckers because they taste like the blue sky with honey on top. Plus, the touch of lavender with melted vanilla bean ice cream, you will be MEGA amused, my friends.
Seasonal Eating Series: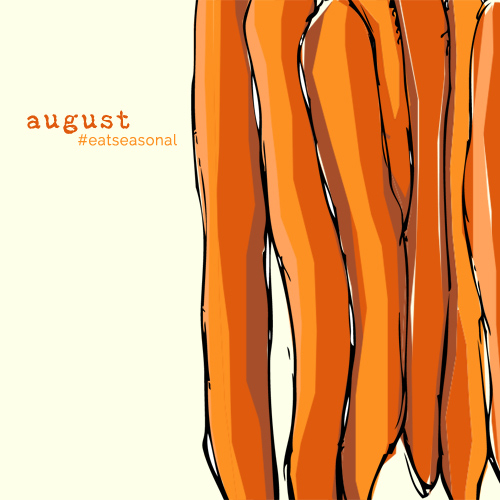 My talented and fantastic friend, Becky, author of The Vintage Mixer, and her husband Josh, are showing us that eating seasonally can be fun! Each month they will provide a Seasonal Produce Guide, which you can save on your iPhone or desktop so you can get in the seasonal eating spirit.
Not only do they provide a beautiful illustration each month like the one above, you can also join me and a few fabulous food bloggers who are serving up seasonally inspired recipes. Follow us on Instagram and tag your photos with the #eatseasonal hashtag!
Aimee @ Simple Bites – Tomato Nasturtium Salad with Dates and Pistachios
Molly @ My name is Yeh – Upside Down Plum and Olive Oil Cake
Lindsey @ Cafe Johnsonia – Raw Kale Salad with Berries
Kelley @ Mountian Mama Cooks – Chicken and Summer Vegetable Tostadas
Becky @ Vintage Mixer – Watermelon Mojitos
Heidi @ Foodie Crush – Simple Roasted Tomato Sauce
Liren @ Kitchen Confidante – Fresh Cherry Wine Sauce with Ice Cream
Lauren @ Lauren's Latest – Fresh Peaches and Cream Pie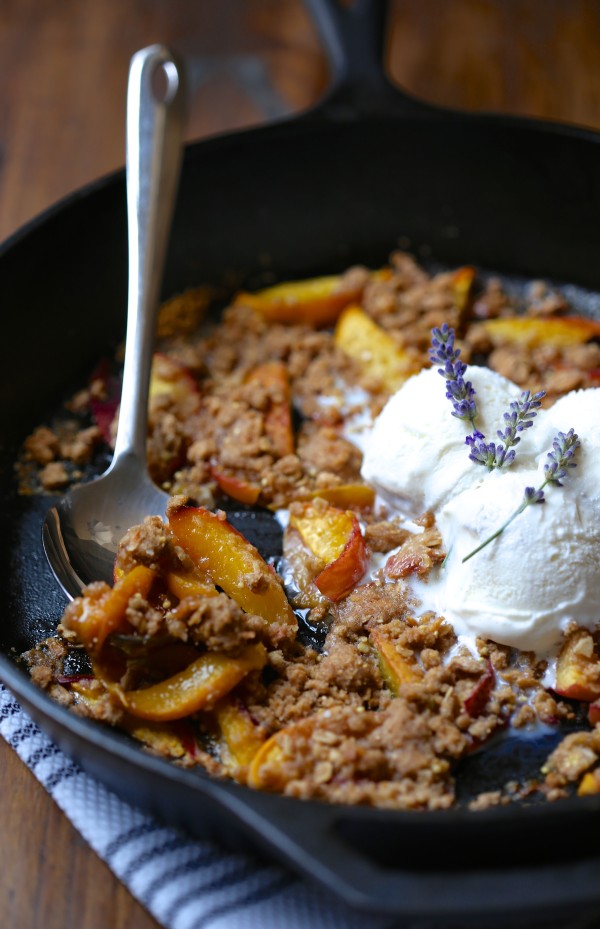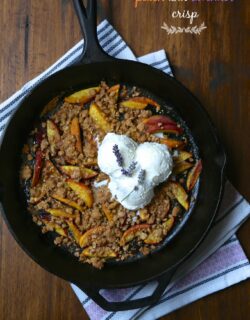 Peach and Lavender Crisp with Vanilla Bean Ice Cream
Ingredients:
4 peaches, sliced
4 tablespoons brown sugar
1/4 cup all-purpose flour
1/4 teaspoon cinnamon
1/4 teaspoon kosher salt
2 tablespoons unsalted butter, room temperature
1 teaspoon lavender (+ more for garnish)
1/2 cup plain granola
Vanilla Bean Ice Cream
Directions:
Preheat oven to 400 degrees.
In a 10-inch cast iron skillet, place peaches on the bottom. Sprinkle two tablespoons on top. Next, combine flour, two tablespoons brown sugar, cinnamon, salt, butter, lavender, and granola. Mix together until well incorporated. Pour the crisp mixture on top of the peaches. Bake for 25 minutes or until golden brown. Scoop ice cream on top and serve family style. Garnish with lavender if desired.
All images and text ©