red eye gravy oatmeal with fried egg & chorizo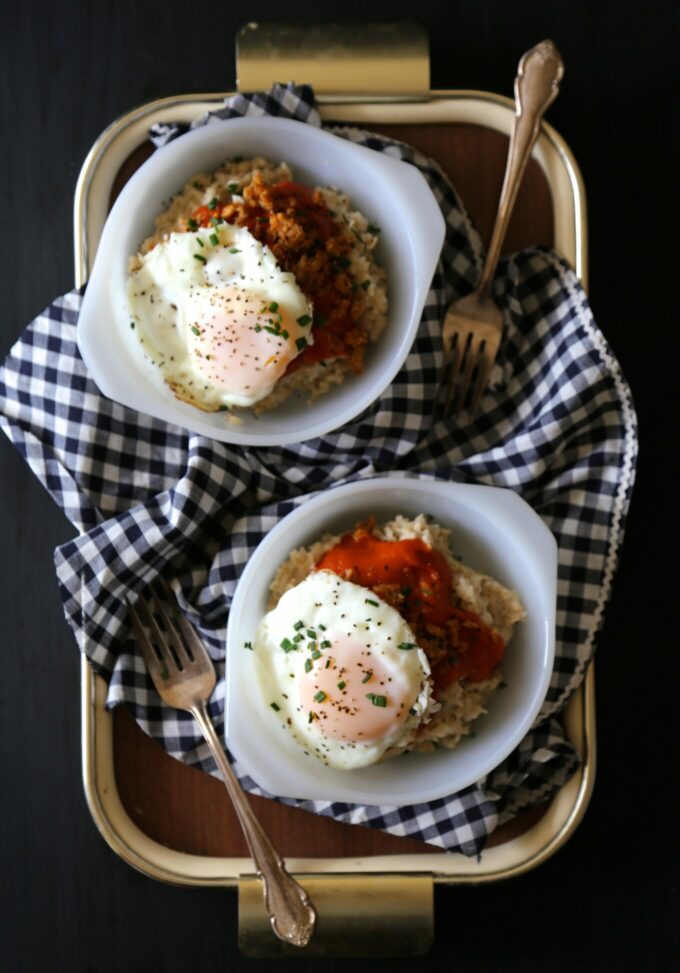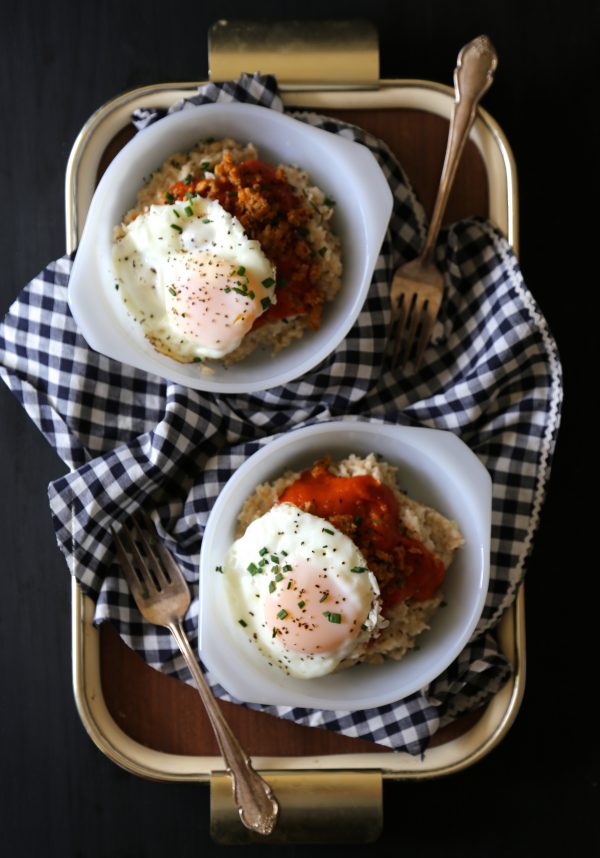 The unintentional honk.
Is there anything worse?
One single, accidental push against the steering wheel and within seconds you have sixteen sets of eyeballs intensely staring at you with rage. Every single person sitting within your car's radius thinks you honked at them……only, you didn't.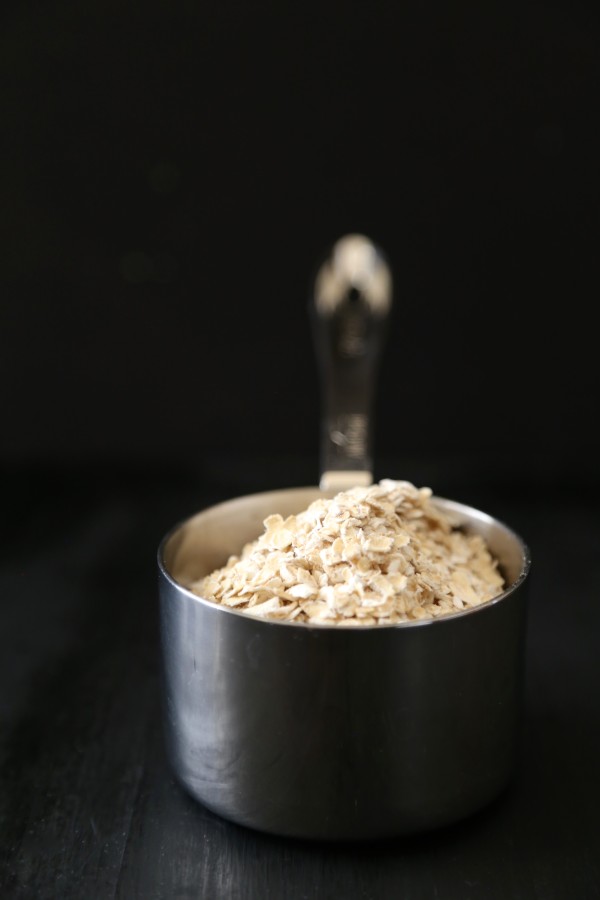 You immediately begin apologizing through weird gestures that no one will understand because your car doesn't come with subtitles. The more you throw up your hands and slowly say, "I'mmmmm…..soooooooorrrryyyyy….I maaaaaaadeeee a misssssstakkkkke" is when folks start to get real concerned and continue to stare.
The gestures continue thinking to yourself that someone has been here before and knows the unintentional honk sign language. Finally, the light turns green, folks turn away, press on the gas, and your Oscar performance is now a distant memory. You think to yourself, "MOTHER TRUCKER as you gather yourself. Next time, I'll just stare back."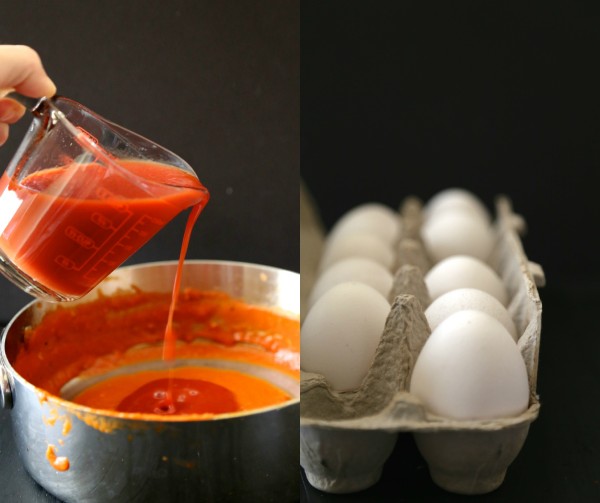 So, to cope with your unintentional honk this Monday morning, I've made a savory, delicious breakfast. There are zero hand gestures involved so you can put those away. All you need is some egg, oatmeal, chorizo, and tomato juice. For those of you not familiar with the red eye gravy, it's your usual gravy suspects with the addition of tomato juice and coffee if you like.
Pour the gravy over some chorizo oatmeal and slap an egg on it, boom! Breakfast of road warrior champions.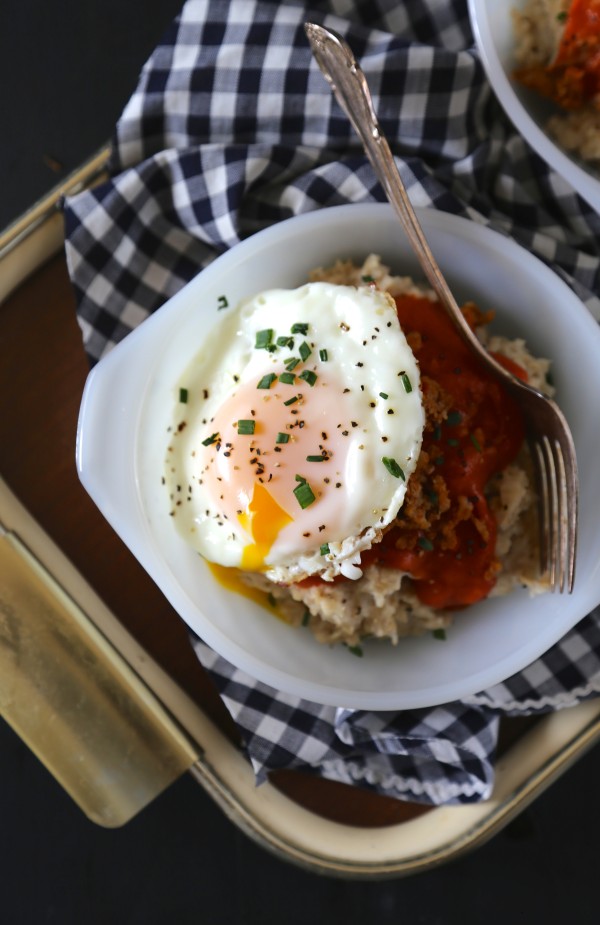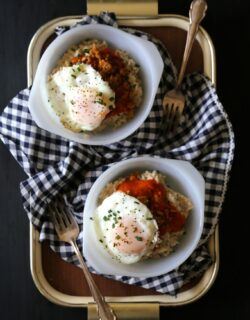 Red Eye Gravy Oatmeal with Fried Egg & Chorizo
Ingredients:
1 tablespoon olive oil
1/2 lb ground chorizo
2 tablespoons all-purpose flour
2 tablespoons unsalted butter
1 teaspoon prepared coffee
1/2 cup tomato juice
2 large eggs, fried
1 cup old fashioned oats
1.5 cups water
Chives, garnish
salt and pepper to taste
Directions:
Preheat a skillet to medium heat. Add the oil and chorizo. Saute chorizo until cooked through about five minutes and set aside. Next, preheat a small saucepan to medium heat. Melt butter, add flour, and whisk for about a minute. Pour the tomato juice and coffee into the saucepan and whisk until thickened like gravy, about 3 to 4 minutes.
In a medium saucepan, bring water to a boil. Add the oats with a pinch of salt. Reduce heat to a simmer, stirring so the oatmeal doesn't stick. Remove from heat and divide between two bowls. Top the oatmeal with tomato gravy, chorizo, and fried egg. Garnish with chives!
adapted from Cooking Light Magazine
All images and text ©