Roasted Red Pepper & Spiced Farro Parmigiana
Roasted Red Pepper & Spiced Farro Parmigiana is a cheesy, healthy take on traditional parmigiana. Made with roasted red peppers, mozzarella, and Bob's Red Mill Farro this will become a regular in your dinner rotation.

***This post is sponsored by Bob's Red Mill. As always, all opinions expressed are 100% my own.***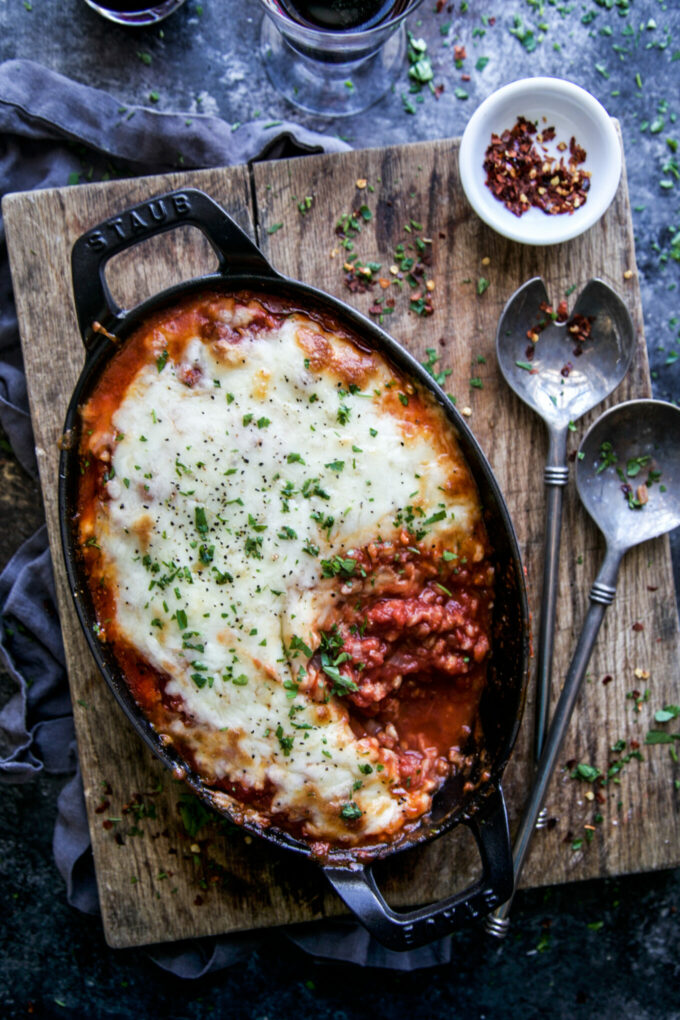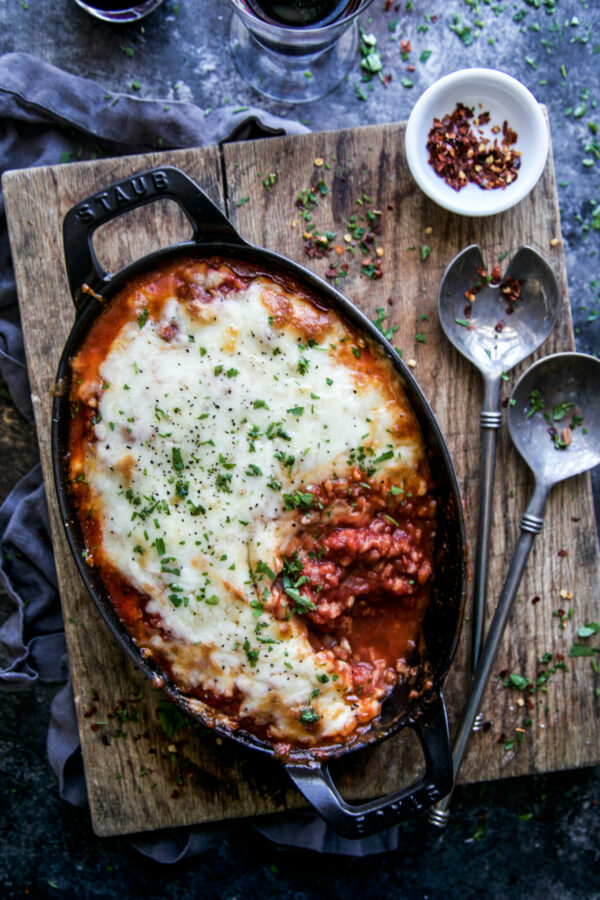 We are nearing the end of March.

How the heck did that happen?

I mean I shouldn't be surprised considering we are officially in the spring zone now as of last Wednesday. BUT! I have this nagging suspicion that we have a wee bit more of winter ahead of us. Or maybe I feel that way because I live in Denver and it can snow in May.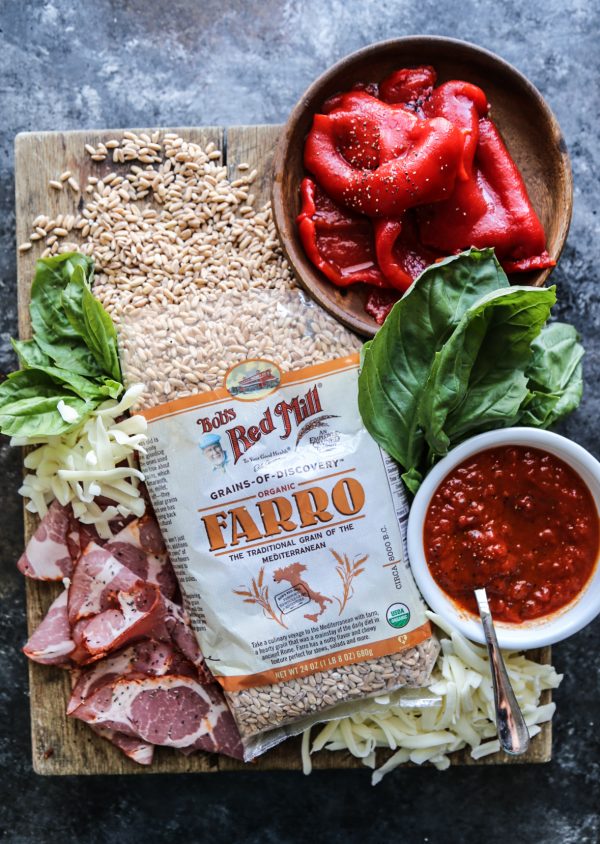 Anyway, I know we are supposed to be embracing spring produce and all things green, but when it's still freezing out I need some substance with a little bit of weight. Not a lot. This is not January 20th need for hibernation kind of food.

I'm talking about that middle of the road kind of dish. Something that will keep us full, but also bikini ready. Enter, this Roasted Red Pepper & Spiced Farro Parmigiana. Traditionally parmigiana can be very heavy and not exactly the pillar of health in the food world. I'm telling this version will have you coming back for seconds.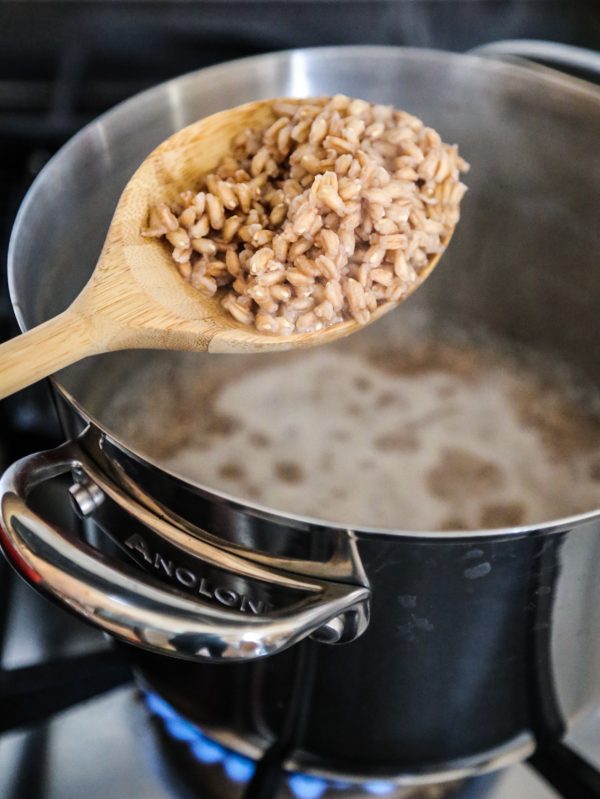 Thanks to a little ancient world grain called farro from Bob's Red Mill. Have you ever tried farro? Farro is an excellent source of iron and plant-based protein. Also, it's very easy to digest and has a very fast cooking time. Healthy and easy to prepare? Can you say winning?

Besides adding farro to the tomato sauce I also thought using roasted red peppers instead of pasta would make a great swap. Keep it light, yet still pack a punch. That way when you add an obscene amount of cheese to the dish you don't feel as bad.

Now, who's ready to take on April?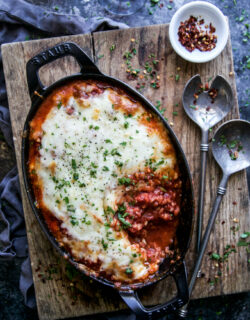 Roasted Red Pepper & Spiced Farro Parmigiana
Ingredients:
1 cup dried Bob's Red Mill farro 
2 tbsp olive oil
2 garlic cloves, finely chopped
1 small shallot, finely chopped
2 tbsp tomato paste
1 tsp crush red pepper flakes
1/2 cup chicken stock
one 28oz can crushed tomatoes 
1/4 cup chopped fresh basil
12 large roasted red bell peppers packed in water, patted dry
1 1/2 cups shredded Parmesan 
10 slices spicy Italian ham
2 1/2 cups shredded provolone
Fresh parsley, for garnish
Directions:
Preheat your oven to 400 degrees. Spray a 9X13 baking dish with non-stick cooking spray and set aside. 
Rinse 1 cup farro and place in the bottom of a medium stock pot. Add three cups of water and bring to boil. Reduce the heat to medium-low and simmer for about 30 minutes. Drain any excess liquid. You will end up with about 2 cups cooked farro. Set the farro aside. 
In a large skillet preheated to medium-high heat add the olive oil, garlic, and shallot. Cook for about two minutes or until fragrant. 
Next, stir in the tomato paste and red chili flakes. Cook for about a minute. Add in the chicken stock, tomatoes and basil. Stir to combine and bring the sauce to a slight simmer. Let the sauce simmer for a few minutes and then stir in the cooked farro. 
In the prepared baking dish layer a 1/3 of the farro sauce, half of the peppers, 1/3 of the Parmesan, 5 slices of ham, and half of the provolone. Continue layering the casserole with remaining peppers, half of the remaining Parmesan, the remaining of ham and remaining farro sauce. Top the casserole with the remaining provolone. 
Bake the casserole for about 15 to 20 minutes. Remove from oven and garnish with fresh parsley. 
All images and text ©