Vietnamese Coffee Pancakes with Cinnamon Butter
Vietnamese Coffee Pancakes with Cinnamon Butter are a delightful and scrumptious meal to make for breakfast, lunch, or dinner!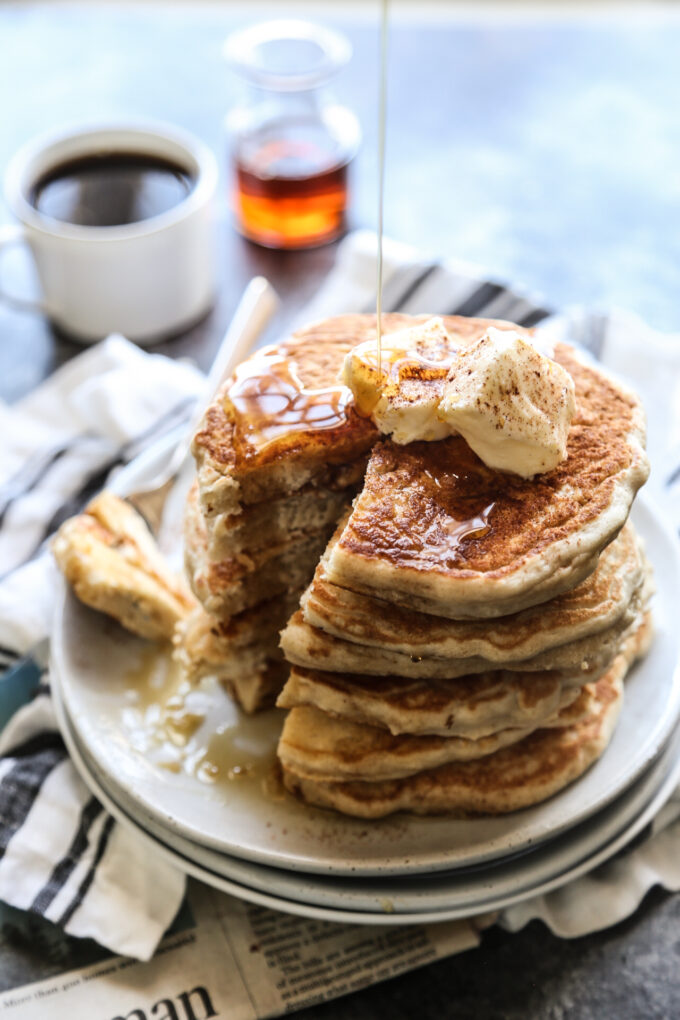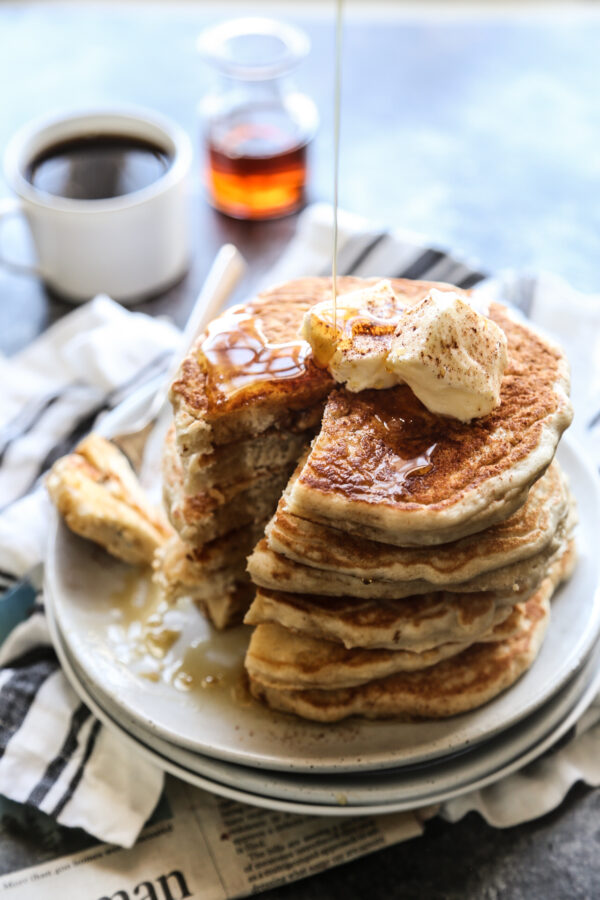 I know what we need.

Well, I know what we need this Monday AM. 

How about a spring break trip to Cancun? Just kidding. For a split second going to Cancun sounds like a great idea. The sun. The beach. The free booze. BUT. Once I stop and replay all the sh$ that went down while on college spring break, I'm like, "How the hell did we survive?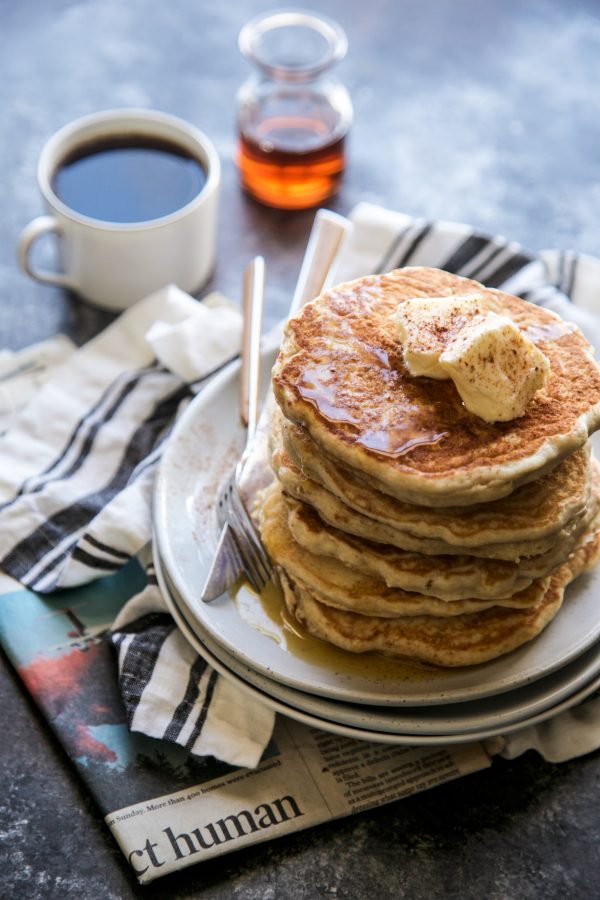 Fast forward twenty years and for spring break all I want to do is take some fresh turns down a snowy mountain. Make an ultimate apre ski charcuterie spread. Catch up with my friends and get a massage. BASIC AF. And that's okay. If I still wanted to go to Cancun and enter a Senior Frogs wet t-shirt contest, I'd hope you would have an intervention.
Okay, where was I? Oh, yes. Accessing needs on this Monday AM. 
Here's exactly what we need: 1) a jug of coffee, 2) a stack of delicious, fluffy Vietnamese Coffee Pancakes with Cinnamon Butter. I realize pancakes are generally reserved for weekend mornings, but sometimes a girl just needs a stack. Ya, feel me?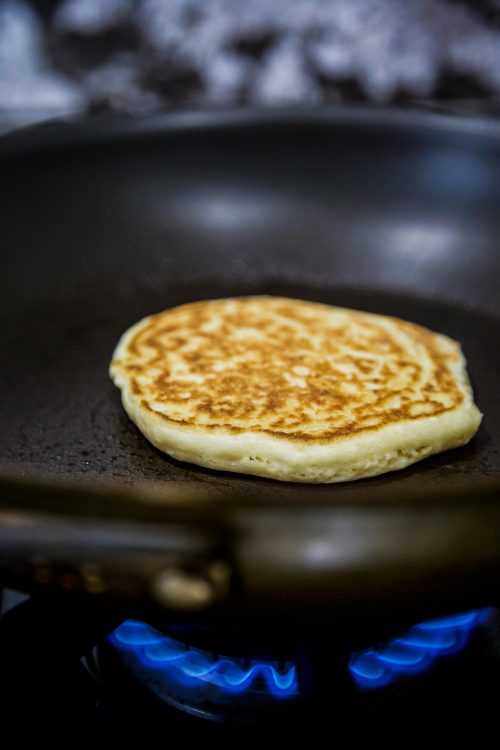 Have you ever had Vietnamese Coffee? It's pretty simple to make. Brew a cup of Vietnamese ground coffee (or you can use your favorite kind of coffee) and mix in sweetened condensed milk. Easy peasy. Serve it warm or chilled, but I definitely recommend it in a pancake form.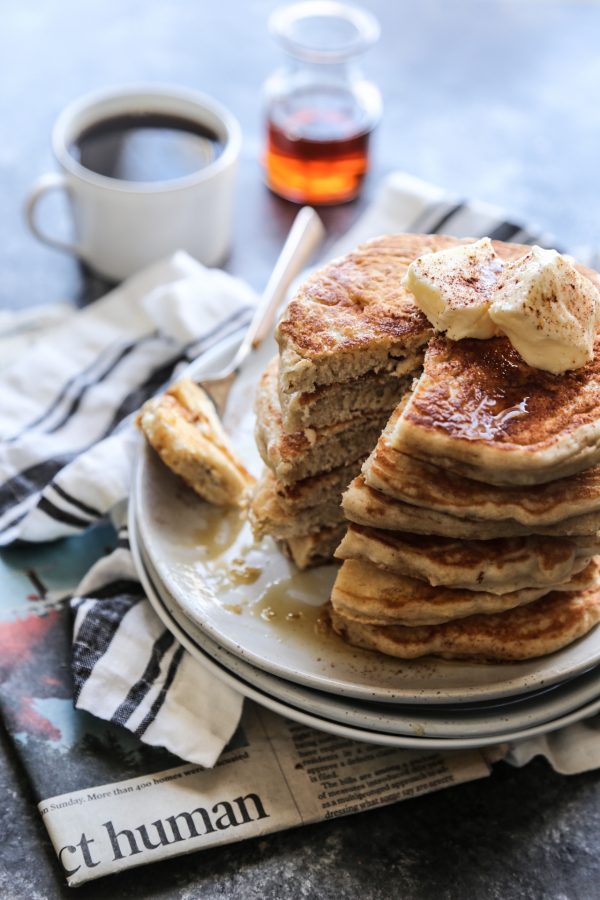 Take your standard pancake batter mix and add in brewed coffee and sweetened condensed milk. Super easy! Make extra because these bad boys will go fast!

Who needs a fork?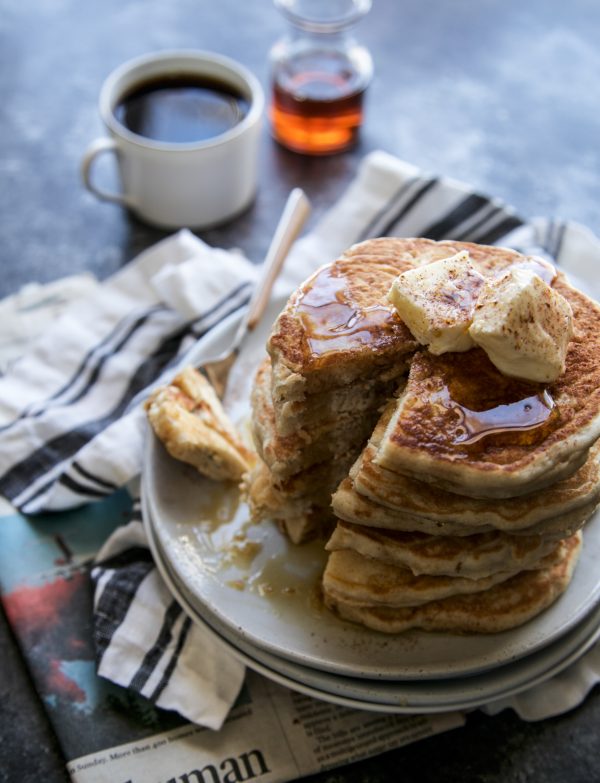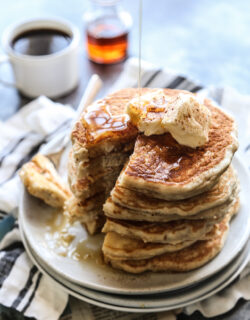 Vietnamese Coffee Pancakes with Cinnamon Butter
Ingredients:
for the pancakes:
1 1/2 cups all-purpose flour
3 tsp baking powder
1 tsp kosher salt
1/4 tsp ground cinnamon
3/4 cup whole milk
1/2 cup sour cream
1/4 cup brewed coffee, cooled
3 tbsp sweetened condensed milk
2 large eggs
1/2 tsp vanilla extract
maple syrup, for garnish
for the cinnamon butter: 
4 tbsp unsalted butter, room temperature
1/2 tsp ground cinnamon
Directions:
for the pancakes: 
In a medium bowl  combine flour, baking powder, kosher salt and cinnamon.
In another medium bowl combine milk, sour cream, sweetened condensed milk, coffee, eggs and vanilla extract.
Take the wet mixture and combine it with the dry mixture. If the mixture is too thick add water to help thin out.
Preheat a skillet to medium high heat. Measure out a 1/4 cup of batter and pour it into the skillet. Use a spatula to help spread out the pancake batter. Once the top of the pancake begins to bubble, flip and continue to cook for another minute or until golden brown.
Repeat process until all batter has been used. Garnish pancakes with maple syrup and cinnamon butter
for the cinnamon butter:
In a bowl combine the butter and cinnamon until smooth.
All images and text ©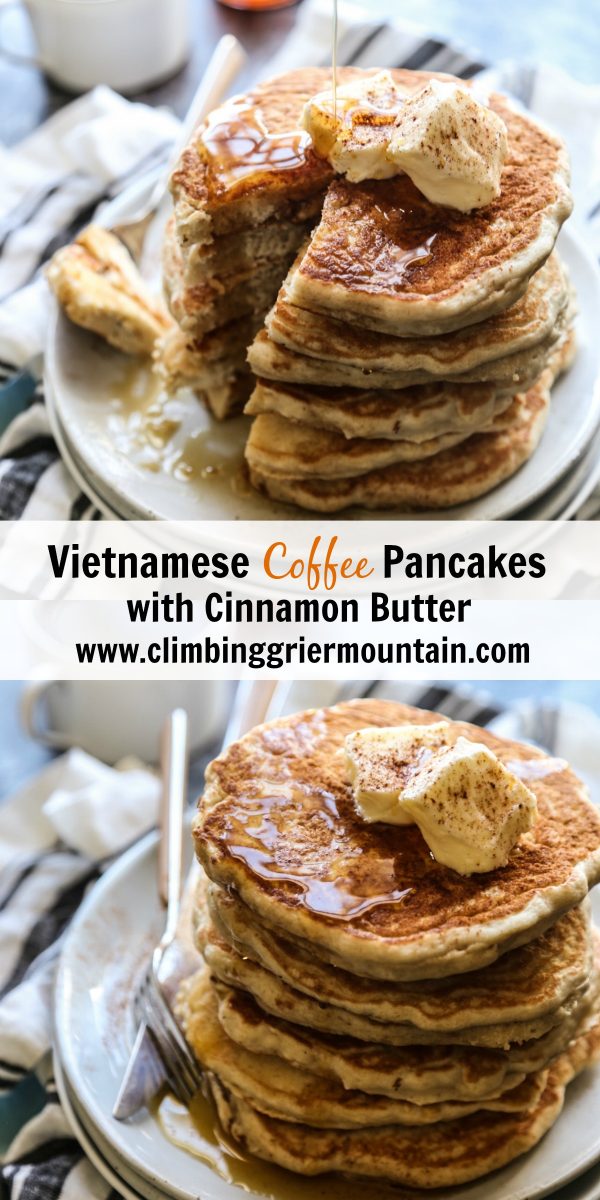 Savor the harmonious blend of robust Vietnamese coffee-infused pancakes topped with luscious Cinnamon Butter. This culinary symphony offers a delightful conclusion to your breakfast, leaving your taste buds enchanted and craving for more.